This page contain affiliate links. Please refer to my Disclosures Page for more details.
Who can resist this Gluten Free Apple and Blackberry Crumble as the cooler weather arrives and puddings are well and truly back on the menu. What I love even more about this autumnal crumble recipe, is that the main ingredients can often be foraged.
Even in built up areas, bramble bushes find a way to survive and if you use the tips below for how to pick blackberries you'll be sure to have the very best berries with no waste. Even better if you happen to know of a hedgerow with an apple tree in it. These days we need the be frugal with our pennies but if you forage (responsibly, not condoning scrumping here *winks) then you can source all sorts of fruits to make into crumbles.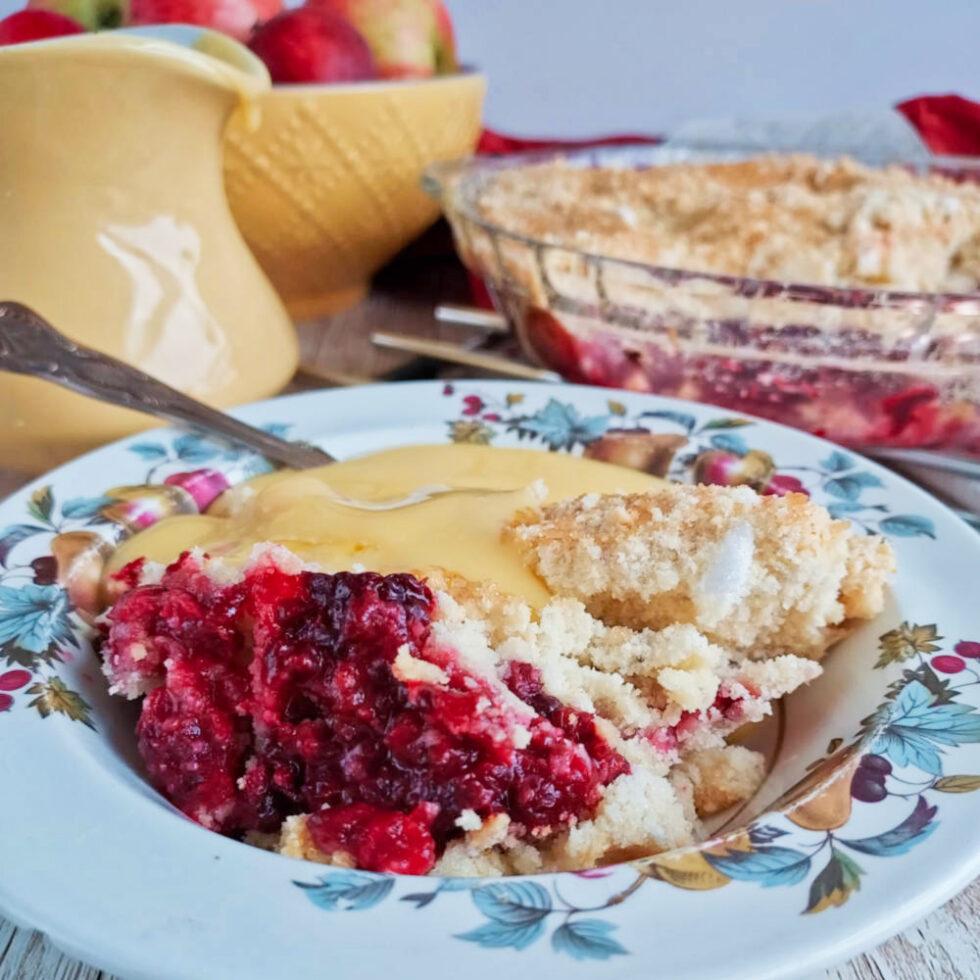 When is is the best time to pick blackberries?
If I wrote late August/September, I'd be wrong. This used to be the case but as summers get warmer, we're finding brambles laden with plump juicy fruit in early August too. Here in my part of the world I've been able to collect blackberries since the beginning of August. But my kids are used to me sending them out annually into September to collect a few berries if I fancy making an impromptu blackberry and apple crumble.
The ripening of the bramble berries also depends on where they grow. A full sun position and you can guarantee you'll be able to harvest early in August, slightly more in the shade and you're looking at September even through to October in colder parts.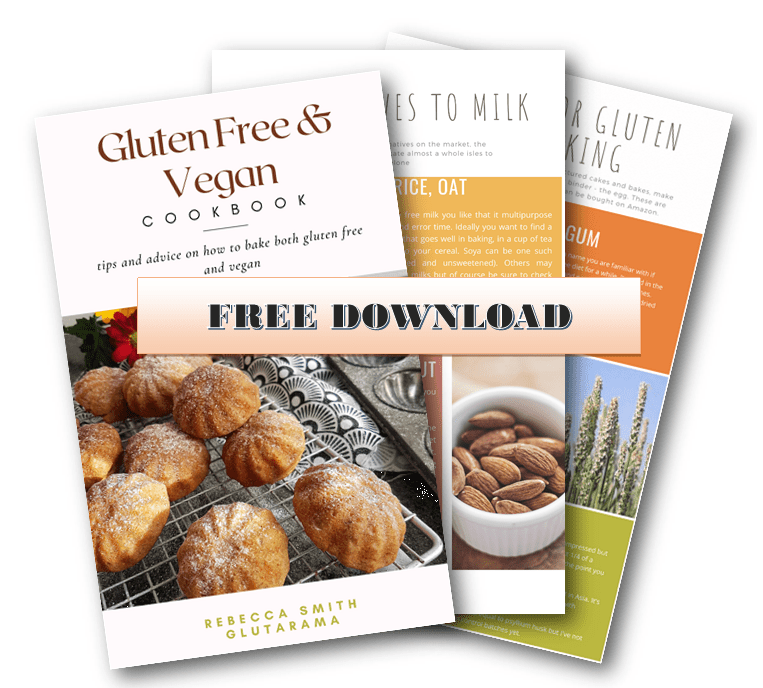 Never miss out again…
Sign up to my weekly Friday newsletter and not only get a FREE e-Book (currently my Gluten Free & Vegan Cookbook) but also get VIP subscriber discounts on free from goodies. Join me and learn to make anything gluten free.
Is there a trick to picking the best blackberries?
Yes, there is and I'll explain why in a way that I hope doesn't make you want to vomit on the spot! I think we can all agree that when picking blackberries, you want the plumpest, ripest, sweetest of berries. Indeed, this is the ultimate British wild berry is it not? However, there are a few things I should point out to some one less adept in the art of blackberry picking.
Do not pick berries below waist height – animals (cats, dogs, foxes, deer) all inhabit the world below waist height in the wild and we don't want to be harvesting berries that have come into contact with any animal or their bodily functions!
Do not pick green or red blackberries. These are not ripe and will make your tummy rebel against you if consumed.
Do not pick overly ripe berries – these are the ones that fall from the stem when you touch them and bleed juice onto your fingers. I know it's tempting but these berries have already been taken (I'll come onto that in a minute)
Pick the shiny berries that give a little resistance to you picking them, the little bobbles of the berry will be tightly formed and not lose its shape if gently squeezed.
I tend to find taking Tupperware is the best carrier to pop your harvest into, bags are fine but you don't want to bruise the fruit on the way home.
How do I clean and prepare my blackberries?
The best way to clean your blackberries is to pop them into a glass bowl and cover with tap water, not too cold, ideally room temperature in fact. Then gently run your hands through the berries to dislodge any dirt dust or worms – yes, I said worms! If you followed my tips above when picking your blackberries you should hopefully not encounter any little white maggot-looking worms as they tend to make their homes in the lovely plump super-ripe berries. Sadly, harvesting off the land with no pesticides, you are bound to encounter the odd little unwanted critter. These tiny worms are in fact the larvae of fruit flies, those little annoying flies we get buzzing around the over ripe fruit in the bowl or a glass of wine!
In truth, these are perfectly harmless and if you eat them it will cause you no harm at all. However, given the choice I think we all agree we'd rather not!
If you have just been sick and are thinking there's no fricking way you're making this Apple and Blackberry Crumble now, do not despair, you can buy frozen blackberries in the supermarkets or at your greengrocers. These will likely have been grown in controlled environments and will not be inhabited!
What is a crumble mix made of?
The classic crumble mixture is made of flour, butter, sugar and nothing more. The process is to add the flour and butter to a large bowl and, using your finger tips, rub the fat into the flour to make breadcrumbs, then stir in the sugar to taste. However, every household that has a history of baking has it's own personal touch on what a crumble should include.
In this Apple and Blackberry Crumble I've opted for a slightly more luxurious crumble mix and add ground almonds. You can of course omit these if you cannot tolerate nuts and just add the same quantity of gluten free plain flour or gluten free oats as a delicious alternative.
Other crumble recipes on this website;
Easy Gluten Free Rhubarb Crumble
Gluten Free Gooseberry Crumble
Three Ingredient Cherry Shortbread Crumble
Toffee Apple Crumble; gluten free and dairy free
Crumble troubleshooting
My crumble is too powdery – this can very much depend on the flour blend you're using. I use a white gluten free flour blend for my crumbles. The reason being the family prefer it over the more nutritious wholegrain versions that have buckwheat in them. Here in the UK we have Doves Freee From flour so this is my preferred choice.
If you find yourself in the situation whereby your crumble appears too powdery, then do this test first before you go adding more fat;
Perform the crumble test by taking a fistful of crumble mixture and crush it in your closed fist. when you open your fist, if the crumble mixture stays in a compacted shape your crumble mixture should work just fine when you bake it.
If the crumble mixture doesn't hold together and falls apart add a further 50g of butter or dairy free alternative.
The crumble isn't sweet enough – I always perform a pinch and taste test when making crumble. If I'm using a sweet fruit base then I'm inclined to leave the recipe as it is. However, if using more tart or sour fruits, you may feel a sweeter crumble is better to balance the flavour. Simply pinch a bit of the crumble and taste to see if you think it's sweet enough. If not add a little more sugar to taste.
This crumble mixture isn't crumbly – so in this recipe, as I am dairy free, I've used a Flora vegan block of fat instead of butter. You made find a variation in the crumble depending on the fat you choose to use. Using a soft margarine or dairy free spread may result in a clumpy 'wetter' mixture. Alternatively if your butter or solid fat black has begun to melt this can have the same effect.
If you find yourself with a crumble that's misbehaving and not crumbling then fear not. Add a little more flour one tablespoon at a time. Work with your fingers until you get a satisfying light crumble that resembles breadcrumbs.
I'd suggest washing your hands with cold water too. Even better use a pastry cutter like I do so you don't get crumble under your nails (so irritating that!)
Never miss out again…
Sign up to my weekly Friday newsletter and not only get this super handy FREE conversion guide but also get VIP subscriber discounts on free from goodies delivered to your door. Join me in my journey and learn to make anything gluten free.
p.s. I have this on the back of a cupboard door in my kitchen – true story!
Like the idea of crumble but in a pudding? well how about my Apple Caramel Squares? Layered indulgence with shortbread, caramel, cinnamon apple and a cinnamon crumble topping. So much to love about this gluten free, dairy free and egg free bake.
Gluten Free Apple Caramel Squares
A delicious merger of apple, caramel and cinnamon crumble. All piled high on a bed of gluten free shortbread. A brilliant way to use up some of your autumn harvest of apples and enjoy with a cuppa on a cold evening for tea or supper
Check out this recipe
Gluten Free Apple and Blackberry Crumble Recipe
If you make it and like the recipe I would be eternally grateful if you popped back and commented leaving a star rating as this will tell search engines that this recipe is worth checking out and others will get to find it in searches.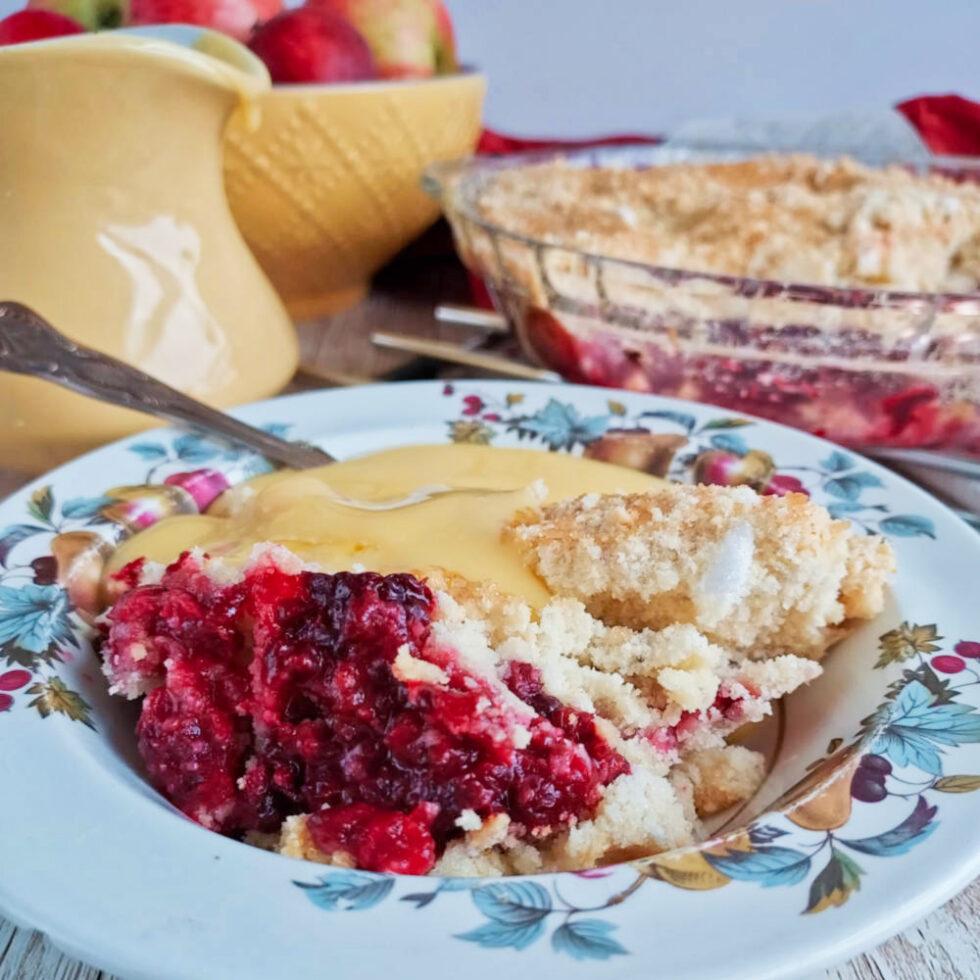 Gluten Free Apple and Blackberry Crumble
What is not to love with this gluten free apple and blackberry crumble. Even better when you use foraged fruit from hedgerows, free fruit always tastes better! Can even be enjoyed all year round if you have freeze the apple and blackberries when in season. Easily to make dairy free and vegan too.
Ingredients
200

g

Bramley (cooking) apples

you could also use dessert apples

200

g

blackberries
For the crumble topping
250

g

gluten free plain flour

100

g

butter or butter alternative (I use Flora plant butter)

I use Flora vegan blocks

100

g

caster sugar

50

g

ground almonds

this is optional and can be left out

1

tsp

ground cinnamon

optional and can be left out.
Instructions
Peel, core and chop the Bramley apples into bite size pieces. Wash and drain the blackberries [see post for tips on how to prepare blackberries].

Add both fruits to a greased oven proof dish. No need to sweeten, unless your fruit is particularly tart in which case sprinkle a couple of dessert spoons of sugar over the fruit.

Set aside to make your crumble and preheat the oven 180°C | 160°C fan | 350°F | Gas 4.
To make the crumble topping
Add the flour to a large bowl and to this add the butter, start to cut through the mixture with a round knife until it resembles breadcrumbs. I actually use a pastry cutter/blender – it makes life so much easier!

If including them, add the ground almonds to the crumble mixture.

Finally add the caster sugar and cinnamon (if adding) and mix thoroughly.

TIP: if you prefer a less crumbly crumble then add a further 50g of butter or dairy free alternative. The test to see if a crumble will work is to grab a handful and crush it in your fist, if the crumble sticks together it will work as a crumble topping.

Top the prepared apple and blackberries with the crumble mixture and cook in the oven for 35-40 mins keep and eye on it to prevent the crumble from catching (browning too much).

Serve hot with lashings of custard or cream – also super scrummy cold with cream!
Nutrition
Nutrition Facts
Gluten Free Apple and Blackberry Crumble
Amount per Serving
% Daily Value*
* Percent Daily Values are based on a 2000 calorie diet.
Have you tried this recipe?
Let me know how it was & I will be super grateful. Take a picture & tag me @glutarama on your social media posts – I love seeing your photos more than you will ever know x
I love to see your own photos of my bakes, dinners and treats head to your favourite social media account and don't forget to tag me in @glutarama
Subscribe to my email list so that you get NEW recipes straight in your mailbox every Friday PLUS a FREEBIE and access to some amazing gluten free DISCOUNTS
Join my friendly Facebook Group
life's a drama, gluten free doesn't have to be….
*disclaimer: I use affiliate codes on my website, the vast majority are to Amazon. If you click on any of the links or images in the post and make a purchase my family will benefit from a small % of that purchase at no extra cost to you.

For full transparency, in 2020 I made my first £25, and in 2022 I reached my next £25 (Amazon don't transfer the money until you reach £25). I'm now up to £17.80 for 2023 so edging closer to the magical £25 mark!!

To date I have made £69.28 since I first started the scheme in 2017. It won't pay the bills, that's for sure but it does help to pay for ingredients or little treats to cheer me up!