This page contain affiliate links. Please refer to my Disclosures Page for more details.
My Apple Caramel Squares recipe is delicious merger of apple, caramel and cinnamon crumble. All piled high on a bed of gluten free shortbread. A brilliant way to use up some of your autumn harvest of apples and enjoy with a cuppa on a cold evening for tea or supper.
I've used caramel before in my Toffee Apple Crumble and the biscuit base is my Melt in the Mouth Gluten Free Shortbread. Then the cinnamon apple topping comes from my Easy Gluten Free Apple Turnovers so all that was left to make was the cinnamon crumble topping. So basically, what I'm telling you is that this is actually three recipes I've squashed together in my brain, whisked them up and out popped this new recipe for Apple Caramel Squares. Welcome to how my mind works!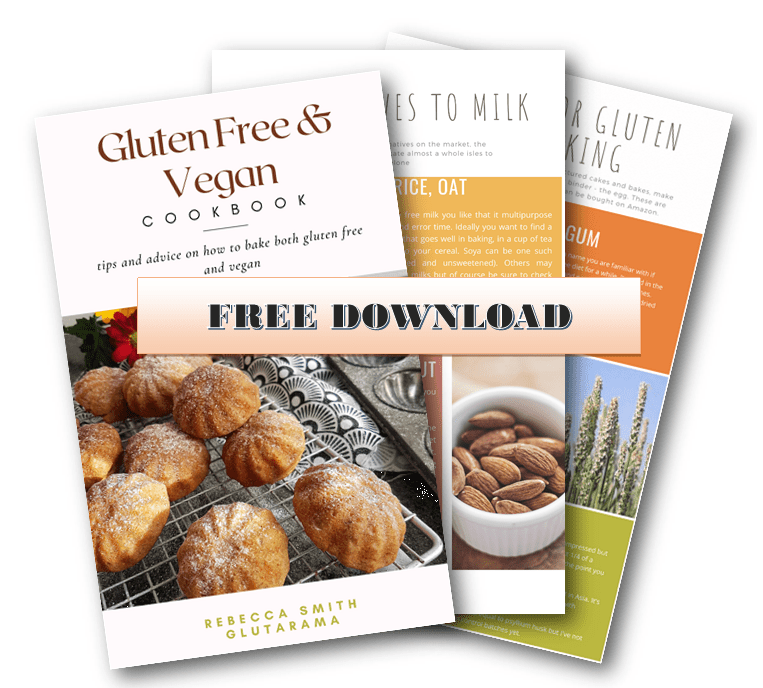 Never miss out again…
Sign up to my weekly Friday newsletter and not only get a FREE e-Book (currently my Gluten Free & Vegan Cookbook) but also get VIP subscriber discounts on free from goodies. Join me and learn to make anything gluten free.
What apples to use in this traybake?
Which apples to use when? The difference between cooking (cookers) apples and eating apples is that eating apples tend to hold their shape. So if you want your apple to keep its shape (for example decorating a tart) then go for an eating apple.
NB. That said, if you go for an apple with a red flesh it's more likely to have less crunch and more of a fluffy texture when you bite into it. This tends to mean they'll also break up easily if cooked.
For this recipe I use both eating and cooking apples. This way you get the apple sauce but with the little chunks of eating apple in it for added texture.
To find out more about different apples, and what you can use them for, head over to my Old Fashioned Gluten Free Apple Pie recipe which goes into more detail.
You can make your own apple sauce ahead of this recipe and keep it in the fridge, this is particularly useful for egg-free baking as apple is often used to replace eggs. I make this recipe for apple sauce all the time and keep it in a 1 litre Kilner jar in the back of the fridge to use when I need it.
To make your own apple sauce (makes 1ltr)
Peel, core and roughly chop 6 apples (you can use dessert apples or 4 large cooking apples for a less sweet apple sauce.
Add the chopped apple to a non-stick saucepan and pour in 100ml of cold water.
Place a lid on the saucepan and cook on a gentle heat for 10-15mins making sure to stir occasionally to prevent burning at the bottom of the pan.
The apple sauce will be ready when the apples have completely broken down into a thick apple sauce.
No need to add sugar as you can add this later depending on the recipe you use it in.
To store sterilise a 1ltr Kilner Jar by filling with boiled water and leaving until cool enough to handle, pour the water away and fill with the still hot/warm apple sauce and add the lid immediately. Allow to cool completely. Your apple sauce can now be kept in the fridge for up to 3 months.
Gluten Free Apple Turnovers
Make your own Gluten Free Apple Turnovers from scratch. Easy to make with simple ingredients these are a popular pastry in our household. No one suspects they are gluten free and dairy free, I've been told they're better than any bakery! Depending on the puff pastry you get these can easily be vegan too.
Check out this recipe
Can I used tinned apple pie filling?
Absolutely, I'm all for making life easier. One thing you may need to bear in mind is that the canned apple pie filling may be looser in texture so may not hold in place as well once the Apple Caramel Squares have been cut. If this is the case you could add a little arrowroot as illustrated in the recipe to thicken my homemade chunky apple sauce.
How to make the shortbread base
As I mentioned at the beginning, this shortbread base is simply my very own Gluten Free Shortbread recipe. It also happens to be dairy free too. As this is a bigger bake, it requires more volume of ingredients so I added half again.
Normally all you need is;
175 g gluten free plain flour
50 g cornflour/cornstarch
50 g caster sugar (plus extra to sprinkle)
120 g unsalted butter or dairy free alternative
Gluten Free Shortbread Recipe
A delicious, melt in the mouth shortbread recipe that's not only gluten free but can be made dairy free (vegan) too. So quick to make and with common store cupboard ingredients, this traditional biscuit can be made in no time for last minute guests or shortbread cravings.
Check out this recipe
How to make a dairy free caramel
Now the recipe I use for my Toffee Apple Crumble uses a caramel that's more like a pouring sauce so not thick enough for this particular bake. The key to a good dairy free caramel is time and patience.
You need to condense the liquids to the point that the caramel goes through a bizarre metamorphous of colours from light, to dark and back to light again. It's truly fascinating alchemy in the kitchen.
light brown sugar
golden syrup
unsalted butter or dairy free alternative
cream or plant based alternative
salt to taste
The process is simple. Add all the ingredients to a pan then stir on a medium to high heat until everything has melted. Turn the temperature up or down to achieve a rolling boil (where the bubbles roll out towards the edges of the saucepan). Stir every so often and check to make sure the sugar and fats are not burning.
TROUBLE SHOOTING – my caramel has split
If something has split it means the fats have separated from the rest of the ingredients. Do not panic, this is quite likely to happen when making dairy free caramel. It's all part of the process. Take the pan off the heat and beat like a woman or man possessed. The fats and sugars will merge back together as they cool and I promise you will end up with the thick caramel in the third picture below.
Can I buy readymade vegan caramel?
Once again, I'm all for making life easier. So if you wanted to buy a dairy free caramel sauce to make this Apple Caramel Squares recipe then here are some great options for you to try. There's the Nature's Charm Salted Caramel or Joe & Steph's Salted Caramel. If you do make this recipe with these alternative I'd love to know how you got and and what you thought.
How to make the cinnamon crumble topping
This bit is embarrassingly easy. Take one packet of gluten free digestive biscuits, some dairy free butter and a pinch or two of cinnamon and hey-presto you have yourself a cinnamon crumble topping!
How to store this apple caramel and cinnamon crumble bake?
I find that this bake lasts better if kept in the fridge until you wish to serve it. I normally chill it for 30 minutes before cutting into 9 squares and then it's ready to serve as and when. If you'd rather a room temperature bake, simply take a piece out of the fridge 10-15 minutes before eating.
Gluten Free Apple Caramel Squares Recipe
If you make it and like the recipe I would be eternally grateful if you popped back and commented leaving a star rating as this will tell search engines that this recipe is worth checking out and others will get to find it in searches.
Gluten Free Apple Caramel Squares
A delicious merger of apple, caramel and cinnamon crumble. All piled high on a bed of gluten free shortbread. A brilliant way to use up some of your autumn harvest of apples and enjoy with a cuppa on a cold evening for tea or supper
Ingredients
For the shortbread base
270

g

gluten free plain flour

180

g

unsalted butter or dairy free alternative (I use Flora plant butter)

75

g

cornflour/cornstarch

I have also used coconut flour

75

g

caster sugar
For the cinnamon apple layer
2

medium

cooking apples

Bramley apples, peeled and roughly chopped

1

dessert/eating apples

peeled and finely chopped into fingernail-size pieces

50

g

caster sugar

1

tsp

ground cinnamon

½

tbsp

arrowroot

optional but does thicken the apple sauce
For the dairy free caramel layer
100

g

light brown sugar

100

g

golden syrup (corn syrup)

100

g

unsalted butter or dairy free alternative (I use Flora plant butter)

120

ml

soya cream or usual dairy free alternative
For the cinnamon crumble topping
150

g

gluten free digestive biscuit(s)

50

g

melted dairy free butter (I use Flora plant based butter)

½

tsp

ground cinnamon
Instructions
To make the shortbread layer
Preheat the oven to 170°C | 150°C fan | 325°F | Gas 3.

To make the shortbread, simply weight out the butter, sugar, flour and cornflour in a bowl and using a rounded knife cut through mixture until it resembles fine breadcrumbs.

The mixture will seem too dry, do not worry, it's supposed to be crumbly.

Press the crumbly mixture firmly into a lined 20x20cm square loose-based tin, making sure you've gone to the edges and the dough is as flat and compacted as possible.

I use the end of a dessert spoon to smooth down the edges to ensure the mixture get right into the sides of the tin. Prick several times with a fork to prevent any pockets of air and encourage an even bake.

Bake the shortbread for 40 minutes until it begins to smell delicious and just starts to turn colour.

Remove and leave aside on a cooling rack (still in the square tin) until it has cooled completely before adding the next layer.
To make the dairy free caramel
In a non stick saucepan, add all the ingredients and begin to stir on a medium to high heat until all the ingredients have melted.

Next, adjust the hob heat until you have a rolling boil. This step can take 20 minutes so be patient and simply stir every once in a while to ensure the ingredients are not sticking to the bottom of the pan.

TOP TIP: a rolling boil is when the liquid bubbles in the centre and forces the bubbles to the edge in a continuous rolling-outwards motion.

Once your ingredients have condensed by about half, remove from the heat and begin to beat the caramel with a whisk. As the caramel cools it will thicken (any splitting of the fats and sugars will be rectified but this beating motion).

Pour into a glass jug or bowl, cool to room temperature ready to use later.
To make the cinnamon apple layer
First make the apple sauce by prepping the cooking apples and adding to the saucepan with the tablespoons of water.

Gently eat with a lid on, until the cooking apples have broken down and created an apple sauce. Using Bramley apples will mean this process takes very little time.

Next, in a little bowl or cup, mix a little water to the arrowroot to make a paste, add this to the apple sauce and cook for 5mins until the arrowroot is cooked through and the sauce has thickened.

TOP TIP: arrowroot makes sauces cloudy/creamy in colour initially, it is cooked when the sauce/mixture has returned to its original colour and the arrowroot has gone transparent.

Now peel, core and chop your dessert/eating apple(s) into small chunks the size of a fingernail. Add these apple pieces to the apple sauce, along with the sugar and cinnamon

Heat gently until the apple pieces have softened but not broken down. Then set aside to cool completely.
To make the cinnamon crumble
Nearly there! This bit is easy. in a bowl, break the gluten free digestive into pieces but don't pulverise them into dust, you want different sized crumbly bits.

Pour over the melted plant butter and add the cinnamon and mix thoroughly to combine. Set aside, now we get to build the apple caramel squares.
To build the bake
Take the shortbread base, still in the tin and pour over the caramel. If the caramel has become too thick heat in the microwave for 5 seconds to loosen, no more.

Smooth the caramel to the edges and them move onto the apple sauce layer

Spread the cooled apple sauce layer over the caramel, teasing it to the edges with a spoon. If your caramel is too soft, pop into the fridge for 10minues to harden. Then add the apples.

Next evenly spoon the cinnamon crumble over the apple layer.

I find this bake is best kept in the fridge until you want to serve it. To serve simply remove from the loose-bottom tin and cut 4x into 9 equal squares.
Nutrition
Nutrition Facts
Gluten Free Apple Caramel Squares
Amount per Serving
% Daily Value*
* Percent Daily Values are based on a 2000 calorie diet.
Have you tried this recipe?
Let me know how it was & I will be super grateful. Take a picture & tag me @glutarama on your social media posts – I love seeing your photos more than you will ever know x
I love to see your own photos of my bakes, dinners and treats head to your favourite social media account and don't forget to tag me in @glutarama
Subscribe to my email list so that you get NEW recipes straight in your mailbox every Friday PLUS a FREEBIE and access to some amazing gluten free DISCOUNTS
Join my friendly Facebook Group
life's a drama, gluten free doesn't have to be….
*disclaimer: I use affiliate codes on my website, the vast majority are to Amazon. If you click on any of the links or images in the post and make a purchase my family will benefit from a small % of that purchase at no extra cost to you.

For full transparency, in 2020 I made my first £25, and in 2022 I reached my next £25 (Amazon don't transfer the money until you reach £25). I'm now up to £17.80 for 2023 so edging closer to the magical £25 mark!!

To date I have made £69.28 since I first started the scheme in 2017. It won't pay the bills, that's for sure but it does help to pay for ingredients or little treats to cheer me up!