This Toffee Apple Crumble is a fusion of, well, toffee apples and crumble! Talk about stating the obvious Rebecca (rolls eyes). I'd popped into Aldi the other day and saw toffee apples in the vegetable aisle and knowing that Lewis liked them decided to get a couple. By the time I'd got home I had the idea to make an apple crumble but with the added bonus of a butterscotch style sauce. Of course this did mean that Lewis couldn't have his toffee apple until the next day so that I firstly had time to bake the crumble, and secondly had the sunlight to photograph the crumble with toffee apples in the frame.
And the bad parent award goes to…
…me!
Actually, scrap that, I was thinking of his dental hygiene (maybe not)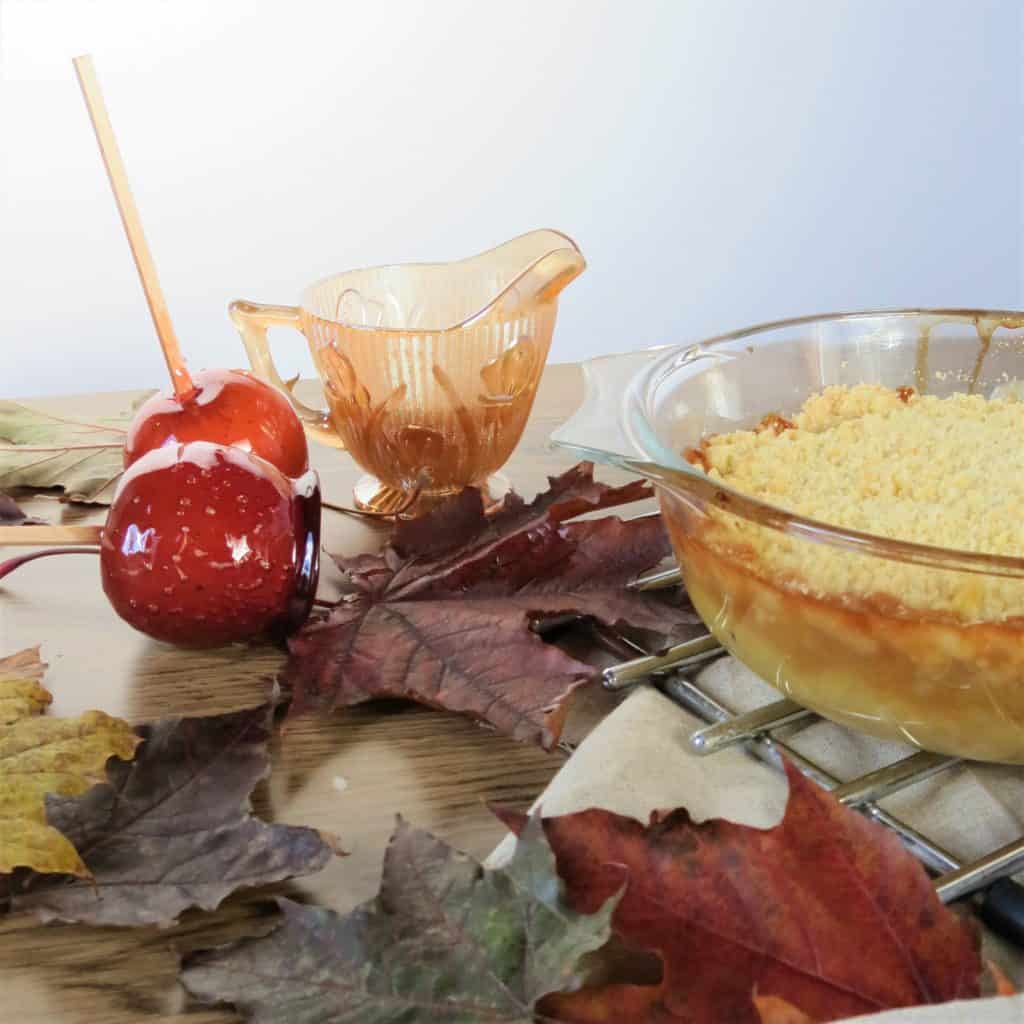 Well all's well that ends well. The Toffee Apple Crumble was, as I'd expected, delicious and Lewis got to eat not one but two toffee apples because Bethany didn't fancy hers. So the dental hygiene excuse just leapt out the window.
If I've whet your appetite for the real thing you may be interested to know that a lot of Aldi's have them on offer at 50% off this week so grab one while you can…if not, just make this pudding and that way you can have seconds, and maybe even thirds.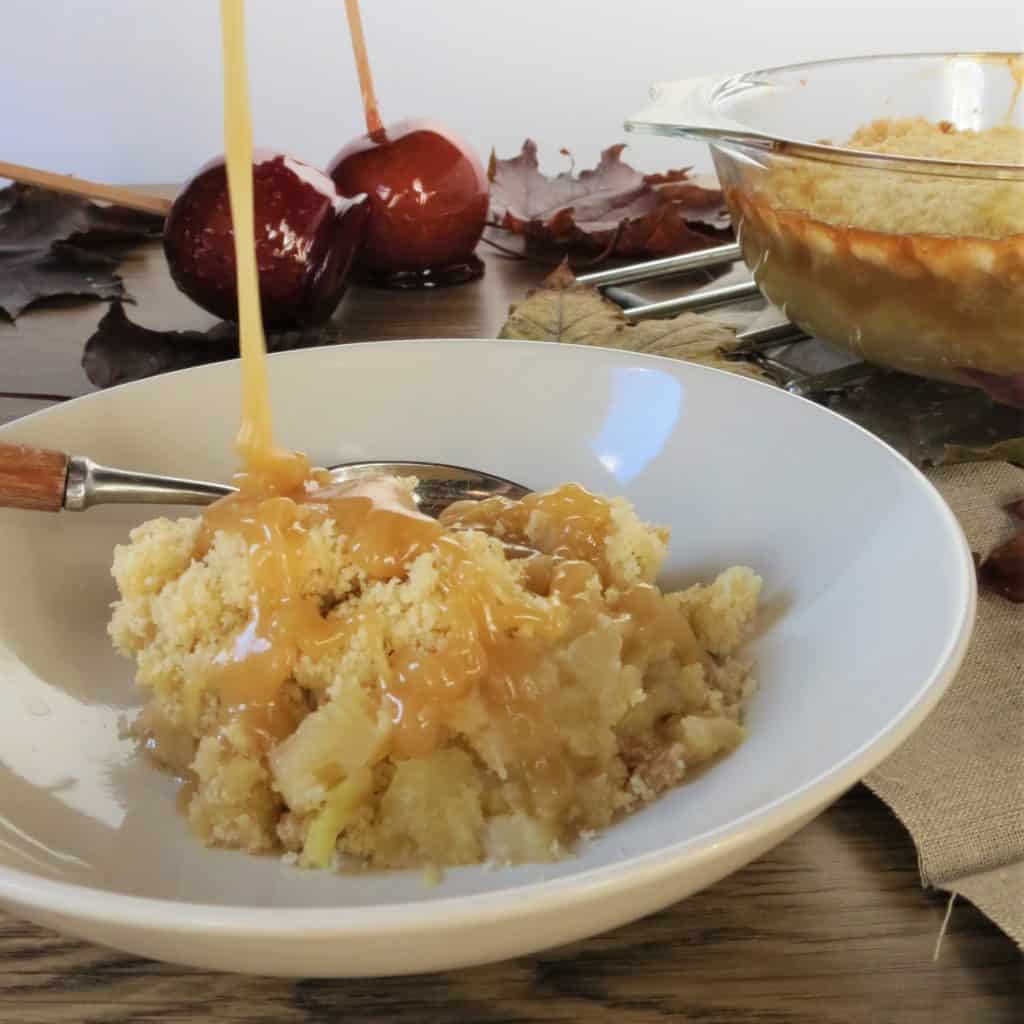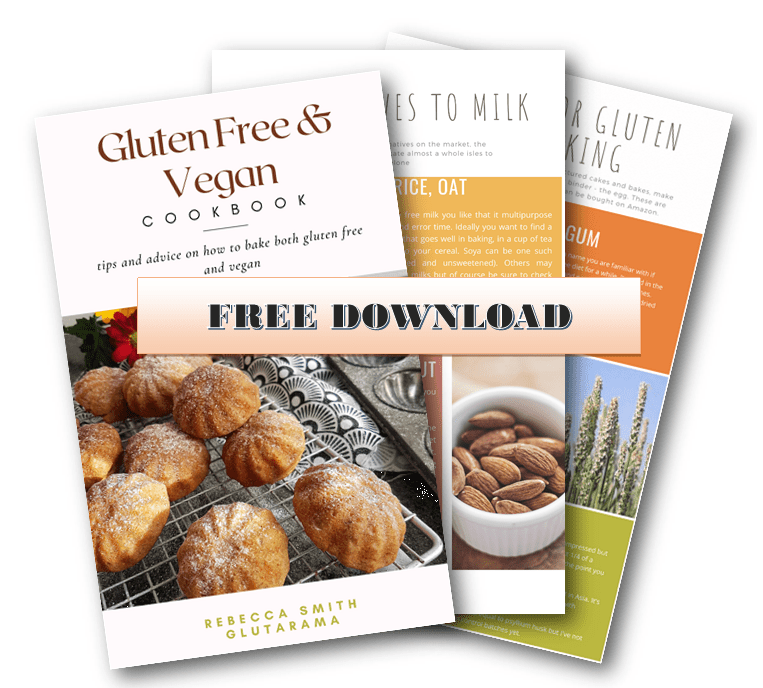 Never miss out again…
Sign up to my weekly Friday newsletter and not only get a FREE e-Book (currently my Gluten Free & Vegan Cookbook) but also get VIP subscriber discounts on free from goodies delivered to your door. Join me in my journey and learn to make anything gluten free.
Other Crumbles you may like to try
I have lots of delicious puddings and desserts on this website now [scroll to the bottom for a link to 20 Autumn inspired recipes] but here are some other crumbles I know you'll love. Gluten Free Gooseberry Crumble, Three Ingredient Cherry Shortbread Crumble, Rhubarb Crumble
Toffee Apple Crumble Recipe
Toffee Apple Crumble; gluten free and dairy free
A simple pudding that's easy to prepare and a real crowd pleaser, warning, you may never make a normal apple crumble again, and as this is vegan, dairy free and gluten free too everyone can partake in my Toffee Apple Crumble.
Ingredients
To make the apple crumble
350

g

peeled

cored and chopped dessert apples

200

g

gluten free plain flour

150

g

butter or butter alternative (I use Flora plant butter)

I use Pure

50

g

golden caster sugar

1

tsp

of lemon juice
To make the toffee sauce
250

ml

soya cream or usual dairy free alternative

150

g

golden caster sugar

50

g

butter or butter alternative (I use Flora plant butter)

I use Pure
Instructions
Making the crumble
So that the toffee sauce doesn't seep to the bottom of the crumble you'll need to stew the apples first rather than putting them into your oven proof dish uncooked. I stew mine in a saucepan with a tablespoon of water and the lemon juice (to prevent browning) for 10 minutes. Keep an eye on the fruit to prevent it from burning.

Whilst stewing your apples make your crumble topping simply by adding all the remaining ingredients and rubbing to a breadcrumb like mixture, if the mix forms a ball when you squeeze a handful into a fist then it's the right consistency for a good crumble.

Once your apples have stewed for long enough pour them into your oven proof dish and using a spoon smooth the surface.

Leave to one side to cool whilst you make the toffee sauce
Making the toffee sauce
Add the cream, butter and sugar to a non-stick saucepan and heat on a high heat, making sure you keep stirring to prevent the sugar form burning.

Once the butter and sugar have melted you will see the liquid start to caramelise and deepen in colour.

Keep heating through until you achieve a thick toffee/caramel like sauce, it will thicken as it cools so bear this in mind when you place it to one side before finishing making your crumble.
To finish the crumble
Pour the slightly cooled toffee sauce over your dish of stewed apples making sure to spread the sauce evenly.

Sprinkle your crumble mixture over the top of the toffee sauce and pop into the oven at 220°C (200°C for a fan oven) for 40 minutes until gently browned on top and the toffee sauce has bubbled up around the edges (this bit will be delicious chewy toffee when you come to serve)
Nutrition
Nutrition Facts
Toffee Apple Crumble; gluten free and dairy free
Amount per Serving
% Daily Value*
* Percent Daily Values are based on a 2000 calorie diet.
Have you tried this recipe?
Let me know how it was & I will be super grateful. Take a picture & tag me @glutarama on your social media posts – I love seeing your photos more than you will ever know x
I love to see your own photos of my bakes, dinners and treats head to your favourite social media account and don't forget to tag me in @glutarama
Subscribe to my email list so that you get NEW recipes straight in your mailbox every Friday PLUS a FREEBIE and access to some amazing gluten free DISCOUNTS
Click to save my Toffee Apple Crumble
And one last thing! I've linked my Toffee Apple Crumble with these other awesome bloggers pages, go check them out
disclaimer: I've started using affiliate codes on my website again (needs must). If you click on any of the links in the post and make a purchase my family will benefit from a small % of that purchase at no extra cost to you.