This page contain affiliate links. Please refer to my Disclosures Page for more details.
Introducing my Gluten Free Plum Upside Down Cake Recipe. But hold the press! This is not only gluten free but also dairy and egg free too. Of course you may not need a 'vegan' version so fear not because I have tips on how to make this egg-filled too if you wish, so read on if that's you.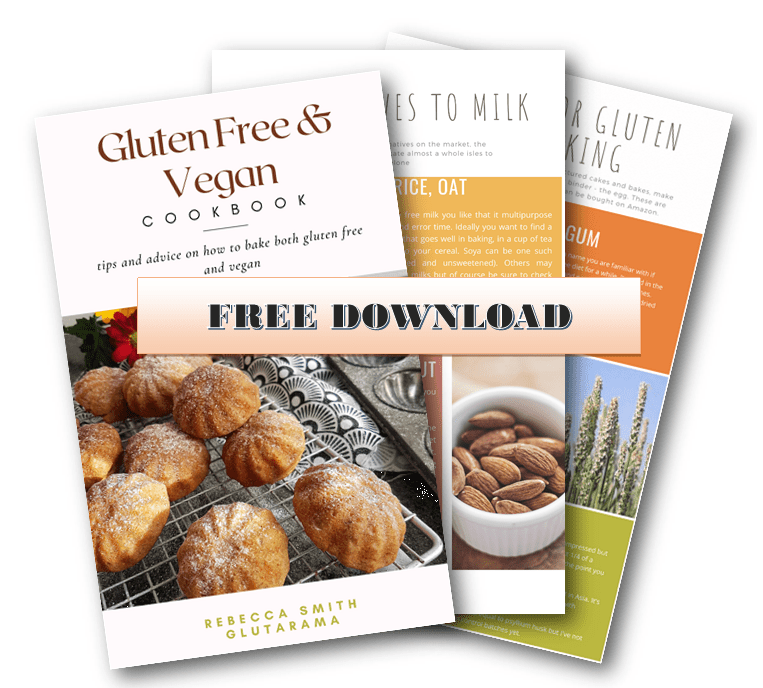 Never miss out again…
Sign up to my weekly Friday newsletter and not only get a FREE e-Book (currently my Gluten Free & Vegan Cookbook) but also get VIP subscriber discounts on free from goodies. Join me and learn to make anything gluten free.
What plums should I use for this upside down cake?
Quick answer – any plum will do for this recipe. I have my own Victoria plum tree at home, it's still only a baby tree but its branches bow heavily at this time of the year with delicious fruit. If you have a huge harvest of your own or have been gifted a bag and find yourself thinking 'what can I do with a lot of plums?' then this is an easy, quick and safe-for-most recipe.
How to prepare the plums
Very little needs to be done to prep the plums for this upside down cake. I simply wash the plums, carefully score them lengthways with a peeling knife and twist the two halves apart. If the plums are perfectly ripe you should be able to pick the stone out with ease. That's it. Just make sure you have enough plum halves to line the base of the 20cm cake tin.
When are plums in season?
Typically, here in the UK, plums are in season in August with maybe a few stragglers ripening into early September. This is not true of the Mirabelle Plum however. This tiny little round plum family ripen earlier throughout July.
Can I make this plum cake with egg and dairy?
To make this plum upside down cake essentially vegan, as well as gluten free, I've had to make a few tweaks to a standard gluten free sponge. As a result, simply adding an egg or two wouldn't necessarily work.
I have developed another upside down cake that does have egg in it that you may like to try. Simply make that sponge batter and pour over your arranged plums. Gluten Free Rhubarb and Apple Upside Down Cake
How to make a no-fail upside down cake?
The key to the perfect upside down cake is preparation. I line the bottom of the cake tin (ideally a loose bottom tin) with baking paper and brush the side of the tin with a bit of the melted 'butter'.
The other thing to consider is the type of fruit you use for the bottom/top of the cake. Some fruits hold more natural water than others so bear this in mind or else you may end up with an overly soggy bottom (more about that further down).
Plums are naturally high in water content, I should know, my tree is very thirsty and constantly needs watering!
The final thing to remember is that the bottom of your cake will become the top. So bear this in mind when you decorate the bottom of your lined cake tin. For example, I arranged my plums with the stone side down. You may wish to do the opposite and arrange yours so that the colourful skin side will be visible when you turn the cake out – there is not right or wrong answer to this. That said, my way works better for area coverage.
The top tip I can give you is the closer the fruit is, i.e. less gaps, the more dramatic your cake will look when you turn it out.
Soggy bottom upside down cakes!
Some like it soggy, others not so much! If you find that your upside down cake has turned out too soggy it could be that the fruit was super ripe and the flesh had started to break down making the fruit juicier.
As this recipe uses juicy plums you will be more prone to a soggier resulting cake. As mentioned above I'm constantly having to water my tree so they have a natural high water content.
Another contributing fact to a soggy upside down cake could be down to the cake simply sweating a bit while it cooled in the tin.
If you're not a fan of soggy bottoms (or in this case tops) then do what I do – grill it!
The images below show this particular upside down cake before and after I have grilled it. To be fair, it wasn't overly soggy but I still did it for demonstration purposes.
This was carefully placed on a baking sheet and under a preheated grill for 2 minutes. As you can see the cake has gone a warmer golden colour and any little soggy patches have pretty much disappeared.
Good news! It won't dry the cake itself out so don't worry if you do want to try this little trick.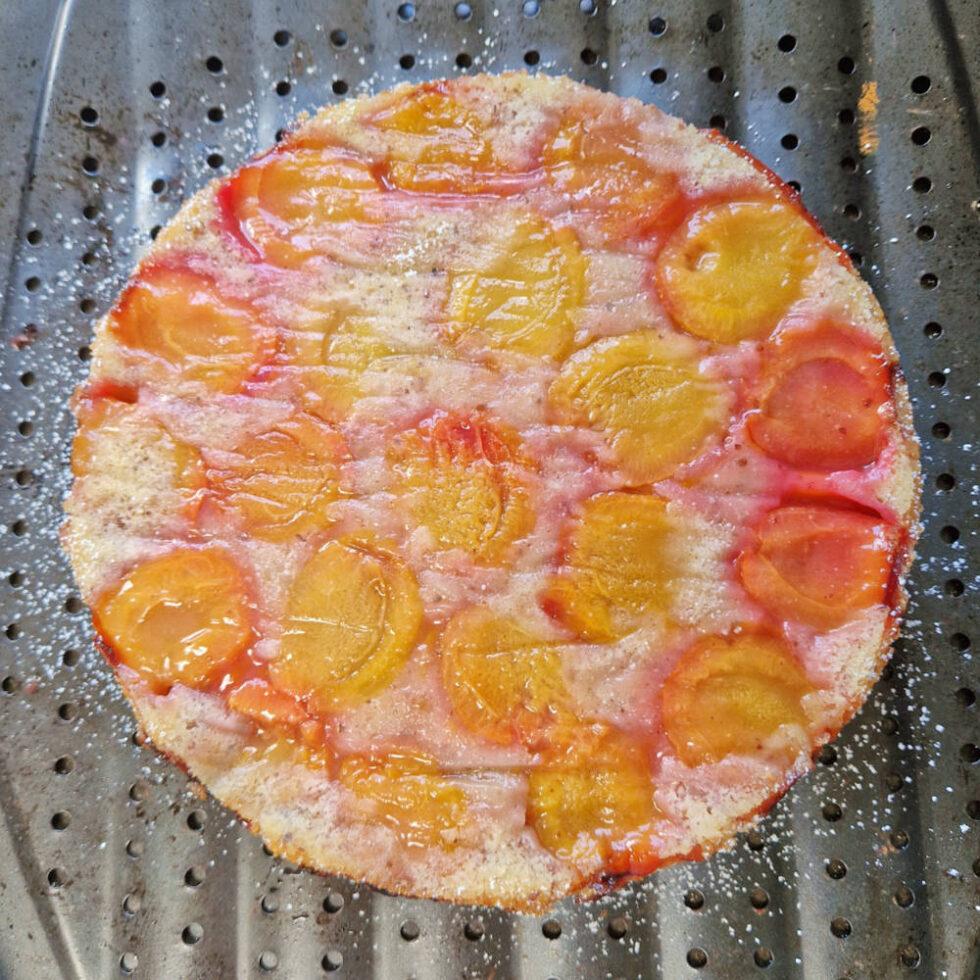 Ingredients you will need
ripe plums
gluten free self raising flour
caster sugar
dairy free butter
dairy free milk
lemon juice
vanilla extract
Equipment you will need
Some other fruity gluten free recipe ideas
Gluten Free Mirabelle Plum Galette
A deliciously simple recipe, perfect for a Mirabelle harvest. Can be made with all variety of soft fruits too. Both gluten free and dairy free plus no egg so this is vegan too. Never the prettiest of bakes but what it lacks in looks it makes up for in taste.
Check out this recipe
Gluten Free Apple and Blackberry Crumble
What is not to love with this gluten free apple and blackberry crumble. Even better when you use foraged fruit from hedgerows, free fruit always tastes better! Can even be enjoyed all year round if you have freeze the apple and blackberries when in season. Easily to make dairy free and vegan too.
Check out this recipe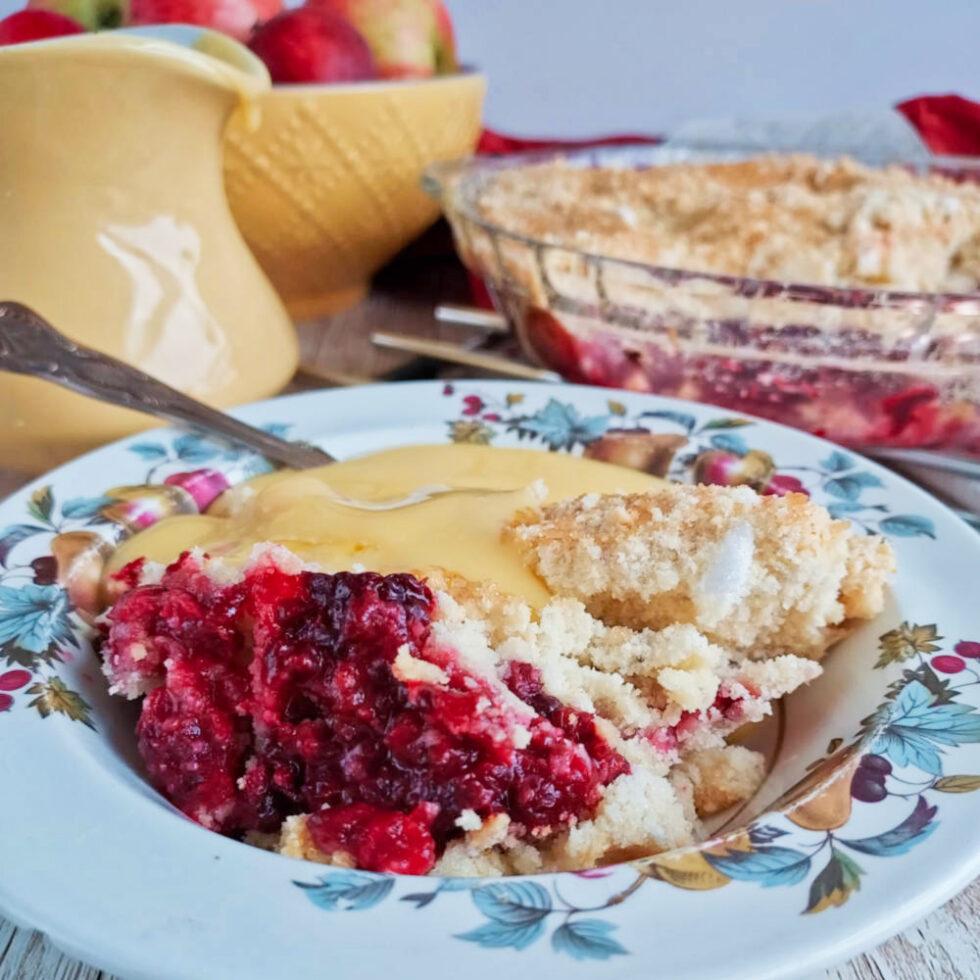 Apple & Cinnamon Cake
Gluten Free and easily made egg and dairy free too. This Apple & Cinnamon Cake is a firm favourite of mine, it comes out delicious every time no matter what apple is in season. Why not try with a Bramley or a Cox, slightly different taste, same scrumptious results.
Check out this recipe
Gluten Free Plum Upside Down Cake Recipe
If you make it and like the recipe I would be eternally grateful if you popped back and commented leaving a star rating as this will tell search engines that this recipe is worth checking out and others will get to find it in searches.
Gluten Free Plum Upside Down Cake
Deliciously simple cake to make with a bumper harvest of plums! Delicious eaten cold or warm with custard. Not just gluten free but dairy free and egg free too.
Ingredients
10

ripe plums

amount will vary depending on the size of your plums

130

g

gluten free self raising flour

130

g

caster sugar

75

g

dairy free butter, melted

allow to cool slightly

130

ml

dairy free milk

I use soya milk

1

tbsp

lemon juice

you could use apple cider vinegar

1

tsp

vanilla extract
Instructions
Line a loose bottom cake tin with a circle of baking paper and grease the sides.

Carefully score each plum lengthways and twist to reveal the stone. This can be pinched out with your finger and thumb.

TOP TIP: arranging the fruit with less gaps will achieve a better looking cake once turned out. Also remember the bottom of the cake will be the top so face the plums stone-side down first.

In a large bowl beat the dairy free milk, flour and caster sugar until thick and creamy, next add the melted (cooled) butter and vanilla extract.

Finally add the lemon juice and whisk into a thick silky cake batter. You will see the acid reacting with the baking agents to create little bubbles of air, try to keep as many of these as possible.

Pour the cake batter over the arranged plums.

Bake in the oven at 170°C | 150°C Fan | 325°F | Gas 3 for 40 mins.

Loosen from the edges and allow to cool totally before turning out upside down onto a plate.
Soggy Bottom?
If you're not a fan of soggy cakes, then pop the unturned cake under a hot grill for 1-2 minutes to toast it a little. This also adds a lovely warm colour to the cake.
Nutrition
Nutrition Facts
Gluten Free Plum Upside Down Cake
Amount per Serving
% Daily Value*
* Percent Daily Values are based on a 2000 calorie diet.
Have you tried this recipe?
Let me know how it was & I will be super grateful. Take a picture & tag me @glutarama on your social media posts – I love seeing your photos more than you will ever know x
I love to see your own photos of my bakes, dinners and treats head to your favourite social media account and don't forget to tag me in @glutarama
Subscribe to my email list so that you get NEW recipes straight in your mailbox every Friday PLUS a FREEBIE and access to some amazing gluten free DISCOUNTS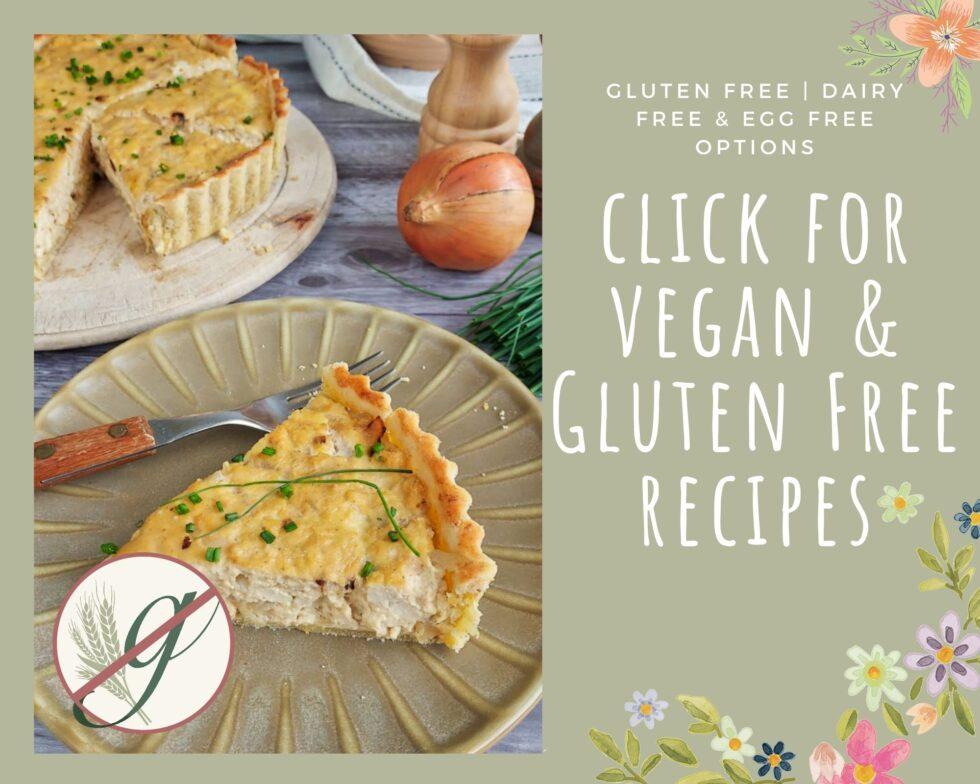 *disclaimer: I use affiliate codes on my website, the vast majority are to Amazon. If you click on any of the links or images in the post and make a purchase my family will benefit from a small % of that purchase at no extra cost to you.

For full transparency, in 2020 I made my first £25, and in 2022 I reached my next £25 (Amazon don't transfer the money until you reach £25). I'm now up to £17.80 for 2023 so edging closer to the magical £25 mark!!

To date I have made £69.28 since I first started the scheme in 2017. It won't pay the bills, that's for sure but it does help to pay for ingredients or little treats to cheer me up!