This page contain affiliate links. Please refer to my Disclosures Page for more details.
Also, before you hit 'Jump to Recipe' just check my contents section 'Skip to the Good Bit' below. I may answer a query you have about this recipe straight away in the post.
I've made my Gluten Free and Vegan Rose Cupcakes once again so I could retake the photos. The 2016 images were a bit cringeworthy. I ought to make these more often, I think this must be Bethany's favourite bake which is thrilling because she is my hardest critic and being the Coeliac in the family this is all about her at the end of the day!
The original recipe back in 2016 was only gluten free but over the years I've adapted it to be dairy free, then egg free so I can now share this vegan cupcake recipe with you with confidence that you'll love it as much as we do.
What do these vegan rose cupcakes taste like?
The addition of rose water makes these fluffy and light cupcakes smell so aromatic, they actually smell like a botanical garden. In fact while I think about it, if you're planning on making these for Mother Day or a pretty gift, you're effectively gifting both cupcakes and a bunch of flowers at the same time!
For anyone who likes Turkish Delight, you'll be familiar with the aroma as this is the main ingredient in the Turkish delicacy, next to sugar that is. I have made these with a piece of Turkish Delight in place of an edible flower for an extra eastern touch.
Different Topping Ideas for these Rose Cupcakes
I've already mentioned above that I've used a piece of Turkish Delight to top my cupcakes. You need to be sure to use a vegan Turkish Delight if this is an issue, as some products may contain non-vegan ingredients.
If you like you could melt some dairy free chocolate and drizzle that over the buttercream and Turkish Delight to imitate a Fry's Turkish Delight bar.
As you an see in the images, I chose to top one batch with an edible flower and a second batch with a little square of Turkish Delight just to help give you some decoration suggestions..
I'd be interested to know if anyone has any tips on how to make sugared flowers without the use of egg white. Please pop your tips and ideas in the comments below, I'm always keen for feedback and ideas.
Never miss out again…
Sign up to my Friday newsletter and receive not one, but THREE FREEBIES.
GF and Vegan e-Book
conversion charts
3 simple guides to allergies, intolerances & autoimmune.
Join me and learn to make anything gluten free.
Quick and Easy Two Tone Buttercream
There are a few ways to create a two tone butter cream. One way is to 'cheat' and use a double bag* method. Another way is to make up two batches of buttercream with different flavours and colours. Then carefully fill a large single icing bag up with both colours!

This third way is quicker, easier and creates a really punchy vibrant colour swirl to your piping.
To make this work you need to use food colour pastes. I've bought these Sugarflair Concentrated Food Colours* twice now over the many years of baking. They last for ages and are a great starting place if you've not use them before. You can buy individual ones to top op the colours you use more frequently. For example my red*, pink* and green* run out quicker.
Can these Gluten Free Cupcakes be made with dairy or egg?
Technically you can make these Rose Flavour Cupcakes with dairy and eggs. If you want to do this I would recommend the following method;
swap the oil for 40g of unsalted butter and cream this with the sugar as you would a cake batter.
add 1 beaten egg to the butter and sugar and then only add the 40ml of rose water NOT the milk (eggs are equal to approx. 50g/50ml). Finally add the flour, mix to combine and fill the cases as per normal.
Where does Rose Water come from?
The use of Rose Water in cooking, medicine and perfume dates back centuries and is documented to have many uses both edible and medicinal by the ancient Greeks and Romans. As mentioned above a familiar use is in Turkish Delight but it is also used in baklava, rice pudding, nougat and ice cream. Rose Water was actually as commonly used as vanilla is now, until vanilla flavouring became popular in the 19th Century. Did you know that it's also long been used in a Yorkshire regional dish called the Yorkshire Curd Tart.
Rose Water Recipe Ideas
Hold onto your hats readers, I've got a treat for you; how about these Aquafaba Meringues with Rose Water, Pistachio and Raspberry, quite a mouthful to say agreed but goodness would I love to get my chops around some of these, Mandy from Veggielicious has mastered the no egg meringue and what better way to accompany them with these three glorious ingredients.
Okay, so this isn't rose water flavoured but as the alternative perfect celebration cake you may want to consider making my light and airy Victoria Sponge Gateau with fresh cream and strawberries.
Back to rose water and how about the sound of Pistachio and Rose Macaroons with Crushed Raspberry Cream, these flavours seem to complement each other really well as this is a popular combination but sandwiching two delicious macaroons with rose scented cream sounds utterly divine. This heavenly creation was developed by the talented Gluten Free Alchemist
Love these cupcakes, then why not try my Dairy free fudge cupcakes too?
Dairy Free Fudge Cupcakes
These beautifully light and fluffy gluten free fudge cupcakes are the perfect gift, celebration cupcakes or teatime treats. The fudgy pieces and caramel drizzle make these cupcakes extra special. These are also dairy free and egg free as well as gluten free (vegan) but you can choose to use unsalted 'normal' butter and milk if you wish for t he recipe to be just gluten and egg free.
Check out this recipe
Gluten Free Rose Water Cupcakes Recipe
If you make it and like the recipe I would be eternally grateful if you popped back and commented leaving a star rating as this will tell search engines that this recipe is worth checking out and others will get to find it in searches.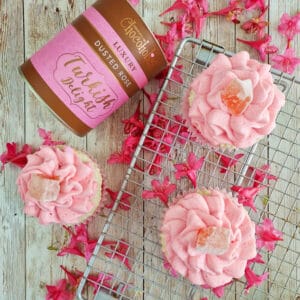 Vegan Rose Cupcakes
These beautifully light and fluffy gluten free rose cupcakes are the perfect gift, celebration cupcakes or teatime treats. The delicate rose scent and taste make these cupcakes extra special and you feel like you're having a real treat. These are also dairy free and egg free as well as gluten free (vegan) but you can chose to use unsalted butter if you wish.
Ingredients
For the Rose Cupcake
180

g

gluten free self raising flour

125

g

caster sugar

40

ml

oil (I use vegetable or sunflower)

I use vegetable or sunflower

40

ml

rose water

40

ml

dairy free milk

I use soya milk

¼

tsp

baking powder

¼

tsp

bicarbonate of soda

¼

tsp

apple cider vinegar or lemon juice

optional but does add extra rise

½

tsp

psyllium husk powder (optional)

optional but does help bind
For the Rose Buttercream
35

g

butter or butter alternative (I use Flora plant butter)

I use Pure blocks of 'butter'

2

tbsp

rose water

200

g

icing/confectioners sugar

(confectioners sugar)

pink food colouring

optional
Instructions
To make your Rose Cupcakes
In a large bowl or mixer, beat together the oil, dairy free milk, sugar, vinegar (if using) and rose water until light in colour.

Now add the dry ingredients. The flour, baking powder, bicarbonate of soda and psyllium husk powder (if using) and beat again to a smooth batter that drops off the spoon easily.

NOTE: don't worry, it will look rather sloppy.

Add 4 large cupcake cases (or 6 medium ones) to your cupcake/muffin tin. I actually double up my cases as this looks nice and helps to insulate). Spoon the batter evenly into each case. The cases should fill up nearly all the way – this is why you need large cupcake cases!

Pop into a preheated oven at 200°C | 180°C Fan | 400°F | Gas 6 for 25 minutes.

TOP TIP: as these cupcakes rise like mini souffles I stick a cocktail stick into the sides to check they're cooked through.

Remove from the oven and once cool enough take the cupcakes out of the tin and transfer to a cooling rack, allow to cool completely.
To make the Rose Buttercream
Cream together the three ingredients until you have a manageable light coloured buttercream. Add food colour if you wish, or follow my instructions in the post to create a two tone butter cream.

Scoop your buttercream into a piping bag with a nozzle of your choice and pipe liberally onto each of the 4 cupcakes.

Finally decorate with edible flowers, Turkish delight, drizzles of white chocolate or whatever takes your fancy.
Nutrition
Nutrition Facts
Vegan Rose Cupcakes
Amount per Serving
% Daily Value*
* Percent Daily Values are based on a 2000 calorie diet.
Have you tried this recipe?
Let me know how it was & I will be super grateful. Take a picture & tag me @glutarama on your social media posts – I love seeing your photos more than you will ever know x
I love to see your own photos of my bakes, dinners and treats head to your favourite social media account and don't forget to tag me in @glutarama
Subscribe to my email list so that you get NEW recipes straight in your mailbox every Friday PLUS a FREEBIE and access to some amazing gluten free DISCOUNTS
*disclaimer: I use affiliate codes on my website, the vast majority are to Amazon. If you click on any of the links or images in the post and make a purchase my family will benefit from a small % of that purchase at no extra cost to you.

For full transparency, in 2020 I made my first £25, and in 2022 I reached my next £25 (Amazon don't transfer the money until you reach £25). Recently I got paid a whopping £27.10 for 2023.

So to date I have made £78.58 since I first started the scheme in 2017. It won't pay the bills, that's for sure but it does help to pay for ingredients or little treats to cheer me up!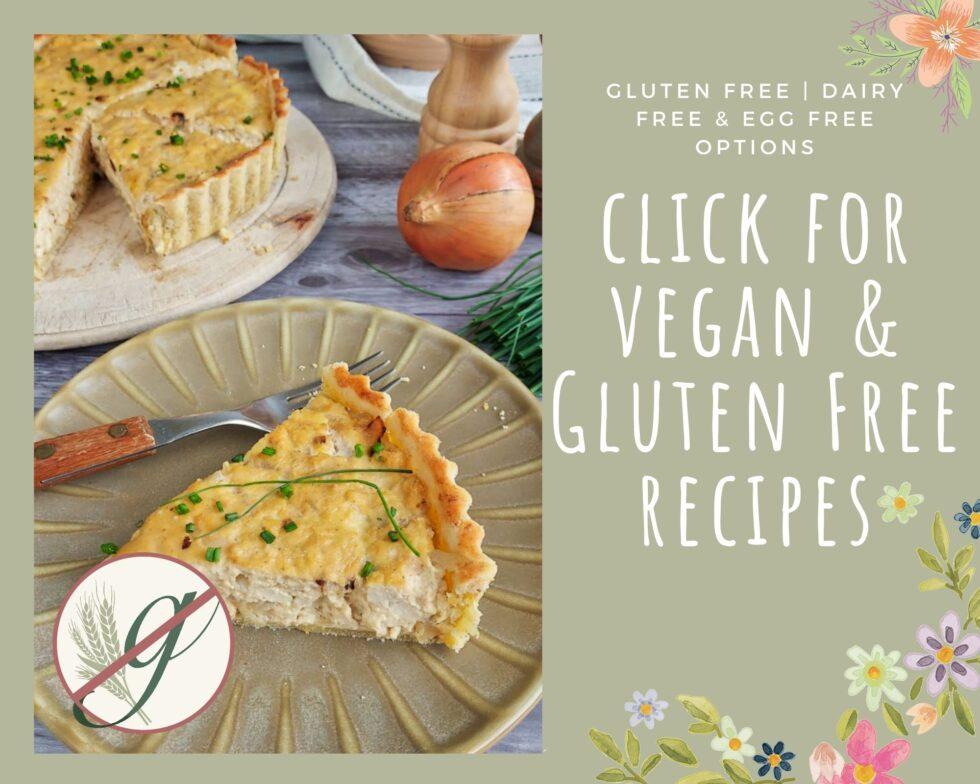 ---
Gluten Free Small Business Guide
Updated on a regular basis, this guide champions small gluten free producers in the UK who deliver awesome free from bakes, cakes and savoury goods.