This page contain affiliate links. Please refer to my Disclosures Page for more details.
These Dairy Free Fudge Cupcakes are so moist and delicious, if you have the time I'd strongly recommend making the caramel sauce to drizzle over the tops too.
Never miss out again…
Sign up to my weekly Friday newsletter and not only get this super handy FREE conversion guide but also get VIP subscriber discounts on free from goodies delivered to your door. Join me in my journey and learn to make anything gluten free.
p.s. I have this on the back of a cupboard door in my kitchen – true story!
Where can I get dairy free fudge?
If you're not keen on the idea of making your own dairy free fudge from scratch then you can buy it. I do have a recipe for homemade dairy free fudge below for those of you with a love for fudge.
I have bought dairy free fudge both in store and online. It all depends on where you are in the world and what your budget is really.
There are very few mainstream dairy free fudges on the market. If you head over to Yumbles you can find many indie producers which is just fine but can work out a bit costly. Fabulously Freefrom Factory have two types of fudge on the market and the original, non-coated one can be found in supermarkets in the UK such as Tesco and Sainsbury's.
Can I make my own fudge for this recipe?
I have made my own dairy free fudge and it's surprisingly simple. You do need the strength of a gladiator in your arm to make it without the help from an electrical whisk or mixer though so be warned!
Easy Dairy Free Fudge Recipe
A super simple dairy free fudge recipe that's naturally gluten free (without toppings). A great treat to whip up with the kids, take it in turns to do the beating! So easy to make and box up as a gift for a loved one too.
Check out this recipe
What milk alternative can I use for these fudge cupcakes?
To make these Dairy Free Fudge Cupcakes you will need to use a dairy free alternative for the butter and a milk free alternative for the milk. That's it, two simple swaps.
I personally use soya milk or gluten free oat milk so know both of these work just fine. I also swear by Flora Plant Butter and always have a few of the salted and unsalted blocks in the fridge.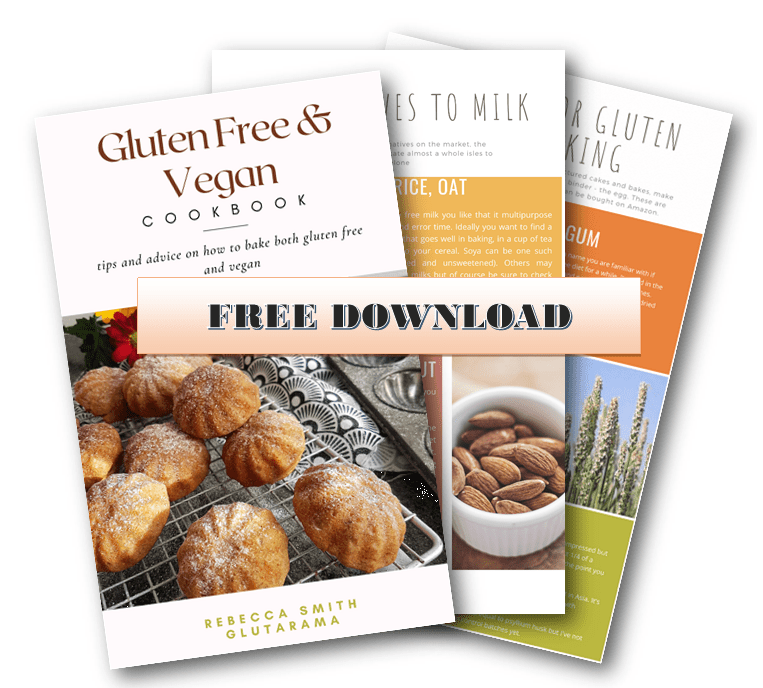 Never miss out again…
Sign up to my weekly Friday newsletter and not only get a FREE e-Book (currently my Gluten Free & Vegan Cookbook) but also get VIP subscriber discounts on free from goodies. Join me and learn to make anything gluten free.
How to make a dairy free caramel
The recipe I use for my Dairy Free Fudge Cupcakes uses a caramel that's more like a pouring sauce you can make it thicker or thinner by adding more or less 'milk'. The key to a good dairy free caramel is time and patience, in this case making sure you cool it long enough.
I'll admit that I was running out of daylight to take these photos so the caramel was still blood temperature.
You need to condense the liquids to the point that the caramel goes through a bizarre metamorphous of colours from light, to dark and back to light again. It's truly fascinating alchemy in the kitchen.
light brown sugar
golden syrup
unsalted butter or dairy free alternative
cream or plant based alternative
salt to taste
The process is simple. Add all the ingredients to a pan then stir on a medium to high heat until everything has melted. Turn the temperature up or down to achieve a rolling boil (where the bubbles roll out towards the edges of the saucepan). Stir every so often and check to make sure the sugar and fats are not burning.
Trouble Shooting – my caramel has split
If something has split it means the fats have separated from the rest of the ingredients. Do not panic, this is quite likely to happen when making dairy free caramel. It's all part of the process. Take the pan off the heat and beat like a woman or man possessed. The fats and sugars will merge back together as they cool and I promise you will end up with the thick caramel in the third picture below.
Trouble Shooting – my caramel's too thick to drizzle
In the development stage of making this recipe I did almost end up with more fudge. That's what can happen if you take your eye off the melting pan. If you find your caramel is too thick (remember it will thicken more when cooling to room temperature), then you can simply add a little more dairy free milk to loosen it. You're aiming for a caramel that slides easily off the spoon to drizzle over your finished cupcakes.
Can I buy ready made vegan caramel?
Once again, I'm all for making life easier. So if you wanted to buy a dairy free caramel sauce to make this Apple Caramel Squares recipe then here are some great options for you to try. There's the Nature's Charm Salted Caramel or Joe & Steph's Salted Caramel. If you do make this recipe with these alternative I'd love to know how you got and and what you thought.
Equipment you will need
Cups, Ounces, Grams … Kitchen Scales!
I cannot for the life of me understand why people on a restricted diet would not use kitchen scales.
I develop these recipes to within an inch (or a pinch) of an ingredient and a little too much of this or too little of that makes a BIG deal in gluten free baking.

So if in doubt – weight it out Kitchen Scales on Amazon*
How to make Dairy Free Fudge Cupcakes
Other dairy free bakes to inspire you
I have many, many delicious free from cake and bake recipes here on Glutarama so please feel free to stick around and browse! If you click the images below you'll be taken to another delicious gluten free recipe many with dairy and egg free options too.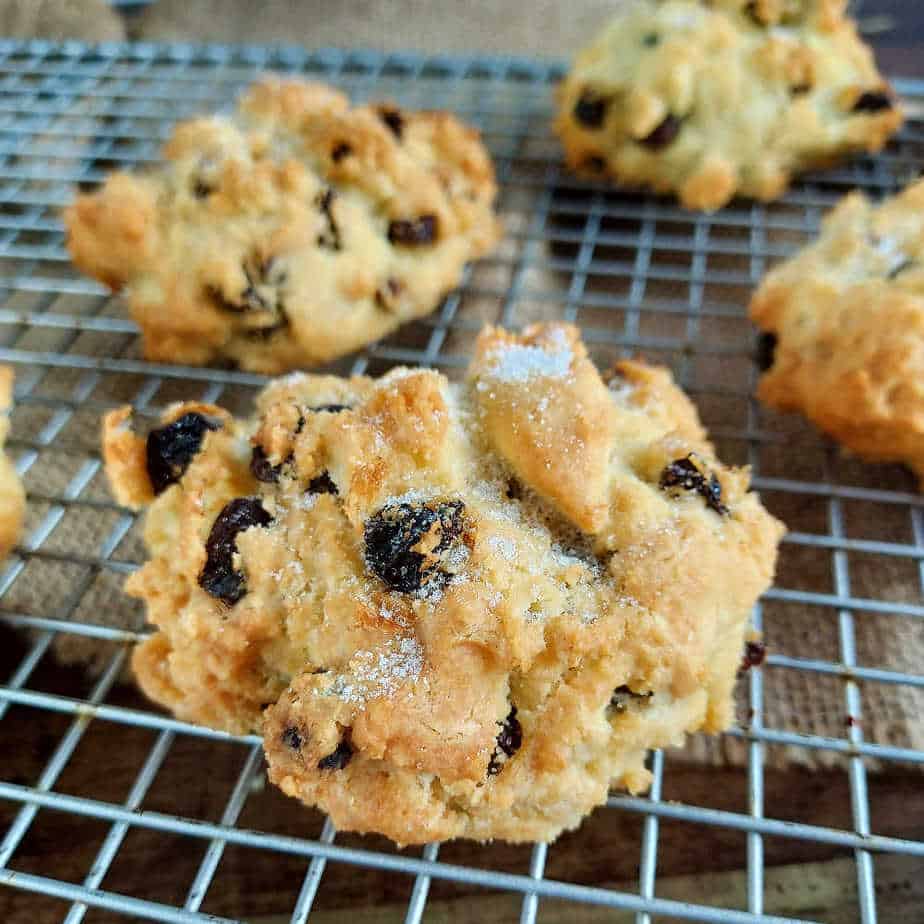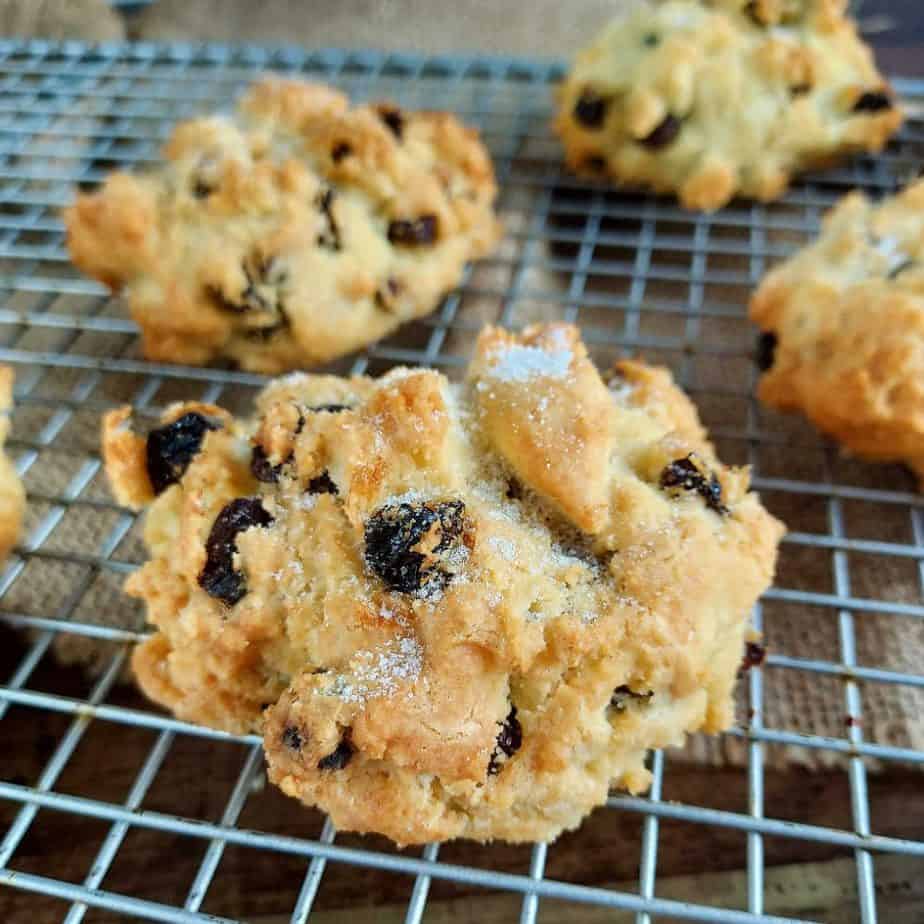 Dairy Free Fudge Cupcakes Recipe
If you make it and like the recipe I would be eternally grateful if you popped back and commented leaving a star rating as this will tell search engines that this recipe is worth checking out and others will get to find it in searches.
Dairy Free Fudge Cupcakes
These beautifully light and fluffy gluten free fudge cupcakes are the perfect gift, celebration cupcakes or teatime treats. The fudgy pieces and caramel drizzle make these cupcakes extra special. These are also dairy free and egg free as well as gluten free (vegan) but you can choose to use unsalted 'normal' butter and milk if you wish for t he recipe to be just gluten and egg free.
Ingredients
For the Fudge Cupcake
180

g

gluten free self raising flour

125

g

caster sugar

40

ml

oil

I use vegetable or sunflower I use vegetable or sunflower

80

ml

dairy free milk I use soya milk

¼

tsp

baking powder

¼

tsp

bicarbonate of soda

¼

tsp

apple cider vinegar or lemon juice optional but does add extra rise

½

tsp

psyllium husk powder

optional optional but does help bind

50

g

dairy free fudge

chopped, plus extra to decorate
For the Vanilla Buttercream
35

g

butter or butter alternative

I use Flora plant butter I use Pure blocks of 'butter'

2

tbsp

dairy free milk

200

g

icing/confectioners sugar

confectioners sugar
For the Caramel Sauce
50

g

light brown sugar

50

g

golden syrup

corn syrup

50

g

unsalted butter or dairy free alternative

I use Flora plant butter

80

ml

dairy free milk

I use soya milk

1

tsp

vanilla extract
Instructions
To make your Fudge Cupcakes
Preheated your oven to 200°C | 180°C Fan | 400°F | Gas 6

In a large bowl or mixer, beat together the oil, dairy free milk, sugar and cider vinegar (if using) until light in colour.

Now add the dry ingredients. The flour, baking powder, bicarbonate of soda and psyllium husk powder (if using) and beat again to a silky smooth batter that drops off the spoon easily.

NOTE: don't worry, it will look rather sloppy.

Add 6 cupcake cases to your cupcake/muffin tin (I actually double up my cases as this looks nice and helps to insulate). Spoon half the the batter evenly into each case.

Next add half your chopped fudge pieces. Doing it this way will prevent fudge sinking to the bottom of each cupcake.

Add the remaining cupcake mixture and top with the remaining fudge pieces.

Pop into the oven and bake for 20mins.

TOP TIP: as these cupcakes rise like mini souffles I stick a cocktail stick into the sides to check they're cooked through.

Remove from the oven and once cool enough take the cupcakes out of the tin and transfer to a cooling rack, allow to cool completely.
To make the Caramel Sauce
In a non stick saucepan, add all the ingredients and begin to stir on a medium to high heat until all the ingredients have melted.

TOP TIP: use a big pan, the large surface area will reduce the time it takes to make the caramel sauce.

Next, adjust the hob heat until you have a rolling boil. This step will only take 5 minutes so stir continuously to prevent any sticking to the bottom of the pan.

NOTE: a rolling boil is when the liquid bubbles in the centre and forces the bubbles to the edge in a continuous rolling-outwards motion.

Once you have a light coloured caramel sauce you can stop. As the caramel cools it will thicken (any splitting of the fats and sugars will be rectified by this beating motion).

Pour into a glass jug or bowl, cool to room temperature ready to use later.
To make the Vanilla Buttercream
Cream together the ingredients until you have a manageable light coloured buttercream.

Scoop your buttercream into a piping bag with a nozzle of your choice and pipe liberally onto each cupcake.

Finally decorate with fudge pieces and then drizzle the dairy free caramel sauce liberally over the top.
Nutrition
Nutrition Facts
Dairy Free Fudge Cupcakes
Amount per Serving
% Daily Value*
* Percent Daily Values are based on a 2000 calorie diet.
Have you tried this recipe?
Let me know how it was & I will be super grateful. Take a picture & tag me @glutarama on your social media posts – I love seeing your photos more than you will ever know x
I love to see your own photos of my bakes, dinners and treats head to your favourite social media account and don't forget to tag me in @glutarama
Subscribe to my email list so that you get NEW recipes straight in your mailbox every Friday PLUS a FREEBIE and access to some amazing gluten free DISCOUNTS
*disclaimer: I use affiliate codes on my website, the vast majority are to Amazon. If you click on any of the links or images in the post and make a purchase my family will benefit from a small % of that purchase at no extra cost to you.

For full transparency, in 2020 I made my first £25, and in 2022 I reached my next £25 (Amazon don't transfer the money until you reach £25). I'm now up to £17.80 for 2023 so edging closer to the magical £25 mark!!

To date I have made £69.28 since I first started the scheme in 2017. It won't pay the bills, that's for sure but it does help to pay for ingredients or little treats to cheer me up!