This page contain affiliate links. Please refer to my Disclosures Page for more details.
The development stage of this Dairy Free Jubilee Trifle Recipe nearly sent me over the edge. Anyone who follows me on Instagram will remember the hair pulling moments in my stories. But I'm not one to give up. I simply go back to the drawing board and rethink things.
Why did I feel the need to make this Jubilee Trifle Free From?
The title of this recipe is a wee bit misleading as this recipe is not just dairy free, it's also gluten free and egg free too. It would be vegan too if I'd bought vegan orange jelly.
Why did I feel the need to do this? because when the Platinum Jubilee Dessert Winner was announced I thought how sad that so many families won't be able to make this or eat it at parties.
I decided to not just make this Jubilee Trifle Gluten Free, but also dairy free and egg free too so that both my Coeliac daughter and I could have dessert too. For context, I'm intolerant to eggs and dairy.
But wait! for a totally 14 Allergen Free recipe head over to Allergy UK where the wonderful Julia Marriot aka Alimentary Bites has developed such a dessert!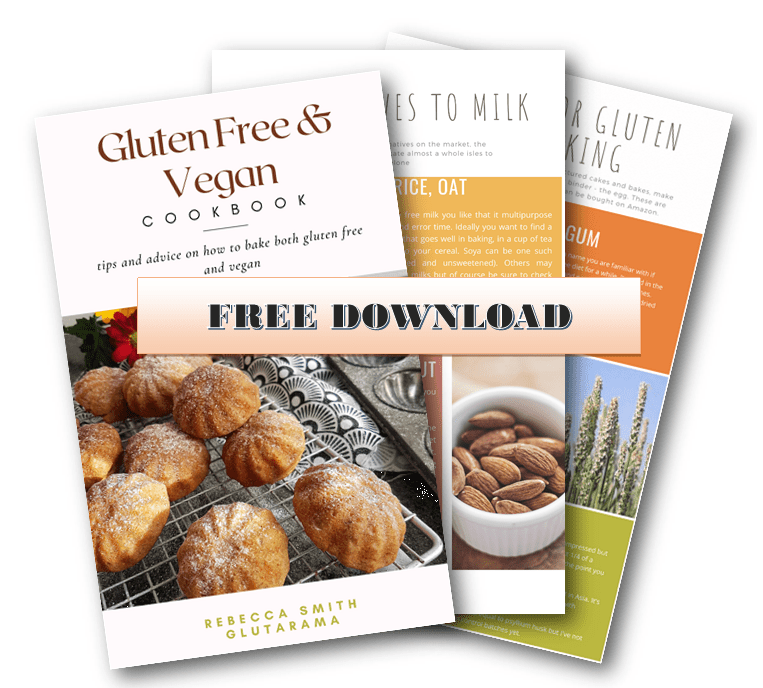 Never miss out again…
Sign up to my weekly Friday newsletter and not only get a FREE e-Book (currently my Gluten Free & Vegan Cookbook) but also get VIP subscriber discounts on free from goodies delivered to your door. Join me in my journey and learn to make anything gluten free.
Exchange a roll for a crown
I had three successful attempts to roll my egg free genoise sponge, then I decided to double the ingredients to make a thicker sponge. Thicker egg free genoise is not a forgiving creature, in fact, I'm pretty sure it hates me.
When I started Glutarama back in 2015, I had the saying that life is a drama, gluten free doesn't have to be. I was reminded of this this week. Because of this, I made sure the recipe is as stress free as possible. Life's too short for having a breakdown over a rolled up sponge.
I thought for a long time about what I was going to do about this. Do I go back to a skinny looking swiss roll, or change things up a bit. Then my Mum came up with a lovely idea; why not cut the sponge into triangles to make a crown effect? Genius idea Mum, thanks.
Not Vegan or Egg Free? – use this Swiss Roll Recipe
Gluten Free Lemon Swiss Roll
A simple gluten free Lemon Swiss Roll recipe that anyone can make, don't be scared of the rolling process, it's not difficult I promise! Filled with shop bought or homemade Lemon Curd, the perfect teatime treat fit for a Queen.
Check out this recipe
Lemon Curd Sponge Filling
If you are not avoiding eggs, feel free to save yourself time and energy by buying the cheapest lemon curd out there for this recipe. If you need a vegan version use my recipe here.
Simple Homemade Vegan Lemon Curd
A simple to follow recipe for vegan lemon curd. This recipe requires no eggs or dairy and is an excellent base for other recipes such as lemon meringue pie, lemon cheesecake or just a really lovely old school lemon curd sandwich filler.
Check out this recipe
Simple Jelly Layer, no fuss
If you're not vegan then you can use the jelly you'd normally find on the supermarket shelves. I used Hartley's as I can guarantee results every time. Two packets of the blocks of orange jelly made up to 1lt is the perfect quantity.
Cheat Dairy Free Custard Layer
Another easy layer. To make the dairy free custard layer I used Coconut Collaborative from my local supermarket. Not the cheapest option mind you, a 400g tub costs £2.75 in Sainsburys see ingredients below, no gluten free OATS I noticed, so that's bonus for many who can't tolerate them full stop;
Water, Sugar, Coconut Oil, Chicory Root Fibre, Stabilisers (Modified Corn Starch, Modified Tapioca Starch),Peruvian Carob, Fava Bean Protein, Salt, Natural Vanilla Flavouring, Colour: Beta-Carotene
Happy to make your own Dairy Free Custard?
Quick and Easy Dairy Free Custard
A quick guide to making dairy free vanilla custard using safe instant custard powders. There is also guidance on how to make your very own instant custard powder for the store cupboard.
Check out this recipe
Not just any old Amaretti!
Amaretti biscuits are naturally gluten free anyway, but this trifle is going to be eaten by me too so I needed to develop an egg free Amaretti (so it's actually a Vegan Amaretti Biscuit recipe). If egg is not your personal kryptonite, then why not have a go at making your own using this recipe from Kate over on Gluten Free Alchemist – Soft Italian Amaretti Cookies. Alternatively you could buy them, but please be mindful of may contains as many producers use their premises for all manner of bakes.
Vegan Amaretti Biscuits
Delicious little Italian inspired Amaretti biscuits but made vegan with aquafaba and rolled in icing sugar. You'll never know these are egg free. Naturally gluten free and dairy free too. Perfect for teatime, homemade gifts or even add to trifles for an extra luxury touch.
Check out this recipe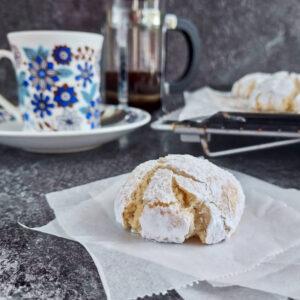 Quick and Easy Mandarin Coulis
I'm thinking Quick and Easy Mandarin Coulis would be a great stage name for a drag act! I digress.
To make this coulis I had to think about what consistency I wanted to achieve, the original Jubilee Trifle recipe by the lovely Jemma Melvin was a combination of stewed fruit then a tin of whole segments thrown in for texture. There's that word 'texture' not a friendly word in this household with 50% of the occupants being non-neurotypical.
I decided I would make my coulis palette friendly so this is two tins of mandarins in juice, heated, blended then thickened with arrowroot. The end result is a smooth fruit gloop which sounds horrific but it works really well in the finished trifle.
Dairy Free Jewelled Chocolate Bark
Simple to make. Just take a packet of dairy free white chocolate, melt it, spread it out on a non stick surface for example a silicone baking sheet then dot it with mixed peel candied fruits and chill. The last thing you need to do it break it into shards and stab your trifle for all the anxiety its caused you (I hope not too much though my lovely reader x).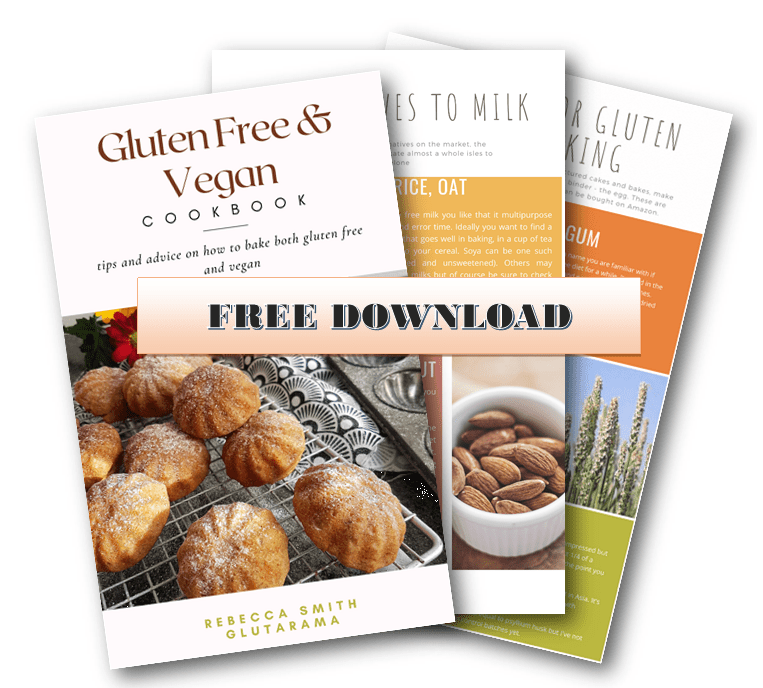 Never miss out again…
Sign up to my weekly Friday newsletter and not only get a FREE e-Book (currently my Gluten Free & Vegan Cookbook) but also get VIP subscriber discounts on free from goodies delivered to your door. Join me in my journey and learn to make anything gluten free.
Jubilee Trifle too difficult? Try these recipes instead
Dairy Free Jubilee Trifle Recipe
If you make it and like the recipe I would be eternally grateful if you popped back and commented leaving a star rating as this will tell search engines that this recipe is worth checking out and others will get to find it in searches.
Dairy Free Jubilee Trifle
This recipe for Dairy Free Jubilee Trifle is not just dairy free but egg free and gluten free too. There are links to alternative options if you don't need egg free genoise or egg free amaretti biscuits so hopefully this recipe suits as many dietary requirements as possible.
Ingredients
For the genoise sponge
200

ml

aquafaba

I use Oggs or 2x drained chickpea cans

160

g

golden caster sugar

1

tsp

cream of tartar

4

tbsp

oil (I use vegetable or sunflower)

I use vegetable oil

1

tsp

vanilla extract

270

g

gluten free self raising flour

30

g

tapioca starch

swap for flour if you don't have it but this helps with sponge flexibility.

2

tsp

psyllium husk powder (optional)

150

g

lemon curd

[see notes for homemade vegan curd]
For the jelly layer
270

g

2x Hartley's orange jelly blocks

500

ml

boiled water

500

ml

cold water
For the custard layer
800

ml

dairy free custard

I used Coconut Collaborate [see notes for making your own custard]
For the amaretti biscuits – makes 20
100

ml

aquafaba

[see notes for egg-filled version]

½

tsp

cream of tartar

250

g

ground almonds

150

g

caster sugar

1

tbsp

almond liqueur

optional

¼

tsp

almond extract

100

g

icing/confectioners sugar

to roll the amaretti
For the mandarin coulis
350

g

can of mandarins in juice

that's 2x 300g tins – save some juice

50

g

caster sugar

4

tbsp

mandarin juice

20

g

arrowroot
For the whipped cream
150

ml

dairy free cream

2

tbsp

icing/confectioners sugar
For the chocolate bark
100

g

dairy free white chocolate

I use Sainsburys white choc chips

30

g

candied mixed peel
Instructions
To make the genoise sponge
Prepare a 32×23 baking tray by spraying with oil and lining with baking paper.

Preheat the oven to 190°C | 170°C fan | 375°F | Gas mark 5.

In a large bowl or mixer, whisk the aquafaba and cream or tartar to stiff peaks.

Next, whilst continuing to whisk, add the golden caster sugar one tablespoon at a time. Keep going until all the sugar is combined and you have a thick glossy base for a meringue.

Now, in a cup or small jug, whisk together the vegetable oil and vanilla extract. To add the extract on it's own will react to the whipped aquafaba. Pour straight into the whipped meringue and fold quickly with a silicone spatula.

In a separate bowl. Sieve together the tapioca starch, psyllium husk and self raising gluten free flour.

Now add the mixed dry ingredients in three parts, each time folding into the whipped aquafaba.

NOTE: do not worry, your lovely fluffy mixture will reduce in size by half, this is to be expected.

Scrape the genoise sponge mixture onto the baking sheet and tip the sheet to encourage the mixture to spread. Finally tease the last bit of mixture into the corners. The mixture will be very bubbly and active.

Pop into the oven for 15mins, breath a sigh of relief, you've got this!
To make the mandarin coulis
This is a good element to make while you wait for your sponge to bake. If making your own Lemon Curd you can do this now too as both will need to cool to room temperature before you can use them.

Drain two 300g tins of mandarins in juice, keep the juice (you need 4tbsp, I drink the rest).

Add the mandarin segments to a medium saucepan, add the sugar and heat until the fruit bubbles and starts to break down.

Using a hand blender, blend the fruit to a smooth consistency – take care, it's hot and feisty and can jump at you.

Using the 4tbp of can juice, mix together with the arrowroot making sure there are no lumps.

Tip the arrowroot liquid into the saucepan and stir continuously with a silicone spatula. The contents will start to thicken and take on a more translucent look to it. Cook the arrowroot out for about 5mins all the time stirring.

Remove from the heat and pour into a jug, leave on the side to cool. As the coulis cools it will continue to thicken.
Back to the sponge
Remove from the oven and rest on a cooling tray for 5mins before removing from the tin.

Once cool enough, mark the sponge out into 18 rectangles (I use a pen to mark the baking paper to give me an idea of size) You need 3x rows of 6 rectangles about 4x6cm.

Cut the sponge carefully and using the lemon curd (I added mine to a piping bag to make this 100% more bearable) cover 12 of the shapes with curd, leaving 6 'tops'.

Stack your genoise lemon slices so you end up with 6 triple layer lemon slices. Leave to one side and forget about them for while.

You've got this, amaretti biscuits next…
To make the amaretti biscuits
Turn the oven down to 170°C | 150°C fan | 325°F | Gas mark 3

Line 2 baking trays with baking paper.

In your cleaned mixing bowl, whisk up the aquafaba and cream of tartar as you did with the genoise sponge.

With the same technique, add the caster sugar one spoon at a time until the meringue base is lovely and glossy

Next add the ground almonds, amaretto (if using) and almond extract and fold until fully combined. You'll end up with a sticky mess.

Scoop dessert spoons of the mixture and drop them into a bowl of icing sugar. Once covered, your amaretti dough will be easier to handle and roll into a ball.

This is enough mixture to make 20 balls the size of walnuts. Place 10 on each tray, they don't spread much and place in the oven for 20 mins.

Remove from oven once slightly golden and puffed up with familiar cracks. Place on a cooling rack and leave to cool completely before removing, they are still fragile when warm.
To make the chocolate bark
Simply melt the white chocolate and pour onto a silicone mat on a baking tray (I find silicone mats work the best in this case). Use a silicone spatula to tease the chocolate into the size of a saucer or small tea plate.

Scatter mixed peel over the melted chocolate and tap the tray on the kitchen counter a couple of times to 'bed' the mixed peel into the chocolate.

Pop in the fridge to set.
To make the orange jelly
Simply break up the two jelly blocks (I use scissors) into a large jug. pour over 500ml of boiling water and stir until the cubes have dissolved. Next add another 500ml of cold water – that's it.
Finally, let's build the trifle
Place your lemon slices on their sides and cut at an angle to make (sort of) triangles. With any left over lemon curd, place the triangles in the trifle bowl like a crown. Use a dollop of lemon curd to 'glue' the sponge to the bottom of the dish, this will help prevent your sponges from floating when you add the jelly.

Slowly pour the orange jelly into the trifle bowl. if you're worried the sponge will float, you could do this in two go's. Pour half, chill for 10 mins then pour the other half.

Chill in the fridge for at least 30mins to allow the jelly to set.

The last steps are much less stressful and a bit more fun. Spoon your free from custard over the set jelly and give the bowl a jiggle to even out the layer.

Now take 5-6 amaretti biscuits and place them on top of the custard layer.

Next pour the mandarin coulis over the amaretti and custard layer.

Return to the fridge while you whip up 150ml of dairy free cream with 2 tablespoons of icing sugar until light and fluffy.

Take the trifle back out and dollop the cream over the trifle, using a spoon or fork to tease the cream to the edges.

Finally, yes FINALLY remove your chilled white chocolate bark from the fridge and break it up into shards-like shapes. Stab the trifle with the chocolate shards add a few crumbled amaretti biscuits for good measure and rejoice – you did it.
Nutrition
Nutrition Facts
Dairy Free Jubilee Trifle
Amount per Serving
% Daily Value*
* Percent Daily Values are based on a 2000 calorie diet.
Have you tried this recipe?
Let me know how it was & I will be super grateful. Take a picture & tag me @glutarama on your social media posts – I love seeing your photos more than you will ever know x
I love to see your own photos of my bakes, dinners and treats head to your favourite social media account and don't forget to tag me in @glutarama
Subscribe to my email list so that you get NEW recipes straight in your mailbox every Friday PLUS a FREEBIE and access to some amazing gluten free DISCOUNTS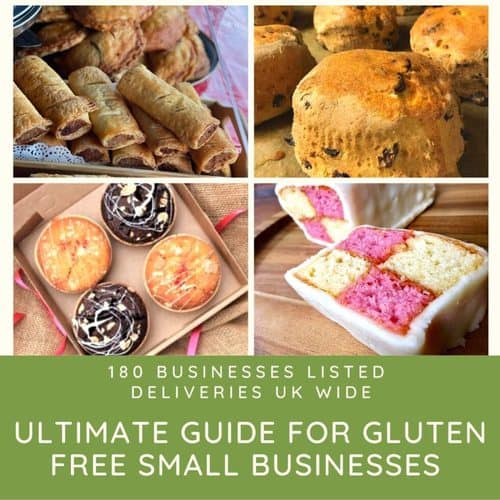 Fancy buying yourself a treat or a gift for a loved one this festive season, then go small…small businesses' that is!

Guide for Gluten Free small businesses that deliver across the UK

— Glutarama, supporting small businesses
---