I made this Gluten Free Stollen for myself a few Christmases ago. I'm sure each year I add a splash more booze (you can never have enough booze in my opinion). Over time I've also added more ground almonds to increase the richness of the stollen dough.
Just a quick note to say that you can make this into a yeast free stollen too. You would need to use a gluten free bread that's got no added yeast though. If you struggle to find one in the shops why not make your own sourdough bread with naturally occurring yeast to make into breadcrumbs.
Never miss out again…
Sign up to my Friday newsletter and receive not one, but THREE FREEBIES.
GF and Vegan e-Book
conversion charts
3 simple guides to allergies, intolerances & autoimmune.
Join me and learn to make anything gluten free.
One bulk Stollen recipe; two options
This recipe gives you the freedom to make one huge Gluten Free Stollen perfect for the tea table on Christmas day instead of the traditional Christmas Cake or, like me, you could halve the mixture and make two smaller stollen's ready to entertain guests as they come and go over the holiday period.
The second ball of dough keeps ever so well wrapped in clingfilm (or better still wax wraps) for up to a week so if you get a call from a relative to say they'll be popping over that afternoon to deliver Christmas pressies then you've got both the cuppa and festive bake covered!
If you think this Gluten Free Stollen recipe is too big for your needs then why not try my Gluten Free Stollen Bites instead.
Gluten Free Stollen Bites
Following my popular Stollen recipe I was asked for a recipe for Gluten Free Stollen Bites so I've adapted my recipe so that everyone can enjoy gluten free Stollen Bites that can also be made dairy free and vegan too.
Check out this recipe
---
History of the Stollen
Did you know that stollen dates back to the 1400's and was originally a far less rich and extravagant bake, it originates from Dresden in Germany and every year there is a Stollenfest at the Christmas Market.
Some historians believe that the shape of this bread reminded the locals of the entrance to a mine tunnel reflecting the silver and tin mining in the area of Dresden

RECIPES FROM A GERMAN GRANDMA – THE HISTORY OF STOLLEN
If you have a spare moment while your Stollen bakes I highly recommend checking out the article linked to the quote above. It's fascinating to read about the origins of the Stollen for example; stollen was baked in loaves weighing in at 30lbs!
The original recipe is a yeast bread with added candied fruits, currants, lemon and orange peel and cardamon among other spices. I haven't added cardamon to my stollen recipes though as this is a rarer spice for families to have normally. Instead, I add cinnamon and clove for that festive warm and sweet spice flavour.
Does Stollen always have marzipan in it?
This was the next part of my research because I noticed that the earliest dating recipes had no mention of marzipan. I came across www.dresdnerstollen.com which I found to be a great source of information, not just to clarify the marzipan question, but also to clear up the other variations of stollen I'd seen mentioned.
To answer the question Does Stollen always have marzipan in it? The answer is no. This is an optional extra. In fact, the Dresdner Christstollen is a protected name and given a brand seal and to be an accepted stollen, you have to ensure the right ingredients are used, in the right ratio.
Stollenfest is back!
Augustus the Strong, probably Saxony's most famous elector, was also a self-confessed stollen enthusiast. In 1730, when the court was at the Zeithain Encampment military exercises, he called upon Dresden's bakers to create a giant stollen for himDRESDNER STOLLEN – STOLLENFEST
According to the history books, it took 100 bakers to make the stollen and it weighed 1.8 tons. Every year, on the Saturday before the Second Advent, Stollenfest takes place in Dresden – this year it returned on the 3rd December after two years of cancellations in 2020 and 2021 due to the pandemic.
How to make gluten free stollen
To make this gluten free stollen recipe you need a little bit of preparation because I like to soak the breadcrumbs and fruit in brandy.
The stollen dough is quite fragile and IT WILL CRACK when you go to roll it, don't fret about it, it adds to the charm of the bake and gives you more crevices for icing sugar to sit – delicious!
The Top Tip I have for you is BUTTER, and lots of it. Obviously for the dairy free version [pictured] I use a plant based butter but to get the familiar crust of iced sugar on top of eat bite I brush liberally with softened 'butter' twice.
STEP ONE; soak the breadcrumbs and fruit in brandy, almond extract.
STEP TWO; beat the caster sugar and fats together until light in colour.
STEP THREE; add the remaining dry ingredients and mix into a sticky dough
Now decide if you want to make one large stollen or divide the mixture to make two/save half for later.
STEP FOUR; roll out the dough, add your marzipan (I make a large sausage shape and then squash it to flatten it!) and roll up like a sausage roll.
STEP FIVE; brush with butter and bake, cool slightly then brush with cooled 'butter' again and dust liberally with icing sugar.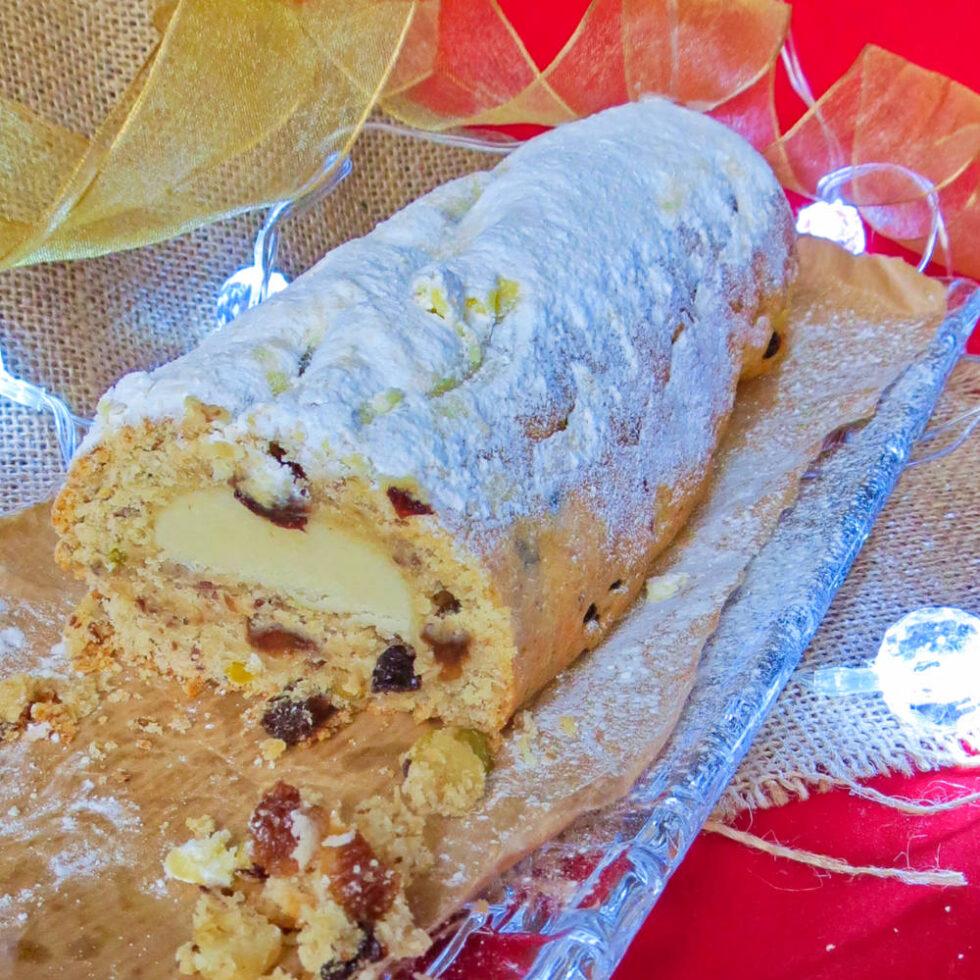 Other simple Christmas bakes like my Stollen Recipe
There's quite a few scrummy festive recipes on this website now and I love revisiting them all each year, I honestly do make them all at one time or another over the Christmas period. To prove a point; I made my Homemade Delicious Dairy Free Bailey's last night before updating this post (Google like us to keep things fresh, who wants a stale recipe!!). Next week I'll be making my Brandy & Chocolate Truffles and if, like me you love marzipan then you'll love my Stollen Mince Pies.
Gluten Free Ecclefechan Tarts
The humble Ecclefechan Tart is a wonderfully traditional tart originating in the small town of Ecclefechan. With simple, easy to source ingredients these tarts are a nod towards a mince pie but without the festive spices you'd expect and an egg to bind the filling together. This can make 6-8 tarts depending on the depth of your baking tin.
Check out this recipe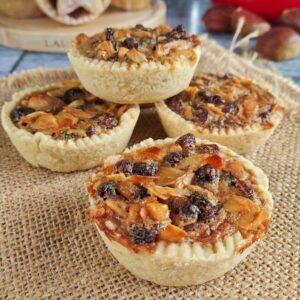 Vegan Meringue Topped Mince Pies
A delicious fusion of two wonderful traditional recipes, the humble mince pie and meringue pie combine to make these Vegan Meringue Topped Mince Pies with a gluten free sweet crust pastry, let's start a new tradition!
Check out this recipe
Luxury Gluten Free Stollen Mince Pies
A deliciously cheeky fusion of two wonderful traditional Christmas recipes, the humble mince pie and heart-warming Stollen combine to make these Stollen Mince Pies, let's start a new tradition! These are also gluten free, dairy free and vegan too so everyone can enjoy them.
Check out this recipe
---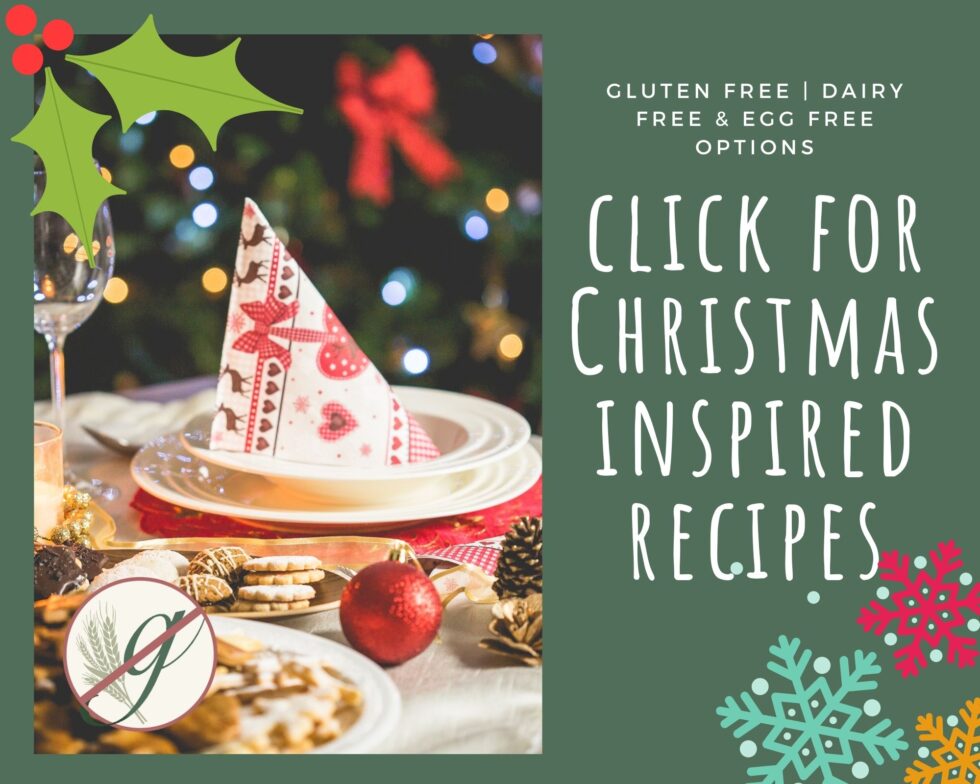 Gluten Free Stollen Recipe
If you make it and like the recipe I would be eternally grateful if you popped back and commented leaving a star rating as this will tell search engines that this recipe is worth checking out and others will get to find it in searches.
Gluten and Yeast Free Stollen
A simpler recipe to the traditional bread version of Stollen, this festive bake packs all the punch of Christmas cheer and lasts well into the week so you can enjoy at your leisure or even make for a gift, for that special some one who's gluten free, dairy free and/or vegan.
Ingredients
100

g

caster sugar

50

g

fat (I use Trex white vegetable fat)

I use Trex

50

g

butter or butter alternative (I use Flora plant butter)

I use Pure

100

g

gluten free bread crumbs

150

g

dried mixed fruit

50

g

ground almonds

30

g

pistachios

chopped to your liking

3

tbsp

brandy

1

tsp

almond extract

1

tsp

cinnamon

1

tsp

clove

2

egg(s)

flaxseed egg: 2 tbsp flaxseed in 100ml water

250

g

gluten free self raising flour

250

g

marzipan rolled into one or two sausages approx. 1 inch thick
Instructions
First you'll need to make your bread crumbs, choose your usual gluten free bread and blend into fine crumbs, to these add the brandy, extract, eggs (flaxseed alternative) and fruit, leave to one side.

In a mixer combine the caster, vegetable fat and butter/dairy free spread until light and fluffy.

Add the breadcrumb and fruit mixture and mix thoroughly.

Change to a dough hook if you have one and now add the ground almonds, pistachios and flour, the mixture should come together into a sticky but manageable dough.

On a well-floured work surface , knead to ensure all ingredients are combined.

Now you need to decide if you're making one large 1kg stollen or two 500g stollens, if you choose to divide the mixture the second ball of dough will keep for a week wrapped in clingfilm in the fridge.

Roll out your dough into a rectangle to approx. 1/1.5cm thick.

Brush liberally with butter/plant butter and place your (squashed) roll of marzipan in the centre.

Wrap the stollen dough over the marzipan like a sausage roll and place the stollen seal-side down onto your greased/silicone baking tray.

NOTE: the stollen dough will be quite soft and fragile, it may crack, don't worry, this can be pinched back together, or leave to create a lovely rustic look.

Brush again with butter or dairy free spread and pop into a preheated oven on 200°C | 180°C fan | 400°F | Gas 6 for 20-25mins, your stollen will brown due to the butter you've brushed on the surface so make sure it doesn't catch.

Remove from oven and immediately brush with more dairy free spread/butter, then allow to cool. Then brush with the remaining butter.

Dust liberally with icing sugar, wait 5mins and if the fat starts to bleed through, dust again.
Nutrition
Nutrition Facts
Gluten and Yeast Free Stollen
Amount per Serving
% Daily Value*
* Percent Daily Values are based on a 2000 calorie diet.
Have you tried this recipe?
Let me know how it was & I will be super grateful. Take a picture & tag me @glutarama on your social media posts – I love seeing your photos more than you will ever know x
I love to see your own photos of my bakes, dinners and treats head to your favourite social media account and don't forget to tag me in @glutarama
Subscribe to my email list so that you get NEW recipes straight in your mailbox every Friday PLUS a FREEBIE and access to some amazing gluten free DISCOUNTS
Join my friendly Facebook Group
life's a drama, gluten free doesn't have to be….
*disclaimer: I use affiliate codes on my website, the vast majority are to Amazon. If you click on any of the links or images in the post and make a purchase my family will benefit from a small % of that purchase at no extra cost to you.

For full transparency, in 2020 I made my first £25, and in 2022 I reached my next £25 (Amazon don't transfer the money until you reach £25). Recently I got paid a whopping £27.10 for 2023.

So to date I have made £78.58 since I first started the scheme in 2017. It won't pay the bills, that's for sure but it does help to pay for ingredients or little treats to cheer me up!