This page contain affiliate links. Please refer to my Disclosures Page for more details.
I've had these Gluten Free Ecclefechan Tarts on my to-do-list for quite some time. They are gluten free with my favourite gluten free pastry and can easily be made dairy free too with a simple switch for plant based butter. I've not yet worked out how to make these egg free though. Let me know if you would be interested in such as recipe in the comments below.
The humble Ecclefechan Tart became rather popular in 2007 all thanks to Sainsbury's promoting them as an alternative to mince pies. But there was a bit of confusion over what they are and where they come from, so this post not only holds a delicious recipe for Ecclefechan Tarts, but also a bit of history on the tart and its origins too.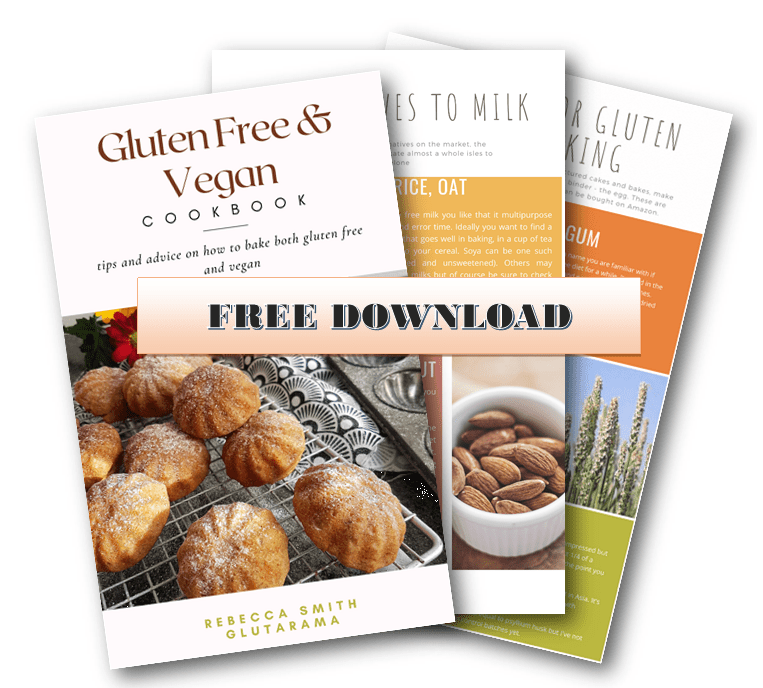 Never miss out again…
Sign up to my weekly Friday newsletter and not only get a FREE e-Book (currently my Gluten Free & Vegan Cookbook) but also get VIP subscriber discounts on free from goodies. Join me and learn to make anything gluten free.
What is an Ecclefechan Tart?
Simply put, an Ecclefechan Tart is a rich, sweet, dried fruit tart either in a flan size or individual tart size. It's similar to the mince pie in the fact its dark and rich with dried fruits and a pastry crust but that's where the similarities end.
Ecclefechan actually have no added spices, so those who aren't keen on mincemeat, for this exact reason, this is welcome news. The filling ingredients are; dried fruit, butter, brown sugar, egg and vinegar – that's it.
Where do Ecclefechan Tarts come from?
Hands up who thought Ecclefechan came from Germany (puts hand up, then down when no one else puts their hand up!)
Honestly, I thought it was a Germanic recipe for years. This is why I love researching tradition recipes, I learn so much.
Let me enlighten you if you didn't already know. Ecclefechan is actually a small town, or rather a large village near Locherbie in Dumphris and Galloway in the south of Scotland. You can drive through it on the A74.
What does Ecclefechan mean?
The village apparently is known locally as Fechan. Its name is said to come from the Gaelic 'Eaglais Fheichein' which is believed to mean 'Little Church'.
Ecclefechan is pronounced Eck-el-fech(as in loch)-han .
A thank you to Miss Lilly
As part of my research I came across many slight variations of the recipe but this one touch my heart as it was dedicated to Miss Lilly whoever she was. I wanted to use her recipe but make it simpler in terms of ingredients we're more likely to have in our cupboards these days. Plus three 10 inch flans is quite a lot so I've scaled down the amounts too!
Ecclefechan Butter Tart Recipe
passed down with grateful thanks from Miss Lilly
INGREDIENTS: 11/2 lb Soft Dark Brown Sugar
2lb Dried Mixed Fruit
8oz Chopped Mix Nuts
1lb Melted Butter (unsalted)
3 Table Spoons of Red Wine Vinegar
8 eggs
Short Crust Pastry
Makes enough to bake 3 x 10" Flan dishes – This dish once cooled will freeze well
Source: Ecclefechan Butter Tart Recipe – Selkirk Arms Hotel 46 miles from Ecclefechan
Why add vinegar to an Ecclefechan recipe?
This was an interesting thing to research. There were several theories out there. I'd started with the idea that vinegar was a special ingredient linked to the town of Ecclefechan. Obviously not where vinegar originates as that's from ancient Rome. That theory was a dead end.
I next wondered if the vinegar helped elevate the flavours of the fruits in the Ecclefechan Tarts? This is true as vinegar (like salt) brings out the flavours in things and this works for both savoury and sweet dishes.
Finally the answer came from someone who follows me on social media. I say the answer, it's not bonafede as 100% the actual reason but it does 100% work. This helpful person pointed out that the vinegar prevents sugars from crystalising and YES! my Ecclefechan Tarts do not crystalise so this I am taking as gospel and feel I have satisfied my need to know why vinegar is added to Ecclefechan Tarts.
Can Coeliac's have vinegar?
But wait! Can a Coeliac have vinegar?
A follower on my Facebook Group – Gluten Free for Life wrote this after I posted a request to my Scottish friends for memories of Ecclefechan Tarts.
Vinegar has gluten in it, so you can't add to your recipe
This was my reply
Actually no, malt vinegar does not have gluten (over 20ppm) in it because the barley malt is stripped of gluten in the fermentation and distillation process.
Malt vinegar is however NOT okay for anyone intolerant to BARLEY because (of course) it still has BARLEY in it.
The traditional recipe for Ecclefechen has white or red wine vinegar in it. So no BARLEY or GLUTEN has gone anywhere near the vinegar.
Balsamic vinegar is also gluten free because this is made from a reduction of wine into a deliciously thick rich vinegar (it takes years, hence the cost!)
Coeliac UK did mark all vinegars up as gluten free until a year or two ago. However they have since removed vinegar from it's directory of safe products. Not because it's not gluten free but because they want to encourage the vinegar industry to put their money where their mouth is and use the Cross-Grain marker.
Coeliac UK wrote about it here Barley Malt Vinegar and Malt Extract Explained – please note this advice would not be true if in US or Australia as they do not have the 20ppm exception.
How to make an Ecclefechan Tart
As mentioned previously. Ecclefechan Tarts are very similar to mince pies in the fact that they are rich fruit filled pastry shells. So the process for making them is similar but not the same.
To make Ecclefechan you need to make your gluten free pastry (I always chill my pastry to prevent shrinkage). Next you make the filling which is super simple.
In a large bowl add the dried fruit, nuts, dark brown sugar, melted butter, vinegar and egg – then mix. That's it. No added spices or gluten free suet.
Finally, bake in the oven for 20 minutes of so until the tops are crispy and look similar to that of a pecan pie or treacle tart.
What different fruit and nuts can I add?
In honour of Miss Lilly I have kept this Ecclefechan recipe simple as I believe the old ways are often the best. However, if you want to switch things up a bit and make these into luxury Ecclefechan then you could consider adding anything from the list below.
glace cherries
dried cranberries
dried blueberries
dried cherries
chopped pecans
chopped walnuts
pine nuts
dash of Scottish whisky
Easy pastry hack to fill your tins
I see people struggle with gluten free pastry and deep filled pastry tarts. The jam tart tins aren't so bad as you just lay the pastry circles in the moulds and gently press down. With deep filled moulds it can be a different story so to make like easier I've shared my Gluten Free Pastry Hack in the form of a 40 second reel over on my Instagram page – click the link to see how I do it with no fail results every time!
Fan of fruit pies? Here are more recipes you might like
Luxury Gluten Free Stollen Mince Pies
A deliciously cheeky fusion of two wonderful traditional Christmas recipes, the humble mince pie and heart-warming Stollen combine to make these Stollen Mince Pies, let's start a new tradition! These are also gluten free, dairy free and vegan too so everyone can enjoy them.
Check out this recipe
Gluten Free Chocolate Orange Mince Pies
These Chocolate Orange Mince Pie are a delightful twist on the traditional classic Mince Pies, with dark chocolate chips dispersed in the rich mincemeat and a kick of orange extract these mince pie are sure to please at any festive gathering.
Check out this recipe
Gluten Free Hot Cross Bun Treacle Tarts
The merging of two traditional recipes, these Gluten Free Hot Cross Bun Treacle Tarts combine hot cross buns and the delicious treacle tart in one mini bite. Made gluten free with easy adaptations to make the recipe dairy free and vegan too. A great simple recipe for the Easter tea table and great to use up those slightly stale hot cross buns.
Check out this recipe
Gluten Free French Apple Tart
This lovely sweet (not too sweet) French Apple Tart is made gluten free and has all the charm of a traditional creme patisserie bake, perfect with an afternoon coffee or cup of tea. Plus, with it's impressive (yet simple) decoration this is the perfect show stopper of a dessert for any dinner table.
Check out this recipe
Gluten Free Mini Apple and Custard Pies
These little apple and custard pies are super simple to make, not too sweet and a perfect afternoon treat with a cuppa or look cute as part of a teatime spread. They are also gluten free, dairy free and easily made egg free too so your vegan friends and family can enjoy then too.
Check out this recipe
Gluten Free Ecclefechan Tarts Recipe
If you make it and like the recipe I would be eternally grateful if you popped back and commented leaving a star rating as this will tell search engines that this recipe is worth checking out and others will get to find it in searches.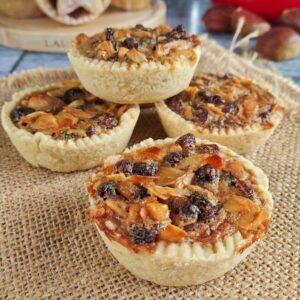 Gluten Free Ecclefechan Tarts
The humble Ecclefechan Tart is a wonderfully traditional tart originating in the small town of Ecclefechan. With simple, easy to source ingredients these tarts are a nod towards a mince pie but without the festive spices you'd expect and an egg to bind the filling together. This can make 6-8 tarts depending on the depth of your baking tin.
Ingredients
Gluten free sweet shortcrust pastry
100

g

gluten free plain flour

40

g

butter or butter alternative (I use Flora plant butter)

I use Flora DF blocks for diary free version

10

g

lard/trex

I use Trex or Crisp n Dry

30

g

light brown sugar

1

egg(s)
Ecclefechan filling
50

g

sultanas

[see notes for alternative]

50

g

currants

50

g

sliced almonds

25

g

mixed peel

1

tsp

apple cider vinegar

100

g

soft dark brown sugar

pinch

salt

1

egg(s)

50

g

melted butter
Instructions
To make the pastry
Add the butter, lard and flour to a bowl and using your finger tips rub until the mixture resembles crumbs or use a pastry knife/blender until you get the same result.

Stir in the caster sugar.

Make a well in the middle of the crumble mixture and then add the egg.

Using a rounded knife cut through the crumble mixture to incorporate the egg or water until the mixture starts to come together, now you can tip the contents of the bowl onto a clean kitchen worksurface.

Bring the crumble mixture together and begin to knead, this will take about 3 mins, no need to add more liquid, trust me it will come together.

Take your ball of pastry dough and pop into a Tupperware container and put in the fridge [optional] for at least 30mins to chill, this will prevent shrinkage in the final bake.
To make the Ecclefechan filling
Melt the butter and then in a bowl simply add all the filling ingredients and beat together to combine.
To build your Ecclefechan tarts
Take the chilled pastry out of the fridge and preheat the oven to 200°C | 180°C fan | 400°F | Gas 6

Knead the pastry for a minute to make it manageable and roll out to approx. 3-4mm thick.

Using an 8cm cutter (I use a fluted cutter as they're prettier) cut 6 (or however many you're making) circles.

Carefully place the large pastry circle into a 6 (or 12) pie tray and gently press down into the corners.

Add a dollop of the Ecclefechan mixture to each pastry case.

Pop into the oven for 20-22 mins depending on your oven or until a golden brown.

Remove from the oven and allow to cool almost completely in the tin before taking out, this pastry is fragile when hot/warm but fine to reheat afterwards.
Notes
If you wish, you can substitute the sultanas, currants and mixed peel for an equal quantity of mixed dried fruit.
Nutrition
Nutrition Facts
Gluten Free Ecclefechan Tarts
Amount per Serving
% Daily Value*
* Percent Daily Values are based on a 2000 calorie diet.
Have you tried this recipe?
Let me know how it was & I will be super grateful. Take a picture & tag me @glutarama on your social media posts – I love seeing your photos more than you will ever know x
I love to see your own photos of my bakes, dinners and treats head to your favourite social media account and don't forget to tag me in @glutarama
Subscribe to my email list so that you get NEW recipes straight in your mailbox every Friday PLUS a FREEBIE and access to some amazing gluten free DISCOUNTS
*disclaimer: I use affiliate codes on my website, the vast majority are to Amazon. If you click on any of the links or images in the post and make a purchase my family will benefit from a small % of that purchase at no extra cost to you.

For full transparency, in 2020 I made my first £25, and in 2022 I reached my next £25 (Amazon don't transfer the money until you reach £25). I'm now up to £17.80 for 2023 so edging closer to the magical £25 mark!!

To date I have made £69.28 since I first started the scheme in 2017. It won't pay the bills, that's for sure but it does help to pay for ingredients or little treats to cheer me up!
Join my friendly Facebook Group
life's a drama, gluten free doesn't have to be….