This page contain affiliate links. Please refer to my Disclosures Page for more details.
Due to popular demand I've developed these Gluten Free Stollen Bites which are the perfect mini treat to accompany a mulled wine or add to your festive party table. I have to admit that I have actually eaten a couple of the brands you find on the market, mainly the Aldi or Lidl ones as they don't have dairy or egg in them so I totally get the need for people to have these back in their lives. But it also means that I can work on developing my recipe to make it as close to the real thing as possible and still be gluten free and vegan.
I've yet to work out a way to make the marzipan filling less dense although I do admit to having gotten close. In one of my more experimental moods I tried kneading the marzipan until it softened and then wrapping it in the stollen dough. This work pre-bake but post bake and cool down period and we're back to a harder lump of marzipan (not a bad thing, I love marzipan anyway you present it to me!)
Gluten Free Christmas Gift Guide
Every Year I update this post on Glutarama's website to give you the latest gluten free gifts perfect for a loved one or to gift yourself. The guide is broken into advent calendars, gifts for the Christmas Day, hampers for gifts or to cater for a gluten free Christmas and finally I try to find something a bit special to treat yourself in the new year.
I have managed to get closer to the softer consistency by breaking down the marzipan into lumps and adding to a bowl, then gently warming it in the microwave and adding some soya milk to loosen it. This does make it impossible to roll into the sausage shape to add to the stollen dough but it can be spooned onto the dough and wrapped to enclose in the same way.
I'll leave the choice in your hands, the photos in this post are of the written recipe version, therefore the rolled marzipan not gooey marzipan. I would love to hear if you try the more fiddle version and what you think to it…did I get it right? Is it more like the original squishy version – do tell.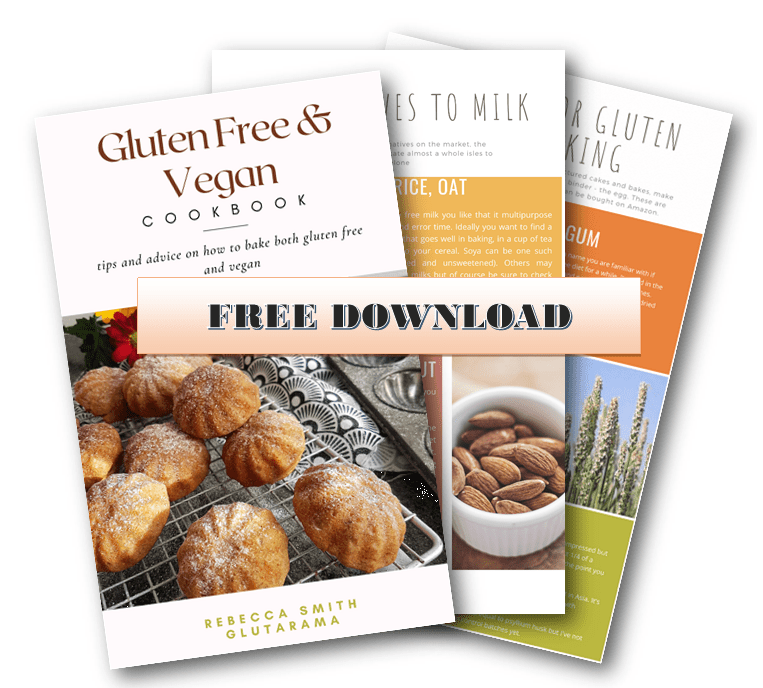 Never miss out again…
Sign up to my weekly Friday newsletter and not only get a FREE e-Book (currently my Gluten Free & Vegan Cookbook) but also get VIP subscriber discounts on free from goodies delivered to your door. Join me in my journey and learn to make anything gluten free.
Other recipes similar to this Gluten Free Stollen Bites that make the perfect gift idea
There seems to be an increase in homemade gift ideas this year which I for one am thrilled about. I don't know about you, but I get so disheartened to see all the plastic tat in stores this time of year. Most of it likely to end in landfill. So the idea of making gifts, especially edible ones is a lovely idea.
These Stollen Bites look so pretty presenting in a little box with tissue paper and a bow but what about my Homemade Original Baileys for a gift idea, you can make this recipe and decant it into 4 small drinks jars for a mini tipple.
Another idea is to make my Brandy Chocolate Truffles; again these look so pretty in a little presentation box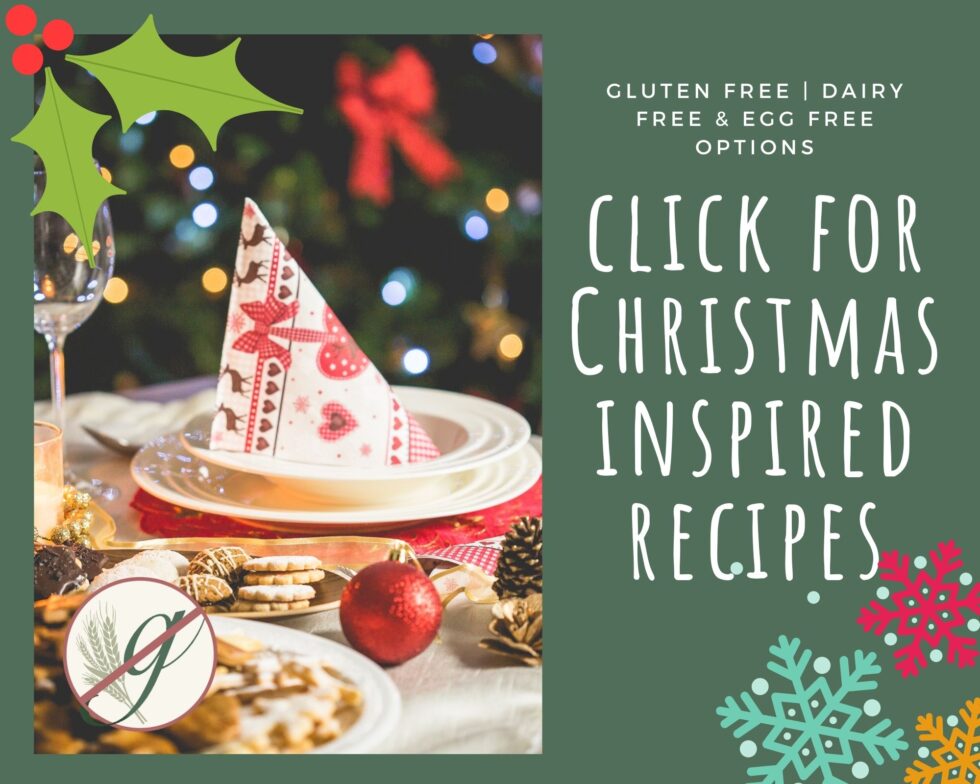 Gluten Free Stollen Bites Recipe
If you make it and like the recipe I would be eternally grateful if you popped back and commented leaving a star rating as this will tell search engines that this recipe is worth checking out and others will get to find it in searches.
Gluten Free Stollen Bites
Following my popular Stollen recipe I was asked for a recipe for Gluten Free Stollen Bites so I've adapted my recipe so that everyone can enjoy gluten free Stollen Bites that can also be made dairy free and vegan too.
Ingredients
50

g

caster sugar

25

g

fat (I use Trex white vegetable fat)

25

g

butter or butter alternative (I use Flora plant butter)

plus extra for brushing

50

g

gluten free bread crumbs

75

g

dried mixed fruit

I always add an extra table spoon of candied peel

40

g

ground almonds

2

tbsp

brandy

1

tsp

almond extract

0.5

tsp

cinnamon

0.5

tsp

clove

1

egg or flaxseed alternative

1 tbsp flaxseed in 50ml water

125

g

gluten free self-raising flour

125

g

marzipan rolled into a long snake shape about 2cm wide
Instructions
First, you'll need to make your breadcrumbs, choose your usual gluten free bread and blend into fine crumbs, add the brandy, extract, egg or flaxseed alternative and fruit, leave to one side.

In a mixer combine the caster sugar, vegetable fat and butter/dairy free spread until light in colour.

Add the breadcrumb and fruit mixture and mix thoroughly.

Change to a dough hook if you have one and now add the ground almonds and flour, the mixture should come together into a sticky but manageable dough.

At this point you can keep for the dough for later and it will stay fresh in the fridge for a week wrapped in clingfilm/wax wrap

Roll out your dough into a rectangle to approx. 1/1.5cm thick. To make it more manageable you may wish to divide the dough into two and roll two rectangles.

Brush liberally with melted and cooled butter or dairy free spread and place your roll of marzipan in the centre.

Fold the stollen dough over the marzipan like a mini sausage roll and place onto your greased/silicone baking tray.

Brush again with butter or dairy free spread and pop into a preheated oven on 200°C/180°C fan for 10-12mins, your stollen may brown due to the butter you've brushed on the surface so make sure it doesn't catch.

Remove from oven and immediately brush with more dairy free spread/butter. Dust liberally with icing sugar, wait 5mins and if the fat starts to bleed through, dust again.

Allow to cool completely before serving.
Nutrition
Nutrition Facts
Gluten Free Stollen Bites
Amount per Serving
% Daily Value*
* Percent Daily Values are based on a 2000 calorie diet.
Have you tried this recipe?
Let me know how it was & I will be super grateful. Take a picture & tag me @glutarama on your social media posts – I love seeing your photos more than you will ever know x
I love to see your own photos of my bakes, dinners and treats head to your favourite social media account and don't forget to tag me in @glutarama
Subscribe to my email list so that you get NEW recipes straight in your mailbox every Friday PLUS a FREEBIE and access to some amazing gluten free DISCOUNTS
*disclaimer: I use affiliate codes on my website, the vast majority are to Amazon. If you click on any of the links or images in the post and make a purchase my family will benefit from a small % of that purchase at no extra cost to you, in fact, for full transparency, in 2020 I made my first £25, and recently in 2022 I reached my next £25 (Amazon don't transfer the money until you reach £25). As you can see, it won't make me a millionaire but it will treat me to a few coffees, Lord knows I need the caffeine!
Join my friendly Facebook Group
life's a drama, gluten free doesn't have to be….