This page contain affiliate links. Please refer to my Disclosures Page for more details.
Also, before you hit 'Jump to Recipe' just check my contents section 'Skip to the Good Bit' below. I may answer a query you have about this recipe straight away in the post.
I distinctly remember Bethany loving Lebkuchen when she was 4 years old, it was the first year and the last year she had 'normal' Lebkuchen at Christmas time. I LOVE Lebkuchen and am saddened to say that 3 years after her diagnosis, I started to indulge again with hidden packets of the biscuits in far-to-reach cupboards, behind the jars of pickled gherkins!
With every guilty bite I promised myself Bethany would once again taste gluten free Lebkuchen at Christmas now she can. It took three attempts to get this just right but I'm pleased as punch with the results, it's never failed me since and even better, you can make this well in advance as they actually get better with age.
Finally! A gluten free biscuit that doesn't have to be eaten within minutes of coming out of the oven to taste any good!
Never miss out again…
Sign up to my Friday newsletter and receive not one, but THREE FREEBIES.
GF and Vegan e-Book
conversion charts
3 simple guides to allergies, intolerances & autoimmune.
Join me and learn to make anything gluten free.
How do you pronounce Lebkuchen?
I'm glad you asked. (just play along and humour me!) Lebkuchen is pronounced LEB-KOO-KEN with no emphasis on the "chh", I've been saying it wrong all my life but the lovely Eve from Healthy Tart, who is German kindly answered my question on Instastories and sent me a audio clip to help with pronunciation.
What is Lebkuchen?
Lebkuchen stems back centuries but the bake, as we tend to know it now, originates in Nuremburg, Germany and was made by monks. sometimes known as 'honey cake' sometime 'Lebkuchen' or another variation is Pfefferkuchen which is far more heavily spiced and referred to a 'pepper cake'.
Just to confuse you further there is also a harder biscuit version called Lebkuchen Herzen or Lebkuchen Hearts, these are more commonly made with the intention of decorating them elaborately for German Christmas Markets or Oktoberfest. So there you have it, now you have a teeny-tiny insight into the history of Lebkuchen should it ever come up in a quiz!
I've kept in some old photos in this post, partly to show you the different styles of decoration I've added in the past and partly for sentimental reasons as this is a recipe we always make each year now. Just so you know, the obviously up-to-date photos are the dairy, egg and gluten free version.
Why I've developed a NEW free from version
After perfecting the recipe in 2016 I later found myself to be dairy and egg intolerant so can no longer sneak the odd packet or two or 'normal' ones if I don't have time to bake them myself – call it karma for going behind Beth's back!
You may also have seen that Schär have brought out their version of Lebkuchen biscuits which have been hugely popular across social media, I confess to have had one or two myself and they are delicious albeit a little gooey in texture – I had all the regret afterwards as they are not egg free, neither are they nut free which my version is.
As with most shop bought gluten free items there are also a billion-gazillion ingredients, which is to be expected given shelf-life demands but as you'll see my gluten free, nut free Lebkuchen is way less fiddly when it comes to ingredients.
Egg free Lebkuchen
I dove back into the kitchen on a mission to make my Lebkuchen diary and egg free too (they can't be vegan as they have honey in them). I'm pleased to say I've cracked it, pun not intended. However, the appearance is slightly different to their egg and dairy filled cousins as there is crackling on the surface of the bakes so I'm more inclined to coat them totally in dark chocolate to make them a little prettier. To prevent some of the cracking I smoothed the biscuit batter with the back of a wet spoon.
I use ground flaxseed in this recipe to replace the egg. Normally I'd make a flax-egg [see below] but in this recipe I don't bother with this preparation and simply add the required amount of ground flax to the dry ingredient mix.
How to make a flax egg

to make 1 flax egg you need the following ingredients:
– 1tbsp ground flax seed
– 3tbsp water
– 1tsp psyllium husk (optional but does add elasticity to baking)

Simply add all ingredients to a glass and stir before measuring out the other recipe ingredients, by the time you come to use your 'egg' mixture it will have thickened to a frog-spawn consistency (thicker if you added psyllium husk)

Then just add to your baking as you would an egg. For 2 eggs double the ingredients but note that recipes that require more than two eggs may fail due to lack of support in the structure.
How to make Lebkuchen
This is a very simple recipe to make. The only bit you need to think about is how you want your final Lebkuchen to look. Depending on whether you want a rounded cookie or a flattened version better for decorating will determine how you prepare each cookie on the baking sheet.
The main part of the method is to simply add the sugars and fats, cream them together then add the dry ingredients. These cookies don't spread very far but will rise so you can afford to add more to a baking sheet.
This recipe makes up to 30 Lebkuchen – that's a lot! but you can choose to halve the recipe by clicking the 0.5x button and you'll have a recipe for 15+ medium sized Lebkuchen.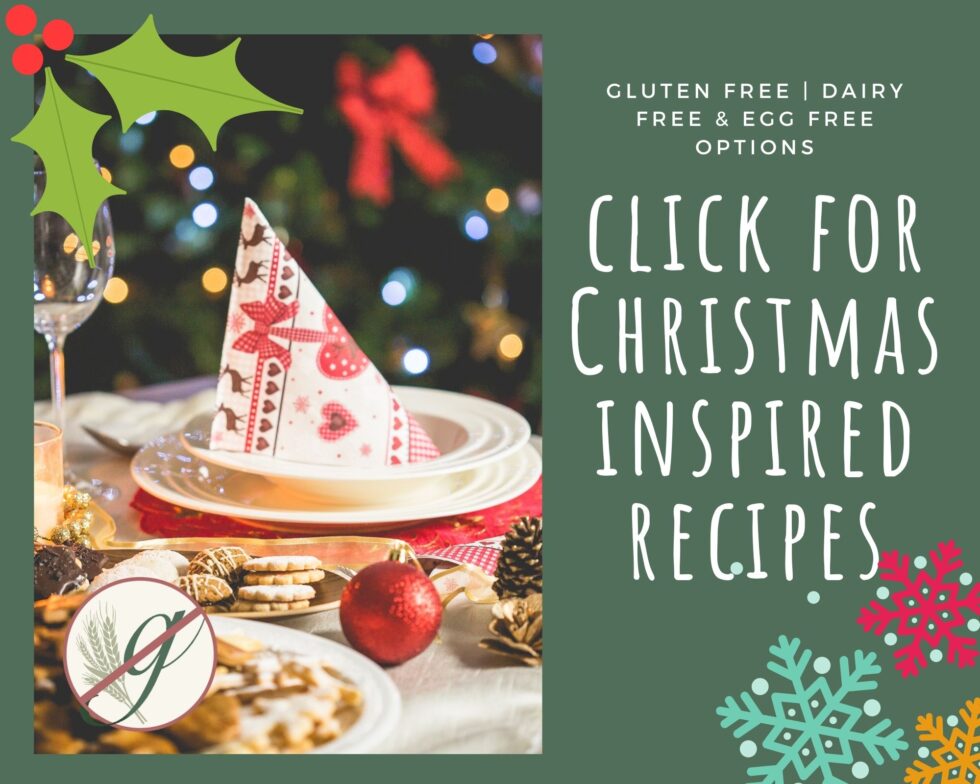 Different ways to decorate your Lebkuchen
Here are some ideas for you below, the star shapes are using the harder Lebkuchen Herzen biscuit I mention above but I have piped snowflakes onto these circular Lebkuchen before for bake sales at school.
I go into more detail below on how to fill your Lebkuchen if you have the time and patience for it that is!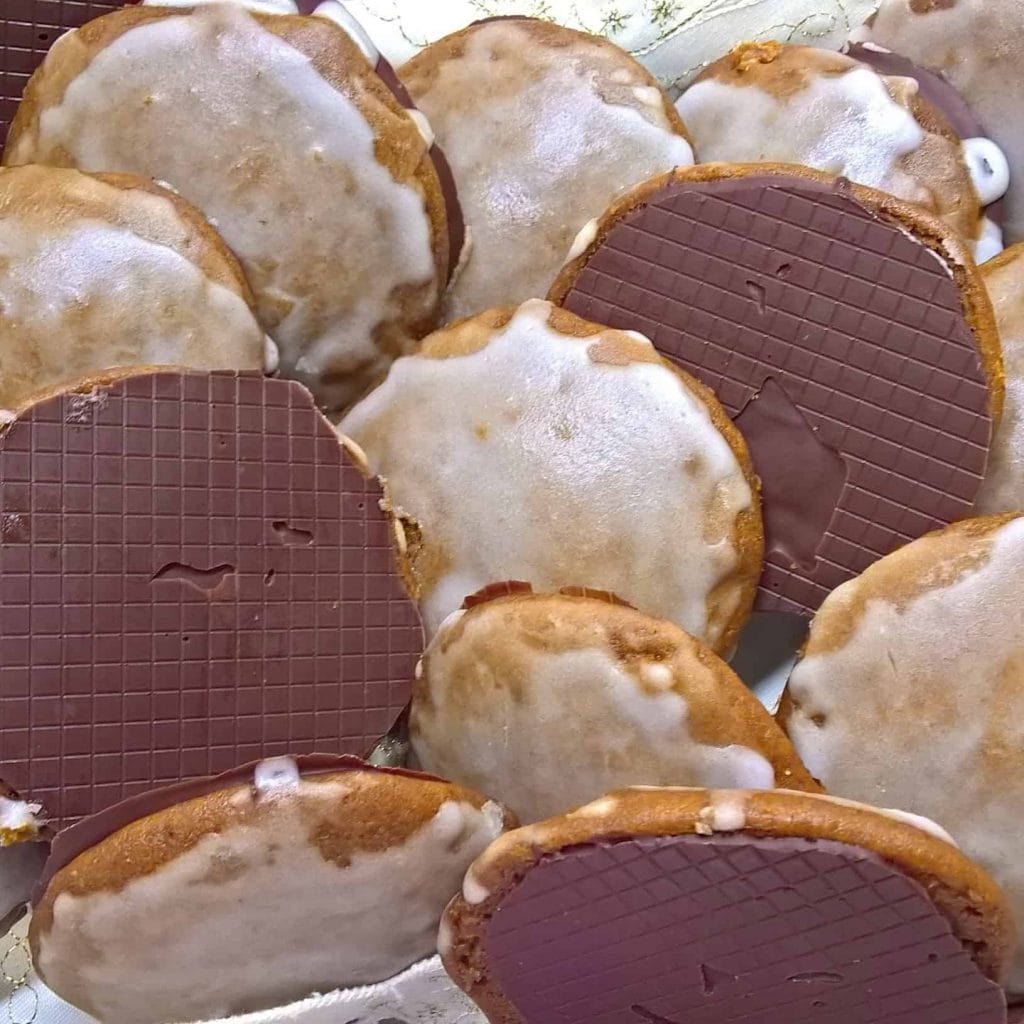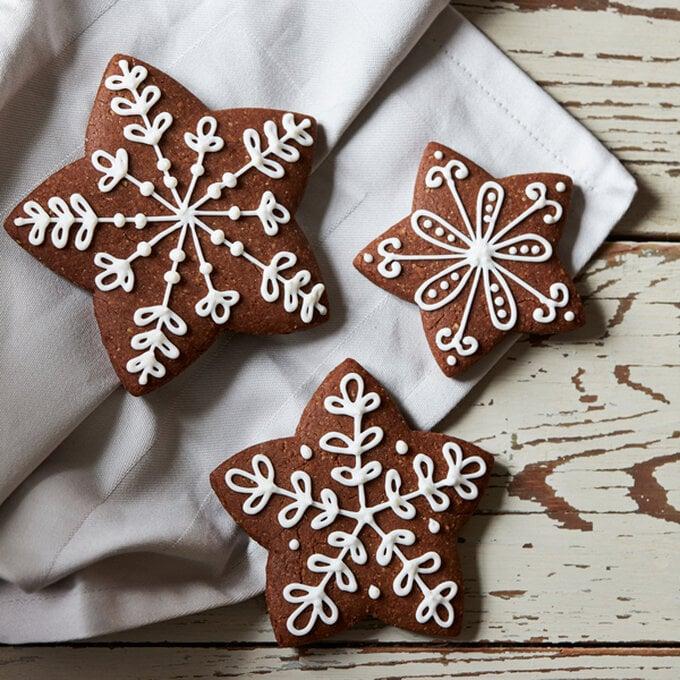 How to add filling to your Lebkuchen?
I like to add apricot jam to my filled Lebkuchen. Other filling ideas I'll list below, but apricot seems to be a more popular choice. The main rule of thumb is that you fill your Lebkuchen after baking the cookie not before.
To do this you'll need to find something to pipe filling into each cookie. I have used small reusable piping bags with small nozzles and squeezy sauce bottles but this medical liquid syringe is my favourite gadget. You do need to make sure that your jams are lump free though and you don't end up with a lump you try to force through the nozzle only to have jam on your ceiling – true story, I make these mistakes so you don't have to!
I pipe a tiny bit of jam into each cookie. You get a feel for when it's enough because the cookie swells in your fingertips. Over do it and you end up with an exploding Lebkuchen!
Finally, I coat the filled Lebkuchen biscuits in dark chocolate to seal the entry hole and add an extra touch of luxury.
Lebkuchen filling suggestions
Apricot jam
Strawberry jam
Morello Cherry jam
Raspberry jam
Cocktail Cherries – these you will need to poke into and hide in the cookie batter before baking.
Marzipan – small thumbnail sized balls poked into and hidden in the uncooked cookie dough.
How long does Lebkuchen keep for?
The good news is that this Lebkuchen keeps for ages. In fact, it gets better with age – hallelujah! I've made this for school Christmas Cake Sales before a week before the event and customers kept them until Christmas with them still tasting delicious which is why they make excellent gifts to [see my post Gluten Free Christmas Gifts Guide; Top 2022 Gift Inspiration for other baked Christmas gifts].
Gluten Free Lebkuchen Recipe
If you make it and like the recipe I would be eternally grateful if you popped back and commented leaving a star rating as this will tell search engines that this recipe is worth checking out and others will get to find it in searches.
Gluten Free Lebkuchen
A delicious spicy cake-like biscuit traditionally eaten in the wintertime and Christmas period, originating in Germany and now made gluten free with dairy and egg free options too. Decorate with a little icing glaze or add a delicious filling and coat in chocolate for that added touch of luxury.
Ingredients
100

g

caster sugar

400

g

gluten free plain flour

1 ½

tsp

bicarbonate of soda

3

tsp

baking powder

½

tsp

clove

½

tsp

cinnamon

½

tsp

nutmeg

60

g

softened butter

or dairy free alternative

1

egg(s)

or 1tbsp of flaxseed to replace one egg (no need to mix with water)

115

g

treacle

black treacle

1

tbsp

honey

150

ml

milk

or dairy free alternative

100

g

glace ginger

chop more finely if necessary
To decorate (icing glaze version)
150

g

icing/confectioners sugar

1

tsp

lemon juice

maybe more to loosen

150

g

dark chocolate

to coat biscuit bottoms
To decorate (chocolate & filled version)
300

g

dark chocolate

100

g

dairy free white chocolate

option to add contrast lines
To fill (filled version)
100

g

apricot jam

or another filling on your choice [see post]
Instructions
Cream the butter and sugar until light.

In a jug add the 'milk', egg [if using a real egg], honey and treacle and whisk until combined.

In a separate bowl measure the dry ingredients; flour, bicarb, baking powder, flaxseed [if not using a real egg], spices, glace ginger

Pour into the butter mixture and mix, start to add the dry ingredients, once all ingredients have been added the mixture should be a thick dropping consistency.

Add spoonfuls of mixture (about the size of an apricot) to a prepared baking sheet, these will spread to approx 2.5/3inches.

Bake in an oven on 200°C | 180°C fan | 400°F | Gas 6 for 8-10 minutes – they will turn a darker brown with a light bounce to the touch.

Remove from oven and allow to cool completely before decorating.
Icing glaze decoration
To decorate I add a dollop of dark chocolate to the bottom of each biscuit and place on baking paper.

To make the icing mix the icing sugar with the lemon juice (add more or less to get the right 'paint' consistency) and brush over the top with a pastry brush.

Pop in the fridge for the chocolate to harden and the icing top to crust, you may want to repeat the painting process to get a thicker coating.
Chocolate decoration
Melt the chocolate and coat the Lebkuchen bottoms and place on a silicone or textured sheet. Pop into the fridge to set.

Once set coat half the biscuits fully with dark chocolate and the other half drizzle with dairy free white chocolate.
Filled Lebkuchen
Once cool enough to touch pipe a little jam into each cookie you plan to fill (this works better is the biscuit is still ever so slightly warm). Allow to cool completely,

Cover the bottom of each cookie with a dollop of dark chocolate and place on a piece of baking paper then coat liberally with the rest of the dark chocolate until completely covered.

Allow to harden before eating.
Notes
I've added a few of my Lebkuchen photos from the past 3 years to give you some ideas for decoration, these are your creations – go as festive as you want and please tag me in on your photos if you share them on social media.
For nutrition purposes I've calculated for the icing glaze and chocolate bottom version.
Nutrition
Nutrition Facts
Gluten Free Lebkuchen
Amount per Serving
% Daily Value*
* Percent Daily Values are based on a 2000 calorie diet.
Have you tried this recipe?
Let me know how it was & I will be super grateful. Take a picture & tag me @glutarama on your social media posts – I love seeing your photos more than you will ever know x
I love to see your own photos of my bakes, dinners and treats head to your favourite social media account and don't forget to tag me in @glutarama
Subscribe to my email list so that you get NEW recipes straight in your mailbox every Friday PLUS a FREEBIE and access to some amazing gluten free DISCOUNTS
Join my friendly Facebook Group
life's a drama, gluten free doesn't have to be….
*disclaimer: I use affiliate codes on my website, the vast majority are to Amazon. If you click on any of the links or images in the post and make a purchase my family will benefit from a small % of that purchase at no extra cost to you.

For full transparency, in 2020 I made my first £25, and in 2022 I reached my next £25 (Amazon don't transfer the money until you reach £25). Recently I got paid a whopping £27.10 for 2023.

So to date I have made £78.58 since I first started the scheme in 2017. It won't pay the bills, that's for sure but it does help to pay for ingredients or little treats to cheer me up!