This recipe was first created in December 2019: Well the idea for these Stollen Mince Pies has been rattling around in my head since the summer when I created a similar idea with summer fruits. If you're interested it's my Blueberry Frangipane Tarts not very 'in season' in the winter months so you may want to hold off for now!
I've made this particular Stollen Mince Pie recipe several times now just to make sure it works every time and they've been enjoyed by family and hubbies work colleagues many times. Don't get me wrong, I LOVE these but if I ate all the bakes I made during trials I'd weigh 20 stone!
Never miss out again…
Sign up to my Friday newsletter and receive not one, but THREE FREEBIES.
GF and Vegan e-Book
conversion charts
3 simple guides to allergies, intolerances & autoimmune.
Join me and learn to make anything gluten free.
How I came up with the idea for Stollen Mince Pies
I love the Traditional version or Stollen, and I love…nay, adore Mince Pies so who wouldn't want to mash up both recipes, I've done it before with my Toffee Apple Crumble and as I'm that person, who given a choice of pudding will always ask for both, then why on earth not! I don't think we really get to eat marzipan very much throughout the year, unless we go to a wedding and have a slice of wedding cake that is…this makes me wonder where marzipan originates from actually?
So put simply, the idea for my stollen mince pies was to ram as much marzipan into Christmas as physically possible. When you try these out for yourself you'll agree that I am right and marzipan should be in everything!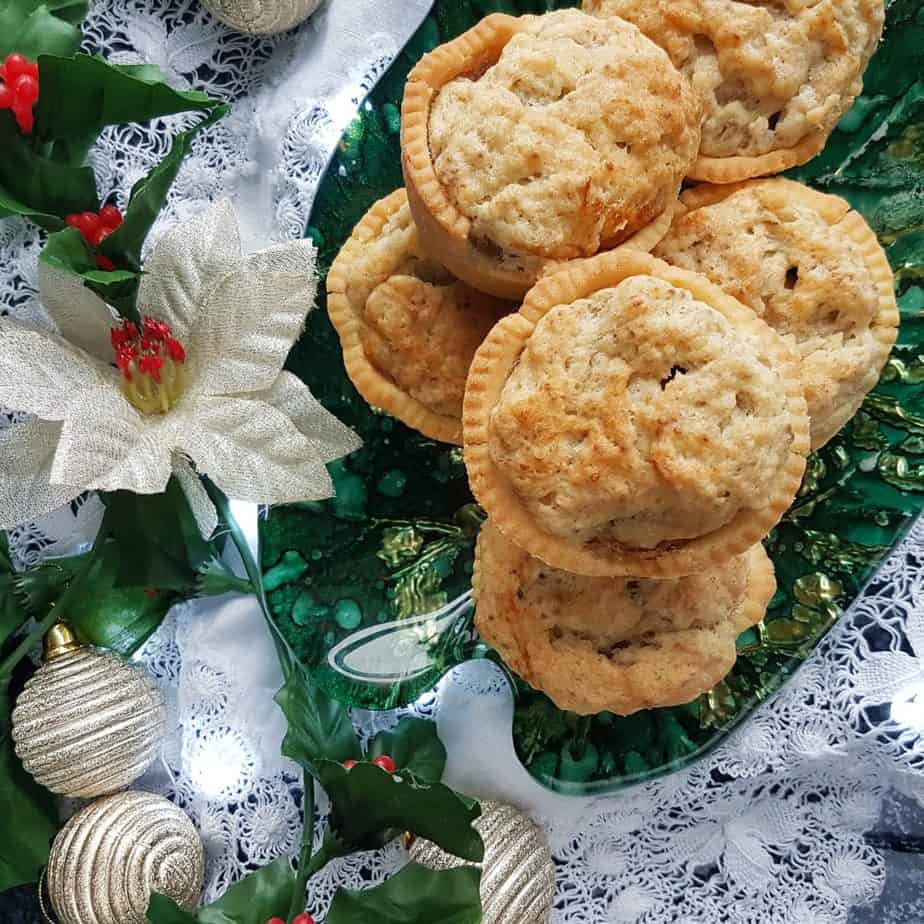 How can I make these mince pies vegan?
This particular recipe for Stollen Mince Pies is both gluten, dairy free and egg free too, but as with all my recipes, it's so simple to make them according to your dietary needs. Instead of the flaxseed eggs simply add two eggs, instead of the dairy free spread, use butter.
to be sure to make your Stollen Mince Pies totally vegan though, be sure to use a vegan approved mincemeat. They're not as rare as you may first think, something also worth watching out for is gluten in the mincemeat, many suets use a flour to bind, but you can find mincemeat with suet that is made with rice flour.
How to make a flax egg

to make 1 flax egg you need the following ingredients:
– 1tbsp ground flax seed
– 3tbsp water
– 1tsp psyllium husk (optional but does add elasticity to baking)

Simply add all ingredients to a glass and stir before measuring out the other recipe ingredients, by the time you come to use your 'egg' mixture it will have thickened to a frog-spawn consistency (thicker if you added psyllium husk)

Then just add to your baking as you would an egg. For 2 eggs double the ingredients but note that recipes that require more than two eggs may fail due to lack of support in the structure.
Speaking of suet, I'll just mention that I have my own homemade recipe for gluten free suet that's one of the most popular recipes on my website! You can find the link here Gluten Free Dumplings using Homemade Suet
Gluten free whole-wheat Pastry
I've made my pastry using the wonderful fool proof Free From Fairy recipe and I've used Vicki Montague's Free From Fairy Whole Wheat Flours both for the pasty and frangipane cake topping you can purchase the flours via the link above or if you'd rather you can use your usual brand of supermarket gluten free flour, I've made my Stollen Mince Pies with both and they work equally as well, just less nutritious if you opt for the supermarket flours.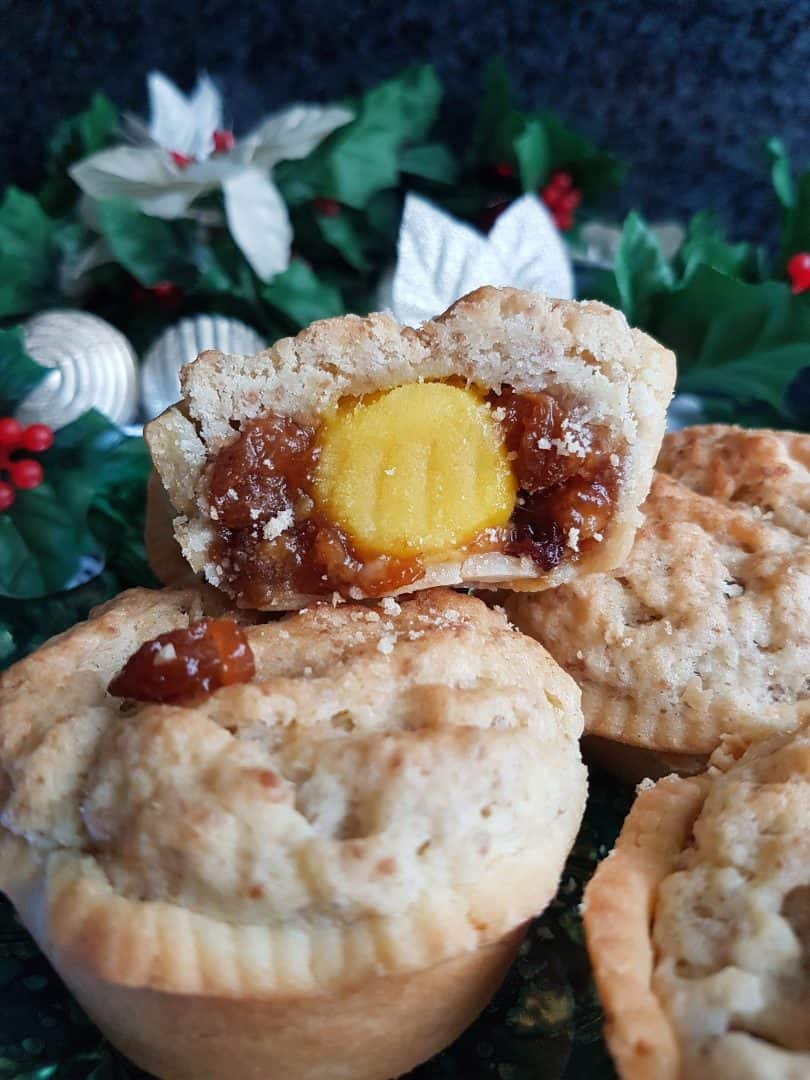 This recipe requires that you use a muffin cake tin instead of the traditional mince pie shallow 'jam tart' style tin. You need the additional depth to your pastry case to fit all the mince pie yummy fillings in. Oh, and while I think of it, YES! Getting the pastry circle into the muffin tin can be challenging without it tearing or over lapping.
Please don't fret, have fun with it, if the pastry overlaps squadge (yes, this is a word) the overlap and if it tears at all, tease the tear together or even better add a little off cut of pastry and seal the hole. Don't sweat it, we're gluten free, we know the cons of dealing with gluten free pastry, so just patch up if necessary and carry on.
The History of Marzipan
Earlier in this post I questioned where marzipan originated from, frankly I wish I hadn't Googled it!
Are you ready for this; Germany is adamant they invented marzipan with websites dedicated to it's history and the word 'marzipan' is a German word after all. However, it's also known as marzapane in Italy and it's documented that it was developed after a particularly difficult harvest one year when the main crop was almonds. But wait, the French also claim it was them that invented it! Estonia also want a piece of the marzipan action and history documents it being enjoyed by nobility in Spain, Holland, Russia, Austria and Hungary.
So in summary, everyone invented marzipan, even more reason to love it and my stollen mince pies so much, if only marzipan could bring us world peace, or sort out Brexit at the very least!
Never miss out again…
Sign up to my Friday newsletter and receive not one, but THREE FREEBIES.
GF and Vegan e-Book
conversion charts
3 simple guides to allergies, intolerances & autoimmune.
Join me and learn to make anything gluten free.
If you like the sound of this recipe, you'll love these gluten free festive treats
Gluten Free Ecclefechan Tarts
The humble Ecclefechan Tart is a wonderfully traditional tart originating in the small town of Ecclefechan. With simple, easy to source ingredients these tarts are a nod towards a mince pie but without the festive spices you'd expect and an egg to bind the filling together. This can make 6-8 tarts depending on the depth of your baking tin.
Check out this recipe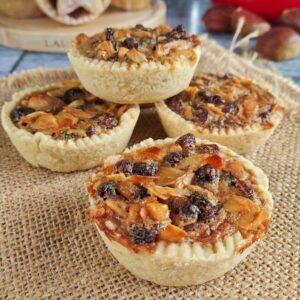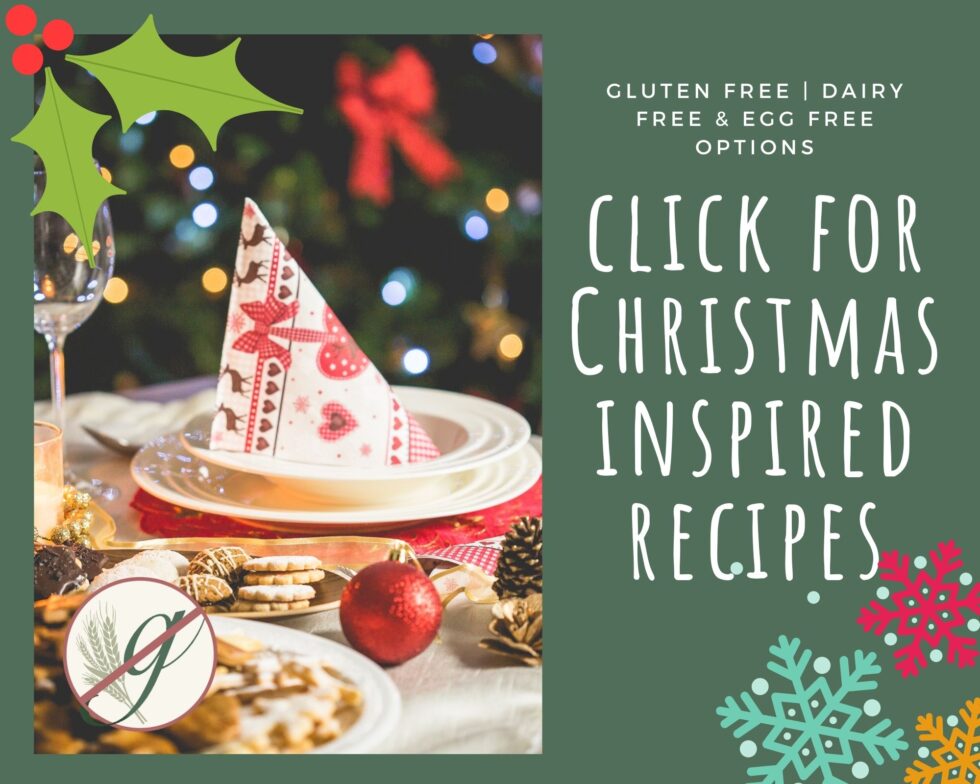 Luxury Gluten Free Stollen Mince Pies Recipe
If you make it and like the recipe I would be eternally grateful if you popped back and commented leaving a star rating as this will tell search engines that this recipe is worth checking out and others will get to find it in searches.
Luxury Gluten Free Stollen Mince Pies
A deliciously cheeky fusion of two wonderful traditional Christmas recipes, the humble mince pie and heart-warming Stollen combine to make these Stollen Mince Pies, let's start a new tradition! These are also gluten free, dairy free and vegan too so everyone can enjoy them.
Ingredients
Pastry Ingredients
200

g

gluten free plain flour

I use free from fairy flour

50

g

butter or butter alternative (I use Flora plant butter)

50

g

lard/trex

50

g

caster sugar

1

egg(s)

flaxseed egg: 1tbsp flaxseed and 3tbsp water
Frangipane topping
100

g

butter or butter alternative (I use Flora plant butter)

I use Pure

100

g

caster sugar

1

tsp

almond extract

2

egg(s)

flaxseed egg: 2tbsp flaxseed and 100ml water

100

g

gluten free self raising flour

I use free from fairy flour
Filling
150

g

marzipan

cut into 12 equal pieces and rolled into balls

200

g

mincemeat
Instructions
To make the pastry
Measure the flour and both fats into a bowl, using a pastry handle or your fingertips rub the fat into the flour until you get breadcrumbs.

Stir in the sugar.

Add your egg or flaxseed egg (1tbsp flaxseed with 100ml cold water)

Begin to bring the pastry crumbs together with a wooden spoon and then tip onto a kitchen surface.

You have to knead the dough for a while to bring it together but have faith it will come together and it's so worth it.

Once rolled into a ball pop into some clingfilm or a sandwich bag and chill in the fridge for 30 minutes
The make the frangipane
Cream the dairy free spread (or butter) with the caster sugar until light and fluffy.

Add the extract and you eggs (flaxseed eggs) and beat hard to combine.

Sift in the flour and beat one last time until you have a soft cake dough consistency.

Set to one side whilst you prepare the pie cases.
To make the pie
Roll out the pastry and using the tips mentioned above in the post make your deep pie cases using a muffin tin. You'll need a large 9cm round cutter (I've added a link below to the set I have and can thoroughly recommend)

Spoon a heaped teaspoon of mincemeat into each pastry case.

Add a rolled ball of marzipan to the mincemeat.

Finally spoon into each case a heaped dessert spoon of frangipane cake mixture, make sure to seal the edges so that the mincemeat doesn't bubble up and spill out of the pie as it cooks.

Cook in a preheated oven on 200°C/180°C fan for 12-15mins, your frangipane cake topping should have a lovely bounce to it when pressed lightly.

Remove from oven and allow to cool for 5 mins before transferring for the tin to a cooling rack. When completely cool dust liberally with icing sugar.
Nutrition
Nutrition Facts
Luxury Gluten Free Stollen Mince Pies
Amount per Serving
% Daily Value*
* Percent Daily Values are based on a 2000 calorie diet.
Have you tried this recipe?
Let me know how it was & I will be super grateful. Take a picture & tag me @glutarama on your social media posts – I love seeing your photos more than you will ever know x
I love to see your own photos of my bakes, dinners and treats head to your favourite social media account and don't forget to tag me in @glutarama
Subscribe to my email list so that you get NEW recipes straight in your mailbox every Friday PLUS a FREEBIE and access to some amazing gluten free DISCOUNTS
Click to save my Stollen Mince Pies; gluten and dairy free
*disclaimer: I use affiliate codes on my website, the vast majority are to Amazon. If you click on any of the links or images in the post and make a purchase my family will benefit from a small % of that purchase at no extra cost to you.

For full transparency, in 2020 I made my first £25, and in 2022 I reached my next £25 (Amazon don't transfer the money until you reach £25). Recently I got paid a whopping £27.10 for 2023.

So to date I have made £78.58 since I first started the scheme in 2017. It won't pay the bills, that's for sure but it does help to pay for ingredients or little treats to cheer me up!