Okay, I am going to hold my hands up and say this Homemade Lotus Biscoff Spread is 90% perfect. But after 3 weeks of recipe development I'm done with it. I never want to put a recipe on this website unless I'm 100% happy with it but there comes a point when I have to ask myself 'am I being too harsh a critic?'
The flavour was nailed first attempt. I have a knack for working out flavours in my head, playing with ingredients and then when I put it into practice it just works – lucky me. However, the sticking point with this gluten free Biscoff Spread was the texture.
Secondly, I had to scale the original process down. The whole idea of Glutarama is that my recipes are easy, accessible, ingredients are often to hand and you don't feel like you've competed in a marathon to make anything.
TASTE – CHECK
METHOD – CHECK
TEXTURE – ALMOST!
Please do come back and let me know if you've made this and agree or not with me. Am I being hard on myself or can you forgive the 'homemade' vide of this gluten free Lotus Biscoff Spread?
What's so special about Lotus Biscoff?
Why did I put myself through this recipe development torture in the first place? Well if you've not heard about Lotus biscuits or Biscoff Spread recently then where my dear have you been? You can't look at any social media platform without being taunted with Lotus Biscoff Brownies, Blondies, Cheesecakes, Smoothie Bowls – the list is endless.
I mean I get it! Lotus biscuits are lovely. They're basically a mass produced version of the traditional Speculaas or speculoos biscuit that you tend to see around the Christmas Festivities. In simple terms it's a caramelised biscuit spiced with cinnamon and Lotus has been around since 1932 [product FAQ].
What's more, I can eat them – yep, sorry, my name is Rebecca and I'm not gluten free! If you didn't know already Glutarama came about because my daughter Bethany was diagnosed at 5yrs old (you can read about this here Coeliac Disease and us; diagnosis onwards).
My issues are with dairy and eggs among other things, so as Lotus are vegan, I can eat them. This does mean that I can taste one against the other which is why I'm happy with the flavour. It also means that I know how delicious the Biscoff cookie spread is so this made me insane with the need for Bethany (and you) to have some that you can eat too.
Is Biscoff spread gluten free?
So, we've already worked out that no, Lotus Biscoff Spread is not gluten free. It has wheat in it so not safe for those with Coeliac Disease, gluten intolerance or a wheat allergy. The original Biscoff Spread also has soy in it so another dietary group are unable to enjoy it.
What is Biscoff Spread made of?
Ingredients: Biscoff Cookies (Wheat flour, Sugar, Vegetables oils [contains one or more of soy bean oil, sunflower oil, canola oil, palm oil], Soy flour, Brown sugar syrup, Sodium bicarbonate [leavening], Salt, Cinnamon), Canola oil, Sugar, Soy lecithin, Citric acid. Contains: Wheat, Soy.
(taken from Biscoff website)
What is this biscuit spread made of to make it gluten free and vegan too?
My homemade Lotus Biscoff Spread is made gluten free using the following ingredients;
Gluten Free Digestive Biscuits – Gluten Free Oat Flour, Margarine (Palm Fat, Rapeseed Oil, Water, Palm Oil, Salt, Emulsifier: Mono- and Diglycerides of Fatty Acids), Sugar, Gluten Free Oat Bran, Soya Flour, Cornflour, Partially Inverted Sugar Syrup, Cane Molasses, Raising Agent: Sodium Bicarbonate.
Golden Syrup
Caster Sugar
Coconut Oil
Gluten Free Plain Flour – Rice, Potato, Tapioca, Maize & Buckwheat
Water
Ground Cinnamon
Cocoa Powder
Salt
This does mean that this recipe is not suitable to Coeliac's who react to gluten free oats, I'm so sorry, but blame the supermarkets for shoving 'safe' oats in pretty much everything. I will work on an oat free version too if enough people ask me nicely (insert cheeky wink emoji here!).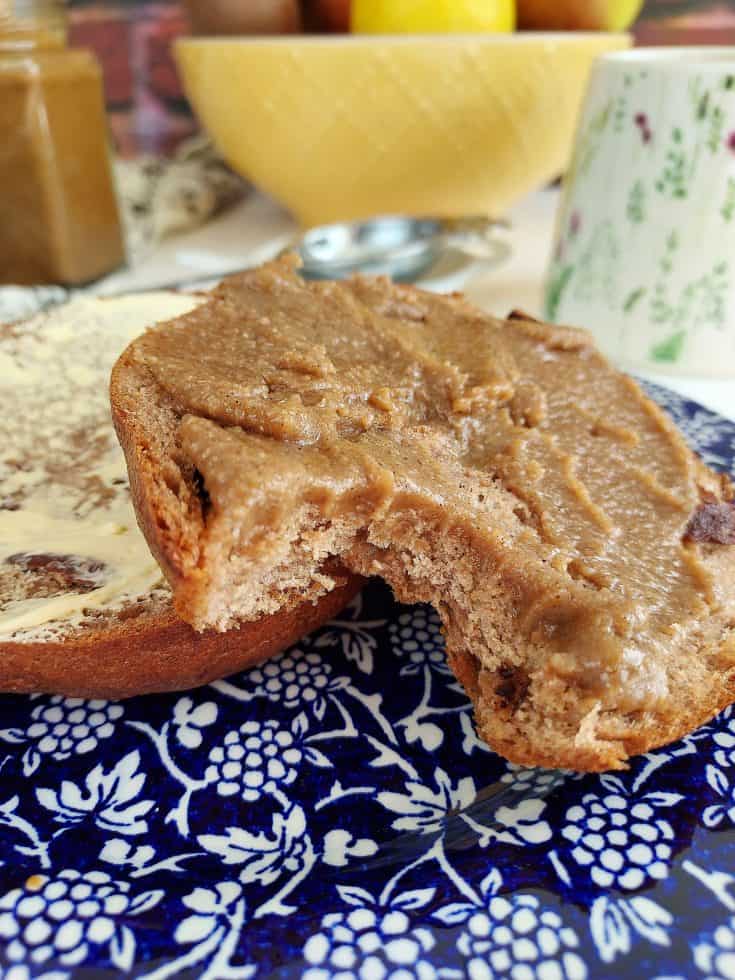 Can I make these with any gluten free digestive?
Technically you can make this biscuit spread with any digestive. However, not all digestives are also soy free so if you want a soy free version use Tesco gluten free digestives. Other digestives have soy flour in them.
I've used digestives as the base for this Biscoff Spread for three reasons; they're normally the cheapest of the free from biscuit ranges, they're easy to source in the shops and the sweet/savoury flavour worked best with this recipe.
Never miss out again…
Sign up to my weekly Friday newsletter and not only get a FREE e-Book (currently my Gluten Free & Vegan Cookbook) but also get VIP subscriber discounts on free from goodies delivered to your door.
If you like this gluten free recipe, then you'll love these
Homemade Gluten Free Lotus Biscoff Cookie Spread Recipe
Homemade Gluten Free Lotus Biscoff Cookie Spread
This Gluten Free Lotus Biscoff Cookie Spread is a celebration of perseverance to get the taste just right. Easy to make using ingredients you normally would have at home, this gluten free and vegan biscuit spread is delicious in sandwiches, on toast and use in baking or in smoothie bowls.
Cuisine:
Free From – gluten, dairy, wheat, soya, egg
Keyword:
Biscoff, biscuit, Biscuit Spread, cookies, Dairy Free, easy, Gluten Free, Lotus, simple, Soy Free, Vegan
Ingredients
120

g

gluten free digestive biscuits

I used Sainsburys but Tesco is Soy Free too.

100

g

golden syrup (corn syrup)

50

g

caster sugar

20

g

coconut oil

2

tbsp

gluten free plain flour

1

tbsp

water

1

tsp

ground cinnamon

½

tsp

cocoa powder
Instructions
To make your biscuit dust
I've made this process as simple as possible to get the smoothest version of Biscoff Spread.

Into a food blender (or smoothie maker) add the gluten free digestive biscuits, 50g caster sugar, 1tsp cinnamon, ¼ tsp salt and 2 tbsps of gluten free plain flour.

Blitz the biscuits and dry ingredients until you have a fine biscuit dust.

Next, using the finest holed sieve you have, sieve the biscuit dust into a mixing bowl. Discard any crumbs left in the sieve, this will most likely be fine oat husks from the digestives.

TIP: I find that my metal sieves holes are too large so use a plastic sieve I bought to make homemade kefir.
To make the biscuit spread
To the mixing bowl, add the golden syrup and coconut oil (no need to melt first). Using a 'K' or batter paddle beat the biscuit dust, syrup and coconut oil together until you have a thick paste.

Finally add a table spoon of cold water and re-beat, this will loosen the paste to a spreadable consistency.
Optional ingredient to taste
If you have some handy, add a teaspoon of caramel syrup (the kind you add to lattes). The biscuit spread will still taste like Lotus Biscoff without it, but adding the caramel syrup will intensify the flavour.
Optional process to blend
If you have a handheld blender, you could use it as a final stage to beat any remaining grainy bits out of the biscuit spread to make it as smooth as possible without industrial machinery!

Finally, spoon your spread into a sterilised glass jam jar, you'll need a 300g or more size jar for this spread. To store, keep it in the cupboard and use within a month.

TIP: Keeping this in the fridge will make the spread harden, making it difficult to use.
Recipe Notes
I have been totally honest and said that I'm only 90% happy with this copycat homemade Lotis Biscoff Spread. If you have any thoughts or comments on how this can be improved then I welcome them in the comment box below.
Nutrition Facts
Homemade Gluten Free Lotus Biscoff Cookie Spread
Amount Per Serving
Calories 125
Calories from Fat 27
% Daily Value*
Fat 3g5%
Sodium 57mg2%
Potassium 18mg1%
Carbohydrates 23g8%
Protein 1g2%
Vitamin A 1IU0%
Vitamin C 1mg1%
Calcium 6mg1%
Iron 1mg6%
* Percent Daily Values are based on a 2000 calorie diet.
I really love to read your comments and feedback and will always comment back. Do drop a line in the comment section if you liked this post I would love to hear your thoughts, if you share photos of your delicious creations, please do tag me or use the hashtag #Glutarama on Facebook, Twitter and Instagram. Subscribe to my email list so that you get all my reviews and recipes straight in your mailbox.
Don't lose this delicious recipe in the great world wide web – pin it!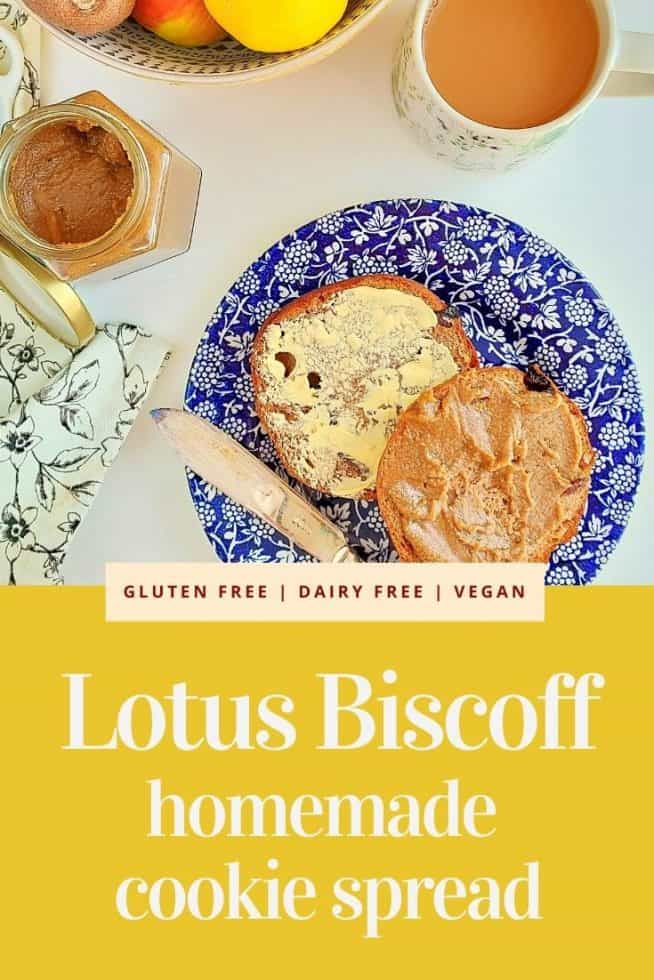 Each week I link up to these awesome linkies by other wonderful bloggers and recipe developers
Cook Blog Share  | Fiesta Friday | Friday Favourites | Handmade Monday | Sundays on Silverado | Full Plate Thursday | Traffic Jam Weekend Linky | What's For Dinner?
A post packed with 20 delicious Autumn/Winter inspired comfort foods made gluten free, dairy free and in most cases egg free too
---
*disclaimer: I use affiliate codes on my website, the vast majority are to Amazon. If you click on any of the links or images in the post and make a purchase my family will benefit from a small % of that purchase at no extra cost to you, in fact, for full transparency, in 2020 I've made my first £25, so it won't make me a millionaire but it will treat me to a few coffees, Lord knows I need the caffeine!