Presenting my Vegan Crème Egg Cheesecake! Not another bloody Crème Egg recipe I hear you cry, why, why so many Crème Egg recipes (kneeling on floor raising hands to the sky).
Well calm yourself my dear, this is no ordinary recipe. Did not not hear me? This is vegan – egg and dairy free as well as gluten free. That means I can eat it and hopefully you can share in my excitement too.
Around the Easter period it seems that Cadbury's Creme Eggs get shoved into and on top of everything; brownies, brookies, blondies, traybakes, drip cakes and yes cheese cakes too.
So naturally I decided to develop the most dairy filled dessert topped with dairy and egg packed crème eggs and make it totally gluten free and vegan – naturally!
What is the filling in Crème Eggs?
Normally a Cadbury's Crème Egg is made of dairy chocolate, and filled with a deliciously (possibly oversweet) fondant. Some assume that the white and the yolk of the fondant centre is a different flavour but no. The only difference is that one is left naturally white, the other is coloured to look like a golden yellow/orange egg yolk.
Never miss out again…
Sign up to my Friday newsletter and receive not one, but THREE FREEBIES.
GF and Vegan e-Book
conversion charts
3 simple guides to allergies, intolerances & autoimmune.
Join me and learn to make anything gluten free.
Is there egg in normal Crème Eggs?
The fondant is primarily made of icing sugar, then palm oil and finally egg white to give it a smooth viscose texture. So your normal Crème Egg does in fact contain eggs!
How do you make a dairy free and egg free Crème Egg fondant?
The answer to this came with a little bit of fiddly recipe development back in 2018 when I first set to work developing my Supersize Creme Egg; gluten free, dairy free and vegan. It took a few attempts to get the right flavour and texture on the tongue. However, after attempt no. 4 I cracked it (pun intended).
The trick was to create a fondant that was smooth, creamy and had a gloss to it. I settled on a combination of;
icing sugar (confectioners sugar)
coconut oil
soya milk
That's it, three magic ingredients in the right quantities plus a touch of egg yellow food colour paste.
Supersize Homemade Vegan Crème Egg
No need to miss out on a Cream Egg anymore, now with this recipe you can make your own Cream Egg that's gluten, dairy free and vegan.
Check out this recipe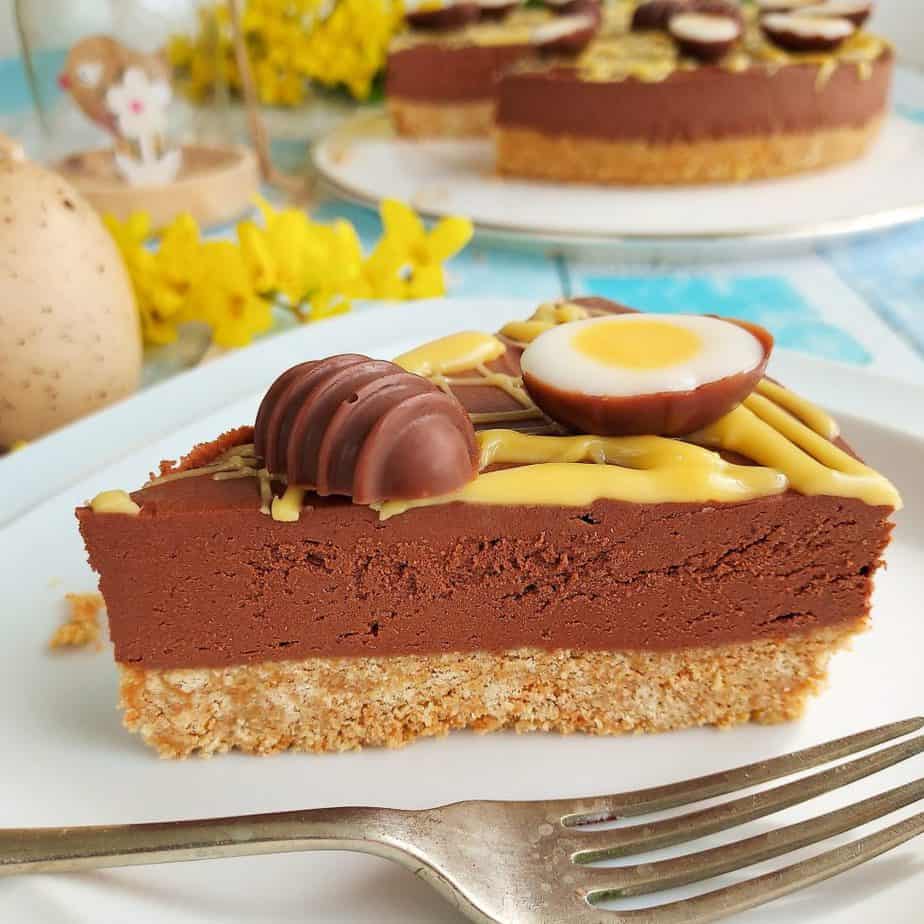 How do you make a vegan creme egg cheesecake?
To make the cheesecake element of the vegan cheesecake I used vegan and dairy free cream cheese, icing sugar, plant based cream, vegan butter and dark dairy free chocolate.
By making a cheesecake dairy free you are actually taking out the essential fat content of the dessert, it's this fat content that aid the no-bake cheesecake in the setting process. Without it, your cheesecake will struggle to hold its structure. Therefore I add vegan butter and the addition of chocolate aids the setting of the cheesecake.
---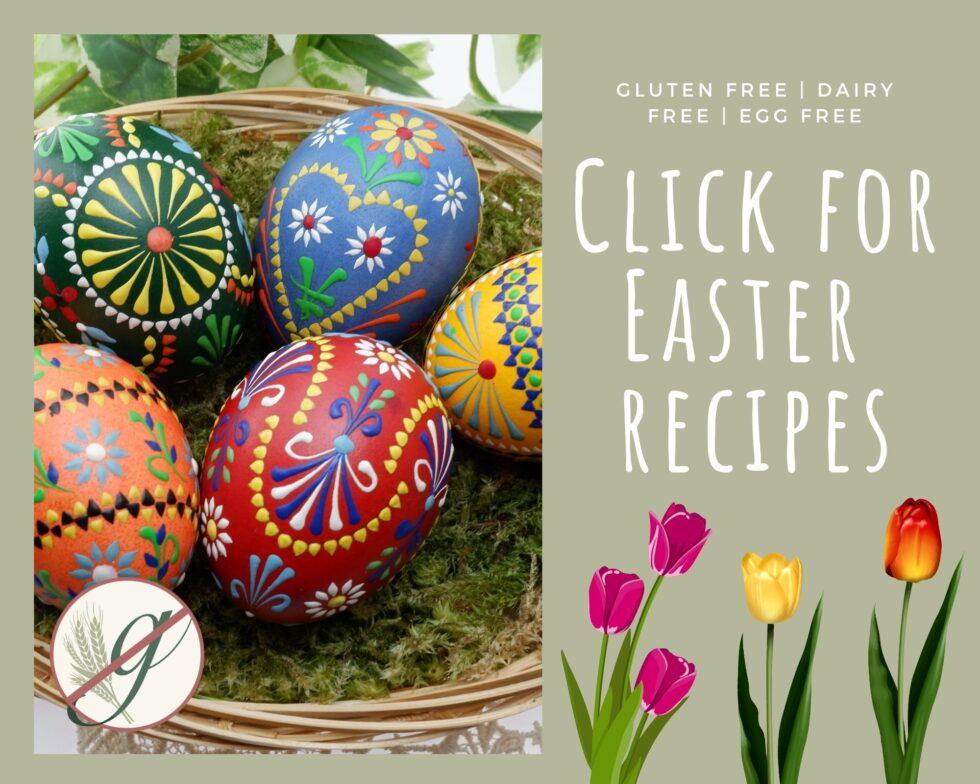 ---
Can I use a different chocolate in my no-bake vegan cheescake?
Yes, you can use different chocolates. This could vary depending on your taste and your budget.
I actually used 50/50 Bournville and 85% Lindt chocolate in my recipe as this is cheaper than using an expensive chocolate but for those allergic to dairy please be warned that Bournville is a may contain.
If you prefer a sweeter less dark chocolate then opt for a dairy free milk chocolate. This will sadly be a more expensive option as we all know that dairy free chocolate bars cost the same as an ingot of gold these days!
Why not switch things up completely, and swap the dark chocolate for white dairy free chocolate, this will create a beautiful contrast to the vegan crème eggs decorating your no-bake Vegan Crème Egg Cheesecake.
How do you store this vegan cheesecake?
This is a robust cheesecake and it will happily keep in the fridge for up to a week. Preferably keep it in a Tupperware container to prevent it absorbing any other fridge smells and flavours. To serve you can simply slice straight from the fridge. For a creamier slice remove the cheesecake about 20mins before serving and allow it to come up to room temperature.
Here are some other free from dessert recipes for inspiration
Celebration Vegan Crème Egg Cheesecake Recipe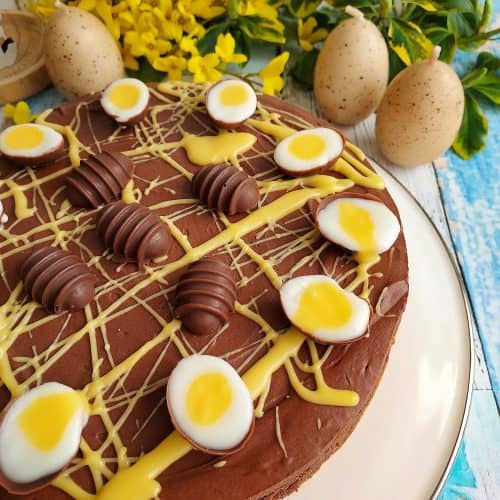 Vegan Crème Egg Cheesecake with Gluten Free Base.
A deliciously luxurious looking vegan crème egg cheesecake that is in fact relatively simple to make with the right tools. Grab yourself a mini chocolate silicone mould and you whip one of these up in no time at all and impress you family and friends.
Ingredients
For the biscuit base
300

g

gluten free digestive biscuit(s)

effectively two packets

100

g

butter or butter alternative (I use Flora plant butter)

I use Flora vegan and dairy free butter
For the no-bake cheesecake layer
350

g

vegan cream cheese

two tubs

1

tsp

vanilla extract

100

ml

dairy free cream

I use Emlea Plant Double Cream but single is fine

25

g

butter or butter alternative (I use Flora plant butter)

300

g

dairy free 'milk' chocolate

I used dark chocolate

100

g

icing/confectioners sugar

or add gradually to taste
For the vegan crème eggs
35

g

dairy free 'milk' chocolate

2

tsp

coconut oil

2

tsp

dairy free milk

I used soya milk

6

tbsp

icing/confectioners sugar

egg yellow food colouring
Instructions
To make the gluten free biscuit base
In a blender blitz the gluten free digestive biscuits until you have biscuit crumbs.

Melt the dairy free butter. I use a microwave for a few seconds.

Add the butter to the blender and whizz again until all the biscuit crumbs are coated in melted butter.

Tip into a prepared 20cm loose bottom round cake tin. To prepare mine I simply add a circle of grease proof paper to the base of the tin held in place with a little spray of coconut oil.

Tip the biscuit crumb mixture into your tin and with a large metal spoon smooth down evenly pressing firmly until you have a flat even biscuit base.

Pop the biscuit base in the fridge to set while you set to work on the creamy cheesecake layer.
To make the cheesecake layer
This is very simple, add the two tubs of dairy free cream cheese and vanilla extract to a mixing bowl and beat until smooth.

Next melt the butter in a little jug (I use the microwave) and then pour the 100ml of cream into the melted butter, this cools it down to add to the cream cheese.

Pour the cream and melted butter into the cream cheese and beat again, you'll notice the cream cheese thicken a little at this point.

Now melt your dairy free chocolate [see notes on how to melt] and pour this into the cream cheese mixture beating well to incorporate.

Finally add the icing sugar, it's better to sift this into the bowl to prevent lumps. I've recommended 100g in the ingredients, you can add as much or as little to taste.

Now remove your chilled biscuit base and pour the chocolate cheesecake mixture onto the base. Using a spatula smooth the mixture to the edges of the tin and leave a nice even finish (doesn't have to be perfectly flat so don't sweat it).

Now return the tin to the fridge to chill and set your cheesecake. This only takes 30 mins to set.
To make your vegan crème eggs
Melt the 35g of dairy free chocolate (I do do this in the microwave as a little amount like this will melt easily before it burns)

Spoon tiny amounts into 10 mini egg silicone moulds and tease the chocolate up the sides to coat the entire mould. With any excess chocolate make more solid chocolate halves if you can.

Pop the chocolate mould into the fridge to chill and set.

Meanwhile, make you fondant filling. To do this simply melt 1tsp of coconut oil in a little pot, add 3tbsp icing sugar and then 1tsp dairy free milk, stir briskly to beat out any lumps.

Now repeat the last point with 1tsp coconut oil, 3tbsp icing sugar and 1tsp dairy free milk but this time add a tiny drop of egg yellow food colouring.

To give you an idea, I dipped a wooden cocktail stick into my yellow food paste and stirred the second fondant mix until it turned a gorgeous yolk yellow.

You now have two little pots of fondant, one white representing the egg white and one yellow representing the egg yolk.

By now your egg moulds should have set, remove from fridge and gently pop out halved egg shells. add a dollop of the white to the empty chocolate mini mould, then add a tiny dollop of yell for the yolk.
To decorate
You'll find you have some yellow 'yolk' coloured fondant left. If needs be, heat for a few seconds in the microwave and drizzle the yellow fondant over your cheesecake in a non-uniformed squiggle. Finally, add your mini vegan crème eggs placing them evenly around the edge of the cheesecake.

You can serve this immediately or keep it in the fridge until needed.
Notes
How to melt dairy free chocolate
Normally chocolate melts just fine in the microwave as long as you keep a close eye on it. Dairy free chocolate, on the other hand, has a tendency to burn really easily so I would not recommend using this method.
Instead use the Bain Marie method and place a bowl over a saucepan of boiling water. Make sure no water gets into the melted chocolate you'll end up with instant concrete!
Nutrition
Nutrition Facts
Vegan Crème Egg Cheesecake with Gluten Free Base.
Amount per Serving
% Daily Value*
* Percent Daily Values are based on a 2000 calorie diet.
Have you tried this recipe?
Let me know how it was & I will be super grateful. Take a picture & tag me @glutarama on your social media posts – I love seeing your photos more than you will ever know x
I love to see your own photos of my bakes, dinners and treats head to your favourite social media account and don't forget to tag me in @glutarama
Subscribe to my email list so that you get NEW recipes straight in your mailbox every Friday PLUS a FREEBIE and access to some amazing gluten free DISCOUNTS
*disclaimer: I use affiliate codes on my website, the vast majority are to Amazon. If you click on any of the links or images in the post and make a purchase my family will benefit from a small % of that purchase at no extra cost to you.

For full transparency, in 2020 I made my first £25, and in 2022 I reached my next £25 (Amazon don't transfer the money until you reach £25). Recently I got paid a whopping £27.10 for 2023.

So to date I have made £78.58 since I first started the scheme in 2017. It won't pay the bills, that's for sure but it does help to pay for ingredients or little treats to cheer me up!
Gluten Free Small Business Guide
Updated on a regular basis, this guide champions small gluten free producers in the UK who deliver awesome free from bakes, cakes and savoury goods.