This page contain affiliate links. Please refer to my Disclosures Page for more details.
Presenting my gluten free, dairy free, Egg Free Buffet Quiche – that's right, this quiche is actually vegan (shock horror) but it's flipping good even if I do say so myself. In fact, it just keeps getting better with age so this is the perfect recipe to make in advance for parties and family gatherings.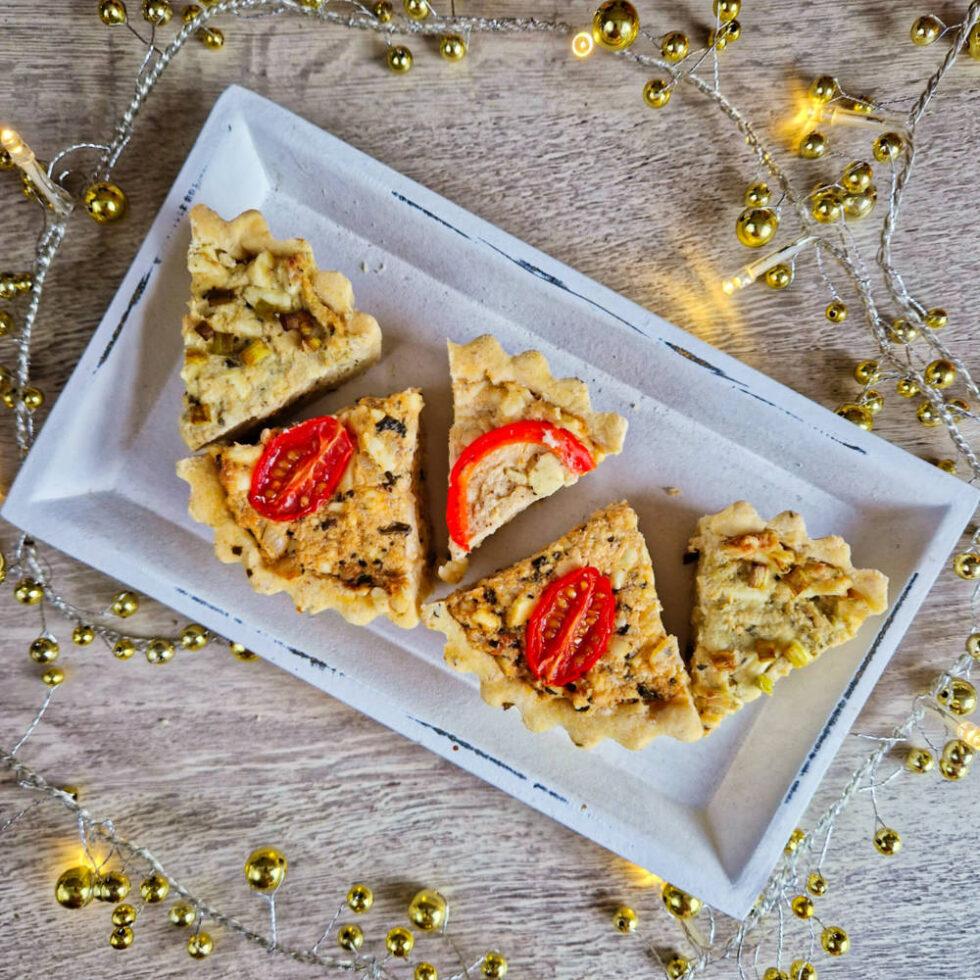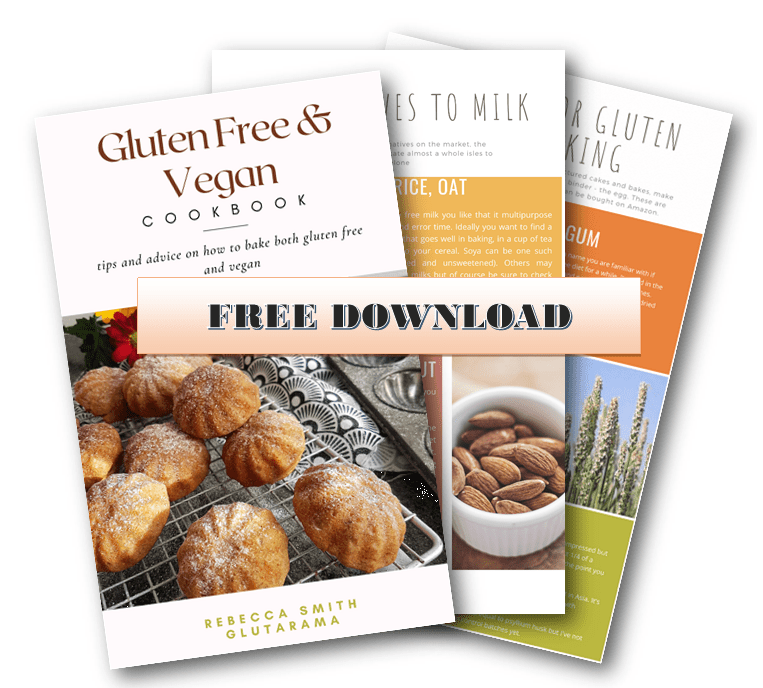 Never miss out again…
Sign up to my weekly Friday newsletter and not only get a FREE e-Book (currently my Gluten Free & Vegan Cookbook) but also get VIP subscriber discounts on free from goodies. Join me and learn to make anything gluten free.
What is the secret to making good quiche?
Great question, if you find out do let me know – just kidding! The secret to making a good quiche is good quality ingredients and powerful flavours. Nobody wants to bite into a bland wobbly quiche.
You need to be able to eat quiche hot and cold so the flavours need to be strong to work in both instances. You also need a delicious savoury pastry case to stand up to the flavourful filling.
If you make sure you pack in the flavour and spend a little extra time prepping the filling you'll end up with a good quiche – trust me.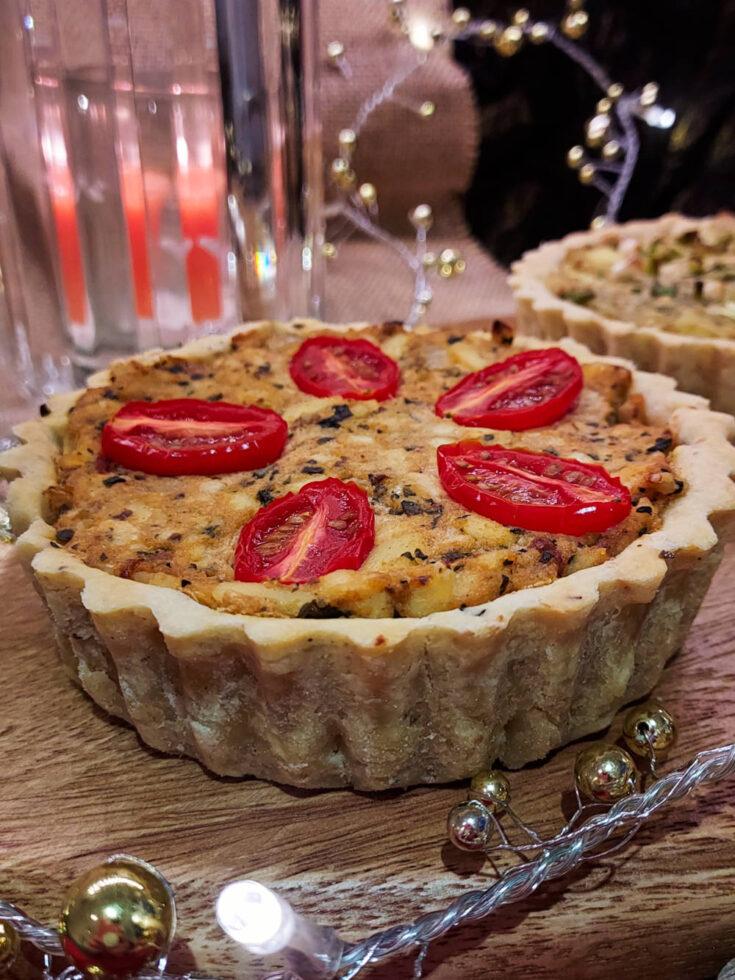 What is normal quiche made of?
Typically a 'normal' quiche is made of eggs, cheese, milk and a themed flavour i.e. bacon (for Quiche Lorraine). If you start adding creams you've ventured into tart and flan territory. I explain the difference more in my recipe for Vegan Mature 'Cheese' Quiche.
What is vegan quiche made of?
A vegan/egg free quiche lacks the main building block that holds the filling together – EGGS. To replace this key ingredient we have to find an alternative 'glue' to bind everything together. The glue in this Egg Free Buffet Quiche is psyllium husk powder. It's a great ingredient to have for both vegan and gluten free baking as it replaces glutens elasticity and the eggs binding qualities.
Next we have to replace the cheese for a plant based alternative. Vegan cheese can be a contentious subject, especially for cheese lovers like myself (I'd kill for a good bit of Brie or Stilton). If you're new to dairy free cooking I can recommend a few good plant based cheeses to get to started. These are all available in the UK but if you're overseas and know of some great brands then please do share in the comments.
In the Egg Free Buffet Quiche pictured I used Cathedral City plant based grated cheese. But I have used all these cheeses with equal success.
What can I substitute for eggs in quiche?
I've already explained that psyllium husk acts as the glue/binding agent but a tablespoon of the stuff doesn't replace 3-4 eggs worth of eggs!
This is where I spent a while perfecting the recipe (originally for my Vegan Mature 'Cheese' Quiche). I wanted an egg quiche texture still with the eggy-bouncy feeling your when you bite into the filling. You just don't seem to get this with many other vegan quiche recipes out there where the filling tend to be more like a paste.
I use two types of tofu to create this texture. Hard tofu crumbled to give you the impression of an egg white texture and silken tofu to replicate the egg yolk creaminess.
Vegan Worcestershire Sauce alternative
I've always added Worchestershire Sauce/Worchester Sauce to many of my recipes for extra umami flavour. You can get gluten free versions however, a lovely commenter took the time to explain to me on my Vegan Mature 'Cheese' Quiche that Worchester Sauce is not in fact vegan.
I kicked myself because I knew this as I'd done some research for an earlier recipe. In my research I found out the humble beginnings of the famous Lea & Perrins which all began with a fermented casket of anchovies!
The good news is there there is a vegan version on the market here in the UK called Henderson's Relish. It's Vegan Society approved and Coeliac friendly too.
However, if you cannot find Henderson's in your area/country. You can recreate your own using the recipe recommended by the same commenter;
1 tablespoon ketchup
1 tablespoon white wine vinegar
½ tablespoon gluten free soy sauce
How to make this egg free buffet quiche?
I mentioned in the 'What is the secret to making good quiche?' section that preparation and good quality ingredients were key to a successful Egg Free Buffet Quiche.
This means chilling the gluten free 'cheesy' quiche pastry. It also means baking the pastry shells blind to avoid any soggy bottomed quiches!
I love to add onion to all my quiche as a base flavour. It adds the much needed umami flavour needed for a plant based quiche so I spend time caramelising the sliced onions to perfection in plant based butter and a good pinch of salt – on that subject, seasoning is your friend here, don't skimp!
STEP ONE: make pastry
STEP TWO: chill pastry
STEP THREE: make 'base' filling (you can add the flavours later)
STEP FOUR: prep pastry cases and bake blind for 10mins
STEP FIVE: split quiche base into 2 or 4 equal bowls and add your additional flavours
STEP SIX: fill each blind baked pastry case and bake
Egg Free buffet quiche flavour options
On this occasion I only had enough flavour variations for three Egg Free Buffet Quiche options.
Red Pepper
Sundried Tomato (I made two of these, but only photographed one of them for illustration purposes)
Pesto
Other delicious flavours you might want to try are;
Broccoli and 'Stilton' (use a plant-based blue cheese)
Asparagus
Olive and Sundried Tomato
Spinach and Pine Nut
Jalapeño
Is it better to make buffet quiche the night before?
The question is why wouldn't you make Egg Free Buffet Quiche the night before? If you're entertaining friends then surely you'll want to be prepped in advance. The good news is that this quiche loves to be made in advance. I've already mentioned that this quiche gets better with age so if you made this 2-3 days before it will still be fine.
I simply cook the quiche, allow it to cool completely (even chill it whole) and then cut into perfect party-sized portions. The pastry is 'short' enough to cut chilled and the filling will have a familiar 'eggy' bounce to it.
Then I keep the mixed Buffet Quiche selection in Tupperware containers to serve or top up plates over the course of the party.
---
Autoimmune, Allery or Intolerance?…
Sign up to my weekly Friday newsletter and not only get THREE FREE mini guides to explain the differences but also get VIP subscriber discounts on free from goodies delivered to your door.
---
Can quiche be reheated?
This Buffet Quiche heats up beautifully every time. So while this is a great cold buffet quiche it is also delicious heated up and served as canapes. To reheat I've used both the oven and microwave method.
If using a microwave pop them in for 30 seconds at a time until you've reached your preferred temperature. If using the oven I tend to preheat and pop in the oven for 5-10 minutes. The individual slices will keep their shape so don't worry.
Other egg free buffet table ideas
How about these gluten, dairy and egg free goodies. Click on the images to be taken off to the recipe.
The next recipe for egg free Scotch Eggs is not vegan as it uses sausages but you can of course substitute the sausage meat for a vegan alternative.
Egg Free Scotch Eggs!
That's right, now you can enjoy gluten free and egg free scotch eggs at your summer picnics, buffets and party tables with this simple to make free from recipe. Made with gluten free sausages and a gluten free crumb. Using a clever little trick with cauliflower to imitate the egg filling.
Check out this recipe
Egg Free Buffet Quiche Recipe
If you make it and like the recipe I would be eternally grateful if you popped back and commented leaving a star rating as this will tell search engines that this recipe is worth checking out and others will get to find it in searches.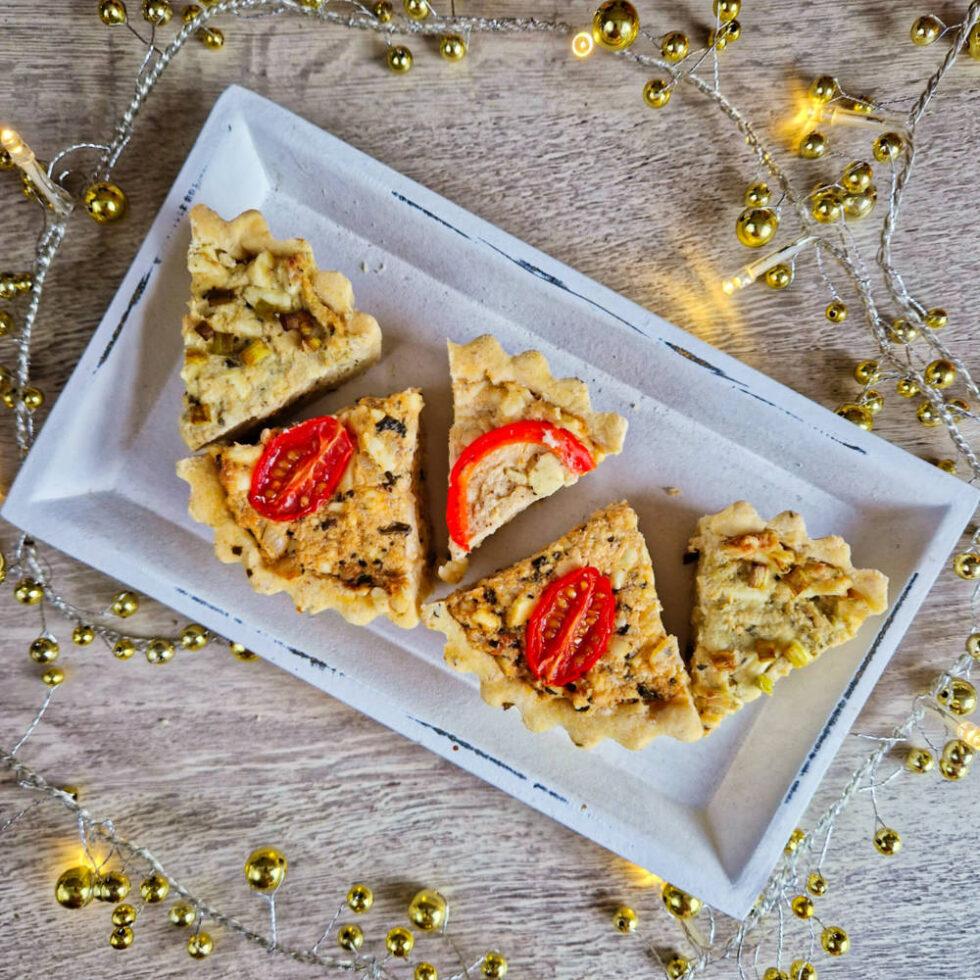 Egg Free Buffet Quiche
Don't worry, these mini buffet quiche are totally dairy free, egg free, vegan and gluten free! The mature 'Cheese' flavour comes from nutritional yeast and a few other tricks to get that wonderful umami flavour we all crave. Filled with different savoury flavours to cut into bite-size pieces perfect for any party table or canapé. Lots of flavour combo ideas included in this simple free from recipe.
This recipe makes 2x20cm quiche or 4x10cm quiche
Ingredients
For the pastry case
100

g

'butter'

I use Pure plant based blocks of 'butter'

200

g

gluten free plain flour

2

tbsp

nutritional yeast flakes

1

tbsp

ground flaxseed

3

tbsp

cold water

salt & pepper to taste
For the quiche base filing
280

g

extra firm tofu

300

g

block of silken tofu

150

g

strong vegan cheese

I use Ilchester mature 'cheese'

1

medium

onion(s)

finely chopped/sliced

4

tbsp

nutritional yeast flakes

2

tbsp

Colman's Mustard Powder

Colman's powder is gluten free, ready made Colman's is NOT gluten free

1

tbsp

psyllium husk powder

1

tbsp

Henderson's Relish

[see notes on Worchester sauce and alternatives]

3

tbsp

'milk'

I use soya milk

1

tsp

salt

1

tsp

pepper
For the sundried tomato filling
2

tbsp

sundried tomato paste

you could add bit of chopped sundried tomato too

cherry tomato's

halved and pressed into tops of quiche
For the pesto filling
2

tbsp

green pesto

make sure you use a vegan variety

1-2

spring onions

chopped to decorate (you could also use chives)
For the pepper filling
½

red pepper

sliced finely for decoration (you could used jarred roast peppers for a touch of luxury)
Instructions
To make the pastry dough
In a large bowl measure the flour and 'butter' and using your fingers tips or a pastry blender, work the two together until you have a crumble mixture.

Stir the nutritional yeast flakes, seasoning and ground flaxseed into the dry crumble then add the tablespoons of water.

Next, using a rounded knife, cut through the mixture until it starts to clump together. Tip this lumpy/dry mixture onto a clean kitchen surface.

TOP TIP: no need to flour the surface, this will help with kneading.

Bring the crumbly mixture together with your hands and quickly roll into a ball. Pop into the fridge to chill, this will prevent shrinkage when it comes to baking.
Prepare the base filling
In a frying pan, fry the diced onions to the colour you desire, I love to brown mine off to get a lovely caramelised flavour. Set aside to cool slightly.

In the bowl you used for your pastry, crumble up the firm tofu into thumbnail size pieces, then do the same with the 'cheese'.

Now add the yeast flakes, mustard powder, psyllium husk (this helps to bind the ingredients), Henderson's Relish and salt and pepper. Give the mixture a stir.

Next drain the silken tofu and add this to the bowl along with the warm fried onions. Give the mixture a good stir to blend all the ingredients. Set aside while you make your pastry case.
To add the flavours
Now you need to portion your base into 2 or more bowls to add your flavours. Simply add a tablespoon or two of pesto/sundried tomato paste and decorate with a suitable topping.
To make the pastry case
Pre heat oven to 200°C | 180°C fan | 400°F | Gas 6

Remove the dough from the fridge and give it a quick knead. Roll out onto a floured surface to prevent it sticking. You need to roll to 0.5cm thick and wide enough to line a 2x20cm or 4x10cm fluted/round flan tin(s).

Gently line the tin(s). Do not worry if the pastry cracks, it possibly will, mine did but you can't tell in the pictures can you!

TOP TIP: to mend cracks simply push the pastry together and with a finger dipped in water seal the crack. For larger cracks take some excess pastry and add a 'pastry plaster' to the crack just remember to use a little fingertip dab of water as a glue.

Once you've lined, trimmed and sorted out any cracks, prick the bottom with a fork to encourage an even bake.

Now cover the pastry case(s) in baking paper and add the baking beans.

TOP TIP: screw a piece of baking paper up into a tight ball and then open back up again, this will make the paper much easier to mould to the shape of your pastry case.

Place the tin(s) on a baking sheet and bake in the oven blind for 10 mins. Then remove from oven and take out the paper and baking beans.
To fill the quiche and bake
Begin to spoon the different quiche fillings into the blind baked pastry cases. Using the back of the spoon, gently press the filling into all the edges.

Decorate with your choice of toppings; spring onions/chopped chives/halved cherry tomato's…

Lastly, brush the quiche filling and the tops of the pastry crust with the 'milk' alternative of your choice. Use all the milk recommended to fill in the gaps in the quiche filling. Place back on the baking sheet and cook for 20 minutes

To get the golden caramelised finish I cook for a further 5 mins under a hot grill, being careful not to burn and rotating the tin if necessary.

Cool completely before cutting into party-sized servings (if making ahead) or cut immediately if eating from fresh.
Nutrition
Nutrition Facts
Egg Free Buffet Quiche
Amount per Serving
% Daily Value*
* Percent Daily Values are based on a 2000 calorie diet.
Have you tried this recipe?
Let me know how it was & I will be super grateful. Take a picture & tag me @glutarama on your social media posts – I love seeing your photos more than you will ever know x
I love to see your own photos of my bakes, dinners and treats head to your favourite social media account and don't forget to tag me in @glutarama
Subscribe to my email list so that you get NEW recipes straight in your mailbox every Friday PLUS a FREEBIE and access to some amazing gluten free DISCOUNTS
Join my friendly Facebook Group
life's a drama, gluten free doesn't have to be….
*disclaimer: I use affiliate codes on my website, the vast majority are to Amazon. If you click on any of the links or images in the post and make a purchase my family will benefit from a small % of that purchase at no extra cost to you.

For full transparency, in 2020 I made my first £25, and in 2022 I reached my next £25 (Amazon don't transfer the money until you reach £25). I'm now up to £17.80 for 2023 so edging closer to the magical £25 mark!!

To date I have made £69.28 since I first started the scheme in 2017. It won't pay the bills, that's for sure but it does help to pay for ingredients or little treats to cheer me up!