This Chocolate Orange Ganache Tart was one of those recipes that I'd put off making. You're probably shrugging your shoulders now and asking why on earth would you put off making this Rebecca? Well the truth is, I was scared it would not live up to the cream filled dessert I made a few years ago. I was worried the dairy free version just couldn't compare.
Well I was wrong!
This dairy free, gluten free, vegan version of my Salted Chocolate Tart has the additional twist of extract of orange to add a bit of festive cheer. However, this does not have to be chocolate orange flavour at all. You don't like orange? Simple, leave out the extract and hey-presto you have Chocolate Ganache Tart.
In fact this recipe, as with all my recipes, is so versatile and I encourage readers to experiment and feel confident in their own kitchens. So I've added a few flavour alternatives below but would love to hear if you've tried this with your own fantastic flavour ideas. As always please pop back to comment and let me know.
I have also had it suggested this Chocolate Orange Ganache Tart makes a great alternative to Christmas Pudding for those who don't like heavy rich fruit puddings. This isn't an overly sweet tart so you may find a little more room for this on Christmas Day after the main meal!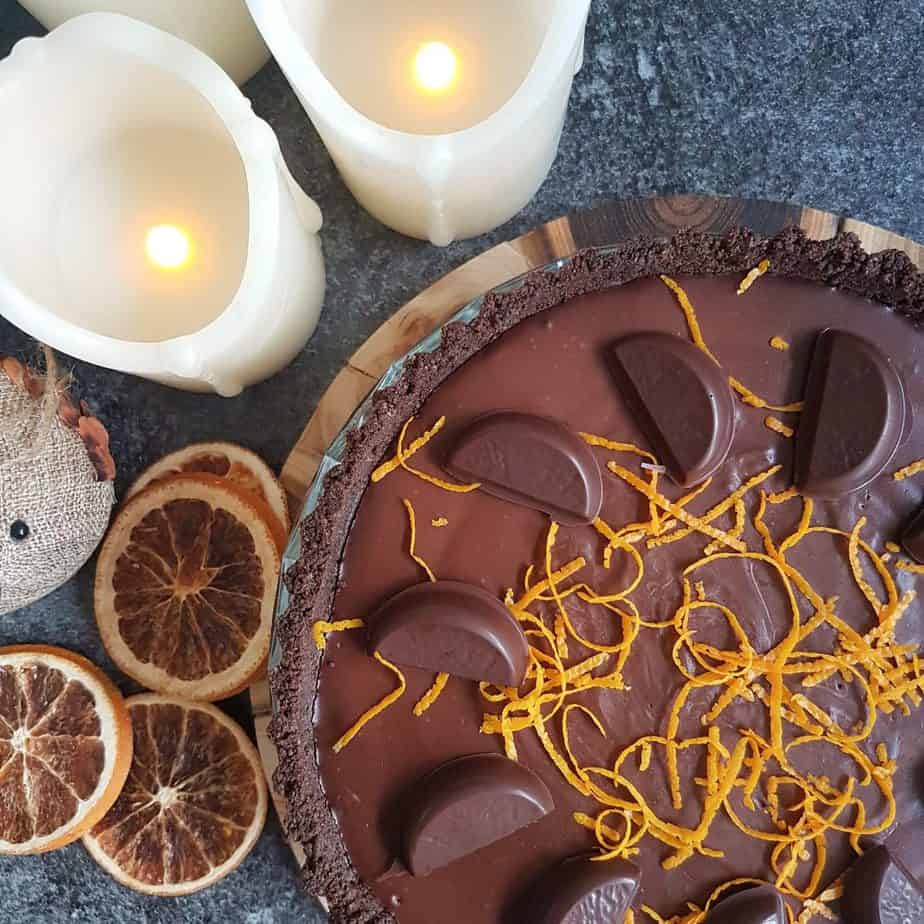 How do you make this Chocolate Orange Ganache Tart dairy free and vegan?
Well that is all thanks to a tin of coconut milk really, but not just any tin – oh no! you need to make sure you have the right concentration of coconut extract to make this work. Don't panic, I'll talk you through it.
There are many different tins of coconut milk in the supermarkets now. Some have thickeners, some are lighter versions with less fat some are produced in a way that the milk stays thick and creamy without separating. You need the tin with the highest concentration of coconut milk extract you can find (normally 70%+). This can of coconut is your new friend if you are dairy free or vegan.
The 70%+ tins will nearly always have separated when you open them. You know the sort, when you open the tin and all you can see is solid white coconut cream. Once you've dug out the cream, you discover there's a pool of clear coconut water underneath like an underground secret lake!
That clear stuff you can pour into a glass and drink as a bonus while you make this tart.
Different ways to decorate Chocolate Orange Ganache Tart
I have decorated this tart with something akin to Terrys Chocolate Orange segments. Please be aware that Terry's Chocolate Orange is not safe for those diagnosed with Coeliac Disease as they are not made in a gluten free factory. It took me ages to find a suitable orange segment chocolate mould so its now a prize piece of kitchen equipment.
If you cannot find a orange segment mould for yourself you could make the orange chocolate using the method below. Alternatively, pour the melted chocolate onto a baking sheet, chill and break into shards to scatter over your tart.
If you decided not to make this with orange flavouring then why not add a different confection altogether. For example, booja-booja chocolates or another brands of dairy free truffle or simply grate dairy free chocolate over the top of the tart.
Feel free to use your imagination here and don't forget to tag me in on any photos you share on social media, I love to see what you've been up to.
Can I make this Vegan Chocolate Tart without the Orange Flavour?
As I've just mentioned, this chocolate tart doesn't have to be flavoured with orange extract, I've had a think and come up with some flavour ideas and how you can achieve them here.
Dark Chocolate & Cherry Tart – substitute the orange extract for Kirsch or Cherry Brandy and decorate with morello cherries soaked in Kirsch and grated chocolate
Rich Mocha Tart – use coffee extract instead of the orange and maybe add another 25g or sugar to offset the bitterness of the coffee flavour. Decorate with chocolate coated coffee beans or cacao nibs for a little crunch.
Chocolate and Vanilla Tart – simply add a good quality vanilla extract instead of the orange. Decorate with vanilla truffles or white chocolate curls (use a veggie peeler to make the curls)
Mint Chocolate Tart – swap the orange for peppermint extract (be sure to use a good quality extract). Decorate with Areo chocolate balls or dairy free after dinner mints chopped into pieces.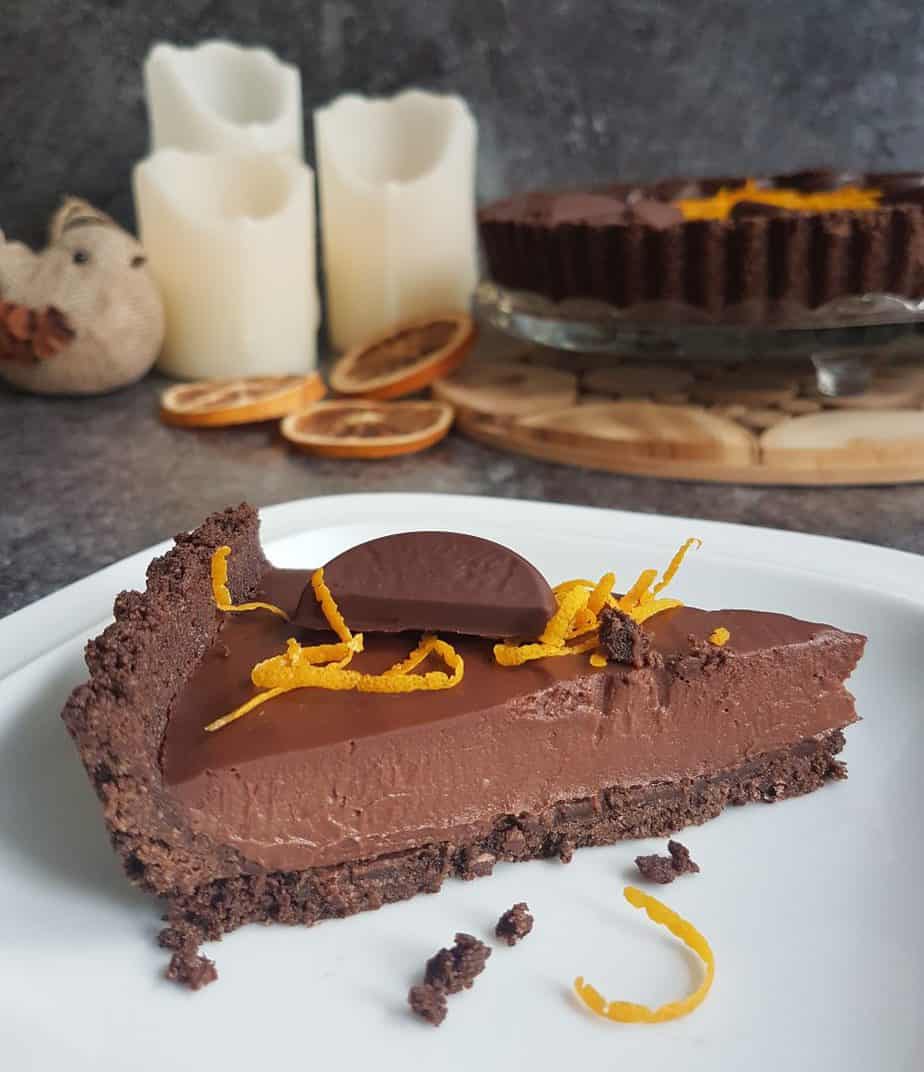 Can you freeze this vegan Chocolate Tart?
Yes, you certainly can, if I were you, I'd refrain from decorating though. I always find that shop bought desserts always taste good, but the decoration looks old and tired. To freeze this Chocolate Ganache Tart, you can pop it into a suitable Tupperware container or carefully double wrap in foil. I'd keep it in the flan tin to prevent any damage. Just remember you'll need a spare if you plan to do any other baking that requires the tin! To defrost, simply leave at room temperature overnight (take out of the tin while frozen) and pop in the fridge when defrosted until you need it. The final touch will be to add your chosen toppings, so they look fresh as a daisy and beautiful for the table.
How to store Chocolate Orange Ganache Tart?
I have stored this tart very well in both Tupperware containers, under a dome and even free standing on a plate in the fridge. Therefore, I know that it will last for up to 3 days easily, and leftovers have lasted up to a week – that is if you've not already eaten it of course!
If you like this Chocolate Orange Ganache Tart, you'll love these other showstopper desserts
I've mentioned my other dairy-filled Divine Gluten Free Salted Chocolate Tart but how about this as a celebration pudding alternative my Sticky Date and Toffee Pudding made gluten and dairy free or if chocolate is definitely your thing then you'll love these Chocolate Goo Puddings | gluten free and a vegan version too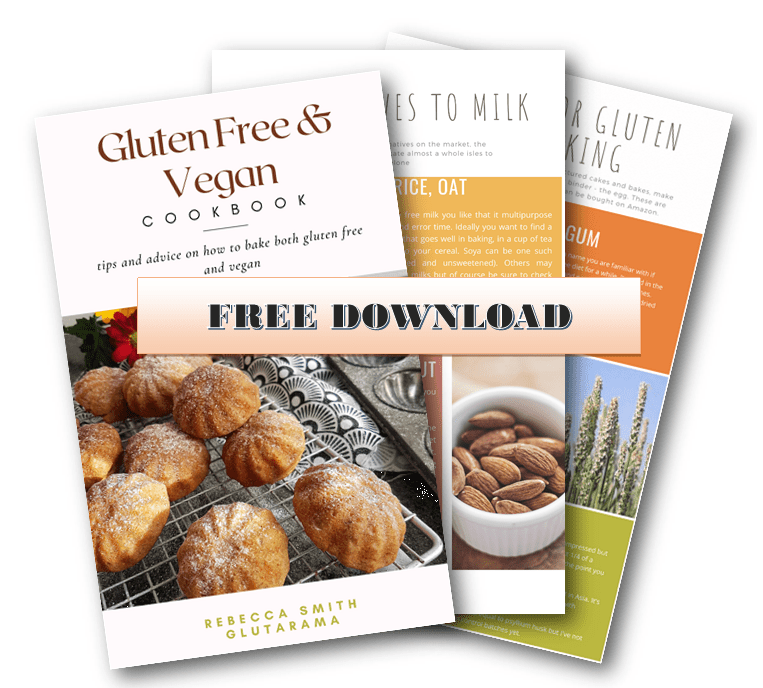 Never miss out again…
Sign up to my weekly Friday newsletter and not only get a FREE e-Book (currently my Gluten Free & Vegan Cookbook) but also get VIP subscriber discounts on free from goodies. Join me and learn to make anything gluten free.
No Bake Dairy Free Chocolate Orange Ganache Tart Recipe
If you make it and like the recipe I would be eternally grateful if you popped back and commented leaving a star rating as this will tell search engines that this recipe is worth checking out and others will get to find it in searches.
No Bake Dairy Free Chocolate Orange Ganache Tart
A deliciously luxurious No Bake Chocolate Ganache Tart, made gluten free, dairy free and vegan. This tart can be made in less than 30mins and ready to eat in 1 hour. The perfect no-fuss decadent dessert for any special occasion.
Ingredients
Biscuit Base
320

g

gluten free Oreo biscuits

50

g

dark chocolate

I use a dairy free chocolate

50

g

butter

I use Flora vegan butter
Ganache Filling
25

g

cornflour/cornstarch

250

ml

soya cream or usual dairy free alternative

250

g

coconut cream [see notes]

100

g

dark chocolate

dairy free if needed

25

g

cocoa powder

25

g

caster sugar

1

tsp

orange extract
To Decorate
100

g

dark chocolate

1

drop orange extract

Zest of one orange
Instructions
To make the base
Break the Oreo biscuits in half and add to a blender.

Add the 50g dark chocolate, roughly chopped and the 50g butter.

Blitz the ingredients together until the biscuits are broken into breadcrumbs and the mixture begins to clump together in the blender.

Tip the crumble base mixture into an 20cm round fluted flan tin, I use a loose bottom tin for ease. Using a spoon press the crumb mixture into the base of the tin and gently tease the mixture up the sides to create a crust edging.

Pop into the fridge while you make the ganache filling.
To make the ganache
Open your tin of coconut milk and pour away the clear coconut water (you may need to make a hole in the fatty coconut milk to reach the coconut water underneath). I normally pour this into a glass and drink it whilst I make the tart.

Mix the 25g of cornflour with a splash of the soya milk to form a paste and set to one side.

In a medium saucepan gently heat the rest of the soya cream and coconut milk solid until the coconut milk has melted.

Add the cocoa powder, sugar, 100g dark chocolate (roughly chopped) and orange extract and using a whisk combine until there are no lumps of cocoa powder and the chocolate has melted.

With the heat set a medium, pour in the cornflour paste and begin to whisk vigorously as the chocolate ganache begins to thicken to a custard consistency.

Take the saucepan off the heat and leave to cool for 10mins. I give the mixture a little mix every time I walk past to prevent a thick skin from forming. Don't worry if one does, a good hard whisk will break it up.
To build the Chocolate Ganache Tart
Once the ganache is cooled to body temperature simply pour it into the chilled biscuit base and return to the fridge for at least 30mins but this can be left over night. The ganache will thicken but still be soft to cut with a dessert fork easily.
To decorate
Melt 100g dark dairy free chocolate, add a drop of orange extract and pour into an orange segment mould.

These only take 20mins to harden and you add them as soon as they are ready or when you present your dessert.
Notes
For the coconut milk you will need to find a 450g tin of coconut milk with 70%+ coconut in it. This will be fatty enough to separate in the tin leaving you with approximately 250g fatty solid coconut milk with the rest of the tin being coconut water. To be on the safe side you can pop your tin into the fridge overnight before making this recipe to ensure the fat and water separate. Because I make sure I buy 70% tins I've never had to do this.
Nutrition
Nutrition Facts
No Bake Dairy Free Chocolate Orange Ganache Tart
Amount per Serving
% Daily Value*
* Percent Daily Values are based on a 2000 calorie diet.
Have you tried this recipe?
Let me know how it was & I will be super grateful. Take a picture & tag me @glutarama on your social media posts – I love seeing your photos more than you will ever know x
I love to see your own photos of my bakes, dinners and treats head to your favourite social media account and don't forget to tag me in @glutarama
Subscribe to my email list so that you get NEW recipes straight in your mailbox every Friday PLUS a FREEBIE and access to some amazing gluten free DISCOUNTS
Don't lose this delicious Chocolate Orange Ganache Tart recipe – pin it for later.
And one last thing! I've linked my Vegan Ganache Tart with these other awesome Foodies websites, go check them out
*disclaimer: I use affiliate codes on my website, the vast majority are to Amazon. If you click on any of the links or images in the post and make a purchase my family will benefit from a small % of that purchase at no extra cost to you.

For full transparency, in 2020 I made my first £25, and in 2022 I reached my next £25 (Amazon don't transfer the money until you reach £25). I'm now up to £17.80 for 2023 so edging closer to the magical £25 mark!!

To date I have made £69.28 since I first started the scheme in 2017. It won't pay the bills, that's for sure but it does help to pay for ingredients or little treats to cheer me up!