This Homemade Brandy Sauce is ridiculously easy to make, it takes under 10 minutes. This makes it an excellent accompaniment for the Christmas table as an alternative to brandy butter or cream. That said, there is no stopping you from having all three, I'm not going to judge you!
Great alternative to topping your Christmas Pudding for those who love custard with their puddings but want something that little bit more special at Christmas time.
What is Brandy Sauce made of?
Some brandy sauce recipes use egg and are like a luxury alcohol fuelled custard. Other recipes are more like a sweet white sauce with a béchamel base to them. By béchamel I mean a sauce that uses butter, milk, and flour to thicken. This is such a sauce with 2 added ingredients, sugar and brandy.
How do you make Homemade Brandy Sauce that's dairy free and vegan?
That my dear reader is simple, you change the butter and milk for non-dairy versions. I prefer to use soya milk in my baking but if you are unable to eat soy then you could use your normal favourite dairy free alternative. I also use Flora in my baking a lot and since they bought out a solid block of dairy free butter, I've not really bought anything else. They have salted and unsalted and for this recipe I use the unsalted version – not an advert by the way, I just really rate the stuff!
Can you make Homemade Brandy Sauce with Rum Instead?
You can absolutely make with rum and in fact I've made it with whisky before too. If you like you could really mix things up and add Cointreau for an orange pouring sauce or use Baileys Almande if you fancy a cream liqueur flavour, of course if you can bear to use some of my homemade dairy free Baileys Original then you could. Personally, I prefer my Baileys in a glass over ice!
Cider, wine, sherry, spirits, port and liqueurs are gluten free.
Experts agree that there is no physical way that pure distilled alcohol can contain gluten – this is because the gluten protein cannot travel through to the vapour produced by the prolonged heating in the distillation process and become part of the final alcohol product.
Distilled spirits only contain gluten if gluten containing ingredients are added after the distillation process and in this case, there is labelling legislation that ensures the product states CONTAINS wheat, barley, rye or oats on the label.
Source – Coeliac UK FAQ page for more answers to top gluten free questions follow the link Coeliac UK FAQ's
Please note: some people are also intolerant to certain grains such as barley, rye and oats so even with the gluten removed this can cause digestive issues. If concerned please consult your doctor.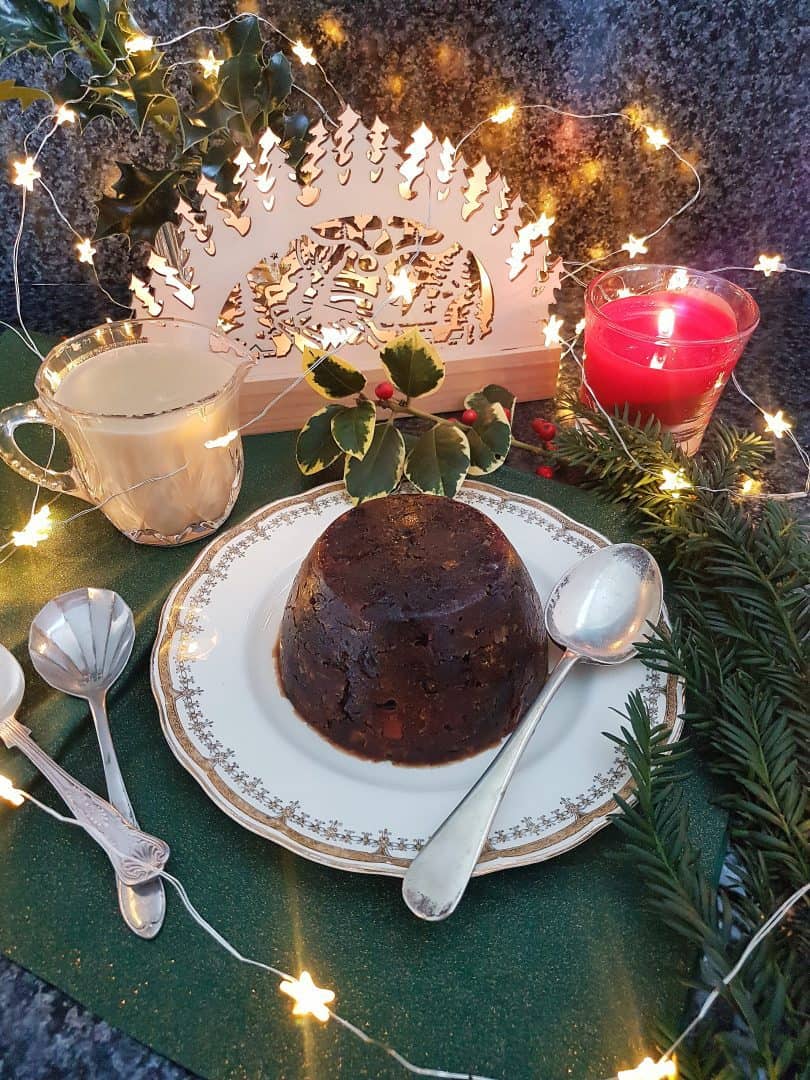 My Brandy Sauce is too thick
Do not panic if you find your brandy sauce is too think, there are a couple of things you can do to loosen it. You could try adding a little more melted butter or a splash more milk. There's always the option to add more booze but this is boozy already so I'd only do that if you can handle it…while I think of it, this is certainly NOT a child friendly sauce, they'll be squiffy before teatime!
Can you freeze this Brandy Sauce Recipe?
Yes, you can freeze brandy sauce. Once defrosted it will look ghastly, probably curdled, and lumpy. Don't panic the best way to restore it back to its original beauty is to reheat in a saucepan, you can pour it into a jug and reheat in the microwave but if you do this use a big jug so you can get a good whisking action to beat the sauce smooth again.
How to store Homemade Brandy Sauce?
I have stored this sauce perfectly in Tupperware cup containers with a good quality sealed lid. I know that this brandy sauce will last for up to 3 days easily, possibly a week if kept in the fridge, the alcohol helps to preserve the sauce in this case.
As with the defrosting process you will find a sauce that has been kept in the fridge will form a skin, no matter how good a seal you have. You could, if you had the patience and time cut little round discs out of baking paper to add to the top of the sauce to prevent a skin. If, like me patience is not your thing, scrape the skin off with a spoon and simply return the chilled sauce to the hob and whisk as you heat it through until ready to serve.
What can I serve my Homemade Brandy Sauce with?
The possibilities are endless, but to whet your whistle and get those tastebuds working here are a few of my festive recipes you might consider bathing in brandy sauce.
What other sauces go well with Christmas Puddings?
I've been missing brandy butter and clotted cream terribly this year so have worked hard to make a naturally gluten free version that is also dairy free and vegan too.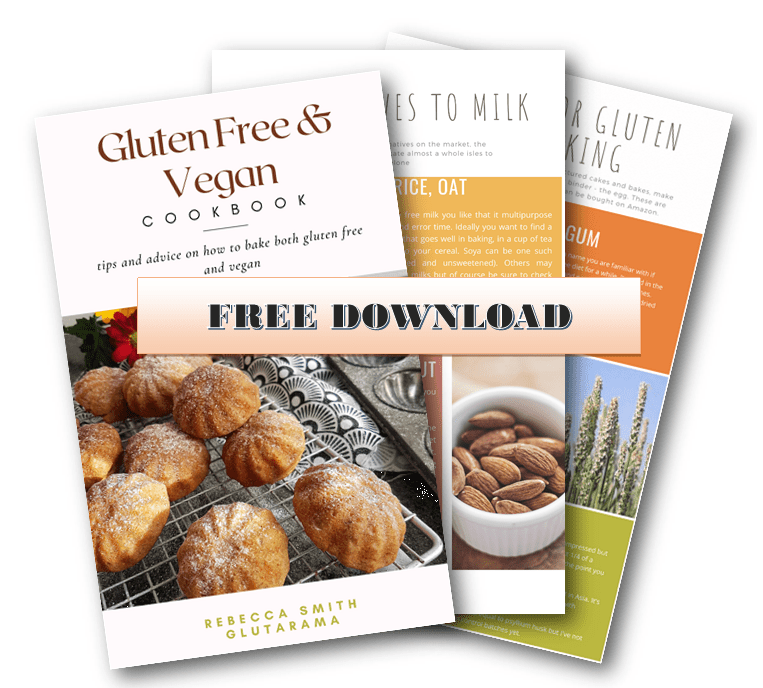 Never miss out again…
Sign up to my weekly Friday newsletter and not only get a FREE e-Book (currently my Gluten Free & Vegan Cookbook) but also get VIP subscriber discounts on free from goodies delivered to your door. Join me in my journey and learn to make anything gluten free.
Simple Dairy Free Brandy Sauce Recipe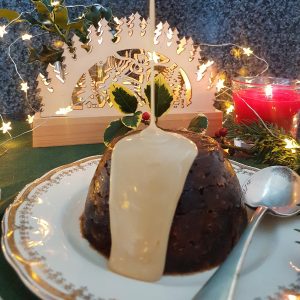 Simple Dairy Free Brandy Sauce
Easy dairy free brandy sauce accompaniment to your Christmas Pudding, mince pies or whatever other pudding you enjoy over the festive period. So simple to make in minutes or in advance to save time on Christmas Day.
Ingredients
40

g

butter

I use a block of vegan Flora

20

g

gluten free plain flour

40

g

caster sugar

I use 20g caster and 20g light brown sugar

200

ml

milk

I use soya as my preferred milk alternative

3

tbsp

brandy
Instructions
To start you need to make a roux with the butter and flour, this cooks out the flour flavour. To do this melt your butter in a small saucepan and remove from the heat, stir in the flour to make a thick buttery paste.

Add the sugar(s) and return to the heat stirring stir vigorously for 1 minute to cook the flour and dissolve the sugar.

Remove from the heat and pour 50ml of your milk or dairy free alternative into the paste, using a whisk, beat to loosen the paste, then add the remaining 150ml of 'milk' and return to the hob.

Gently heat whilst continuing to whisk as the sauce begins to thicken.

Finally turn the heat right down and add the brandy. Stir to combine and pour into your jug ready to serve or into a Tupperware container with a sealed lid to prevent a skin from forming.
Nutrition
Nutrition Facts
Simple Dairy Free Brandy Sauce
Amount per Serving
% Daily Value*
* Percent Daily Values are based on a 2000 calorie diet.
Have you tried this recipe?
Let me know how it was & I will be super grateful. Take a picture & tag me @glutarama on your social media posts – I love seeing your photos more than you will ever know x
Don't lose this delicious recipe – pin it for later.
I love to see your own photos of my bakes, dinners and treats head to your favourite social media account and don't forget to tag me in @glutarama
Subscribe to my email list so that you get NEW recipes straight in your mailbox every Friday PLUS a FREEBIE and access to some amazing gluten free DISCOUNTS
And one last thing! I've linked my Homemade Sauce with these other awesome Foodies websites, go check them out
*disclaimer: I use affiliate codes on my website, the vast majority are to Amazon. If you click on any of the links or images in the post and make a purchase my family will benefit from a small % of that purchase at no extra cost to you, in fact, for full transparency, in 2020 I made my first £25, and recently in 2022 I reached my next £25 (Amazon don't transfer the money until you reach £25). As you can see, it won't make me a millionaire but it will treat me to a few coffees, Lord knows I need the caffeine!