This page contain affiliate links. Please refer to my Disclosures Page for more details.
I've made this Sticky Date and Toffee Pudding on many occasions but never had the opportunity (or patience) to photograph it, therefore this recipe has been a long time coming on the blog…but hooray, I'm sharing it with you now you lucky lot!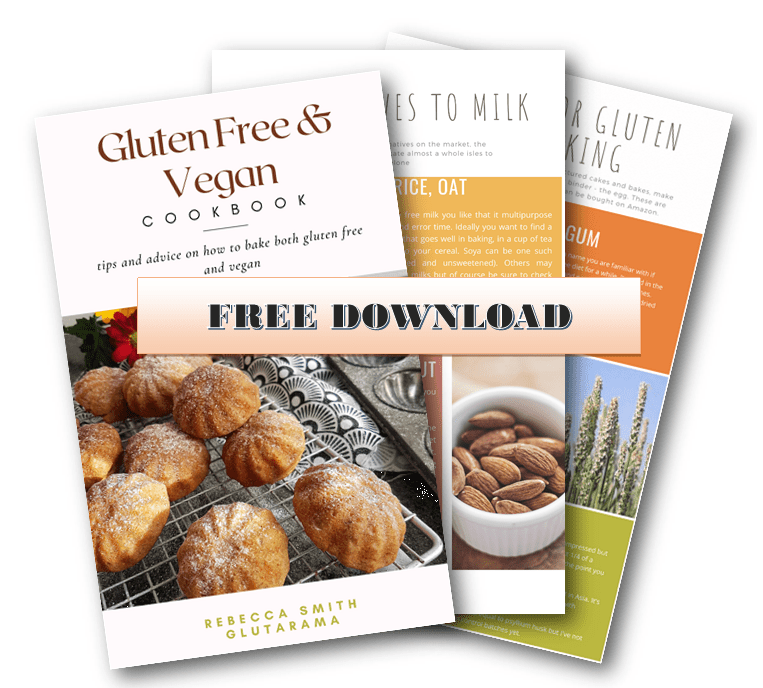 Never miss out again…
Sign up to my weekly Friday newsletter and not only get a FREE e-Book (currently my Gluten Free & Vegan Cookbook) but also get VIP subscriber discounts on free from goodies. Join me and learn to make anything gluten free.
Can I make this Sticky Toffee Pudding Vegan?
I've made this both with and without egg and have to say the end result is the same; beautiful moist light sponge with the warm flavour of dates, certainly no need to add sugar to the main sponge as they're plenty sweet enough. The Sticky Date and Toffee Pudding in these images is in fact the vegan version so the proof, in this case, is quite literally in the pudding.
…sorry, I'm just going to revel in my comedic reference there for a moment…
Oh, and while I think of it this makes are rather special alternative to the Christmas Pudding which is would seem is a bit of a love/hate pudding. My sister-in-law would certainly have a sticky toffee Christmas pudding any day!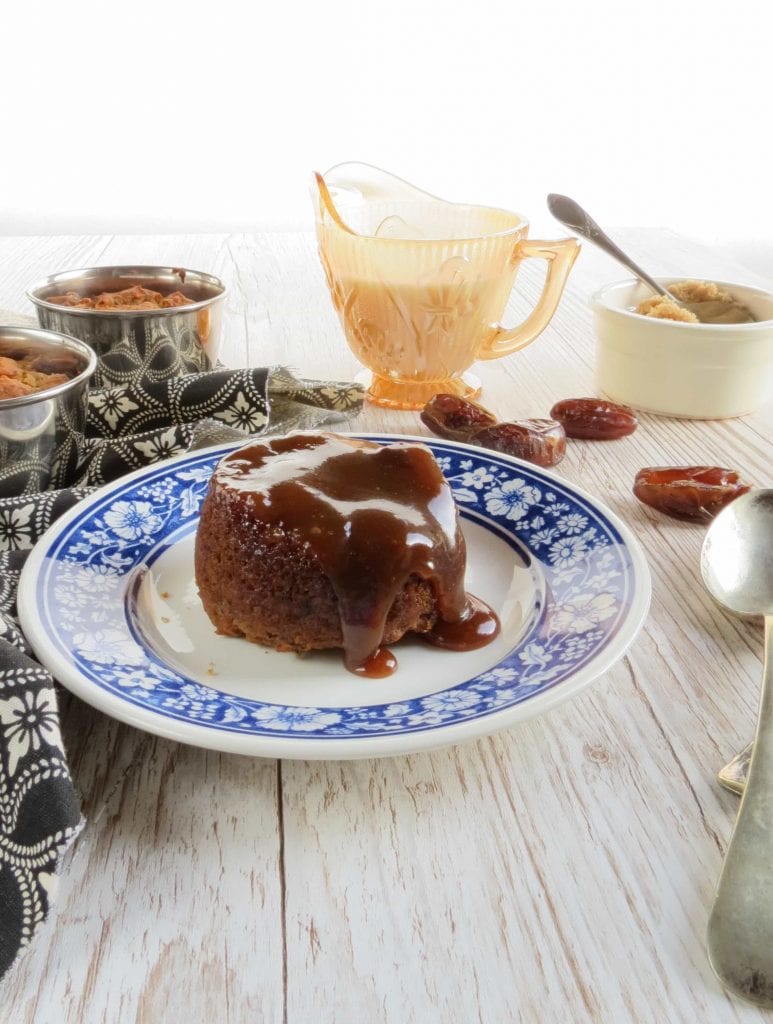 Can I make one large Sticky Toffee Pudding?
Anyway, back to the Sticky Date and Toffee Pudding. I've also made this as one large pudding in one of my Grans beautiful 1 pint pudding basins and sweet little individual puddings which feel a little more special for dinner parties or special occasions.
If making as one large sticky toffee pudding, you'll need to allow for more baking time. I find that 35-40 minutes works just fine but ovens vary so please do check on it. You can test by sticking a wooden skewer into the pudding to make sure the middle isn't raw.
What to serve Sticky Date and Toffee Pudding with?
My brood love this served with lashings of custard and if I'm going to have some too I make it up myself with Birds® Custard Powder, but to be fair, it's quite delicious on its own. Just in case you were wondering how to make your own dairy free custard here's my recipe for Quick and Easy Dairy Free Custard
With the toffee sauce there is no need for custard or cream…unless you're feeling particularly indulgent, in which case hats off to you my friend, ENJOY!
The day I wished I HAD made Sticky Toffee Pudding
I actually had the chance to make this pudding recently but didn't plan ahead – and so wish that I had. The family were invited to my in-laws for Sunday dinner and the choice of puddings were apple crumble and custard, sticky toffee pudding and custard or ice cream and fruit. I went for the only choice available to me which was a bowl of cherries! Not before we had a bit of a giggle though, as my sister-in-law called the sticky toffee pudding 'Stucky Toffee Pudding' we did giggle.
She's a Russian speaking Latvian and while I have no right to mock her English (my Latvian is non-existent, and I know two or three words in Russian) it did cause chance for a giggle and maybe she's right, sticky toffee does get stucky to your teeth after all.
Oh and take the time to adore my pudding basin, this came from my Gran's kitchen, she said I can keep it. I love to think about all the stories it could tell. If only it could speak to me. You'll know I've completely lost it if I start to say it has! This recipe makes one large pudding or four to five smaller puddings.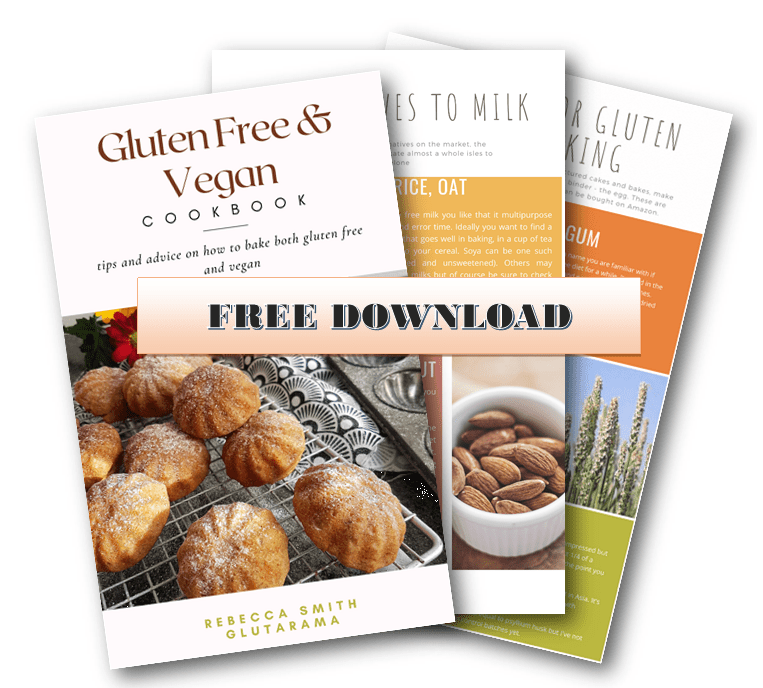 Never miss out again…
Sign up to my weekly Friday newsletter and not only get a FREE e-Book (currently my Gluten Free & Vegan Cookbook) but also get VIP subscriber discounts on free from goodies. Join me and learn to make anything gluten free.
Other delicious indulgent gluten free pudding ideas
While we're talking all things pudding you may be interested in my Chocolate Goo Pudding (seriously indulgent and a chocolate lovers dream). There's also my Self Saucing Chocolate Pudding and how about my Toffee Apple Crumble…oh the choices are endless. Plus for anyone toying with the idea of going vegan my post Ingredients and Simple Recipes for a Gluten Free Veganuary has some great tips on what to stock up on and how to bake vegan-style.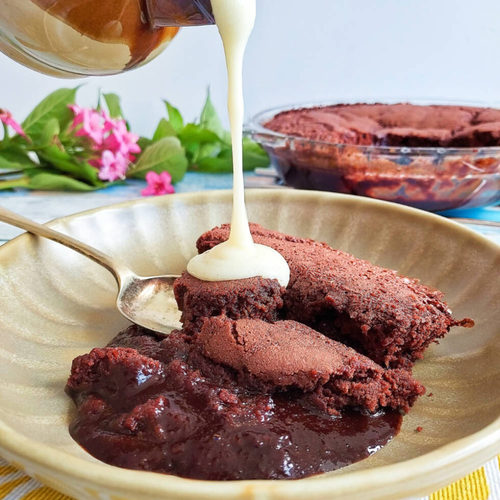 Want Sticky Toffee without the dates?
Your luck is in then because I recently developed a Date Free Sticky Toffee Pudding made Gluten Free. This is equally as moist, with a delicious caramel flavour sponge and oodles of toffee sauce.
Date Free Sticky Toffee Pudding
A twist on the traditional Sticky Date & Toffee Pudding, this pudding is date-free but still packed with caramel flavours and super moist with the addition of grated apple. Delicious with custard, cream or more toffee sauce! This is gluten free, dairy free, egg free but an egg and dairy filled option is available too.
Check out this recipe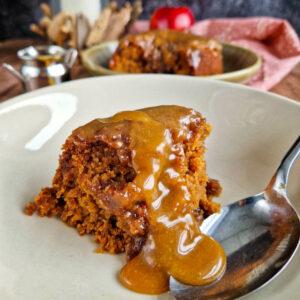 Gluten Free Sticky Date and Toffee Pudding Recipe
If you make it and like the recipe I would be eternally grateful if you popped back and commented leaving a star rating as this will tell search engines that this recipe is worth checking out and others will get to find it in searches.
Gluten Free Sticky Date and Toffee Pudding
A family favourite, this Sticky Date and Toffee Pudding is sticky (obviously), moist, naughty but totally gluten free, dairy free and vegan if you choose. With the option to make one large Sticky Toffee Pudding in a traditional pudding basin or 4 mini puddings.
Ingredients
For the date pudding
125

g

chopped dried dates

100

ml

boiled water

1

tbsp

ground flaxseed

or 1 egg if not vegan/egg free

50

g

butter or butter alternative (I use Flora plant butter)

100

g

gluten free self raising flour

½

tsp

bicarbonate of soda
For the toffee sauce
125

ml

soya cream or usual dairy free alternative

80

g

light brown sugar

30

g

butter or butter alternative (I use Flora plant butter)
Instructions
Preheat the oven to 180°C | 160°C Fan | 350°F | Gas 4 and grease your 4 mini pudding bowls or 1pt pudding basin.

In a large jug add your dates and pour over the boiled water, leave to soak whilst setting to work on your toffee sauce.
To make the toffee sauce
In a small pan add the soya cream, brown sugar and dairy free butter and stir over a medium to high heat until the 'butter' had melted and it reaches boiling point.

Set a timer for 15 mins and let the liquid reduce to a thick toffee sauce. Don't leave unattended, you'll need to give it a stir once in a while and ensure it doesn't boil over.

Remove from the heat and pour into your pudding basin or equally divide across your four mini pudding bowl. The sauce will continue to thicken as it cools.
To make the pudding sponge
Return to your bowl of soaking dates. Add the ground flaxseed (or egg) and the dairy free butter (I melt mine for 10 seconds in the microwave) and mix thoroughly to combine, you'll notice the dates will have plumped up, and broken down into a date paste.

Add the gluten free self raising flour and bicarbonate of soda and beat until combined. Spoon into you chosen pudding bowls cover loosely with kitchen foil. Place on a baking tray.

Pop into the oven for 20mins for individual mini puddings or 35-40mins for one larger pudding.

To test if the larger pudding is ready, remove the foil and insert a skewer, if it's ready it will come out clean, the smaller puddings will be ready if bouncy to the touch. if you like, you can remove the foil for the last 5 minutes if baking a large sized pudding to brown the top (bottom) of the sponge.

Serve immediately with lashings of lovely dairy free custard or cream.
Notes
You'll notice that I've not added any sugar to the date sponge, this is because the dates are sweet enough so sugar is not necessary.
Nutrition
Nutrition Facts
Gluten Free Sticky Date and Toffee Pudding
Amount per Serving
% Daily Value*
* Percent Daily Values are based on a 2000 calorie diet.
Have you tried this recipe?
Let me know how it was & I will be super grateful. Take a picture & tag me @glutarama on your social media posts – I love seeing your photos more than you will ever know x
I love to see your own photos of my bakes, dinners and treats head to your favourite social media account and don't forget to tag me in @glutarama
Subscribe to my email list so that you get NEW recipes straight in your mailbox every Friday PLUS a FREEBIE and access to some amazing gluten free DISCOUNTS
*disclaimer: I use affiliate codes on my website, the vast majority are to Amazon. If you click on any of the links or images in the post and make a purchase my family will benefit from a small % of that purchase at no extra cost to you.

For full transparency, in 2020 I made my first £25, and in 2022 I reached my next £25 (Amazon don't transfer the money until you reach £25). I'm now up to £17.80 for 2023 so edging closer to the magical £25 mark!!

To date I have made £69.28 since I first started the scheme in 2017. It won't pay the bills, that's for sure but it does help to pay for ingredients or little treats to cheer me up!
Join my friendly Facebook Group
life's a drama, gluten free doesn't have to be….