These Gluten Free Chocolate Goo Puddings are kind of like Gluten Free Chocolate Fondants but less daunting to make. These gorgeous little individual Chocolate Goo Puddings come with their own personalities, I kid you not. I've tried to work out what it is, divine intervention, Mars and Venus being in line with Jupiter…I'm stumped.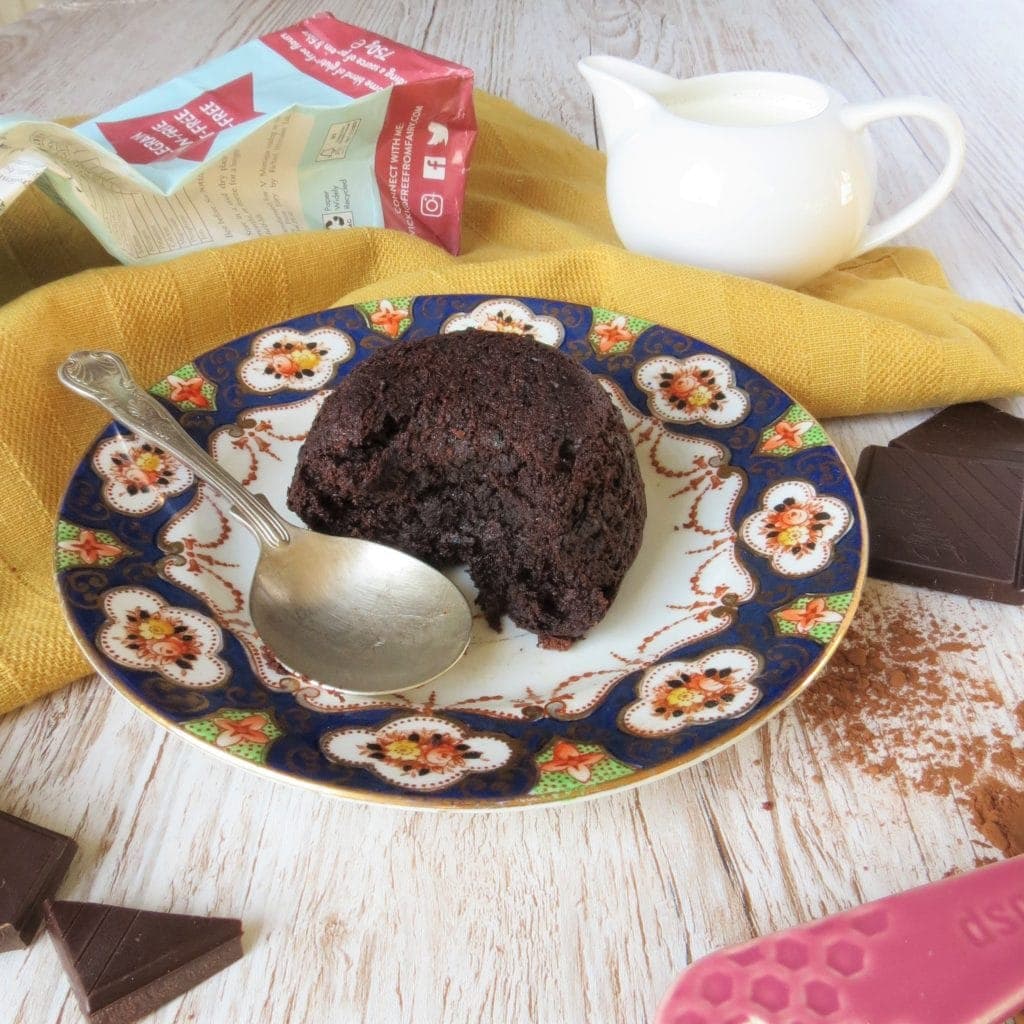 Basically every time I make these chocolate cuties they're never quite the same but all equally as delicious as the last. I've enjoyed a rich sponge-like outer shell with a soft gooey chocolate middle, and other times they've had a gooey bottom so when you turn them out they're like an individual self-saucing sponge pudding, either way, they are delicious and if you don't let on your guests will think they're perfect. In fact, the last time I made these a guest said they were just like the GÜ Puddings you can buy in the shops – I'll take that compliment any day!
How can you make these chocolate puddings vegan?
With many of my recipes, I now add the vegan option too. This is purely for selfish reasons – so I can eat them too! I can no longer tolerate dairy or egg (among other things) so I have added vegan eggs in the form of my flax seed egg recipe. You can use chia seeds too there is very little difference between the two, flax seeds have slightly more Omega 3 in them, whilst Chia have more fibre. Also flax have a slightly nuttier taste while Chia is blander. At the end of the day, you may just go for what is cheaper or more readily available to you.
But wait, its not just about the egg swap here, make sure you read the notes section in the recipe card to follow some slightly different instruction to achieve the very best gluten free and vegan chocolate pudding.
How to make a flax egg

to make 1 flax egg you need the following ingredients:
– 1tbsp ground flax seed
– 3tbsp water
– 1tsp psyllium husk (optional but does add elasticity to baking)

Simply add all ingredients to a glass and stir before measuring out the other recipe ingredients, by the time you come to use your 'egg' mixture it will have thickened to a frog-spawn consistency (thicker if you added psyllium husk)

Then just add to your baking as you would an egg. For 2 eggs double the ingredients but note that recipes that require more than two eggs may fail due to lack of support in the structure.
On the day I made these beauties, the puddings were light and spongy on the outside and soft and gooey in the middle without feeling raw (which honesty I'm not always keen on) I'm pleased to tell you that the following Chocolate Goo Pudding recipe below has a vegan version in the notes, otherwise to make it dairy free you simple swap out the unsalted butter.
Ready to be AMAZED. The Chocolate Goo Pudding you're eyeballing right now is the vegan one. Uhuh, that's right baby, no gluten, dairy or eggs in these babies and I have to say I personally think the vegan version turns out gooier than the egg version. I have used Lindt chocolate in this recipe which is not suitable for allergy sufferers as if clearly states 'may contains' on its packaging so please use a dark chocolate you are familiar with if this is an issue.
Never miss out again…
Sign up to my Friday newsletter and receive not one, but THREE FREEBIES.
GF and Vegan e-Book
conversion charts
3 simple guides to allergies, intolerances & autoimmune.
Join me and learn to make anything gluten free.
Other seriously chocolatey desserts similar to my Chocolate Goo Puddings
If you love this recipe I can guarantee you'll also want to try these one out too. There's my own Self Saucing Chocolate Pudding or another of my favourites the Chocolate Orange Bread & Butter Pudding. You also have the Heavenly Chocolate, Walnut and Pear Torte by the Gluten Free Alchemist. Finally why not try your hand at making this Chocolate Baileys Cashew Cheesecake by Free From Fairy.
Easy Mini Gluten Free Chocolate Goo Puddings Recipe
If you make it and like the recipe I would be eternally grateful if you popped back and commented leaving a star rating as this will tell search engines that this recipe is worth checking out and others will get to find it in searches.
Easy Mini Gluten Free Chocolate Goo Puddings
Easily the most gooey, delicious, chocolatey Chocolate Goo Pudding you'll ever make, this pudding is super simple to create, requires very few ingredients and is not only gluten free but can easily be made dairy free and vegan too.
Ingredients
150

g

dark chocolate

70% cocoa works really well

50

g

unsalted butter or dairy free alternative (I use Flora plant butter)

or a dairy free alternative

50

g

caster sugar

2

egg(s)

for vegan version see notes below

2

additional egg yolks

30

g

gluten free plain flour

I use Free From Fairy Flour

1

tbsp

cocoa powder

¼

tsp

salt
Instructions
Preheat the oven to 180C/Gas 4.

Prepare 4 ramekins or mini pudding cups by thoroughly greasing them with butter or oil

Melt the butter and plain chocolate in the microwave and mix to combine as

Set aside to cool.

In a mixer, add the sugar and eggs and whisk on high until they change consistency to a light fluffy mixture that's double in size.

Next add the melted chocolate mixture and sift in the flour and cocoa together, no need to remove the whisk attachment, keep whisking on low until the chocolate and flour have fully combined.

Now spoon the mixture into each ramekin, they'll fill to approximately three quarters full.

When you're ready to bake these you'll need to add them to a roasting tin and fill the tin with warm (not boiling) water to about half way up the ramekins, this is to prevent the pudding from cooking too quickly and in turn creates the gooey centre.

Bake the puddings for 20 mins, to check to see if they're ready gently press your finger into the sponge and you should feel a slight resistance, if it feels and sounds like you're popping bubbles when you press give them 5 more minutes and repeat process in 5 mins. (this cooking process will depend on your oven)

Serve immediately with custard or cream
Notes
To make the vegan version (4 individual puddings):
5) measure 2tbsp ground chia seeds and 8tbsp water into the mixing bowl, add the caster sugar and ½ tsp of bicarbonate of soda. Whisk for 5 mins.
Follow point 6) onwards as normal BUT there is no need for a 'bain marie' aka tray of water for the vegan version, it's gorgeously gooey without the need for a bath!
Nutrition
Nutrition Facts
Easy Mini Gluten Free Chocolate Goo Puddings
Amount per Serving
% Daily Value*
* Percent Daily Values are based on a 2000 calorie diet.
Have you tried this recipe?
Let me know how it was & I will be super grateful. Take a picture & tag me @glutarama on your social media posts – I love seeing your photos more than you will ever know x
Click to save my Chocolate Goo Pudding
I love to see your own photos of my bakes, dinners and treats head to your favourite social media account and don't forget to tag me in @glutarama
Subscribe to my email list so that you get NEW recipes straight in your mailbox every Friday PLUS a FREEBIE and access to some amazing gluten free DISCOUNTS
*disclaimer: I use affiliate codes on my website, the vast majority are to Amazon. If you click on any of the links or images in the post and make a purchase my family will benefit from a small % of that purchase at no extra cost to you.

For full transparency, in 2020 I made my first £25, and in 2022 I reached my next £25 (Amazon don't transfer the money until you reach £25). Recently I got paid a whopping £27.10 for 2023.

So to date I have made £78.58 since I first started the scheme in 2017. It won't pay the bills, that's for sure but it does help to pay for ingredients or little treats to cheer me up!