This page contain affiliate links. Please refer to my Disclosures Page for more details.
This dessert is death by salted chocolate! I'm not a chocolatey person myself, much preferring the fruity version to pudding but this makes a wonderful centre piece to the dinner table and never fails to get a gasp or exclamation in delight! This recipe is very simply adapted from Nigella's Simply Salted Chocolate Tart. To make it gluten free all you need to do is swap the Orio cookies to Schar or Lovemore Oreo-style cookies, failing this for an extra kick of chocolate why not try using the Finest/Taste the Difference range of luxury triple chocolate gluten free cookies with a tablespoon of cocoa or cacao powder. The main aim is to swap for a biscuit that's equally dark to create the deep chocolate colour biscuit base.
Can I use any gluten free chocolate biscuit to make the tart base?
Yes is the short answer.
I've left that ingredient vague for a couple of reasons; firstly it depends on where in the world you are. Not everyone will have access to Tesco Finest gluten free triple chocolate biscuits for example. it also very much depends on your budget too and I'm all for keeping the costs down when gluten free products are already much higher than your average product.
I have added a list of possible chocolate biscuits/cookies below to give you some inspiration.
Gluten free Oreo style biscuits – Udis are no longer available in the UK, but stores now do their own versions
Gluten free chocolate chip cookies – you'll get much lighter biscuit base with these.
Gluten free triple chocolate cookies – Sainsbury, Tesco, Morrison and Waitrose all sell these in the UK.
Chocolate Bourbon biscuits – Schar sell these but again you'll get a lighter biscuit base.
Can I make this Chocolate Tart Dairy Free too?
Yes you can make this Chocolate Tart Dairy free. I know, because I did just that! Here is the recipe for my No Bake Chocolate Orange Ganache Tart gluten and dairy free. A recipe similar to this in principle, except I added orange extract and swapped the dairy ingredients for non-dairy.
Don't like orange flavouring? Fear not, the recipe is easily adaptable to omit the orange and I've even added a few alternative flavours to mix things up a bit.
Love this salted chocolate tart? You'll be wanting to try these then;
For someone who isn't a huge chocolate pudding lover I do seem to have a lot of chocolatey recipes don't I? Maybe it's because if I make them myself I can control just how sweet they are. The delicious gallery of images below are some of my most popular posts; Delicious Pear, Chocolate & Almond Torte – gluten free and vegan Chocolate Goo Puddings | gluten free and a vegan version too and Self Saucing Chocolate Pudding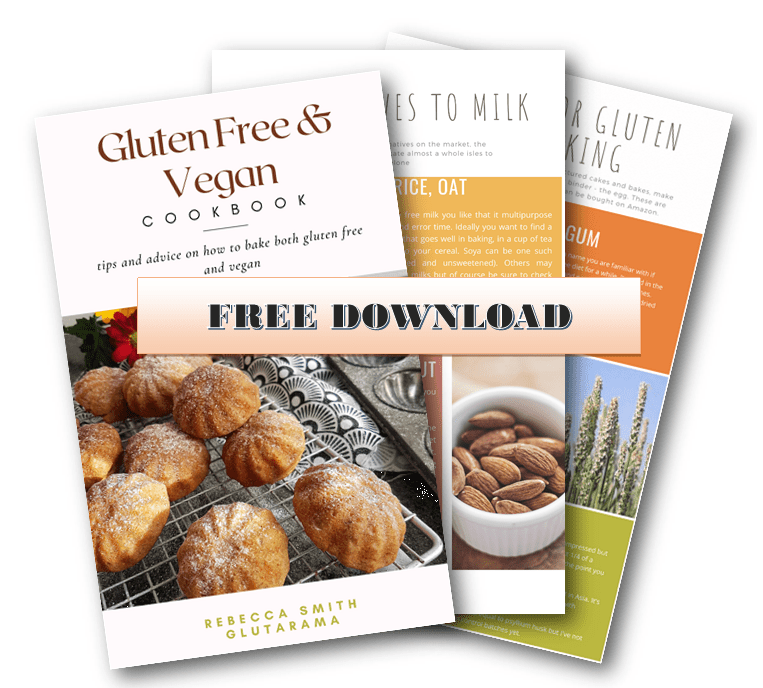 Never miss out again…
Sign up to my weekly Friday newsletter and not only get a FREE e-Book (currently my Gluten Free & Vegan Cookbook) but also get VIP subscriber discounts on free from goodies delivered to your door. Join me in my journey and learn to make anything gluten free.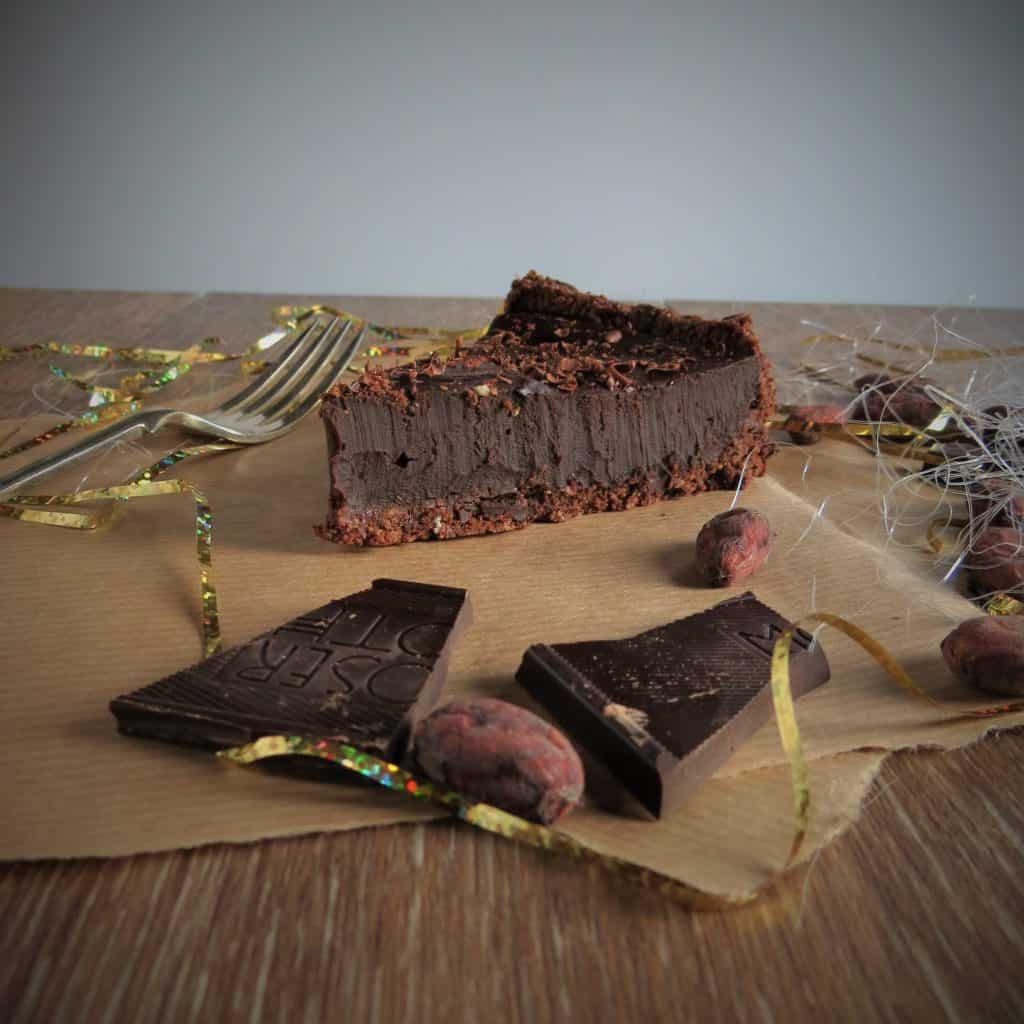 Gluten Free Salted Chocolate Tart Recipe
If you make it and like the recipe I would be eternally grateful if you popped back and commented leaving a star rating as this will tell search engines that this recipe is worth checking out and others will get to find it in searches.
Gluten Free Salted Chocolate Tart
Despite is master class appearance, this beautifully rich Salted Chocolate Tart is really simple to make, a chocolate lovers paradise…not for the feint hearted, this gluten free dessert is hardcore!
Ingredients
300

g

dark coloured chocolate biscuits

50

g

70% dairy free dark chocolate

50

g

unsalted butter or dairy free alternative (I use Flora plant butter)

½

tsp

salt

100

g

70% dairy free dark chocolate

you can add icing sugar to sweeten if this is too dark for you

25

g

cornflour/cornstarch

4

tbsp

milk

500

ml

double cream

50

g

cocoa powder

2

tsp

strong black coffee or coffee extract

75

ml

vanilla extract

2

tsp

olive oil

½

tsp

salt
Instructions
Blitz the cookies in a food processor or bash with a rolling pin, add the chocolate, sea salt and butter and blitz again until the mixture begins to bind together.

Tip crumb mixture into 9″ flan/cake tin with removable base.

Press down crumb mixture, pushing up the sides of the tin to create biscuit walls.

Pop base into the fridge for at least an hour whilst you set to work on the filling.

Combine the cornflour and milk ensuring there are no lumps and flour has completely dissolved.

Add the chopped chocolate, cream, coffee, cocoa, vanilla, sugar, olive oil and salt to a saucepan and gently heat.

Once the chocolate has completely melted and the liquid has turned a dark colour, add the cornflour mixture.

Continue to stir, do not leave! The mixture will thicken quite quickly to a chocolate custard consistency.

Pour into a bowl and cover mixture with clingfilm or wet baking sheet, actually have the film touching the mixture to prevent a thick skin forming. Allow the mixture to cool for 20mins.

Once cooled pour into the biscuit base and return to the fridge for a couple of hours or overnight (mine was left overnight)

To decorate I finely grated some of the remaining dark chocolate over the top but you can decorate as you see fit.
Nutrition
Nutrition Facts
Gluten Free Salted Chocolate Tart
Amount per Serving
% Daily Value*
* Percent Daily Values are based on a 2000 calorie diet.
Have you tried this recipe?
Let me know how it was & I will be super grateful. Take a picture & tag me @glutarama on your social media posts – I love seeing your photos more than you will ever know x
Don't lose this Chocolate Tart recipe – pin it for later
I love to see your own photos of my bakes, dinners and treats head to your favourite social media account and don't forget to tag me in @glutarama
Subscribe to my email list so that you get NEW recipes straight in your mailbox every Friday PLUS a FREEBIE and access to some amazing gluten free DISCOUNTS
And one last thing! I've linked my Autumn Gluten Free Desserts with these other awesome Foodies websites, go check them out
Cook Blog Share | Fiesta Friday | Friday Favourites | Over the Moon | Handmade Monday
*disclaimer: I use affiliate codes on my website, the vast majority are to Amazon. If you click on any of the links or images in the post and make a purchase my family will benefit from a small % of that purchase at no extra cost to you, in fact, for full transparency, in 2020 I made my first £25, and recently in 2022 I reached my next £25 (Amazon don't transfer the money until you reach £25). As you can see, it won't make me a millionaire but it will treat me to a few coffees, Lord knows I need the caffeine!