I really enjoyed making these adorable little Blackberry Crumble Fool desserts for various reasons. They are super quick and simple to make and can easily be adapted to be gluten-filled, gluten free and dairy free too. In fact, I've made something very similar recently with another seasonal fruit the humble gooseberry, and you can see my recipe for Gooseberry Crumble Fool or my Rhubarb Fool made gluten free with a biscuit crumble base if you click the links.
Please note: this was first posted in 2018 and my Grandpa, mentioned below was still alive. I've reshot the photos now using some different dessert dishes from my grandparents house. I've since lost my Gran too. I couldn't bear to erase my grandparents from the post so they are both still in here.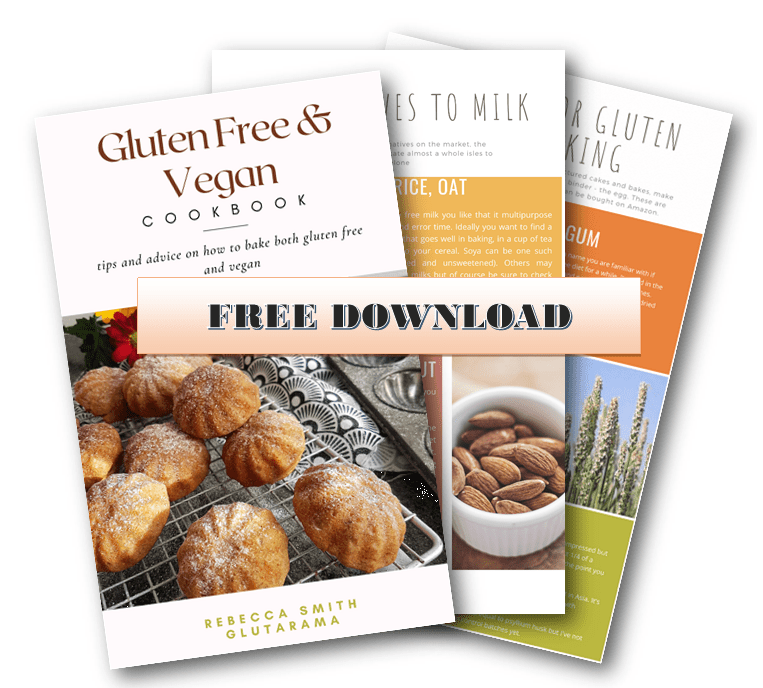 Never miss out again…
Sign up to my weekly Friday newsletter and not only get a FREE e-Book (currently my Gluten Free & Vegan Cookbook) but also get VIP subscriber discounts on free from goodies delivered to your door. Join me in my journey and learn to make anything gluten free.
Perfect recipe for a blackberry picking haul
Another reason I love this recipe is the fact they're made from free blackberries, you know the kind, the ones you pick from a hedgerow and not from a market shelf. On this occasion it was thanks to Bethany and Lewis that I had this bumper crop as they'd both set off down our street to a huge bramble that bares fruit each year and this year is no exception, I swear they're the biggest I've seen from this bramble.
Finally, this recipe is dear to my heart. The Blackberry Crumble Fools are proudly presented in cute little dessert dishes that I 'borrowed' from my Gran and Grandpa today. It went like this;
"Gran, Grandpa, I was just putting some glasses away and saw these at the back of your cupboard, can I borrow them for a recipe and photoshoot I have in mind?"
"Yes of course you can darling, help yourself" translated that means "they're yours darling, we're not going to need them".
Grandpa is not a very well man bless him, the bastard cancer, that he's been beating for two decades that was not meant to end his days, seems to be gearing up for a sprint finish. Every moment is precious and there are micro memories I'm making every day so this recipe and photo are now eternal reminders of that day I spent with my darling grandparents.
What inspired this Blackberry Crumble Fool?
The idea behind this Blackberry Crumble Fool recipe is actually me solving the issue that there are no fruit corners out there that are gluten and dairy free (do you hear me Muller?). I used to love both the fruit corners and crunch corners and now neither are available to me or Bethany. In fact, I distinctly remember having huge cravings for them when I was pregnant with Bethany.
With this recipe, we get the best of both worlds; fruit and crunch corners and to be fair the possibilities are endless.
What can I use for a quick crumble topping?
I actually used a packet of free from digestive biscuits on this occasion. Most free from biscuits make the perfect quick crumble toppings for the fool desserts. I've used shortbread on occasions and also ginger biscuits with bits of delicious chewy ginger in them.
The point being there is no exact science here, use what you have in the cupboards and allow two biscuits crushed up per dessert.
What cream should I use for a vegan fool recipe?
For this dairy free and vegan Blackberry Crumble Fool recipe you need to have a cream that whips well. I have tried many dairy free creams (as you can see below). I favour Heavenly Sweetened in this case purely for speed and easy of use. But you could use coconut cream if you don't mind the coconut flavour accents.
Dairy Free / Vegan Creams
I get asked 'what is the best dairy free cream to use' a lot, so I've added some advice here.
Baked recipes
If using cream alternatives in baked recipes the type of cream matters less but care needs to be taken when cooking it as dairy free cream can still split like dairy cream. Therefore you are free to use any of the following brands; Elmlea (single or double), Alpro (single), Food Heaven – Heavenly (Sweetened or Unsweetened)*, Coconut Cream (any % or coconut extract)
No Bake recipes
Usually in a no bake recipe the cream you add is part of the building block to add structure. For example whipped cream in a Victoria Sponge Gateau. For this reason you need to use a dairy free cream that has the highest fat content so a double cream (Elmlea produce double plant cream) or a Coconut Cream that has 60+ of coconut extract. However, Heavenly also behaves well when whipped.
Ice Creams
I have made my ice creams with all the dairy free creams mentioned above, single, double, high fat, low fat and all work because I always add a little dairy free butter to stabilise the structure so you can use all types of plant/soya/coconut dairy free creams.
Can I use frozen Blackberries?
You can use frozen blackberries for this blackberry fool. In fact, for any of my fool recipes you can use frozen or tinned fruits. This leaves your options far more open and exciting to swap things about and play with different flavours. These days you can get frozen fruit mixes intended for fruit smoothies. So why not try a tropical fruit combo or frozen mango or cherries?
Other recipe ideas you may like that are gluten free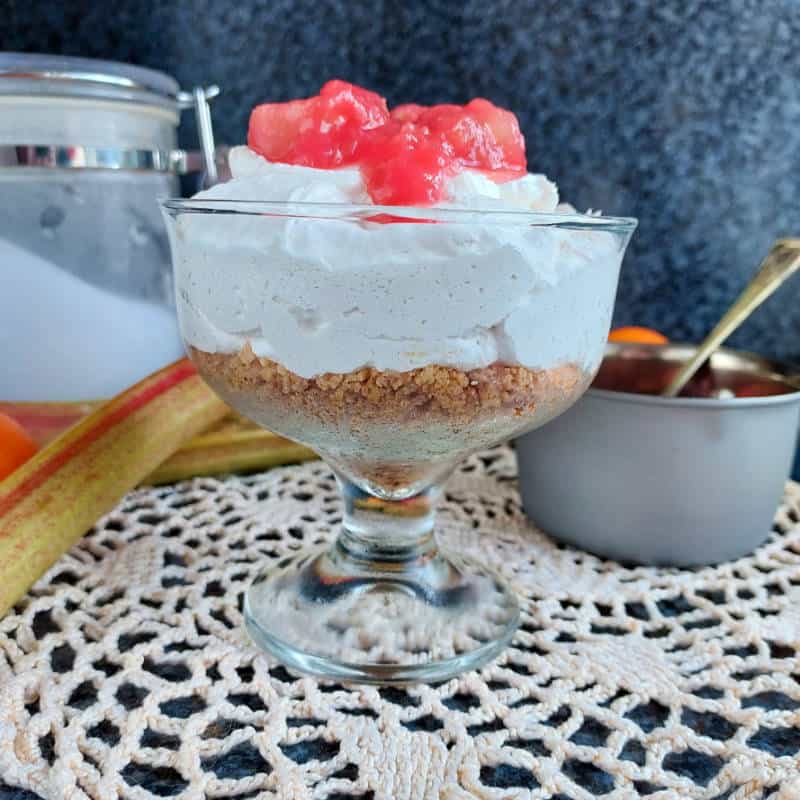 Gluten Free Apple and Blackberry Crumble
What is not to love with this gluten free apple and blackberry crumble. Even better when you use foraged fruit from hedgerows, free fruit always tastes better! Can even be enjoyed all year round if you have freeze the apple and blackberries when in season. Easily to make dairy free and vegan too.
Check out this recipe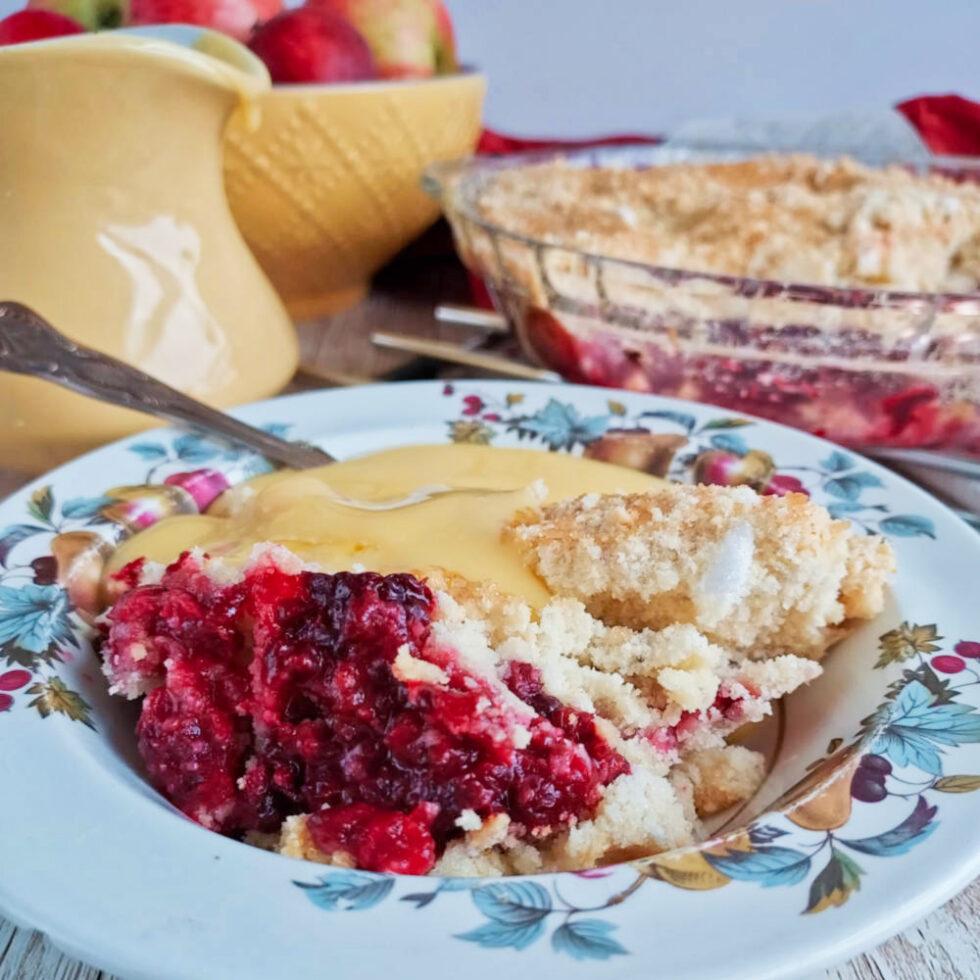 Dairy Free Blackberry Crumble Fool Recipe
If you make it and like the recipe I would be eternally grateful if you popped back and commented leaving a star rating as this will tell search engines that this recipe is worth checking out and others will get to find it in searches.
Dairy Free Blackberry Crumble Fool
Such a simple little dessert to whip up in no time at all, the perfect match for seasonal fruits of all kinds and easily adapted to be gluten free, dairy free, vegan or not, your choice! This happens to be a top dessert choice around the blackberry picking season.
Ingredients
For the fruit puree base
150

g

blackberries

1

tsp

caster sugar

1

tsp

arrowroot
For the fool layer
200

ml

dairy free cream

100

g

yogurt

I used Alpro Greek yogurt

100

g

blackberries

crushed
For the crumble topping
8

gluten free biscuit(s)

I used gluten free digestives on this occasion
Instructions
To make the fruit base
To make the fruit puree simply weight the fruit and sugar into a small saucepan, then heat gently until the fruit has broken down.

Dilute the teaspoon of arrowroot in a dash of water and mix to avoid any lumps.

Pour the diluted arrowroot into the pan of stewed blackberries and continue to stir gently. You will see the puree thicken fairly quickly and the arrowroot will go translucent.

Once thickened to a soft jam-type consistency, spoon the puree into your dishes and set aside to cool to room temperature, a delicate film will set on the surface.

In a bowl measure out the cream and whip until stiff, this may take a while depending of the type of dairy free cream you use.

Add the yogurt (this is used to break through the heavy creaminess) and whip enough to combine.

Now add your crushed blackberries and stir to combine, how much you stir is totally up to you; less will result in a rippled effect, more will turn the fool a beautiful purple.

Spoon the yogurt gently onto the puree, I tend to work my way around the edge then into the middle, this way the puree wont rise up the side of the dish leading to a less obvious layered effect.

The crumble topping is a easy as pie, or crumble. Crush the biscuits in a bag and sprinkle over the tops of each dessert.

Chill for 30 minutes and enjoy as a light dessert or a cheeky supper treat.
Notes
Alternative fruits can be use like my Gooseberry Fool Crumble or what ever fruits are in season (fruit that doesn't discolour and breaks down easily once heated is preferable)
Nutrition
Nutrition Facts
Dairy Free Blackberry Crumble Fool
Amount per Serving
% Daily Value*
* Percent Daily Values are based on a 2000 calorie diet.
Have you tried this recipe?
Let me know how it was & I will be super grateful. Take a picture & tag me @glutarama on your social media posts – I love seeing your photos more than you will ever know x
I love to see your own photos of my bakes, dinners and treats head to your favourite social media account and don't forget to tag me in @glutarama
Subscribe to my email list so that you get NEW recipes straight in your mailbox every Friday PLUS a FREEBIE and access to some amazing gluten free DISCOUNTS
*disclaimer: I use affiliate codes on my website, the vast majority are to Amazon. If you click on any of the links or images in the post and make a purchase my family will benefit from a small % of that purchase at no extra cost to you, in fact, for full transparency, in 2020 I made my first £25, and recently in 2022 I reached my next £25 (Amazon don't transfer the money until you reach £25). As you can see, it won't make me a millionaire but it will treat me to a few coffees, Lord knows I need the caffeine!