This page contain affiliate links. Please refer to my Disclosures Page for more details.
Not long after cracking my original Amaretti recipe, I knew I had to make these Vegan Chocolate Cherry Amaretti. Chocolate and cherry go so well together and who can resist a cheeky splash of brandy too. There is an alcohol free version for those who'd rather it.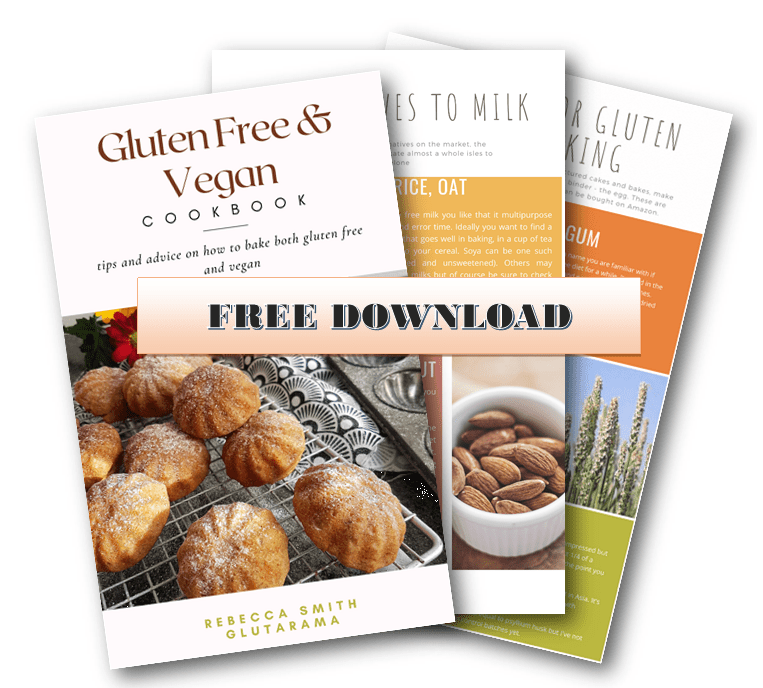 Never miss out again…
Sign up to my weekly Friday newsletter and not only get a FREE e-Book (currently my Gluten Free & Vegan Cookbook) but also get VIP subscriber discounts on free from goodies. Join me and learn to make anything gluten free.
How to make egg free Amaretti?
So, how do you make Traditional flavour Amaretti but without the EGG?
The good news is you can make Amaretti egg free by using aquafaba and trust in the process.
I've added the images below to demonstrate the process and dispel any concerns about the way the mixture looks after you've folded the chocolate and ground almonds into the whipped aquafaba.
The mixture will appear to half in volume but this is fine, it will still rise beautifully in the oven. I've added the last photo (from my original Vegan Amaretti Biscuits recipe) to illustrate how I roll each Amaretti. I simply use the two spoon method to drop dessert spoon sized dollops into a bowl of icing sugar, then begin to roll gently into a ball.
In the case of these Chocolate Cherry Amaretti, all you need to do is push a liqueur cherry into the centre of the dollop of mixture, pinch the edges to seal and then roll into a ball.
What is Aquafaba?
So what is aquafaba? Simply speaking it's the left over liquid in a tin of chickpeas. Basically, when chickpeas are canned in production, they are submerged in water. The time the chickpeas spend in the water turns the liquid into a rich starchy biproduct called aquafaba. This chickpea water can then be used to whip up into a froth.
By whipping the aquafaba you trap air bubbles in the slightly slimy liquid and this can imitate egg whites.
There is an issue with retaining this structure however, so this is why you must add a stabiliser such as cream of tartar. This will increase the whipped aquafaba volume and improve its stability making it something you can work with in baking and cold desserts such as vegan mousses.
If you can get your hands on some, then Oggs is a great alternative to the chickpea can method, it is more expensive though.
How to whip Aquafaba?
My best advice starts with the same advice for normal egg whites. Make sure you have a clean bowl, ideally metallic like a Kenwood Mixer ,I always wipe my bowl down with a bit of kitchen roll dipped in lemon juice.
Next you whip the aquafaba on a high speed with a little cream of tartar (this can be done by hand but my goodness you've picked the difficult path!).
Aquafaba is an off white transparent liquid. The whipped aquafaba is also an off white creamy colour. You want this creamy colour to go as pale as you possible can. The whiter is goes, the better the results. I cannot stress enough, this takes ages.
What is the best chocolate to use in these Amaretti?
As this is a vegan recipe you need to use a good quality dairy free chocolate. I have used plain dark chocolate drops from the supermarkets before but these often have a may contain for MILK so be careful if making these for someone with a milk allergy or intolerance.
I've come across a small business that do amazing dairy free and vegan chocolate and you can buy in bulk to make it cheaper. I was going to add an affiliate Amazon link here but the price on Amazon is bonkers so here's the direct link to save you some pennies 1kg Dairy Free Vegan Chocolate Chips. I love D&D Chocolates and can recommend their orange chocolate – it tastes just like Terry's Chocolate Orange.
You only need 50g to make this recipe (if making 1x version for 16 Amaretti) and you need a good quality chocolate that won't burn in the microwave. Another reason I like D&D Chocolate.
How to make liqueur cherries?
Making liqueur cherries is super simple. All you need is a tub of glace cherries and some brandy. I use the dark glace cherries (morello cherries) and not the neon red ones for a more authentic look. A great tip is to make these cherries using the whole tub. You won't need them all for this recipe but the cherries will keep in the brandy and you'll find the next time you need liqueur cherries for a recipe they will be even better having marinaded for longer.
I simply add 2 tbsp of brandy to the tub, replace the lid and give them a good shake. This way, you get the sticky cherry syrup and brandy to combine and create a delicious sweet liqueur syrup.
Another option is to buy cherries already soaked in liqueur or a delicious syrup. I've added some images below to give you some ideas as well as the glace cherries I used.
Other suggestions for this Chocolate Cherry Amaretti
Not keen on the idea of liqueur cherries or making these to be alcohol free and child friendly? Simple, just don't add the brandy and pop a whole cherry in the middle of the Amaretti before rolling.
Alternatively, you could cut the cherries into quarters (boozy kind or normal) and fold these into the Amaretti mixture so you have more cherry with each bite.
Another idea to make these Chocolate Cherry Amaretti is to add a few chocolate chips to the mixture too so you have a bit of cherry and chocolate in each bite.
Love this recipe? Try these too
Vegan Amaretti Biscuits
Delicious little Italian inspired Amaretti biscuits but made vegan with aquafaba and rolled in icing sugar. You'll never know these are egg free. Naturally gluten free and dairy free too. Perfect for teatime, homemade gifts or even add to trifles for an extra luxury touch.
Check out this recipe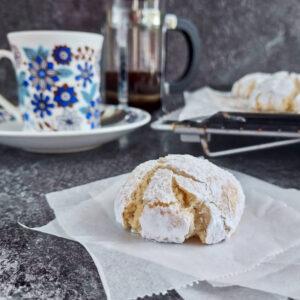 Luxury Gluten Free Stollen Mince Pies
A deliciously cheeky fusion of two wonderful traditional Christmas recipes, the humble mince pie and heart-warming Stollen combine to make these Stollen Mince Pies, let's start a new tradition! These are also gluten free, dairy free and vegan too so everyone can enjoy them.
Check out this recipe
Easy Vegan Bakewell Tart made gluten free
This recipe for Bakewell Tart is the vegan version of a recipe that has been on the Glutarama website since 2015, finally I pulled out the stops and developed a Vegan Bakewell Tart so both you and I can enjoy this traditional Bakewell recipe too.
Check out this recipe
Delicious Gluten Free Fig Frangipane Tart
This easy to make Fig Frangipane Tart is a celebration of fig season, so if you're not sure what to do with fresh figs then this is the gluten free bake for you. This is also vegan so dairy and egg free too.
Check out this recipe
Vegan Chocolate Cherry Amaretti Recipe
If you make it and like the recipe I would be eternally grateful if you popped back and commented leaving a star rating as this will tell search engines that this recipe is worth checking out and others will get to find it in searches.
Vegan Chocolate Cherry Amaretti
Delicious little Italian inspired Amaretti biscuits but made vegan with aquafaba, with dark chocolate folded into the ground almonds, a hidden liqueur cherry and rolled in icing sugar. You'll never know these are egg free. Naturally gluten free and dairy free too. Perfect for teatime, festive celebration tables and homemade gifts.
Ingredients
100

ml

aquafaba

½

tsp

cream of tartar

250

g

ground almonds

50

g

caster sugar

50

g

dark chocolate

make sure its dairy free and vegan

100

g

glace cherries

you'll need 16 if making 16 amaretti biscuits.

2

tbsp

brandy

or cherry brandy [see notes for alternatives]

100

g

icing/confectioners sugar to roll the amaretti
Instructions
Preheat the oven to 170°C | 150°C fan | 325°F | Gas mark 3

Line 2 baking trays with baking paper.

TOP TIP: to achieve the best whipped aquafaba, clean your bowl with lemon juice or white vinegar, simply add a few drops and give the bowl a wipe around with a clean paper towel.

In a clean mixing bowl, whisk up the aquafaba and cream of tartar. This can take 5-10 minutes to get the right consistency, you need your aquafaba to turn from a yellow tinge to white.

Add the caster sugar one spoon at a time whilst still whisking until the meringue base is lovely and glossy.

Now melt your dark chocolate, I simply add mine to a bowl and pop them in the microwave for 10 second blasts until I'm happy they've melted.

Next add the ground almonds and melted dark chocolate and fold until fully combined. You'll end up with a sticky mess. Don't worry if it looks like all the air has been knocked out, this is normal.

Scoop dessert spoons of the mixture and drop them into a bowl of icing sugar. Now push a liqueur cherry into the middle of the dollop of mixture and tease the edges together to hide it. Once covered, your amaretti dough will be easier to handle and roll into a ball.

This is enough mixture to make 16 medium/large balls the size of small apricots. Place 8 on each tray, they don't spread much, and place in the oven for 20 mins.

Remove from oven once beautifully puffed up with familiar cracks. Place on a cooling rack and leave to cool completely before removing, they are still fragile when warm.
Notes
You can buy cherries already soaked in kirsh or cherry brandy. Alternatively you can use cherries in syrup rather than the glace cherries I've used in this recipe. These options are far more expensive than the simple glace cherry idea though.
Nutrition
Nutrition Facts
Vegan Chocolate Cherry Amaretti
Amount per Serving
% Daily Value*
* Percent Daily Values are based on a 2000 calorie diet.
Have you tried this recipe?
Let me know how it was & I will be super grateful. Take a picture & tag me @glutarama on your social media posts – I love seeing your photos more than you will ever know x
I love to see your own photos of my bakes, dinners and treats head to your favourite social media account and don't forget to tag me in @glutarama
Subscribe to my email list so that you get NEW recipes straight in your mailbox every Friday PLUS a FREEBIE and access to some amazing gluten free DISCOUNTS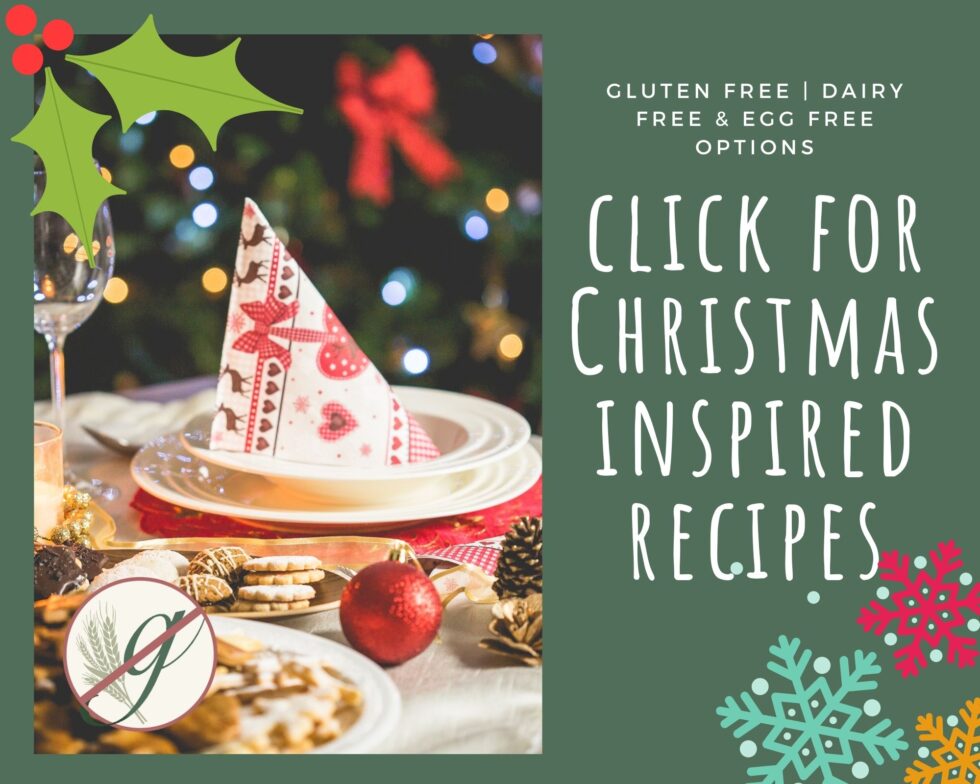 Gluten Free Christmas Gift Guide
Every Year I update this post on Glutarama's website to give you the latest gluten free gifts perfect for a loved one or to gift yourself. The guide is broken into advent calendars, gifts for the Christmas Day, hampers for gifts or to cater for a gluten free Christmas and finally I try to find something a bit special to treat yourself in the new year.
Join my friendly Facebook Group
life's a drama, gluten free doesn't have to be….