This page contain affiliate links. Please refer to my Disclosures Page for more details.
Also, before you hit 'Jump to Recipe' just check my contents section 'Skip to the Good Bit' below. I may answer a query you have about this recipe straight away in the post.
I had a right argument with myself in the lead up to me developing this Gluten Free Lemon Frangipane. I was stubborn as hell that I was going to recreate my Roast Orange Pecan Cake whereby you roast the whole orange and blitz it to add to the cake batter.
I had convinced myself that the same could be done with not one, but two whole lemons.
Three attempts later and I realised the looks of shock on my families faces when they took a bite were not getting any better, in fact, I think they said the cake was tasting worse. To quote Bethany 'it has a chemical aftertaste as if my insides are burning'.
Subtle Beth, real subtle.
You'll be pleased to know I swallowed my pride, went back to the drawing board and created the final bake I had in my head but without using the whole lemon. Part of me still can't kick the feeling that I can roast a whole lemon and use it in baking but that can wait for another day when I have the time and energy.
Never miss out again…
Sign up to my Friday newsletter and receive not one, but THREE FREEBIES.
GF and Vegan e-Book
conversion charts
3 simple guides to allergies, intolerances & autoimmune.
Join me and learn to make anything gluten free.
Does this frangipane contain flour too?
Usually, a traditional frangipane would not contain flour or any raising agents. The reason for this is that normally frangipane would contain an egg or two. Therefore, the egg is the binder and the raising agent in this recipe. I'll talk about eggs a bit more further down if this is an issue for you.
As I wanted this lemon frangipane to have a gentle rise and not be too stodgy I worked out that just adding 100g of self raising gluten free flour was enough to achieve that rise and prevent any super chewiness of the frangipane.
Can you use an alternative to ground almonds?
Technically, yes you can use another ground nut. Almonds are the best option due to their creaminess, subtle flavour and the fact they are the traditional nut of choice in a frangipane. After all, the frangipane is a traditional recipe from Italy and almonds are grown in abundance there.
if you really didn't want to use ground almonds or you simply cannot tolerate or are allergic to this particular nut then you could try ground cashews or ground sunflower seeds. I've recommended these two because they are equally as creamy but not overly oily. The downside is that these will likely have to be ground by yourself so you'll need a good food processor (I use my Breville Smoothie Maker for these types of job). This is also going to be a more expensive alternative so bear that in mind too.
Do you have to use eggs to make this frangipane?
I alluded to this earlier but no, you may be pleased to hear that you do not have to use eggs to make a frangipane. In fact, I've made a vegan Bakewell Tart so know it can be done with ease.
Many of my recipes on Glutarama are also adapted to make them dairy and egg free as I cannot tolerate both. So all recipes are gluten free but many will be free from other allergens too.
I use my simple flaxseed egg to make this recipe, the one pictured is the egg free, dairy free and gluten free version
How to make a flax egg

to make 1 flax egg you need the following ingredients:
– 1tbsp ground flax seed
– 3tbsp water
– 1tsp psyllium husk (optional but does add elasticity to baking)

Simply add all ingredients to a glass and stir before measuring out the other recipe ingredients, by the time you come to use your 'egg' mixture it will have thickened to a frog-spawn consistency (thicker if you added psyllium husk)

Then just add to your baking as you would an egg. For 2 eggs double the ingredients but note that recipes that require more than two eggs may fail due to lack of support in the structure.
Can this bake be made dairy free?
This recipe uses 100g of melted butter and you'll be pleased to know that you can apply a straight forward swap with plant based butters.
One thing I would stress, not just for this but most dairy free baking, is to find like-for-like. By this I mean if a recipe uses margarine, then swap for dairy free spread. If a recipe asks for butter then swap for a block of hard dairy free 'butter'.
Why is this important? It's down to building blocks (stick with me here) think of the ingredients as building blocks. If you use an ingredient/material that's natural form is soft in place of an ingredient/material that's hard, your wall is going to fall down!
Basically, the butter will melt during baking but return to a solid state when cool, giving your bake a better structure with less breakage and crumble.
Fresh lemons or lemon juice?
If you want to be fancy and have a some lovely fresh lemon zest to decorate your Lemon Frangipane then I'm going to suggest you grab some lemons before you make this.
However, you can just as easily make this frangipane with lemon juice. I always have a bottle of lemon juice in the cupboard for impromptu pancake days
Two ways to decorate this lemon frangipane
During my long-winded recipe development I tried a few different ways to decorate/finish this Lemon Frangipane. The method pictured is a simple lemon white icing then freshly grated lemon zest.
Another option which is less pretty but really rather delicious is to heat lemon juice and sugar in a saucepan until the liquid thickens to a glucose syrup consistency. This can then be liberally drizzled over the frangipane to seep into the bake and add a super moist finishing touch.
Other lemon inspired bakes and desserts
Gluten Free Lemon Swiss Roll
A simple gluten free Lemon Swiss Roll recipe that anyone can make, don't be scared of the rolling process, it's not difficult I promise! Filled with shop bought or homemade Lemon Curd, the perfect teatime treat fit for a Queen.
Check out this recipe
No Bake Vegan Lemon Cheesecake
This gluten free, dairy free and vegan lemon cheesecake is (like all my recipes) so simple to make. No one will realise it's free from any ingredients at all. This delicious cheesecake can be whipped up for surprise guests or made at your leisure for teatime or dessert.
Check out this recipe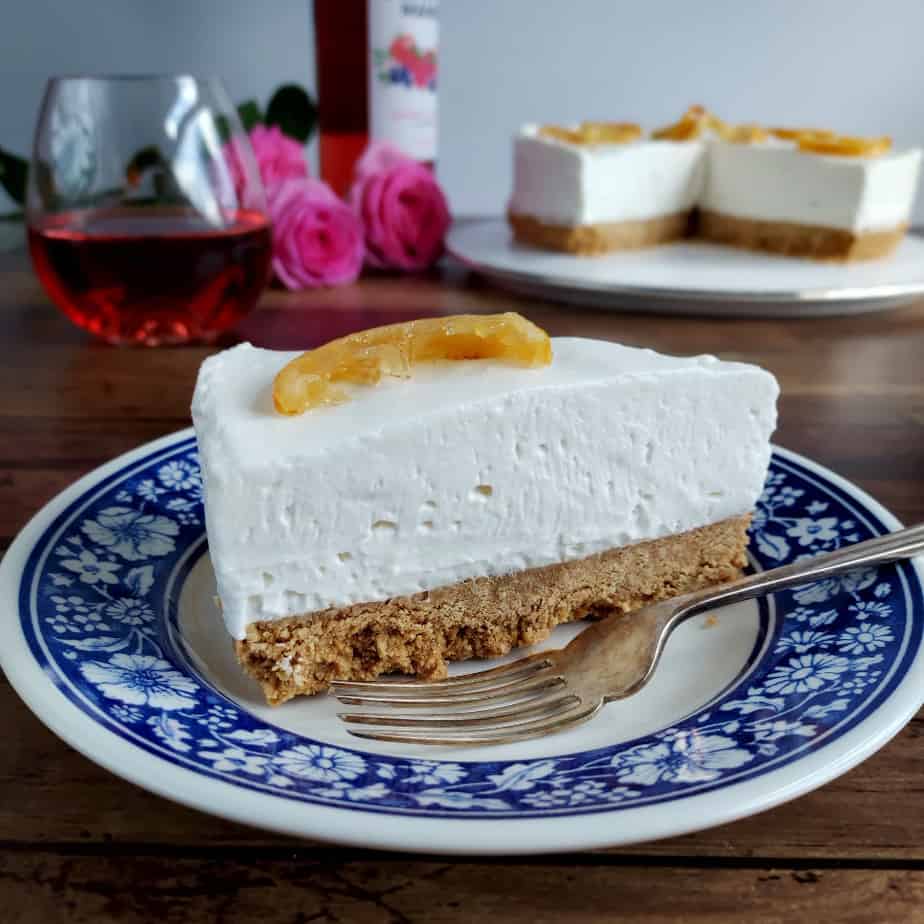 Easy Vegan Lemon Meringue Pie
This is a surprisingly simple Vegan and Gluten Free Lemon Meringue Pie. It can be made in parts so still possible for a busy baker juggling various jobs. Using my homemade eggless lemon curd and a delicious aquafaba meringue you'll be surprised how much this reminds you of the 70/80's classic Lemon Meringue Pie.
Check out this recipe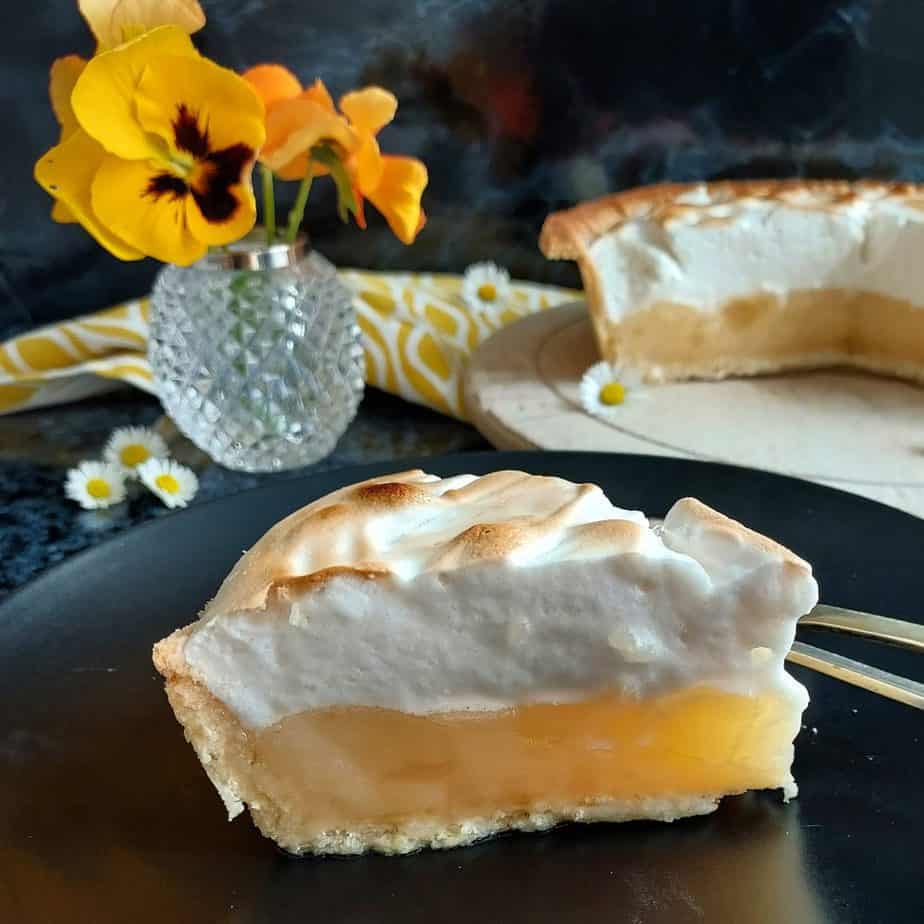 Gluten Free Self Saucing Lemon Pudding
A delicious alternative to the chocolate version, this self saucing lemon pudding has a delicious citrus bite with zest running throughout the light sponge and a lemony sweet sauce hidden beneath. This is not only gluten free but also easy to make vegan too, so free from eggs and no dairy.
Check out this recipe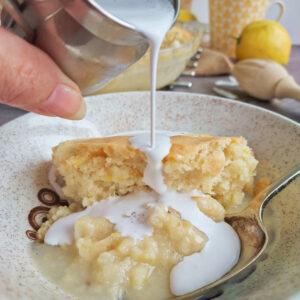 Other frangipane inspired bakes
Delicious Gluten Free Fig Frangipane Tart
This easy to make Fig Frangipane Tart is a celebration of fig season, so if you're not sure what to do with fresh figs then this is the gluten free bake for you. This is also vegan so dairy and egg free too.
Check out this recipe
Gluten Free Blueberry Frangipane Tarts
Such a quick and easy recipe with a light frangipane sponge revealing a fresh blueberry filling. These little Blueberry Frangipane Tarts can be made to suit most allergies and intolerances; gluten, dairy, soya free and vegan too.
Check out this recipe
Easy Vegan Bakewell Tart made gluten free
This recipe for Bakewell Tart is the vegan version of a recipe that has been on the Glutarama website since 2015, finally I pulled out the stops and developed a Vegan Bakewell Tart so both you and I can enjoy this traditional Bakewell recipe too.
Check out this recipe
Simple Gluten Free Bakewell Tart
This simple recipe for Bakewell Tart has been on the Glutarama website since 2015, finally it has been given a facelift and written up properly so you can enjoy this traditional Bakewell recipe too.
Check out this recipe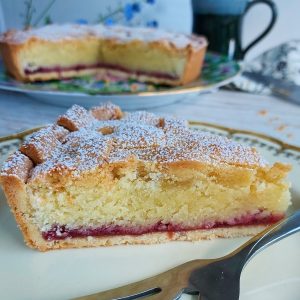 Gluten Free Lemon Frangipane Recipe
If you make it and like the recipe I would be eternally grateful if you popped back and commented leaving a star rating as this will tell search engines that this recipe is worth checking out and others will get to find it in searches.
Gluten Free Lemon Frangipane
A zingy, sweet lemon frangipane bake that's simple to make with minimal washing up and stress! Can be eaten cold by the slice or serve warm with a scoop of your favourite ice cream, custard or cream. Much like its cousin the Bakewell Tart but this is crustless and easier to prepare at short notice for unexpected guests!
Ingredients
250

g

ground almonds

150

g

soft dark brown sugar

100

g

gluten free self raising flour

100

g

melted dairy free butter

or normal butter (I use Flora plant butter)

100

ml

lemon juice

100

ml

dairy free milk

or normal milk

1

egg or flaxseed alternative

1tbsp flax, 3 tbsp water, 1tsp psyllium husk (optional)
Instructions
Preheat the oven to 200°C | 180°C fan | 400°F | Gas 6

Next line and grease a 20cm fluted flan tin. I use my dairy free butter and just rub a knob into the side of the tin.

In jug, add an egg and beat or make a flax egg. To make the flax egg simply combine the ground flaxseed with the water and psyllium husk and leave to thicken for a couple of minutes.

Now measure out the ground almonds, flour and brown sugar into a large bowl and using a whisk mix to combine.

Next add your beaten egg or flax egg and melted butter to the bowl of dry ingredients and using a silicone spatula roughly mix to combine, the mixture will still be quite dry at this stage.

In the same jug (less washing up) measure out the lemon juice, either freshly squeezed or from a bottle, and the milk or dairy free alternative. The milk will thicken slightly due to the acid in the lemon juice.

Pour the milk mixture into the mixing bowl and mix thoroughly to combine. Now the mixture will be quite a wet batter consistency.

Por the batter into the flute flan tin and using the spatula smooth the top down teasing the mixture to the edges.

Pop into the oven for 30 minutes.

The frangipane will be ready when a wooden skewer is inserted and comes out clean.

Remove from the oven and place on a cooling rack. Don't worry if the bake drops to an even level, this is to be expected.

Either eat while still warm as a delicious dessert or cool completely and have as a tea time treat.
Nutrition
Nutrition Facts
Gluten Free Lemon Frangipane
Amount per Serving
% Daily Value*
* Percent Daily Values are based on a 2000 calorie diet.
Have you tried this recipe?
Let me know how it was & I will be super grateful. Take a picture & tag me @glutarama on your social media posts – I love seeing your photos more than you will ever know x
I love to see your own photos of my bakes, dinners and treats head to your favourite social media account and don't forget to tag me in @glutarama
Subscribe to my email list so that you get NEW recipes straight in your mailbox every Friday PLUS a FREEBIE and access to some amazing gluten free DISCOUNTS
Join my friendly Facebook Group
life's a drama, gluten free doesn't have to be….
*disclaimer: I use affiliate codes on my website, the vast majority are to Amazon. If you click on any of the links or images in the post and make a purchase my family will benefit from a small % of that purchase at no extra cost to you.

For full transparency, in 2020 I made my first £25, and in 2022 I reached my next £25 (Amazon don't transfer the money until you reach £25). Recently I got paid a whopping £27.10 for 2023.

So to date I have made £78.58 since I first started the scheme in 2017. It won't pay the bills, that's for sure but it does help to pay for ingredients or little treats to cheer me up!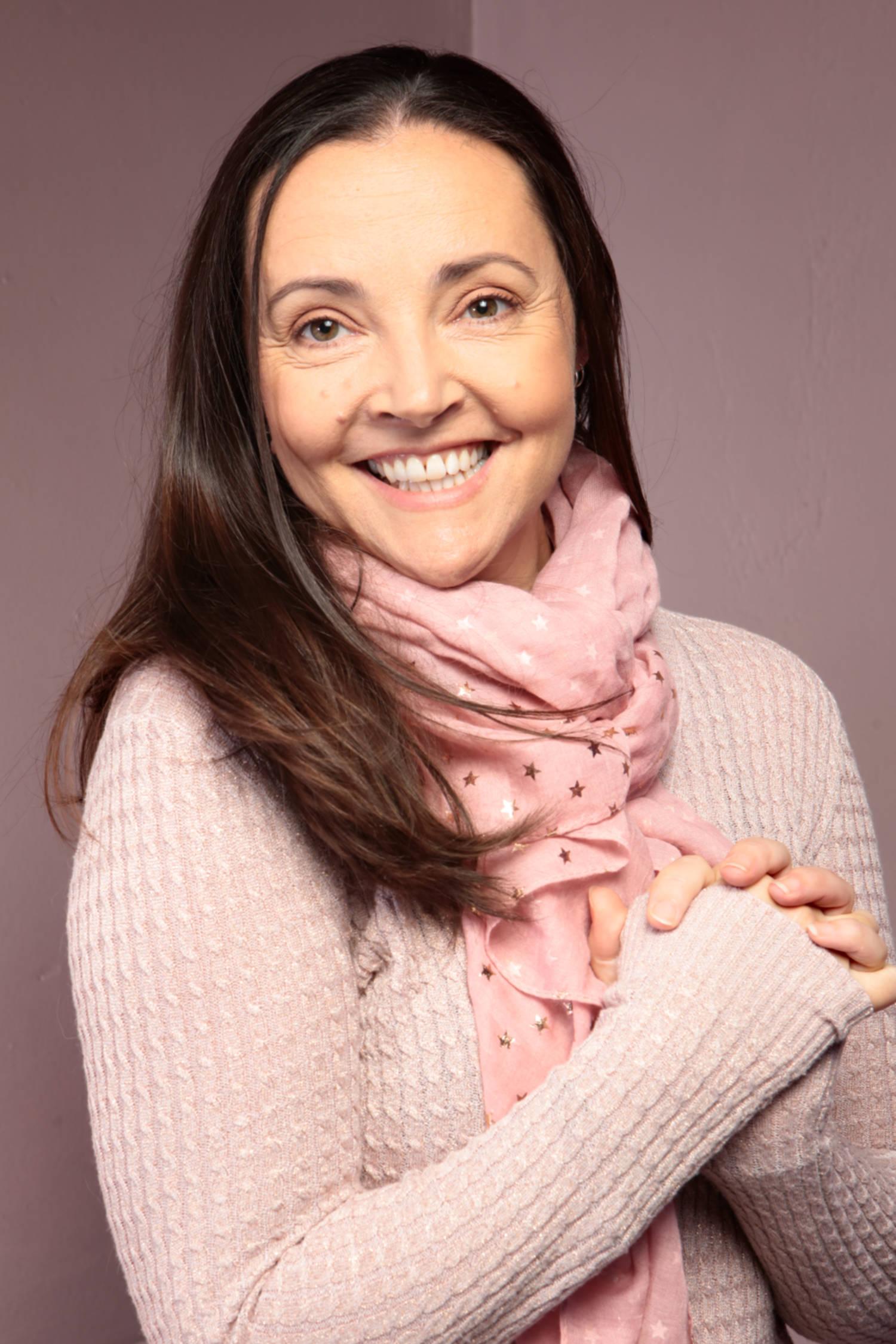 NEVER MISS A RECIPE!
Subscribe for the latest updates from Glutarama! But wait! you also get a FREE e-book + discounts + latest news and so much more…