I came up with this recipe for Blueberry Frangipane Tarts because I adore bakewell tart, if you've not tried the real thing from Bakewell in the peak district then you've missed out my friend. Of course in recent years, due to my egg and dairy intolerances, I've not been able to eat one of my all-time favourites (my first love is the humble Pumpkin Pie).
I created havoc recipe developing in my kitchen recently and I'm pleased to say that I've cracked it. As always I use Vicki Montagues shortcrust pastry recipe, I hold my hands up, she's the master of pastry (never been my strong point) and quite frankly I don't see the point in using any other recipe, you can see her original recipe for gluten free shortcrust pastry here.
Can I make these Blueberry Tarts vegan?
Yes you can, buy using my flaxseed egg substitute and a dairy free spread instead of butter you can easily make these vegan.
How to make a flax egg

to make 1 flax egg you need the following ingredients:
– 1tbsp ground flax seed
– 3tbsp water
– 1tsp psyllium husk (optional but does add elasticity to baking)

Simply add all ingredients to a glass and stir before measuring out the other recipe ingredients, by the time you come to use your 'egg' mixture it will have thickened to a frog-spawn consistency (thicker if you added psyllium husk)

Then just add to your baking as you would an egg. For 2 eggs double the ingredients but note that recipes that require more than two eggs may fail due to lack of support in the structure.
This recipe makes 12 Blueberry Frangipane Tarts and although I've not done it yet, it would make a large tart if you wished, may I recommend a lattice across the top if you have any leftover pastry…little miss bossy boots, can't help myself!
Other delicious gluten free recipes to inspire you
I have a huge catalogue of gluten free recipes on Glutarama now and these are just a couple you may like to try; Gluten Free Rose Cupcakes, Persimmon Fruit Cake, Blueberry Crumble Muffins, Rhubarb Muffins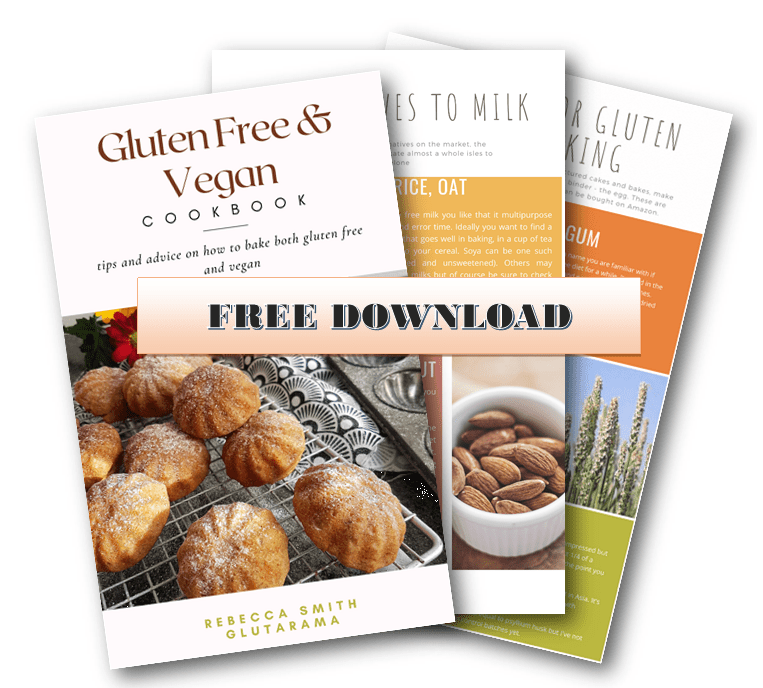 Never miss out again…
Sign up to my weekly Friday newsletter and not only get a FREE e-Book (currently my Gluten Free & Vegan Cookbook) but also get VIP subscriber discounts on free from goodies delivered to your door. Join me in my journey and learn to make anything gluten free.
Gluten Free Blueberry Frangipane Tarts Recipe
If you make it and like the recipe I would be eternally grateful if you popped back and commented leaving a star rating as this will tell search engines that this recipe is worth checking out and others will get to find it in searches.
Gluten Free Blueberry Frangipane Tarts
A light frangipane sponge revealing a fresh blueberry filling, these little tarts can be made to suit all allergies and intolerances; gluten, dairy, soya free and vegan too.
Ingredients
Pastry ingredients
200

g

gluten free plain flour

I use free from fairy flour

50

g

butter or butter alternative (I use Flora plant butter)

50

g

lard/trex

50

g

caster sugar

1

egg(s)

flaxseed egg: 1tbsp flaxseed and 3tbsp water
Filling ingredients
100

g

blueberries

60

g

butter or butter alternative (I use Flora plant butter)

60

g

caster sugar

60

g

gluten free self raising flour

I use fairy flour

1

egg(s)

as above for flaxseed version

30

ml

dairy free milk

I used almond milk

1

tsp

almond extract
Instructions
To make the pastry
Measure the flour and both fats into a bowl, using a pastry handle or your fingertips rub the fat into the flour until you get breadcrumbs.

Stir in the sugar.

Add your egg or flaxseed egg (1tbsp flaxseed with 100ml cold water)

Begin to bring the pastry crumbs together with a wooden spoon and then tip onto a kitchen surface.

You have to knead the dough for a while to bring it together but have faith it will come together and it's so worth it.

Once rolled into a ball pop into some clingfilm or a sandwich bag and chill in the fridge for 30 minutes
To make the filling
Make your flaxseed egg (if baking the egg free version) and set aside.

Add the spread and sugar to a bowl and beat until light in colour.

Add a spoon of the flour and combine then add the 'egg' once again beat well to combine.

Add the rest of the flour and enough milk until you get a smooth dropping consistency.

Finally add the almond extract

To build the tarts simply roll the pastry (knead for a minute first to prevent cracks) cut 10cm circles and line your tart tin.

Divide the blueberries between the 12 tarts

Spoon your frangipane batter over each tart, don't worry if you've not completely covered the blueberries.

Pop into the oven on 200°C | 180°C Fan | 400°F | Gas 6 for 10-12 minutes.

Once gently browned, and the sponge is springy to the touch, remove and cool.

To finish dust lightly with icing sugar and enjoy!
Notes
As mentioned above I use Free From Fairy's flour and recipe for pastry, again the link for that is here.
Nutrition
Nutrition Facts
Gluten Free Blueberry Frangipane Tarts
Amount per Serving
% Daily Value*
* Percent Daily Values are based on a 2000 calorie diet.
Have you tried this recipe?
Let me know how it was & I will be super grateful. Take a picture & tag me @glutarama on your social media posts – I love seeing your photos more than you will ever know x
I love to see your own photos of my bakes, dinners and treats head to your favourite social media account and don't forget to tag me in @glutarama
Subscribe to my email list so that you get NEW recipes straight in your mailbox every Friday PLUS a FREEBIE and access to some amazing gluten free DISCOUNTS
*disclaimer: I use affiliate codes on my website, the vast majority are to Amazon. If you click on any of the links or images in the post and make a purchase my family will benefit from a small % of that purchase at no extra cost to you, in fact, for full transparency, in 2020 I made my first £25, and recently in 2022 I reached my next £25 (Amazon don't transfer the money until you reach £25). As you can see, it won't make me a millionaire but it will treat me to a few coffees, Lord knows I need the caffeine!
Join my friendly Facebook Group
life's a drama, gluten free doesn't have to be….