This page contain affiliate links. Please refer to my Disclosures Page for more details.
Chocolate Cherry Flapjacks are simply normal flapjacks with added va-va-voom! Easy to make in under an hour if you include the cooling period. You're pretty much guaranteed to have the ingredients in your cupboards to make the the basic flapjacks, these just have added ingredients to make these that little bit more special.
How to make flapjacks
Making flapjacks is really rather simple, I distinctly remember it being one of the first recipes I made with my very first cook book when I was young. I think my mum still has that book now!
There are two steps. First step, melt the fat and sugar ingredients. Second step, stir in the dry ingredients. I said it was simple didn't I.
I always use a loose base square tin to make my flapjacks in and always line the tin as well just to prevent any awkward sticking.
Once the melted and dry ingredients are well mixed, pour into the prepared tin and press down the mixture firmly ensuring no gaps or air bubbles.
Then bake for 20-25 minutes and remember to cool completely before cutting into squares – this is in fact the hardest bit – the long wait!
Are flapjacks naturally gluten free?
Flapjacks are not naturally gluten free if you are diagnosed Coeliac or have a gluten intolerance. Oats are likely to be cross contaminated with other gluten containing cereals so are not safe unless they have been certified to be safe.
If you are making these Chocolate Cherry Flapjacks to be gluten free then you must ensure you use certified gluten free oats. Here in the UK you can get gluten free oats from most leading supermarkets, Delicious Alchemy, Glebe Farm Foods and Quaker now do gluten free oats too.
The best type of oats to use for flapjacks
We have already identified the safe oats to use for this recipe (in the previous paragraph). Now you may be asking what are the best type of oats to use for flapjacks? There are two types (three if you count finely milled). There are uncut or jumbo oats and then porridge oats, these have been partially milled. The last in the image below is the finely milled oats or oat flour.
For this recipe I often use a 50:50 blend of jumbo and porridge oats. This is the blend I used when I photographed this batch of Chocolate Cherry Flapjacks. If you choose just to use porridge oats you will get a denser flapjack, equally as delicious and maybe slightly les chewy.
Ingredients and equipment you need
For 16 square Chocolate Cherry Flapjacks you will need the following ingredients and kitchen equipment and utensils;
gluten free porridge oats
butter (I use Flora Plant Butter)
light brown sugar (you can use other sugars but this one gives you a caramel flavour)
golden syrup (you can buy online if outside the UK)
cocoa powder
glace cherries (I use ones cut into halves)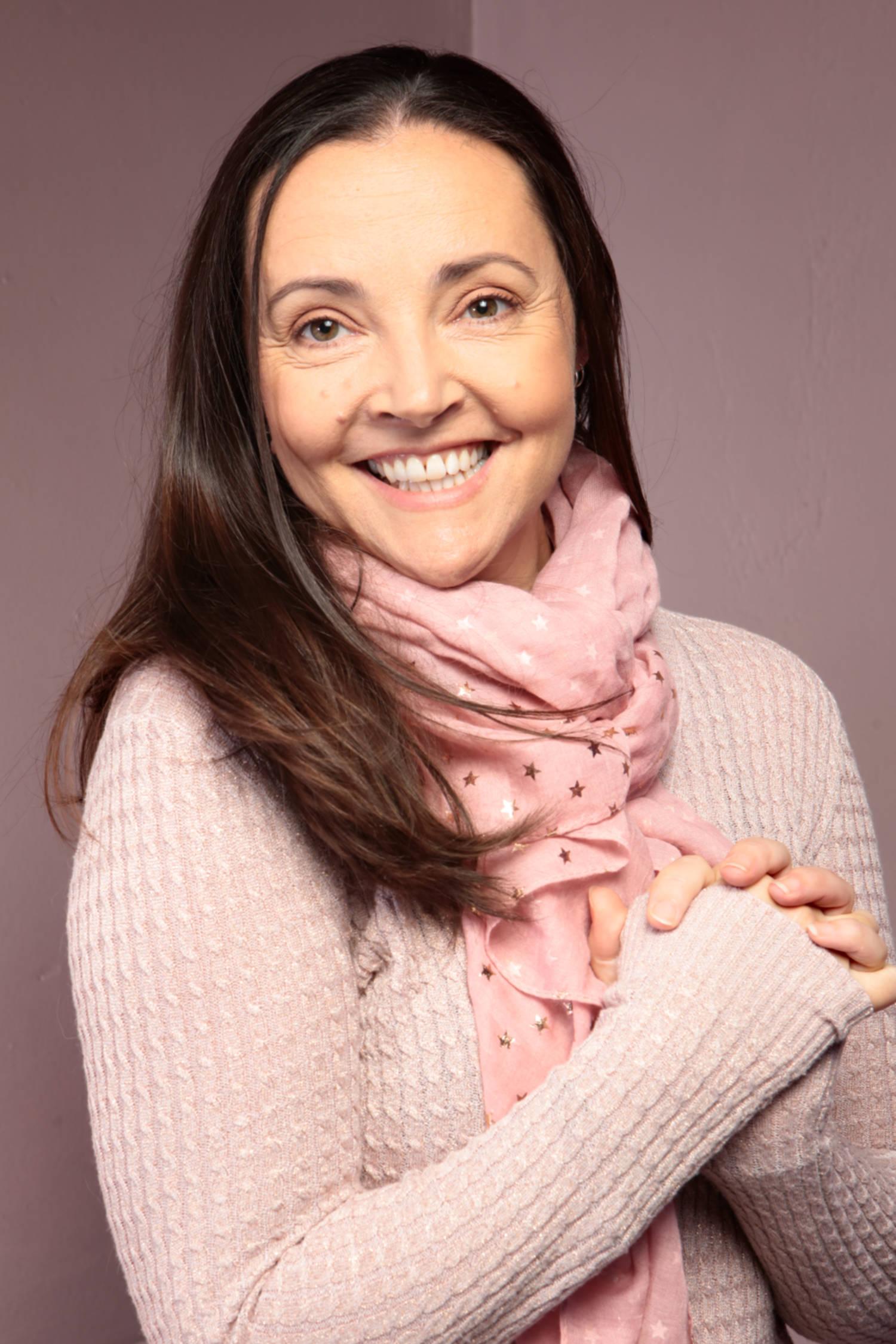 NEVER MISS A RECIPE!
Subscribe for the latest updates from Glutarama!
Can I add extra ingredients?
Flapjacks are so versatile I could write a whole new post on variations alone! This recipe is already quite fancy in comparison to the humble basic flapjack. But you could go even more chocolate mad and dip the square in melted chocolate or add a drizzle of chocolate (maybe white to add a colour contrast).
Basically, if you don't go crazy with the ingredient ratios you could easily substitute the glace cherries for raisins, dried apricots, any dried fruits. let me know in the comments if you've tried different flavours and what you loved the best.
Can I make these flapjacks dairy free?
These flapjacks are easy to make dairy free by switching the butter for your dairy free alternative. I use Flora plant butter blocks as I find this behaves better than other dairy free/plant butters when baking.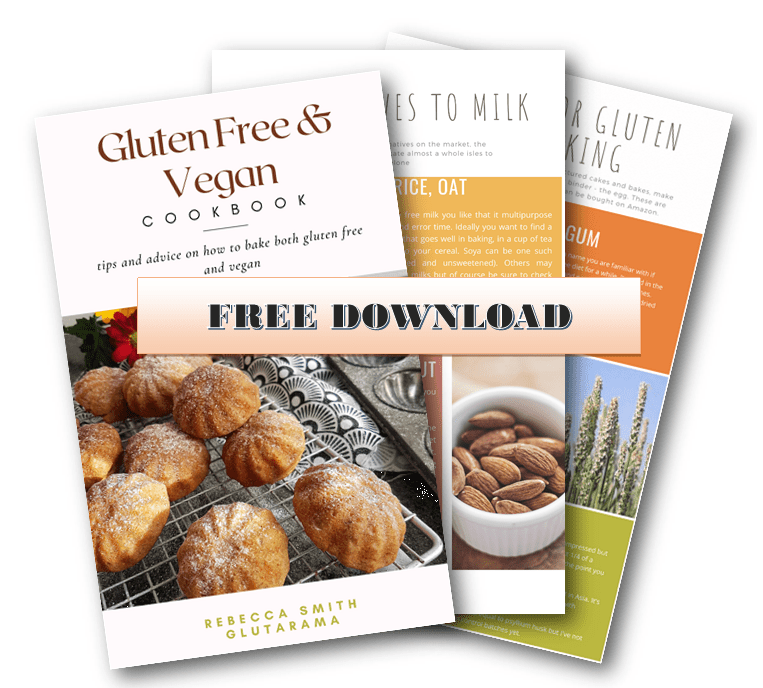 Never miss out again…
Sign up to my weekly Friday newsletter and not only get a FREE e-Book (currently my Gluten Free & Vegan Cookbook) but also get VIP subscriber discounts on free from goodies. Join me and learn to make anything gluten free.
Other similar recipe ideas
Gluten Free Honey Flapjacks
Honey Flapjacks, easy to make, delicious and simple to create a gluten free and dairy free version too. Plus you can even make these vegan following my top tips on honey alternatives.
Check out this recipe
Vegan Chocolate Cherry Amaretti
Delicious little Italian inspired Amaretti biscuits but made vegan with aquafaba, with dark chocolate folded into the ground almonds, a hidden liqueur cherry and rolled in icing sugar. You'll never know these are egg free. Naturally gluten free and dairy free too. Perfect for teatime, festive celebration tables and homemade gifts.
Check out this recipe
Gluten Free No Bake Cherry Chocolate Squares
Deliciously simple to make and the perfect afternoon pick-me-up snack for that energy lull or a post school or workout treat. Gluten free, dairy free and vegan this cherry chocolate treat is always a winner.
Check out this recipe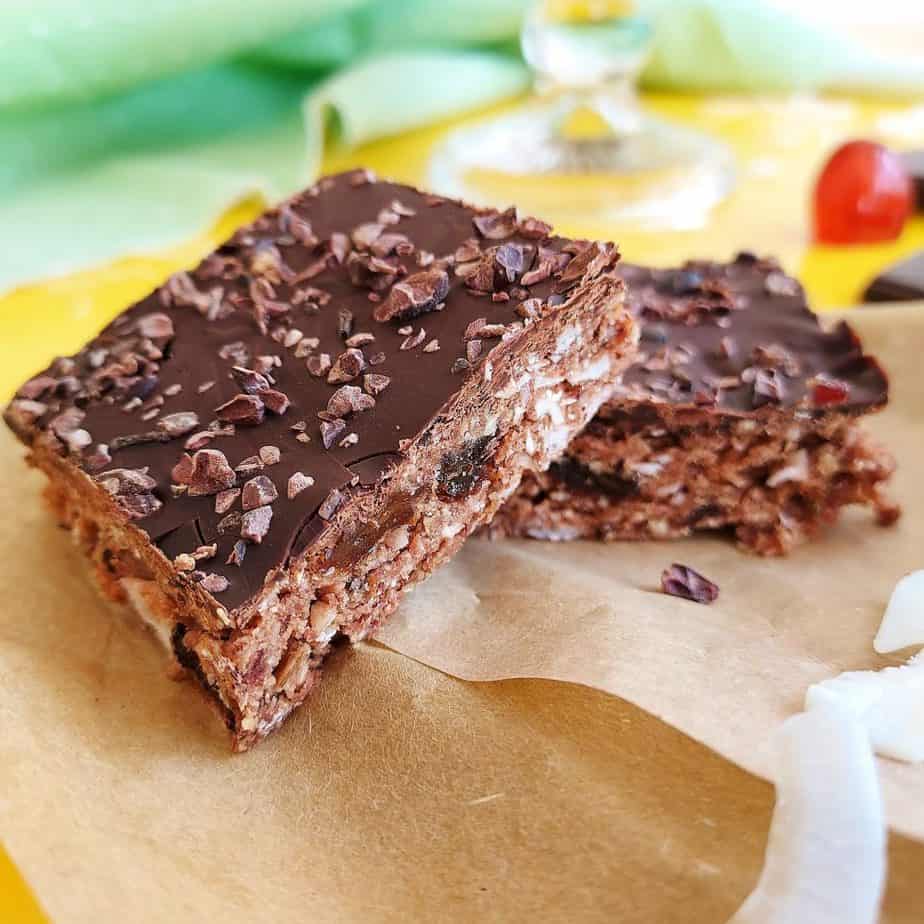 Cherry Ripe Chocolate Bars; gluten and dairy free
These Cherry Ripe Chocolate Bars are a real treat for the senses. A popular sweet treat in Australia and seldom found here in the UK, these dark chocolate bar filled with cherry and coconut are the perfect flavour combination.
Check out this recipe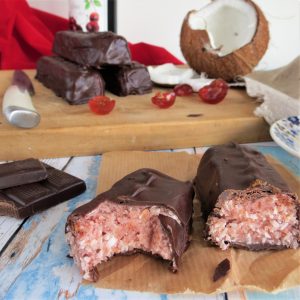 Chocolate Cherry Flapjacks Recipe
If you make it and like the recipe I would be eternally grateful if you popped back and commented leaving a star rating as this will tell search engines that this recipe is worth checking out and others will get to find it in searches.
Chocolate Cherry Flapjacks
Chocolate Cherry Flapjacks, easy to make, delicious and simple to create a gluten free and dairy free version too.
Ingredients
350

g

gluten free porridge oats

200

g

butter or butter alternative (I use Flora plant butter)

200

g

light brown sugar

100

g

golden syrup (corn syrup)

3

tbsp

cocoa powder

200

g

glace cherries
Instructions
Preheat the oven to 180°C | 160°C Fan | 350°F | Gas 4

Line the bottom of a 20x20cm square tin with baking paper.

Into a large non stick saucepan add the butter, sugar and golden syrup. Place over a medium heat and stir until all the ingredients have melted.

In a large bowl, weigh out the oats (porridge, jumbo or a combination of both).

To the oats, add three tablespoons of cocoa powder and a 200g tub of glace cherries. Mix the ingredients to thoroughly combine.

Once the sugar and butter has melted, carefully pour over the dry ingredients and using a silicone spatula fold together to fully coat the oats and cherries.

Now tip the mixture into the prepared square tin and press down firmly to pack the oats down well making sure you pack the mixture tight into the corners.

Pop the tin into the oven and bake for 20-25 minutes. The flapjack will bubble a little at the edges when it's ready.

Remove from the oven, using a wet knife tease the flapjack from the edges of the tin (this will prevent concrete hard sticking later!)

Allow to cool completely in the tin before removing and cutting into 16 square portions.
Nutrition
Nutrition Facts
Chocolate Cherry Flapjacks
Amount per Serving
% Daily Value*
* Percent Daily Values are based on a 2000 calorie diet.
Have you tried this recipe?
Let me know how it was & I will be super grateful. Take a picture & tag me @glutarama on your social media posts – I love seeing your photos more than you will ever know x
I love to see your own photos of my bakes, dinners and treats head to your favourite social media account and don't forget to tag me in @glutarama
Subscribe to my email list so that you get NEW recipes straight in your mailbox every Friday PLUS a FREEBIE and access to some amazing gluten free DISCOUNTS
Join my friendly Facebook Group
life's a drama, gluten free doesn't have to be….
*disclaimer: I use affiliate codes on my website, the vast majority are to Amazon. If you click on any of the links or images in the post and make a purchase my family will benefit from a small % of that purchase at no extra cost to you.

For full transparency, in 2020 I made my first £25, and in 2022 I reached my next £25 (Amazon don't transfer the money until you reach £25). I'm now up to £17.80 for 2023 so edging closer to the magical £25 mark!!

To date I have made £69.28 since I first started the scheme in 2017. It won't pay the bills, that's for sure but it does help to pay for ingredients or little treats to cheer me up!