This page contain affiliate links. Please refer to my Disclosures Page for more details.
This Gluten Free Chocolate Berry Granola recipe was a mistake. It was originally intended to be a chocolate and cherry flapjack!
For a simple recipe, this possibly has the biggest run up to it. That's down to getting the technique right to make clumpy clusters of delicious granola.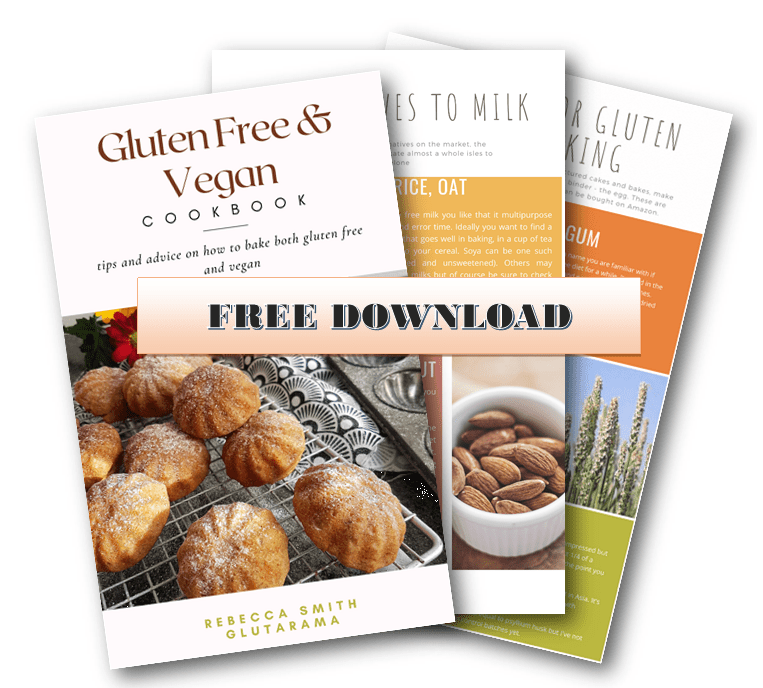 Never miss out again…
Sign up to my weekly Friday newsletter and not only get a FREE e-Book (currently my Gluten Free & Vegan Cookbook) but also get VIP subscriber discounts on free from goodies delivered to your door. Join me in my journey and learn to make anything gluten free.
Is granola gluten free?
Sadly not all granola is gluten free. Many people starting out on a gluten free diet are confused by what does and what doesn't have gluten in it. A great way to remember is B.R.O.W. Barley, Rye, Oats, Wheat. Some add an 'S' at the end to include Spelt which is also not gluten free.
It's not that simple though (what is?) because Oats technically do not contain the protein gluten. Instead they contain avenin.
Many Coeliacs find they also react to avenin in the same way they would do with gluten. BUT WAIT. Even if you are not one of those people, you cannot just go ahead and grab yourself any old bag of jumbo oats for this granola recipe.
The oats have to be certified gluten free. This is because the manufacture of everyday oats will result in them getting contaminated with gluten containing cereals. So, if you are gluten intolerant or Coeliac you need to be sure to use certified gluten free oats that are safe for you.
How do you make gluten free granola from scratch?
Making granola from scratch is super simple (unless you chose to take the scenic route and try to make flapjack first!).
All you need is oats, I use two types (more about that later), cocoa powder to make it chocolatey, syrup, butter, sugar and your favourite choice of berries.
Soak your berries
As the cooking process can further dry out any dried berries you add, I recommend soaking your fruit overnight. In the photos I've used dried cranberries and soaked 150g in 300ml of boiled water and just left them overnight on the side. By the morning they were plump as can be and ready for baking.
Choosing your oats
I like to have a variation of oats in my granola, this add texture. To achieve the same granola in the images, you'll need gluten free Jumbo Oats (I got mine from Holland & Barretts) and gluten free porridge oats. The latter tend to be lightly milled which helps to bind the granola together.
Adding the flavour
In this case we're making chocolate granola so I add 2 tablespoons of cocoa powder to the bowl of oats, this recipe incidentally makes approximately 750g of granola so that's 12 decent sized portions, if, like me, you don't think a 30g bowl of cereal is enough to get you going in the morning.
Add the binder (sugar & butter)
I'll mention more below about different types of sugar but for now, you need to add a butter that suits your dietary needs. In this case I used my trusty Flora Plant Butter so this is also a dairy free granola as well as a gluten free one.
To bind it all together you need syrup, I use golden syrup, and a bit of sugar to aid the crystallisation – aka, make the clumps of granola.
Can I make granola in the air frier?
I have seen one or two reels on Instagram making air frier granola or slow cooker granola. We are all feeling the pinch of the cost of living and are trying to save pennies. However, I'm not sure everything can be solved with an air frier or slow cooker?
I have to question sometimes, if these people don't have a collaboration with Ninja or Morphy Richards given the amount of daft things that are being made in them. That's my personal thoughts, you don't have to agree with me (cheeky wink).
To answer the question can I make gluten free granola in an air frier, I'd have to say … maybe? But examples I've seen have ended up more like coated grains rather than clusters you'd expect to find in a good granola.
Prove me wrong – have a go with this recipe in your air frier and let me know how it goes, I may even add a chapter with your cooking method to help others.
What other ingredients can I add to this chocolate granola?
I'll be honest here. I had planned to make Chocolate Cherry Granola for the photos. But I ran out of time and money to get the dried cherries I wanted so I used cranberries. Therefore, I present to you my Gluten Free Chocolate and Berry Granola. This just goes to show how versatile this recipe is though. If you like you can substitute the cranberries or cherries for anyone of the dried fruit options below;
currants
sultanas
mixed peel (candied orange and lemon)
figs
prunes
apricots
Troubleshooting
My granola isn't sweet enough
I recommend testing the granola before you pop it into the oven to see if it's sweet enough for you. If not simply add more sweetness. The best way to do this is to melt some more syrup and drizzle it over the granola whilst still on the tray. Then simply tease the granola around with a fork to mix in the added syrup before popping in the oven.
My granola is crumbly with no clumps
There may be a few reasons for this. The most likely reason is that you didn't use enough sugar and syrup. The second possible explanation is that you didn't press down the granola after 10 minutes of cooking, or didn't press it down enough. The third reason may be that you removed the granola from the oven too late and it had cooled completely. This makes the granola difficult to get off the baking sheet and you're likely to break up the clumps.
I want a granola with less sugar.
I have got two variations of the recipe for those who wish to have a less sweet option. However, there is a downside. Adding less sugar to your granola will result in the granola having less clumps. In some cases no clumps at all. It's the sugar that keeps the granola stuck together.
That said, if you are happy to forfeit the clumps then you can swap the golden syrup for a light syrup (for example Sweet Freedom 'golden syrup') or use a natural sugar such as honey or maple syrup.
The images above are a granola made with less sugar and a granola made with this exact recipe. As you can see the bowl of granola on the right has large clumps in it whilst the one on the left is more like a muesli.
How to make gluten free granola with big clusters.
I have a top tip for getting the biggest, best granola clusters. It's all in the timing (and the sugar used).
This gluten free chocolate berry granola recipe is baked for 10 minutes, then you press the granola down with the back of a fork and cook for a further 10 minutes.
Next, once the full 20 minutes is up, turn off the oven keeping the oven door ajar and allow to cool for 20-30 minutes.
You need the baking trays to be hand temperature.
Now, using a spatula or pallet knife, gently release the granola from the baking tray. It will still be a tiny bit sticky. Once all the granola is lose, break up any ginormous pieces (had to check the spelling of that, didn't look right). Next return to the cooled oven for the clumps to harden completely.
Other gluten free breakfast ideas
Below are a little selection of gluten free recipes here on Glutarama for you to try out. If you do go ahead and have a go, I'd love to hear what you thought. Please do pop back and leave a comment.
Quick Hot Porridge Oats | Ready-made Porridge Jars
You'll love creating these quick hot porridge oats, you can start each day with a different flavour combination, so you'll never tire of breakfast. The choices are endless and you're guaranteed to feel full until lunchtime. Not only are these jars delicious, they're also gluten free, dairy free, vegan and time saving, what's not to love. These can also be made into overnight oats if you wish.
Check out this recipe
Gluten Free Chocolate Ready Brek
Make your very own Instant Chocolate Ready Brek but gluten free. Make in bulk for multiple bowls of delicious hot chocolate porridge or make one bowl as a time. Either way, you'll be making bowl of hot Ready Brek every day with this quick and simple recipe.
Check out this recipe
Healthy Gluten Free Breakfast Muffins
A simple yet nutritional recipe to make Healthy Breakfast Muffins that are gluten free and vegan (egg free and dairy free). These keep well for a couple of days and are so filling you'll be pushed to eat two with your morning cup of tea or coffee.
Check out this recipe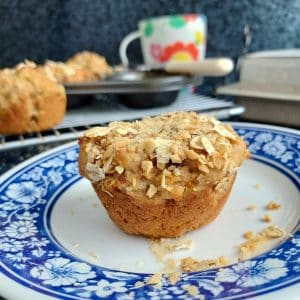 Gluten Free Belgium Waffles
A simple and delicious recipe for Gluten Free Belgium Waffles the whole family will rush to the table to enjoy. These are gluten free and can easily be made dairy free too with a milk alternative. With no end to the choice of toppings these waffles are sure to please every time.
Check out this recipe
Gluten Free Scotch Pancakes
These Gluten Free light and fluffy Scotch Pancakes (or Drop Scones) are so simple to make. My daughter's been making this recipe since she was 12. Whipped up and ready to eat in under 30mins – no excuse not to have for a delicious breakfast, dinner or tea! Easy to adapt and make dairy free too.
Check out this recipe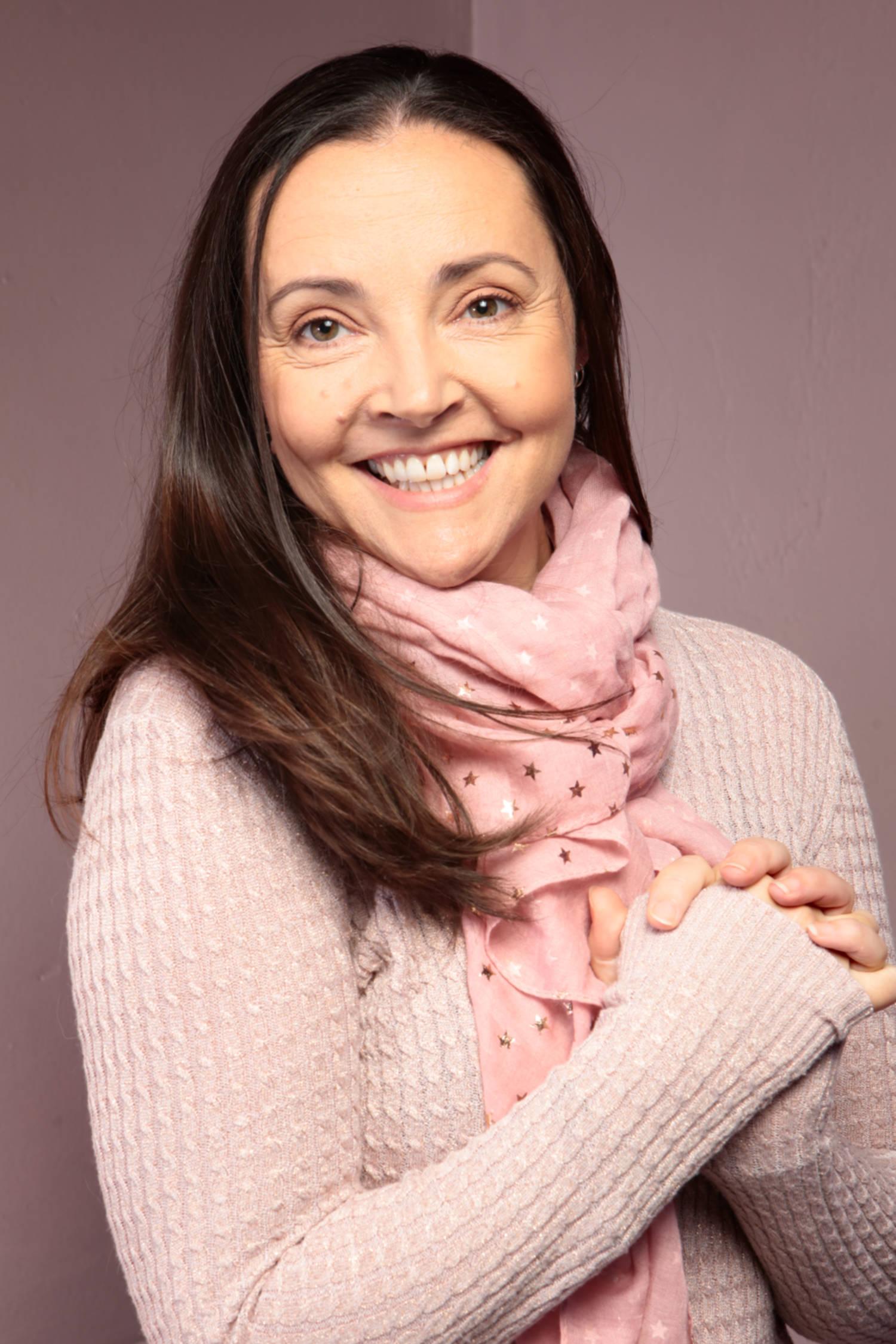 NEVER MISS A RECIPE!
Subscribe for the latest updates from Glutarama!
Gluten Free Chocolate Berry Granola Recipe
If you make it and like the recipe I would be eternally grateful if you popped back and commented leaving a star rating as this will tell search engines that this recipe is worth checking out and others will get to find it in searches.
Gluten Free Chocolate Berry Granola
This gluten free granola is simply divine. Perfect served on top of your favourite natural yoghurts (I use a dairy free yoghurt). The chocolate clusters and chewy berries are a delicious variation in texture and this recipe makes enough for nearly 2 weeks worth of breakfasts, unless your forced to share!
Ingredients
150

g

dried cranberries

preferably soaked overnight

250

g

gluten free jumbo oats

200

g

gluten free porridge oats

2

tbsp

cocoa powder

200

g

golden syrup (corn syrup)

50

g

light brown sugar

50

g

butter or butter alternative (I use Flora plant butter)
Instructions
Soaking your dried fruit
This step is not compulsory, but to prevent your dried fruit from burning it's best to soak them first. this also makes the fruit chewy like lumps of chewy jam.

Add your dried fruit to a jug and pour over 300ml of boiled water. Allow to plump up over night or for a couple of hours at least.

When ready to use, simply pour the contents of the jug into a sieve over the sink to drain and leave to drip until you need it for the granola.
To make the granola
Preheat the oven to 170℃ | 150℃ | 325℉ | Gas 3

In a large bowl measure your jumbo oats, porridge oats and cocoa powder. using a whisk mix it all together.

In the jug you used for your dried fruit, measure out the butter, sugar and golden syrup and heat in the microwave for 20 seconds. Remove and stir until all the butter has melted.

Next, pour the liquid over the dry ingredients and using a silicone spatula mix thoroughly to combine.

Now add the drained cranberries (or whatever fruit you've chosen to add) and gently mix them through the oat mixture to fully incorporate.

You'll need two baking trays to cook this granola. Tip half the mixture onto each baking tray and tease to the edges with a fork. Try to keep the granola on an even level with no mini granola mountains.

Carefully pull the trays out and with the same fork press the half baked granola down, like a granola biscuit bar. This will encourage the granola to form clusters.

Bake for another 10 minutes.

Once the 10 minutes is up, turn the oven off, crack the door open (I use my oven gloves wedged in the side to keep the door from closing). leave for 20-30 minutes until the baking trays are hand temperature.

Remove from the oven, tease the granola away from the tray (it will still be a little sticky) with a pallet knife and break up any huge granola sheets into bite sized pieces.

Return to the oven to cool completely and harden.

once fully cooled add your granola to an airtight cereal container,
Notes
Less Sweet Version
Instead of using 200g golden syrup and 50g light brown sugar you can use just 100g golden syrup, honey, maple syrup or your usual liquid sweetener. However, this will result in less clusters in your granola.
Nutrition
Nutrition Facts
Gluten Free Chocolate Berry Granola
Amount per Serving
% Daily Value*
* Percent Daily Values are based on a 2000 calorie diet.
Have you tried this recipe?
Let me know how it was & I will be super grateful. Take a picture & tag me @glutarama on your social media posts – I love seeing your photos more than you will ever know x
I love to see your own photos of my bakes, dinners and treats head to your favourite social media account and don't forget to tag me in @glutarama
Subscribe to my email list so that you get NEW recipes straight in your mailbox every Friday PLUS a FREEBIE and access to some amazing gluten free DISCOUNTS
Join my friendly Facebook Group
life's a drama, gluten free doesn't have to be….
*disclaimer: I use affiliate codes on my website, the vast majority are to Amazon. If you click on any of the links or images in the post and make a purchase my family will benefit from a small % of that purchase at no extra cost to you, in fact, for full transparency, in 2020 I made my first £25, and recently in 2022 I reached my next £25 (Amazon don't transfer the money until you reach £25). As you can see, it won't make me a millionaire but it will treat me to a few coffees, Lord knows I need the caffeine!