I originally made these No Bake Cherry Chocolate Raw Squares back in 2016. At the time I had a jar of Morello Cherries in a deliciously sweet syrup, they smelt like they were soaked in alcohol, but they weren't. Since then I've made this recipe with good old glace cherries and a dash or two of my cherry coffee syrup. I say coffee syrup, I actually really love this cherry syrup in a hot chocolate because then you get a delicious Black Forest-style hot chocolate – clever right?
As you will see when you read on, this is a really flexible recipe (as many of my easy recipes are). I promise you can switch ingredients according to what you have in your store cupboards and your taste preferences.
Can I use other types of cherry in these raw no bake squares?
As mentioned at the beginning of this post, I had a jar of Morello Cherries in syrup which smelt like Kirsch (a cherry liqueur) in a jar. I had a few raisins left over from some muesli that I'd prepped and I seem to have bought enough desiccated coconut recently to fill a bucket! The one ingredient that I do use that's a bit different to the norm is Cacao Nibs. These are really delicious, they pop in your mouth when you bite into them, it's kind of like a hard brazil nut texture but with a savoury chocolate flavour, I love them.
Anyway, back to the cherries. If you have a jar of morello cherries in syrup by all means use these, this I find will give you the most pronounced cherry notes in your Cherry Chocolate Squares.
If, like me when I came to re photograph this post, you only have glace cherries then fire away and use those instead. However, don't expect to get the rich cherry flavour unaided. That's where the Monin Cherry (or cerise) syrup comes in handy as this does add the extra punch of cherry flavour.
Another option would be to use a cherry flavouring to add to your glace cherries.
I don't like coconut, can I use a different ingredient?
This recipe uses two type of coconut; coconut flour and desiccated (shredded) coconut. If you are not keen on coconut then you could swap the coconut flour for extra gluten free oats that have been blended quickly to break them down a bit. To exchange the desiccated coconut you could add more ground almonds or simply omit them altogether.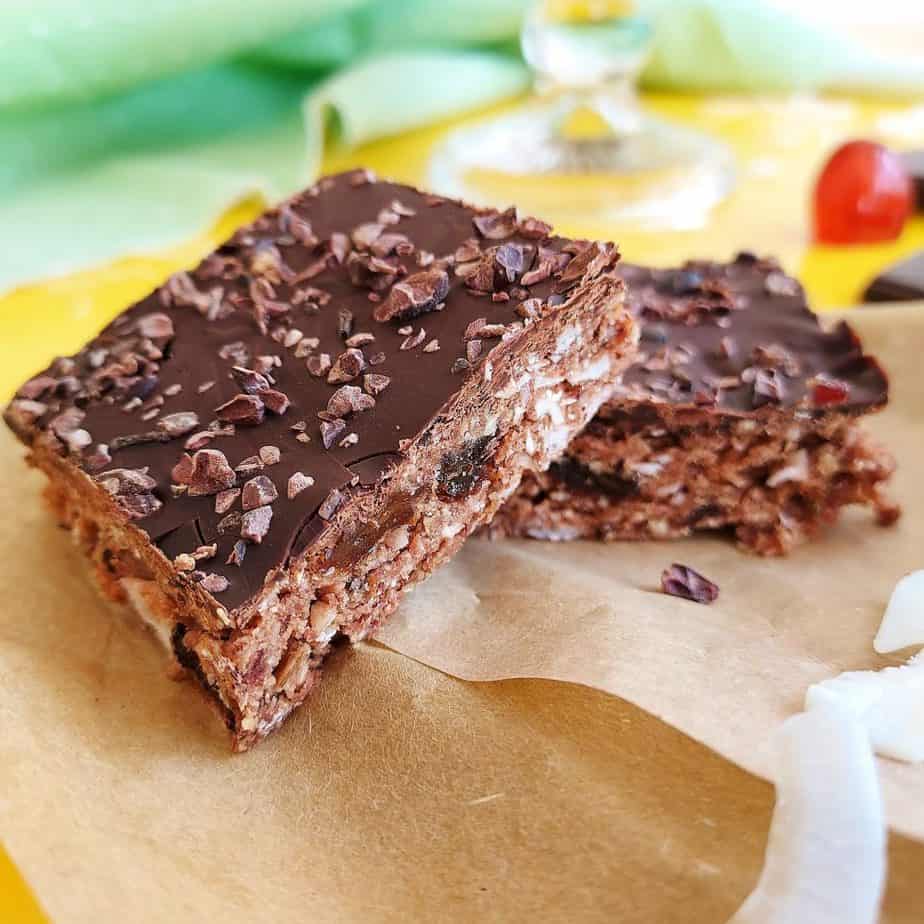 Can I make these Cherry Chocolate Squares nut free?
If you wish to make these Cherry Chocolate Squares without the nuts then I would recommend adding an equal amount of oats in place of the ground almonds.
I don't have cacao nibs, can I use a different topping?
There are lots of topping ideas you can chose from. One option is to leave the square coated in chocolate and not add any additional toppings at all. Other topping ideas are;
desiccated coconut | grated chocolate | halved glace cherries (you'll need 16 for each mini square) | chocolate buttons | cupcake sprinkles…. or anything else you have to hand.
How should I store these raw energy boosting squares?
I prefer to eat my Cherry Chocolate Squares straight from the fridge which in the warmer months is rather a welcome chilled energy boost. I find these are best kept in a medium Tupperware container and they last absolutely ages as there is technically nothing in these no bake squares that will perish.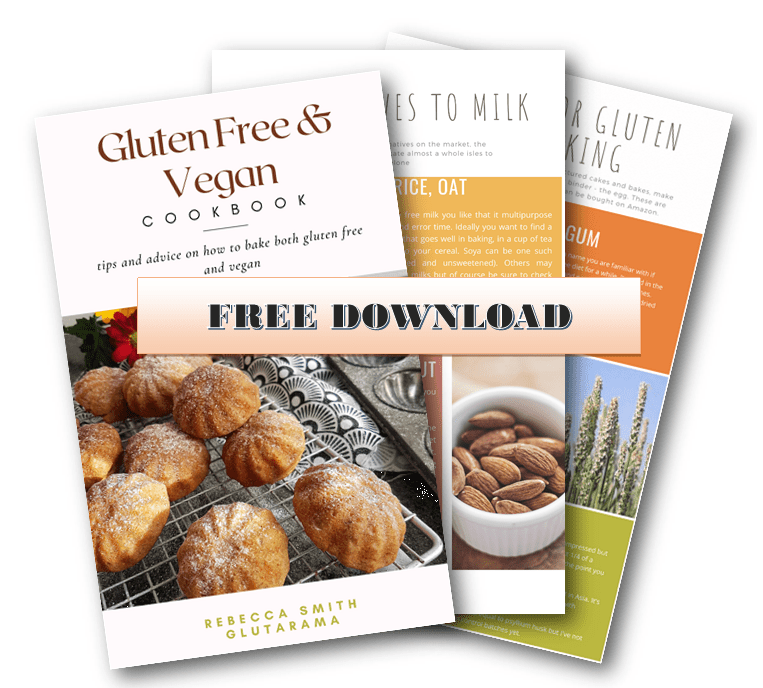 Never miss out again…
Sign up to my weekly Friday newsletter and not only get a FREE e-Book (currently my Gluten Free & Vegan Cookbook) but also get VIP subscriber discounts on free from goodies delivered to your door. Join me in my journey and learn to make anything gluten free.
Love this recipe idea, you're going to adore these
I have a catalogue of recipes like this on the website now. In all my years of blogging and recipe development I've seen fads come and go but these delicious gluten free recipes stand the test of time. There's my popular Apricot Cacao Raw Squares (gluten, dairy, egg free) then my Deliciously Simple Fruit and Nut Chocolate Truffles and how about these Raw Chocolate Snack Squares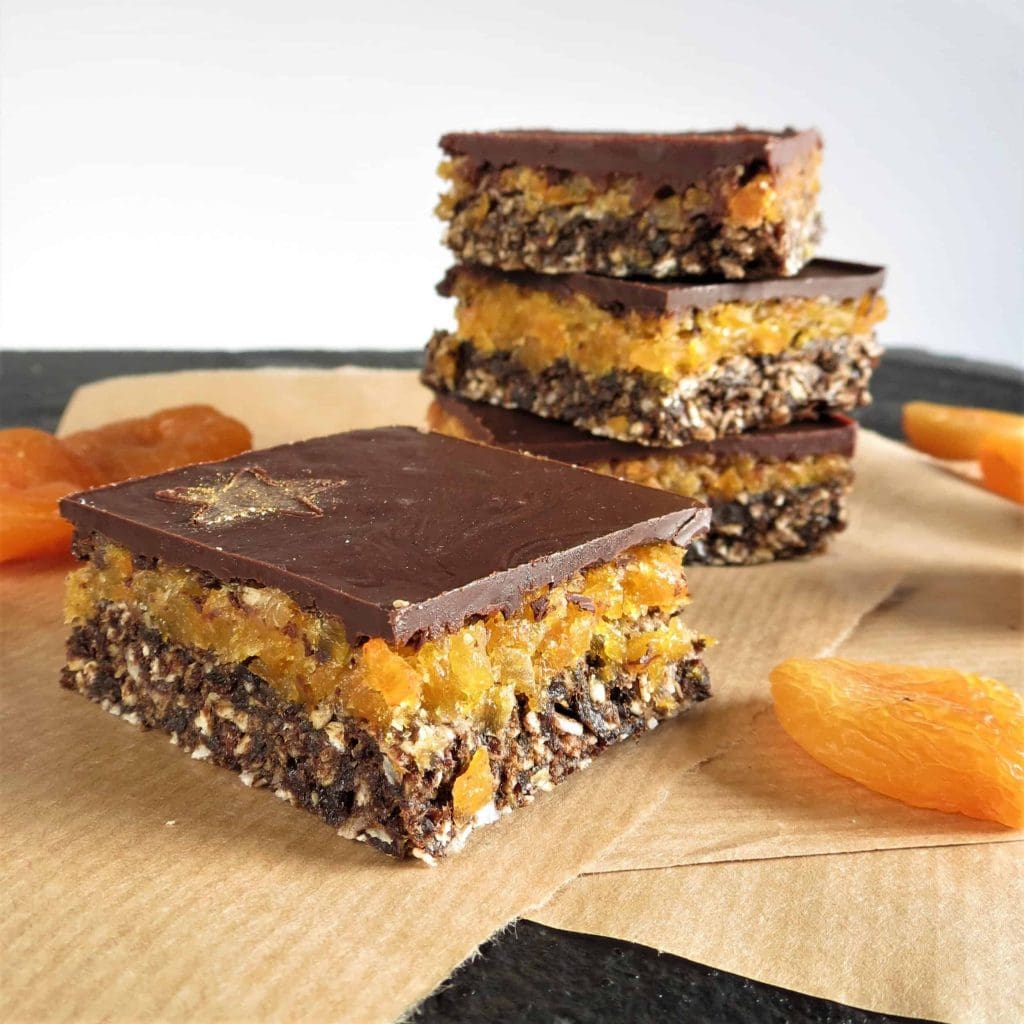 Gluten Free No Bake Cherry Chocolate Squares Recipe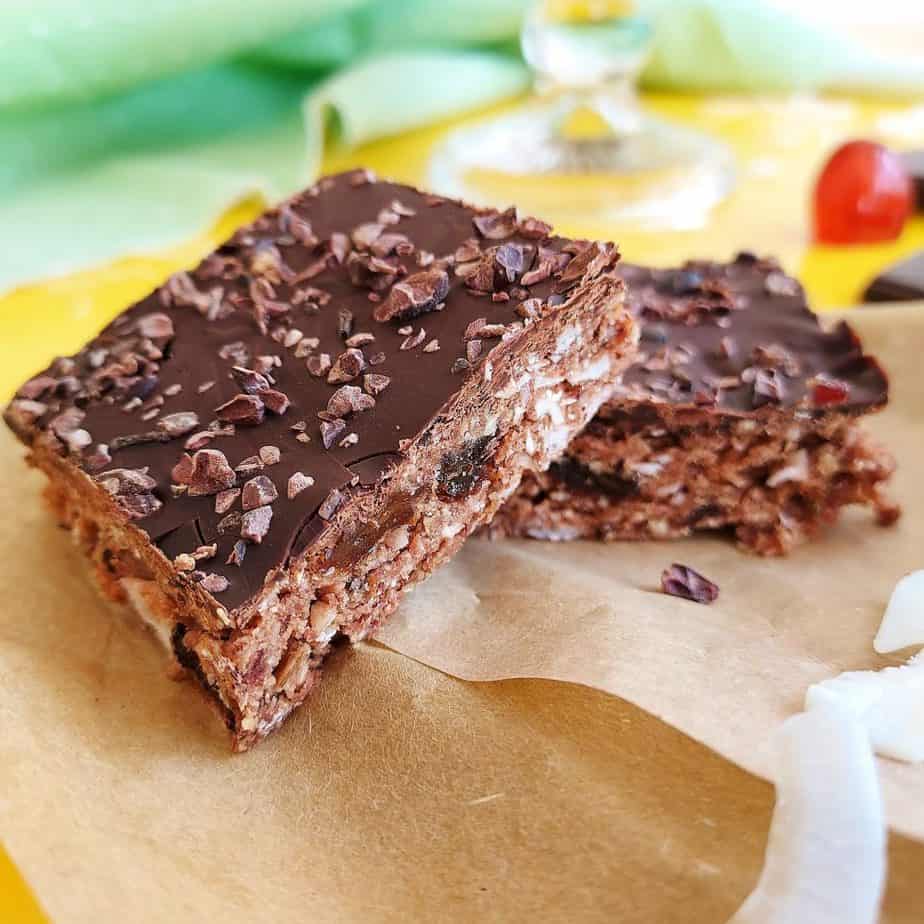 Gluten Free No Bake Cherry Chocolate Squares
Deliciously simple to make and the perfect afternoon pick-me-up snack for that energy lull or a post school or workout treat. Gluten free, dairy free and vegan this cherry chocolate treat is always a winner.
Ingredients
100

g

gluten free oats

100

g

morello cherries in syrup

or glace cherries

100

g

raisins

100

g

coconut flour

50

g

ground almonds

50

g

desiccated coconut

50

g

coconut oil

2

tbsp

carob flour

2

tbsp

cherry syrup/flavouring

or a few drops of cherry flavouring (optional)
The topping
100

g

dark chocolate

I use a dairy free chocolate

2

tbsp

cacao nibs

optional
Instructions
Add all the dry ingredients into a bender first and blitz until smoother in texture.

One by one add the remaining ingredients and blitz after each addition.

The mixture is ready when it comes together in a clump when you squeeze it in your hand.

Tip mixture into a greased 8×8″ square tin and press down firmly with a wet spatula.

Melt the chocolate in the microwave, careful not to over heat and burn.

Drizzle the chocolate over the mixture and smooth to the edges with the back of a metal spoon.

To decorate sprinkle some raw cacao nibs over the chocolate.

Pop in the fridge for at least 30mins to chill.

When chocolate has set, remove from fridge and cut into 16 equal squares

Keep stored in the fridge for up to two weeks…if they last that long.
Notes
As mentioned I used green raisins on this occasion but sultanas, raisins or even better currents would do to add a deeper flavour.
Nutrition
Nutrition Facts
Gluten Free No Bake Cherry Chocolate Squares
Amount per Serving
% Daily Value*
* Percent Daily Values are based on a 2000 calorie diet.
Have you tried this recipe?
Let me know how it was & I will be super grateful. Take a picture & tag me @glutarama on your social media posts – I love seeing your photos more than you will ever know x
I love to see your own photos of my bakes, dinners and treats head to your favourite social media account and don't forget to tag me in @glutarama
Subscribe to my email list so that you get NEW recipes straight in your mailbox every Friday PLUS a FREEBIE and access to some amazing gluten free DISCOUNTS
*disclaimer: I use affiliate codes on my website, the vast majority are to Amazon. If you click on any of the links or images in the post and make a purchase my family will benefit from a small % of that purchase at no extra cost to you, in fact, for full transparency, in 2020 I made my first £25, and recently in 2022 I reached my next £25 (Amazon don't transfer the money until you reach £25). As you can see, it won't make me a millionaire but it will treat me to a few coffees, Lord knows I need the caffeine!