This page contain affiliate links. Please refer to my Disclosures Page for more details.
Also, before you hit 'Jump to Recipe' just check my contents section 'Skip to the Good Bit' below. I may answer a query you have about this recipe straight away in the post.
What could be more satisfying than the smell of Cheese Scones baking in the oven. This recipe was originally adapted from a 1970's cookery book that I got off my Mum, I think? My son Lewis was bored and after a long list of rejected ideas he agreed to the first thing I suggested which was to bake cheese scones!
In this recipe and the post leading up to it, I give tips on how to make the perfect scone, how to make vegan scones and I suggest some delicious flavour ideas you might like to try.
Never miss out again…
Sign up to my Friday newsletter and receive not one, but THREE FREEBIES.
GF and Vegan e-Book
conversion charts
3 simple guides to allergies, intolerances & autoimmune.
Join me and learn to make anything gluten free.
How do you make the perfect Cheese Scone?
In my opinion, the perfect scone is a large scone with a not too dense crumb, golden brown on top and easy to split apart with your fingers.
The key to a perfect gluten free scone is to handle the dough as little as possible. In fact, I use kitchen utensils to shape the dough before I cut into it.
I use 7cm cutters for the job, you can use fluted cutters but as these scones bake with quite a rustic look you can lose the rippled edge, so I normally use a round cutter.
TOP TIP: to get a beautiful golden top to your gluten free scones I use a mix of milk and gluten free Worchester Sauce. It works every time. Even better, just use the little liquid you have left in the jug and add a teaspoon of the Worchester Sauce to it and mix with a pastry brush, simple and effective.
If you can't get hold of gluten free Worchester Sauce (affiliate link) you might like to try a tiny squeeze of BBQ sauce in your leftover milk. This adds not only colour but a whole different taste experience for the glaze.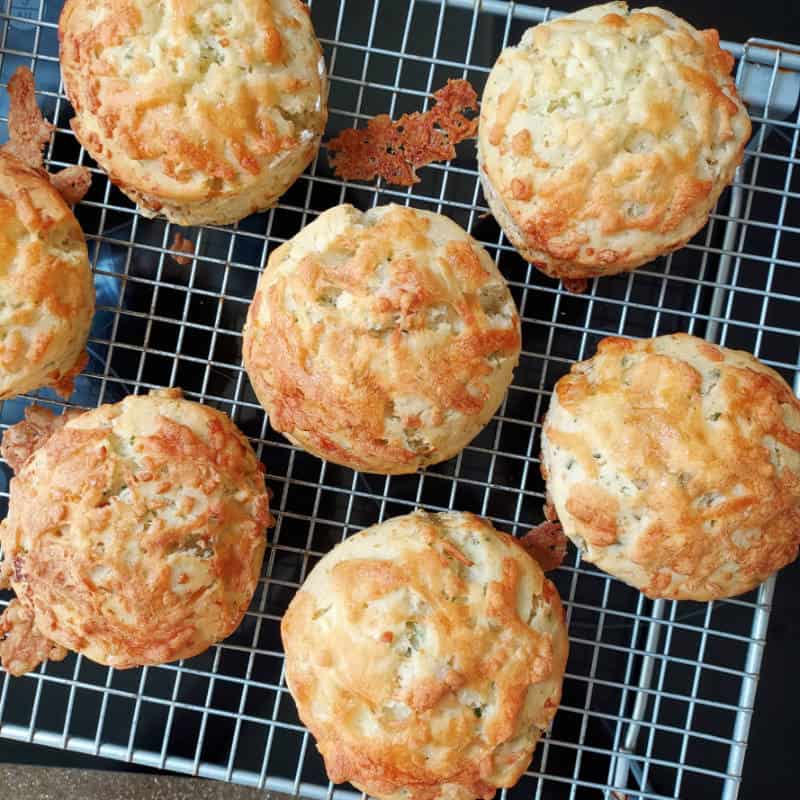 What is the best cheese to use for Cheese Scones?
In my opinion the stronger the cheese the better. I'd always opt for a mature cheddar cheese. I've even added a tablespoon of parmesan before to add more umami flavour. You can add other cheeses of course. Take a creamy Blue Stilton or a Red Leicester. I'm not here to stifle your cheese passion.
What else can I add to my scones for different flavours?
The Cheese Scones in the photos are Cheese and Bacon Scones with chopped parsley. We had some leftover streaky bacon rashers on this occasion and, as Lewis my son was helping me bake these, we decided to add the bacon this time.
We cooked the bacon before hand by dry frying them in a pan and then cutting them into little pieces with scissors when they were cool. There would have been more bacon bits but Lewis was working on the ratio of 2 bits for the scone, 1 for me!
Other flavour ideas;
Cheese and fresh chives
Stilton and chopped walnuts
Sundried tomato
Olive
Can I make these Cheese Scones dairy free or vegan?
Yes, you can make these Cheese Scones dairy and egg free. The scones pictured are egg free anyway and you can easily substitute the milk and butter for dairy free milk. I usually use my soya milk and dairy free butter.
On that note, when choosing a dairy free butter, be sure to use a solid vegan block of butter and try to avoid a vegan/dairy free spread or margarine. You want your fat to be solid so that the structure of the bake holds up.
The best dairy free cheeses for these cheese scones are the strongest cheese alternatives you can get. I find that Bute Island and their Sheese range is rather good. Not an affiliate link by the way, I just love their 'cheese'.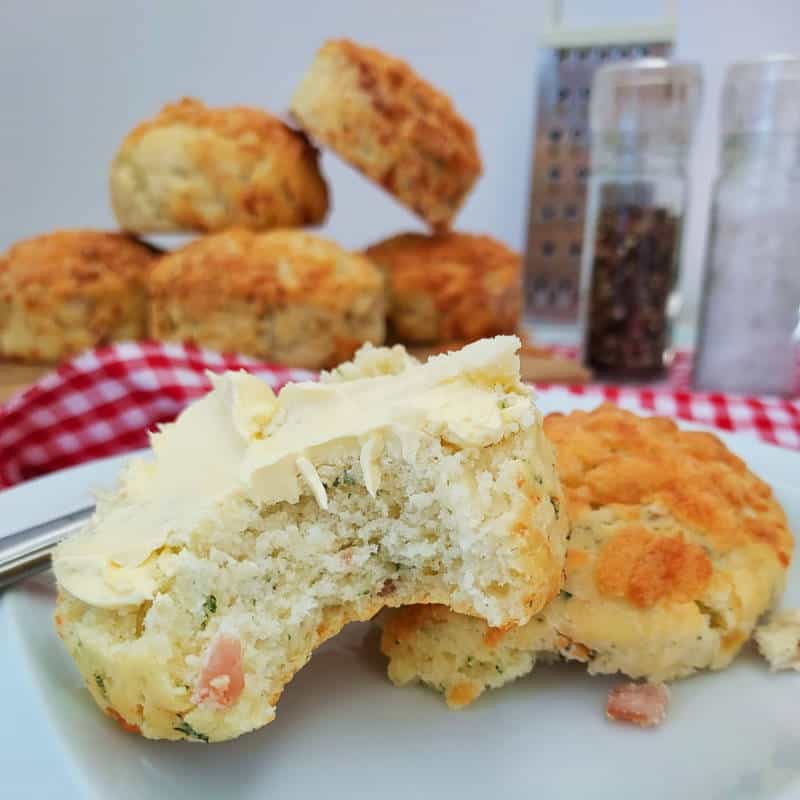 Other gluten free recipes you might be interested in trying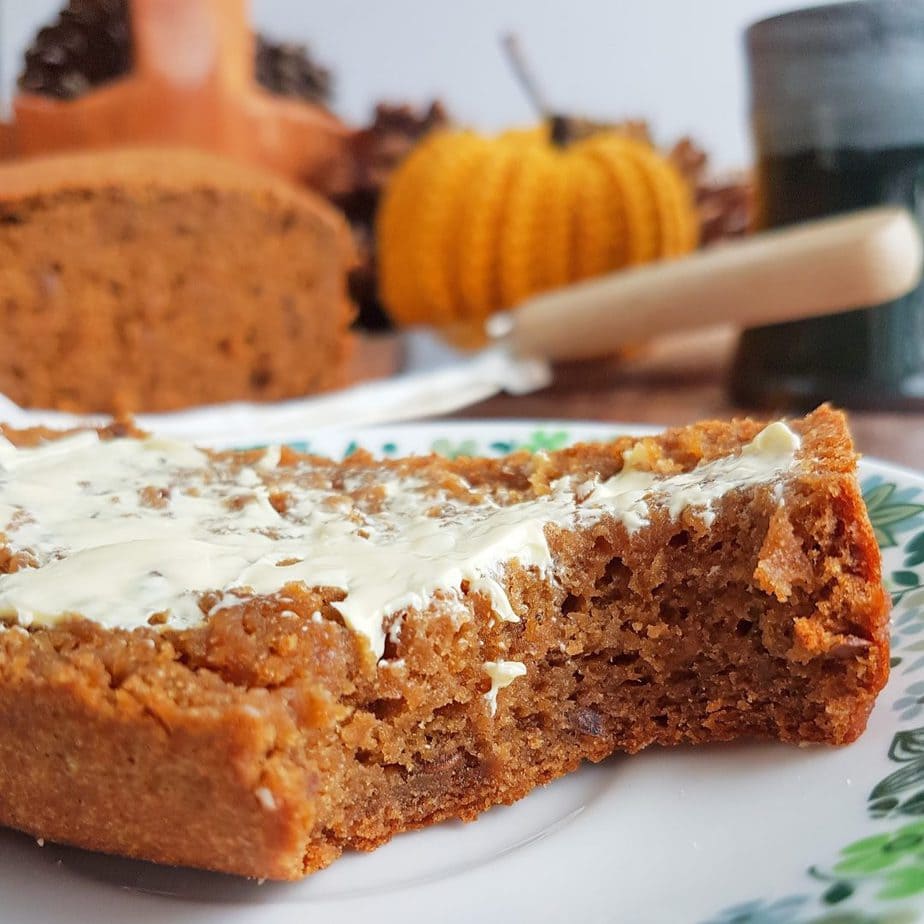 Gluten Free Cheese and Bacon Scones Recipe
If you make it and like the recipe I would be eternally grateful if you popped back and commented leaving a star rating as this will tell search engines that this recipe is worth checking out and others will get to find it in searches.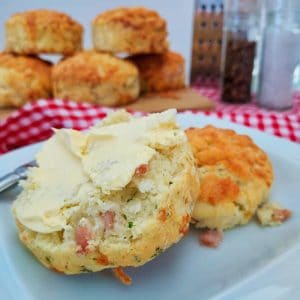 Gluten Free Cheese and Bacon Scones
This simple no fail Cheese Scone recipe will have you coming back time and time again. The smell of cheese scones baking has to be one of the most comforting, most lip smacking smells ever – am I right? These Cheese Scones are not only gluten free, but they are also egg free and can be made dairy free too with some simple ingredient swaps.
Ingredients
For the scones
500

g

gluten free self raising flour

60

g

butter

for dairy free version I use Flora Blocks or vegan butter

100

g

grated cheese (or dairy free alternative)

I use a strong cheddar or a dairy free alternative

2

rashers

bacon

fried, cooled and chopped up small

350

ml

milk

for dairy free alternative I use soya milk

1

tsp

lemon juice

1

tsp

psyllium husk powder (optional)

optional but does add structure

salt & pepper to taste
For the glaze and topping
1

tsp

gluten free Worcestershire Sauce

50

g

grated cheese (or dairy free alternative)
Instructions
Measure out your milk and add a teaspoon of lemon juice, don't worry if it thickens a little, this is normal.

Next preheat your oven to 190°C | 170°C fan | 375°F | Gas 5.

In a large bowl add all the dry ingredients, the flour, salt, sugar, and psyllium husk powder. Using a spatula stir to combine the dry ingredients.

Add your (dairy free) butter. I cut it into small cubes to speed up this next process. Using your fingertips or a pastry cutter rub the fat into the dry ingredients until you have fine breadcrumbs.

Now add your grated cheese (remember to keep some back to top your scones) and the chopped bacon. Stir in with a spoon or spatula.

Next you must be brave, trust me, make a well in the middle of the crumbled dry ingredients and pour your jug of milk and lemon in.

TOP TIP: don't feel the need to scrape every bit of liquid out, we use the leftovers to glaze the tops of the scones.

Now with a silicone spatula, mix your wet and dry ingredients together until incorporated. Don't worry if you still see little blobs of butter, this is fine.

At this point you're going to think you've gone wrong and that the mixture is too wet to roll out to use a cutter. Leave the mixture for 5 mins while you make sure the kitchen work surface is clean and generously floured. You also have time to prep two baking sheets with grease proof paper or a silicone mat and dust lightly with flour.

The mixture will use this time to thicken by magic.

Tip the soft dough out onto your floured surface and using your silicone spatula or a palette knife gently pat the mixture into a rustic looking flat lump, about 3-4cm thick. The trick here is to not touch the dough.

Take the 7cm cutter of your choice (round or fluted) and dip it in the flour on your kitchen worksurface and give it a wiggle to lightly coat in flour. Now press the cutter into the lump of scone dough.

Your scone may need a little encouragement to release it from the cutter onto the baking sheet but try to touch it as little as possible. Repeat until you've cut out 8 scones shapes.

TOP TIP: if you're left with bits and pieces that can't be cut with a cutter, simply add all those bits back to the mixing bowl, give the offcuts a quick stir up and repeat the process to cut your last couple of scones. This way, you've still not touched the dough with your warm hands.

Now add 1 teaspoon of gluten free Worchester Sauce to the jug that had the milk and lemon juice in it. Using a pastry brush give it a jolly good stir. Use this caramel-coloured glaze to brush the top of each scone. Then top each scone liberally with the remaining grated cheese.

Now pop into the oven for 20mins and make yourself a well-deserved cup of tea (or clear the kitchen away!).

Once cooked and firm to the touch remove and allow to cool before serving with loads of butter. I love to eat these while there's still warmth left in them.
Nutrition
Nutrition Facts
Gluten Free Cheese and Bacon Scones
Amount per Serving
% Daily Value*
* Percent Daily Values are based on a 2000 calorie diet.
Have you tried this recipe?
Let me know how it was & I will be super grateful. Take a picture & tag me @glutarama on your social media posts – I love seeing your photos more than you will ever know x
I love to see your own photos of my bakes, dinners and treats head to your favourite social media account and don't forget to tag me in @glutarama
Subscribe to my email list so that you get NEW recipes straight in your mailbox every Friday PLUS a FREEBIE and access to some amazing gluten free DISCOUNTS
*disclaimer: I use affiliate codes on my website, the vast majority are to Amazon. If you click on any of the links or images in the post and make a purchase my family will benefit from a small % of that purchase at no extra cost to you.

For full transparency, in 2020 I made my first £25, and in 2022 I reached my next £25 (Amazon don't transfer the money until you reach £25). Recently I got paid a whopping £27.10 for 2023.

So to date I have made £78.58 since I first started the scheme in 2017. It won't pay the bills, that's for sure but it does help to pay for ingredients or little treats to cheer me up!