A hearty winters day Chocolate Orange Bread and Butter Pudding. I love dark chocolate (I find anything else too sweet for me) I love oranges and orange flavouring and I love bread … so putting them together in a gluten free pudding seemed the most logical thing to do. Bread and butter pudding is so satisfying to make with gluten free bread, especially those naughty loaves we've all experienced that defy their molecular structure and insist on falling apart as soon as you look at it.
I've mentioned Bread & Butter Pudding in a previous post, the earlier blog entry was a traditional version with dried fruit, this recipe is very similar but due to the orange juice in the custard mixture, I've added less milk as too much can lead to a watery custard. You can of course omit the orange juice but it strengthens the orange flavouring to make the pudding super rich to the senses.
Where does Bread and Butter Pudding Come From?
Now as with many of my traditional recipes I love to do a little research into where the recipe originated. It's a way I can justify the money I spent on my Masters in History!
The recipe for Bread and Butter Pudding appears to originate in written from in 1727 when Eliza Smith (no relation) wrote her book, The Compleat Housewife or Accomplished Gentlewoman's Companion. Before you comment and tell me I've typed compleat incorrectly, I've checked and this is a archaic way to spell the familiar to us now word complete.
I personally have a copy of Isabella Beeton's book; Beeton's book or Household Management (1859) and the recipe appears there too entitled Baked Bread-and-Butter Pudding.
There are striking similarities and some differences too in the two recipes. Eliza Smith's version is a far richer recipe with cream and only the egg yolks. She also adds raisins and currents [see note about this below, raisins aren't what you think they are].
Isabella Beeton's recipes in the main tend to be for a frugal household therefore she uses whole egg, milk and currants and instead of Orange Flower Water, a ingredient Eliza Smith recommends, Mrs Beeton suggests lemon zest, vanilla or nutmeg.
Pre-1900's any recipes refer to raisins that need to be stoned. This does not mean sitting there with tweezers removing tiny grape seeds. The raisins are actually dried plums or prunes. In fact, currants aren't often currants as we know them today and these are actually raisins. Confused? Well don't be, we're all up-to-date with our dried fruits these days and with very few exceptions a raisin is a raisin and a currant is a currant!
What is the difference between bread pudding and bread & butter pudding?
I love this question because so many people get confused between the two and some don't even realise the other version exists!
Bread and butter puddings are exactly what the title suggests. slices of bread that are buttered. These slices are then layered with dried fruit sprinkled between layers and finally a raw egg custard is poured over the dish to soak into the bread. An example of my Bread & Butter Pudding can be found via the link
Bread Puddings are a rich, heavy traybake made with bread that has been soaked in water and squeezed to within an inch of its life. Then you add suet, dried fruits, spices and even brandy sometimes and pat the mixture into a tin to bake and eventually cut into squares to ideally eat cold. This may be where the American name Cold Bread Pudding comes from which can also be associated with Bread and Butter Pudding in some parts. An example of my Bread Pudding can be found here Traditional Bread Pudding | gluten free and dairy free
How do I know when bread and butter pudding is done?
The best way to check a bread and butter pudding is baked is the touch and sight test. If gently pressed does it feel spongy with a good bounce back to its original shape. If not and you feel little resistance then the custard inside the dish has not set yet.
Another way to check is the edges of the dish. Has a custard formed in the corners of the pudding and is the butter bubbling away. If yes then your custard is baked and the fat from the butter has separated and risen to the top on the bread and butter pudding.
Your pudding will continue to set once you have removed it from the oven so if you like a firmer consistency leave the pudding to cool a little before serving.
How do store this Bread and Butter Pudding for later?
In the images you can see that I halved the mixture between two dishes. One to be eaten then and there, the second to be eaten another day. This second pudding was wrapped in foil and left in the fridge where it will keep for up to 3 days. To reheat you can keep it in its foil and return to a pre-heated oven for 10mins or remove the foil and pop into the microwave for 1-2 minutes depending on the power level of your microwave.
The good news is that this is one of those amazing puddings that just keeps getting better with age so never be afraid to make one now and save one for later.
Can you freeze this Bread and Butter Pudding?
I'll be honest and say I've not given that a go, however, knowing how robust this pudding can be when reheated I'm confident that it would work with a pre-cooked pudding that has been cooled completely and frozen. What I would recommend is defrosting over night in the fridge before baking in a preheated oven for 10mins (still wrapped in foil) and a further 10mins unwrapped.
Can I make this Bread and Butter Pudding Dairy Free?
This Orange Bread and Butter Pudding can be made dairy free in the blink of an eye. In fact the one pictured was dairy free. To make the switches you simply swap the butter for your normal dairy free spread, I used Vitalite on this occasion. The milk was substituted with my soya milk and the chocolate was a dark dairy free chocolate. I used Bournville but please be aware this is not dairy allergy safe as it has a may contain so go for a certified free from chocolate, plain or 'milk' if you have CMPA.
I've not made this egg free yet but I do have an egg free version of a Bread and Butter Pudding made with Hot Cross Buns for Easter if you're interested in finding out more and adapting this recipe accordingly. Alternatively please, please don't hesitate to comment below if you wish me to create an egg free version of this recipe, or have any other recipe ideas you'd like me to develop for that matter of fact. Hot Cross Bun and Butter Pudding | gluten free and vegan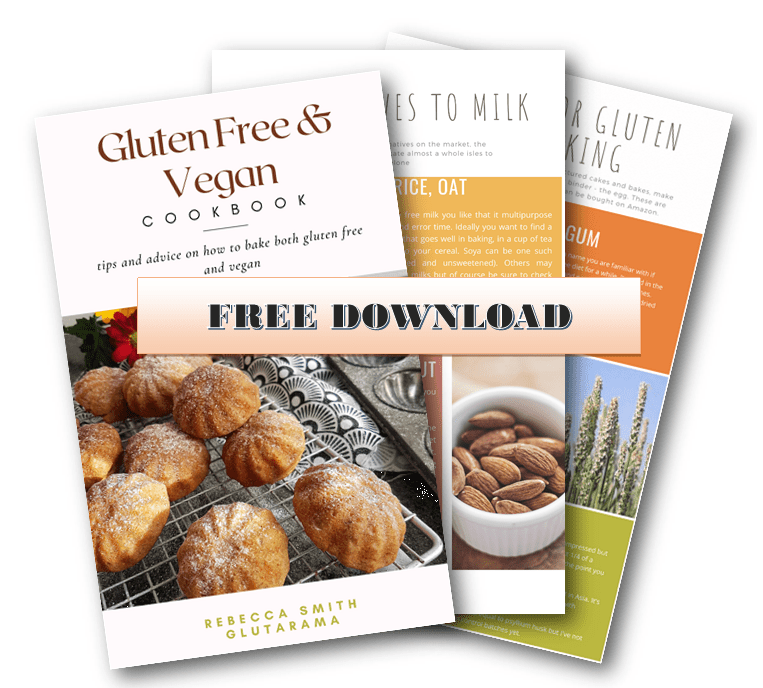 Never miss out again…
Sign up to my weekly Friday newsletter and not only get a FREE e-Book (currently my Gluten Free & Vegan Cookbook) but also get VIP subscriber discounts on free from goodies. Join me and learn to make anything gluten free.
Loved this Chocolate Orange combination?
If you've enjoyed finding out about this Chocolate Orange Bread and Butter Pudding, check out these other orange combination recipes. I have a few orange inspired recipes here on Glutarama now, some are old family recipes and others were born out of trips away. Either way, I'm sure you'll agree that gluten free does not have to be same-ole, same-ole when t comes to these free from recipes ideas
Gluten Free Chocolate Orange Bread and Butter Pudding Recipe
If you make it and like the recipe I would be eternally grateful if you popped back and commented leaving a star rating as this will tell search engines that this recipe is worth checking out and others will get to find it in searches.
Gluten Free Chocolate Orange Bread and Butter Pudding
A simple yet super effective Chocolate Orange Bread and Butter Pudding taking comfort food to the next level. This twist on the traditional recipe is gluten free and easy to make dairy free with recommended swaps.
Ingredients
1

loaf of gluten free bread

500g loaf is ideal so you may need to use 'heels' or crusts from another loaf to make up the amount.

40

g

butter

to spread onto the bread, I use a dairy free alternative

2

oranges

zest removed and juiced

2

egg(s)

150

g

caster sugar

500

ml

milk

or dairy free alternative, I used soya

100

g

dark chocolate

2

tsp

caster sugar

to sprinkle over the top
Instructions
Butter each slice of bread, and any 'knobs', 'heels' 'crusts' or 'end bits' you have kept back and cut into triangles or rectangles (it really doesn't matter what shape you adopt).

Zest the two oranges and squeeze the juice into a large jug (to give you an idea, you should get about 100ml from 2 small oranges)

Roughly chop the chocolate.

Add the milk, caster sugar and the eggs to the jug with the orange juice, whisk to combine.

Start to build the first layer of your pudding, this bits quite therapeutic, bit like making a jigsaw puzzle. Sprinkle over half the chocolate and some of the orange rind.

Repeat the last instruction, this time use up all the chocolate pieces bar the chocolate 'dust' and a pinch of zest to sprinkle over the top layer.

Add the final layer, this can be in a pattern, or not, whatever takes your fancy. Now pour over the custard mixture making sure you get every piece of bread soaked. Sprinkle the remaining zest, chocolate dust and the extra sugar to decorate and encourage a crispy sweet crust.

Now you're going to think I've gone mad because I'm going to ask you to weight it down for at least 30 mins! I find this helps with the soaking process and prevents the top layer from becoming rock hard during the baking process. This is how I weight my pudding down. As I had two dishes they each took 30mins swapping position;

Preheat oven to 180°C | 160°C Fan | 350°F / Gas 4

Once you've allowed enough time for your pudding to soak, cover with foil and pop the pudding into the oven for 30mins.

After half an hour, remove the foil and bake for another 20mins so the top becomes golden brown and caramelised.
Nutrition
Nutrition Facts
Gluten Free Chocolate Orange Bread and Butter Pudding
Amount per Serving
% Daily Value*
* Percent Daily Values are based on a 2000 calorie diet.
Have you tried this recipe?
Let me know how it was & I will be super grateful. Take a picture & tag me @glutarama on your social media posts – I love seeing your photos more than you will ever know x
I love to see your own photos of my bakes, dinners and treats head to your favourite social media account and don't forget to tag me in @glutarama
Subscribe to my email list so that you get NEW recipes straight in your mailbox every Friday PLUS a FREEBIE and access to some amazing gluten free DISCOUNTS
Planning on making this later, then don't forget to pin