This Gluten Free Iced Buns recipe is a bit of a cheat so sorry if you came here expecting to spend 2 hours making bread dough, proving bread dough, then baking, cooling…..
OH! you're not here for long-winded recipes? Well in that case, relax, this takes no time at all so you can enjoy classic iced buns made gluten free. Alternatively, how about adding gooey jam to the middle of your gluten free iced bun. But let's not stop there shall we. Got a few more minutes to spare? Well then why not add cream too.
Phew, I need to sit down, the excitement is overwhelming.
Where do Iced Cream Buns come from?
I always try to do a bit of research into a recipe that's been around since the dawn of time and this one has me scratching my head. It's something that can be found across the world with local variations.
For example in Scotland apparently these get called Cream Cookies in Glasgow? Why a cookie, I have no idea but the mildly sweet bun is split and filled to burst with cream.
In Norway you get something called a Norwegian Fastelavnsboller which translates to Shrovetide Buns. These can come in lots of different variations with marzipan in the middle (I love this idea) but a more recognisable version is with jam and cream a bit like you'd expect a jam and clotted cream scone to look once it's built.
In Italy they have a version called Maritozzi which almost looks the same but I guess the bun is more like a hot cross bun as it's speckled with fruit. There are connections to Lent in fact, as this is the only sweet treat permitted to eat during the Lent period. I like that the cream is smoothed flat in this version too. For anyone who's not keen on piping this is a blessing if you ask me!
Last, but by no means least, what about here in England? Well, a little fact I loved learning is about the iced buns we all know and love from when we were still in school. I think pretty much everyone will have memories of the delicious finger buns lining the serving hatch at school with white and pink icing tops.
Guess what, bet you'd had hot dogs the day before… that's right. You were were eating yesterdays hotdog rolls that didn't get used up! How awesome is that? I know a couple of good old fashioned dinner ladies and they've passed on some real gems of wisdom when it comes to school dinners! So to anyone asking the question; can I use hotdog rolls for iced buns? The answer is yes! you can.
What gluten free buns do I need to make Ice Buns?
That last statement about hotdog rolls leads us nicely into this paragraph. So we know that you can use bog standard finger bread rolls to make iced buns and iced cream buns (think you'd have to have been in a posh school to have cream in yours!)
The truth of the matter is that you can use any bread roll. Clearly we're talking about gluten free bread rolls here, so getting one to make your dreams come true could literally boil down to your individual taste at the end of the day.
In our case we trialled three and my daughter Bethany had one winner above all others. We tried Tesco 4 pack of bread rolls, lovely and also dairy and egg free too so that was a bonus. Next we had a go with JUST bread rolls. These are the ones you can see pictured with the cream and raspberry jam in them. Again, lovely to bite into and quite light in texture. Think they may be a bit dry without the cream though.
Finally enter Wheat Free Bakery Direct. They make finger buns that are perfect for the humble iced finger. Yes they're based in Scotland, but don't let that put you off as they deliver UK wide and trust me, you go and have a look at their online shop and you'll fill your basket with goodies.
I ought to point out that this is not a sponsored post at all, I'm just telling you like it is and what we've experienced.
Finally, I see a lot of people mention they use gluten free brioche rolls for their homemade iced buns. This is a lovely idea too but let's be honest here, it's not a proper iced bun is it?
If you're interested in purchasing from JUST or Wheat Free Bakery Direct you may be interested to know I have a guide of 154 (it keeps growing) small businesses that deliver gluten free goods to the UK
Guide for Gluten Free small businesses that deliver across the UK
What's the best filling for my jam filled iced buns?
For me it's got to be seedless raspberry jam or jelly. The colour is unmistakable, the flavour is punchy and perfect and nobody likes picking seeds out of their teeth do they?
That said, I'm typing this and the little grey cells are coming to life with all sorts of different filling ideas. How about lemon or lime curds or cherry jams or why not chocolate spread with a drizzle of chocolate sauce. If that's not tickled your taste buds then I don't know what will?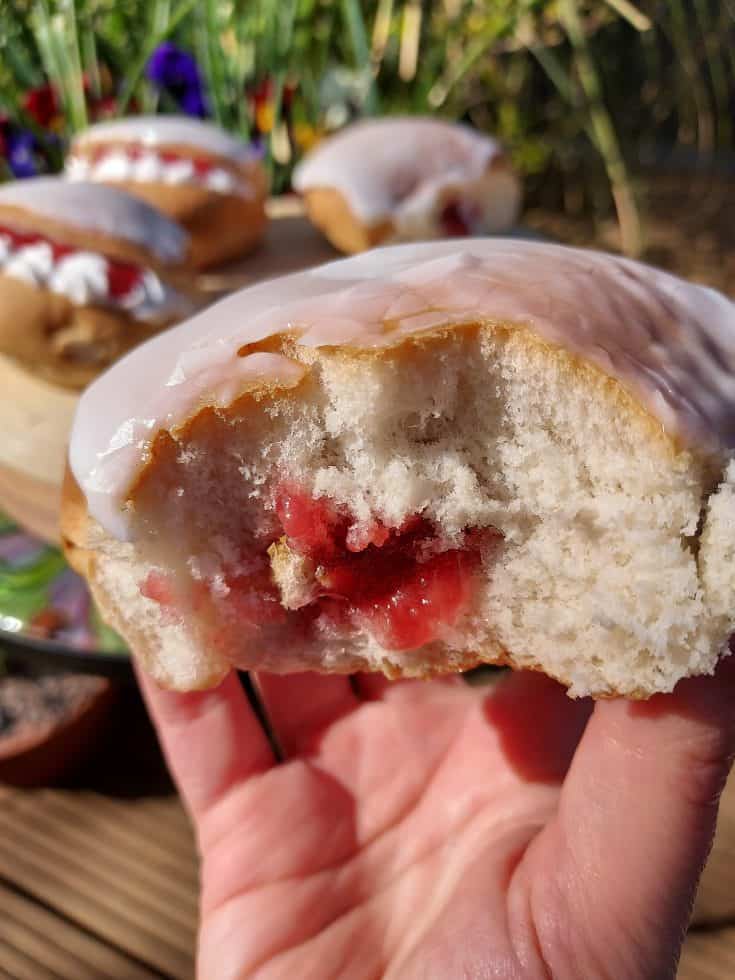 Never miss out again…
Sign up to my Friday newsletter and receive not one, but THREE FREEBIES.
GF and Vegan e-Book
conversion charts
3 simple guides to allergies, intolerances & autoimmune.
Join me and learn to make anything gluten free.
Can I make these into dairy free cream filled Iced Buns?
Yes you can make this dairy free quite simply by exchanging the whipping cream for a dairy free alternative. I'll be honest and say that the dairy free creams (even double creams) are a pain in the bum to whip to a piping consistency. Therefore, I'll always sway towards using coconut milk to whip into the right consistency.
The best advice I can give you here is to go for a tin of coconut milk that is 65% or more in coconut. Trust me, using a 55% version just won't be fatty enough to thicken into a pipeable consistency. I actually always use a supermarket own brand that's 75% coconut and it works every time.
You'll also need to be mindful when it comes to picking the right gluten free bun for your cream filled iced buns. There are version out there that are dairy free, Tesco being one as I've already mentioned.
Can I make these buns vegan too?
Yes as above, you'll need to use a dairy free cream alternative but as well as a dairy free bun, you'll need to ensure the roll you use is egg free too. JUST are dairy free and vegan and Tesco own brand rolls are dairy free and vegan too. While I'm on the subject of Vegan, you might be interested to know that I created a Homemade Clotted Cream made dairy free and vegan that works perfectly with my Gluten Free Scones Recipe – Best Ever with vegan clotted cream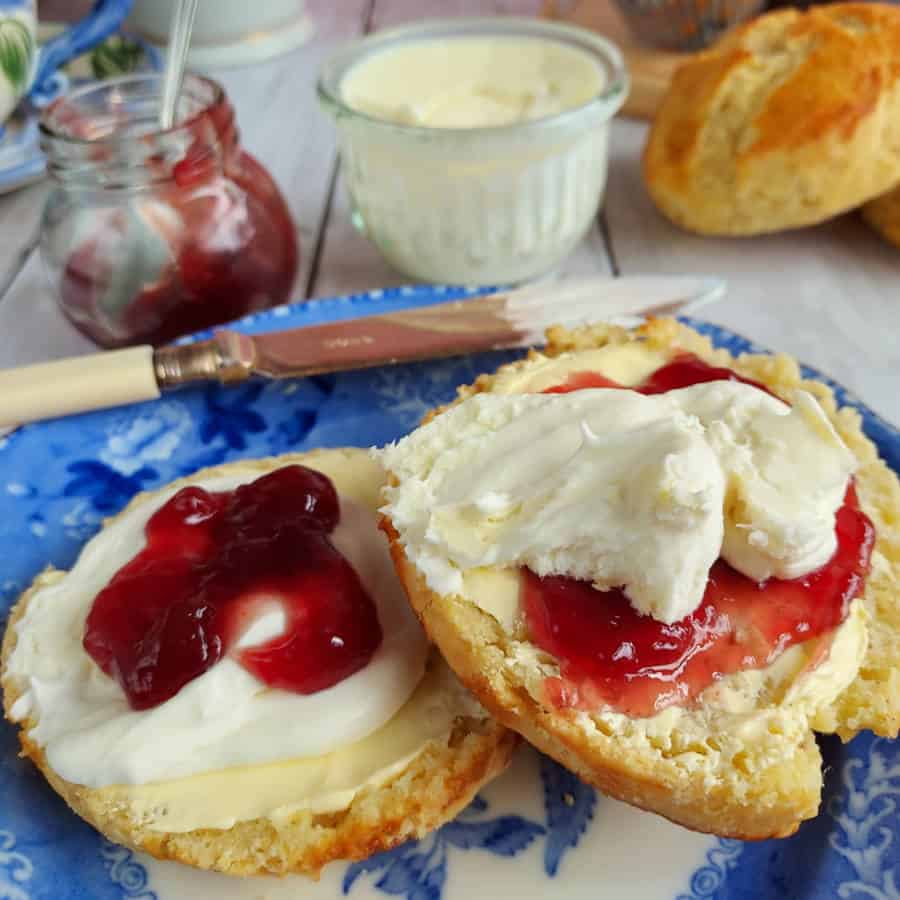 Simple Gluten Free Iced Buns without cream
If the cream filled version is not for you then fear not, all you need to do is follow method 6 and 7 in the recipe card.
Dust your hands with icing sugar and rub into each bun, just a thin coating. We're not aiming to create snowballs, just create the illusion of a sweet enriched bread.
Now top your buns with the thick slightly off-white icing. This is a little fiddly, I won't lie but we don't want a wishy-washy icing that dribbles down the sides of your buns leaving a translucent iced finish, we want hardcore thick iced buns!
If you fancy the iced bun version with a delicious jam centre but no cream then follow the method above but make an incision in the bun (I used the handle of a spoon) and pipe jam into the hole.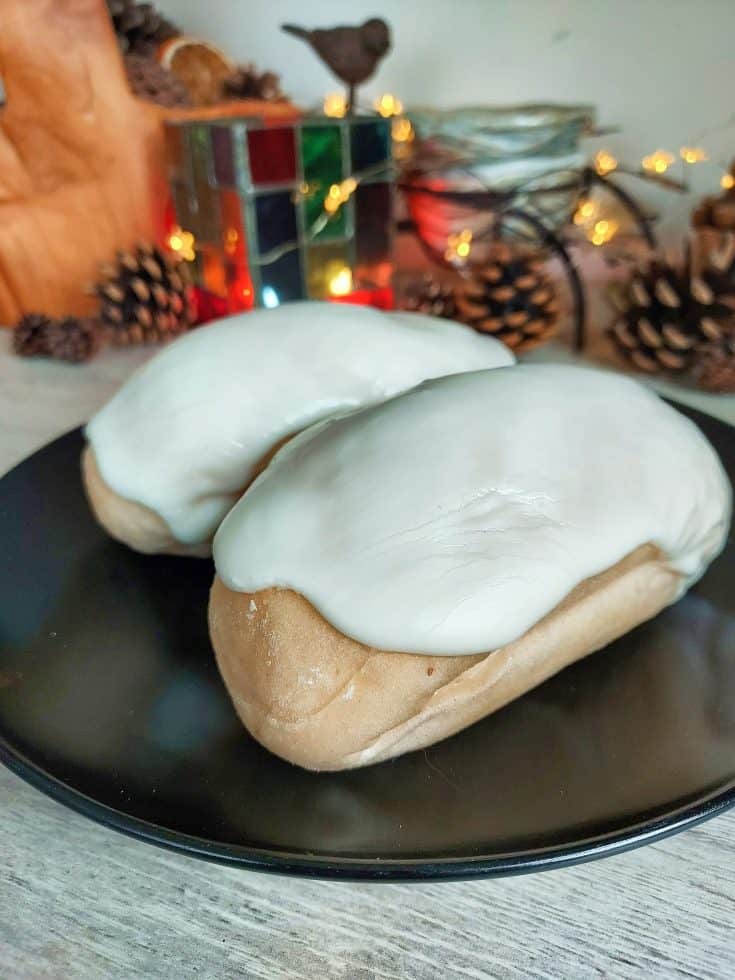 Other recipes I know you'll enjoy
Quick Hack Gluten Free Iced Buns Recipe
Quick Hack Gluten Free Iced Buns
A quick and simple way to make iced buns without the baking. Don't feel guilty about these gluten and dairy free iced cream buns, they look amazing, taste amazing and can be ready in under 10mins. Great for unexpected guests and lazy afternoon treats
Ingredients
4

gluten free white bread rolls

or finger rolls

400

g

tin coconut milk needs to be 60% or over in coconut extract

canned

100

g

seedless raspberry jam

jelly

100

g

icing/confectioners sugar

confectioners sugar

1

tbsp

dairy free milk

extra icing sugar to dust
Instructions
Separate your gluten free rolls and cut into them ⅔ of the way, I find cutting the roll at a 45° angle works best for presentation (it also hold the filling in better this way). Put them to one side.

Open the tin of coconut milk and drain the coconut water (don't waste it, pour it into a glass to drink if you like). You will be left with the solid white coconut fat. Place this in a bowl or mixer and using a whisk whip until thick and fluffy.

TOP TIP: you can add a tablespoon of icing sugar or a few drops of vanilla to sweeten the cream if you prefer.

Spoon the whipped cream into a piping bag with a star nozzle and place into a pint glass in the fridge to allow the cream to thicken further.

Now to make your icing. In a bowl measure the icing sugar and add the tablespoon of dairy free milk, I use soya milk, other milks will work just as well.

TOP TIP: by adding milk instead of water you create a creamier icing with less of an overly sweet aftertaste.

in a separate bowl measure out the raspberry jam and give it a good stir to smooth out any lumps. If you have one handy, spoon the jam into an empty squeezy sauce bottle or a purpose made sauce dispenser (as recommended in the post above).

Now it's time to build your buns!

With the extra icing sugar, dust your hands and rub the sugar into each bun, just a thin coating. We're not aiming to create snowballs, just create the illusion of a sweet enriched bread.

Now top your buns with the thick slightly off-white icing. This is a little fiddly, I won't lie but we don't want a wishy-washy icing that dribbles down the sides of your buns leaving a translucent iced finish, we want hardcore thick iced buns!

Next remove your coconut cream (or cream if you can use it) from the fridge and pipe into the cavity in your buns. Try to finish of with a pretty flurry but seriously, don't stress about the piping.

Finally, take the squeezy bottle of raspberry jam and squeeze this into the cream filled cavity with some deliciously naughty dribbles visible at the edges.

If you're not ready to eat them yet, pop your buns into the fridge until you are ready to serve.
Nutrition
Nutrition Facts
Quick Hack Gluten Free Iced Buns
Amount per Serving
% Daily Value*
* Percent Daily Values are based on a 2000 calorie diet.
Have you tried this recipe?
Let me know how it was & I will be super grateful. Take a picture & tag me @glutarama on your social media posts – I love seeing your photos more than you will ever know x
I love to see your own photos of my bakes, dinners and treats head to your favourite social media account and don't forget to tag me in @glutarama
Subscribe to my email list so that you get NEW recipes straight in your mailbox every Friday PLUS a FREEBIE and access to some amazing gluten free DISCOUNTS
*disclaimer: I use affiliate codes on my website, the vast majority are to Amazon. If you click on any of the links or images in the post and make a purchase my family will benefit from a small % of that purchase at no extra cost to you.

For full transparency, in 2020 I made my first £25, and in 2022 I reached my next £25 (Amazon don't transfer the money until you reach £25). Recently I got paid a whopping £27.10 for 2023.

So to date I have made £78.58 since I first started the scheme in 2017. It won't pay the bills, that's for sure but it does help to pay for ingredients or little treats to cheer me up!
Gluten Free Small Business Guide
Updated on a regular basis, this guide champions small gluten free producers in the UK who deliver awesome free from bakes, cakes and savoury goods.