This page contain affiliate links. Please refer to my Disclosures Page for more details.
This recipe for quick and easy Dairy Free Custard came about after a reader asked how I make my dairy free custards and if I'd share the recipe.
It got me thinking. There are a few things I make on auto-pilot without considering if people know how to make them. Things like white sauce, cheese sauce, blancmange. So I've decided to do a little series of recipes that may seem far from rocket science, but at the same time someone out there might be wondering how to make them successfully for the first time.
For the hardcore cooks, there is a section below on how to make your own homemade instant custard powder. I appreciate that not everyone has access to instant custard powder or would want to use manufactured powders. So if that's you fear not, I have two methods below depending on whether you want a natural coloured custard or the familiar warm yellow custard but just dairy and egg free.
What Custard Powders are Dairy Free?
The two main custard powders on the market here in the UK are Birds® Original Custard Powder and Just Whole Foods Vanilla Custard Powder.
Birds® does have a may contain warning on the label for milk. This is because it is made in the same factory as milk containing products. So this is not suitable for anyone with a dairy allergy. But if you are vegan with no medical dietary needs this is fine.
Just Whole Foods* is safe for both vegans and people with milk allergies as it does not declare any may contains.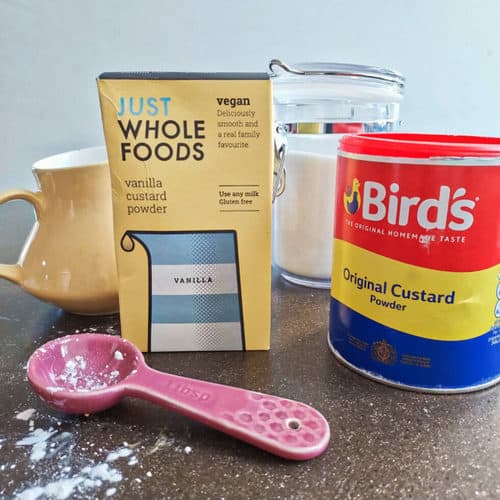 Be aware that the Birds® Instant Custard Packets are NOT GLUTEN OR DAIRY FREE these are designed for super quick custard and are made simply by boiling the kettle. There is milk powder in the ingredients and there is a may contain for gluten too.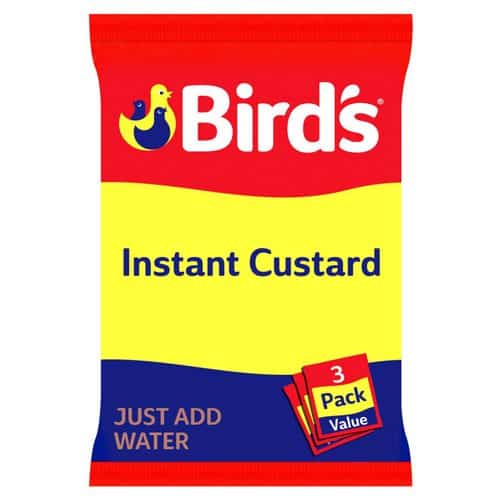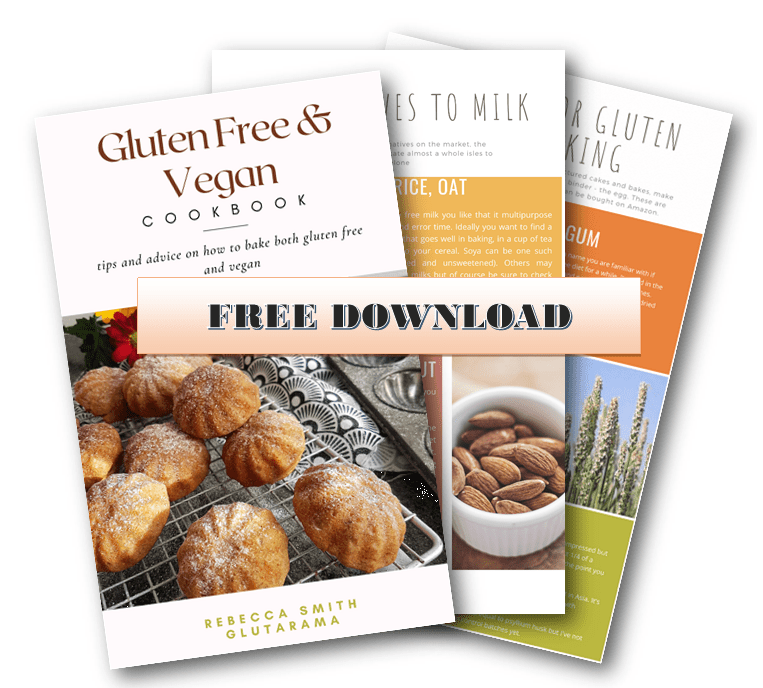 Never miss out again…
Sign up to my weekly Friday newsletter and not only get a FREE e-Book (currently my Gluten Free & Vegan Cookbook) but also get VIP subscriber discounts on free from goodies. Join me and learn to make anything gluten free.
What Dairy Free Milk can I use for Custard
So what dairy free milk can you use to make vegan custard? The answer is use what you normally use. I've found very little difference in texture making homemade vegan custard whether I use gluten free oat milk, soya milk or nut milks. I've also used coconut milk on the odd occasion too.
The obvious difference will be the resulting flavour of the custard. If you're planning on making your custard to pour over a pudding and you can tolerate different dairy free milks then why not shake things up a bit and make your vanilla custard with a complimentary flavour undertone?
Microwave or Hob Custard?
Making homemade vegan custard by microwave or hob method boils down to how much I can be bothered to stand and stir the custard on the stove.
I use both methods with 99% success every time (always room for improvement!)
The hob method is better for those who are not familiar with making dairy free custard and also if you're a bit fussy about the thickness of your custard. With the hob method, you are more in control and can remove from the heat or add a dash of 'milk' as you go. Saying that, I have the two different tablespoon method which should be perfect for the runny custard and thick custard fans.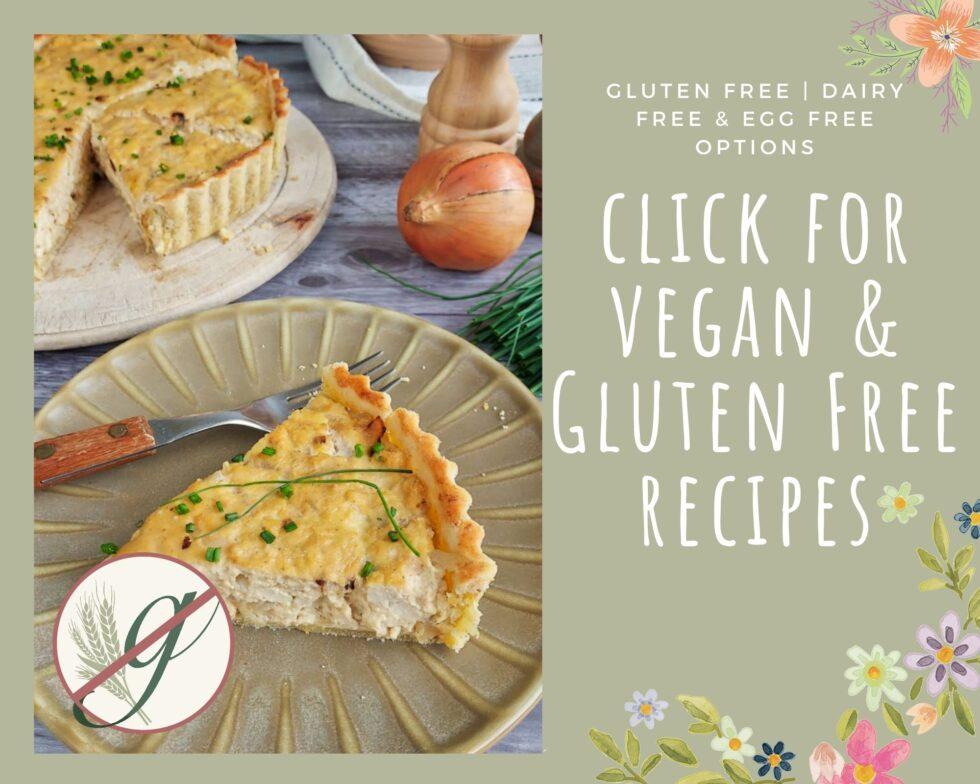 Can you make custard powder from scratch?
As promised, you can make your own vegan custard powder from scratch. You have to ask yourself though, what is important to me?
If the tell-tale warm yellow colour is important then you're going to have to add a colouring of some kinds, there's no other way to do this. The type of colour you use could be food dye, colour paste or gel or a more natural form of colouring such as turmeric. This has to be used in tiny amounts though otherwise you run the risk of giving your custard an earthy almost savoury flavour.
If you are not bothered about the colour and are happy to go with more of a Tesco Finest Custard kind of colour finish then you need not worry about colouring but it's a lovely touch to have a fresh vanilla pod to hand so you create a delicately speckled homemade vegan custard.
To make 100g Jar of Homemade Vegan Custard Powder
To make a jar* of quick and easy vegan custard powder you need three ingredients, four if you want to add colour.
10 tablespoons cornflour (cornstarch)
5-10 tablespoons cater sugar (if you only add the 5tbsp you can more later to taste)
1 vanilla pod split in half and seeds removed
method:
Add the sugar and cornflour to the jar, pop the lid on and shake it up.
Add the vanilla seeds – try to add them in tiny parts not one big clump.
Shake the jar (with lid on!) again and that's it, you now have quick and easy vegan custard powder.
TOP TIP: this will make a creamy coloured custard much like Tesco Finest Vanilla Custard, if you want a warm yellow colour you can add a tiny drop of food colouring or turmeric powder or (preferably) turmeric oil extract.
Homemade Vegan Custard Recipe
A quick guide to making dairy free, egg free vanilla custard using just three ingredients to make a vegan custard powder. Simply add you favourite dairy free alternative milk and you're ready to enjoy with a delicious gluten free and vegan pudding (Self Saucing Chocolate Pudding used as serving suggestion) This recipe makes enough custard for two people.
Check out this recipe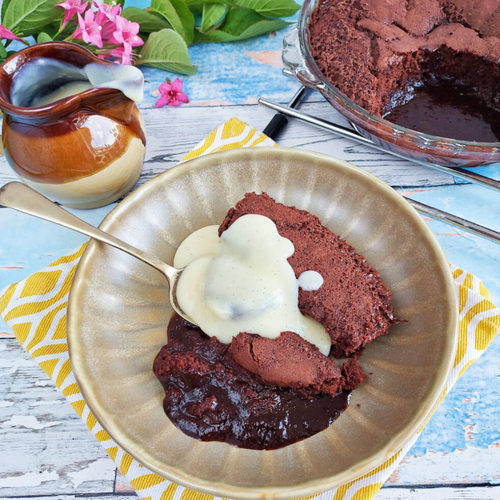 Different tablespoon measurements
Just in case you didn't know what a tablespoon measurement looked like I've conveniently taken a photo for you! The first level tablespoon makes 250ml of delicious runny, pourable-like-cream custard.
The second photo shows a heaped tablespoon measurement and this will make 250ml of thick custard that pours in luscious vanilla dollops.
My recipe below makes enough custard for two puddings. If you love your puddings to swim in custard then double the ingredients by clicking the handy 2X button. This will also make enough for 4 puddings (not swimming in custard, you get the drift!)
Puddings to go with custard
To whet your whistle and tempt you to stick around and browse, I've added a few of my hugely popular gluten free puddings below. All are made dairy and egg free too (with egg and dairy options) so there's something for everyone here. If you fancy drooling some more why not check out all my Puddings and Dessert Recipes. Of course you could also go for the good old bananas and custard as I've show here in the photos, this is a pudding that takes me right back to my childhood, so simple and yet filling.
Quick and Easy Dairy Free Custard Recipe
If you make it and like the recipe I would be eternally grateful if you popped back and commented leaving a star rating as this will tell search engines that this recipe is worth checking out and others will get to find it in searches.
Quick and Easy Dairy Free Custard
A quick guide to making dairy free vanilla custard using safe instant custard powders. There is also guidance on how to make your very own instant custard powder for the store cupboard.
Ingredients
1

tbsp

instant custard powder

level for runny, heaped for thick custard

250

ml

dairy free milk

I used soya milk

2

tbsp

caster sugar

or less if you wish
Instructions
For the hob method
In a medium saucepan, add the tablespoon(s) of instant custard powder, the tablespoon(s) of sugar and stir with a wooden spoon or whisk to combine.

Add 2 tablespoons of the milk alternative you plan to use and mix to make a thick paste.

Gradually add the rest of the 'milk' stirring/whisking continuously until you've add all the milk.

Now, turn on the heat and begin to stir. As the custard warms the colour will change and the wet liquid will become more silky.

Remove from the heat once the required thickness is achieved.
For the microwave method
Repeat steps 1-3 but in a medium sized jug

Pop the custard in the microwave and heat on max power for 1 minute. Remove and stir. Repeat this again and possibly a third time until the custard has thickened to the desired consistency.
Nutrition
Nutrition Facts
Quick and Easy Dairy Free Custard
Amount per Serving
% Daily Value*
* Percent Daily Values are based on a 2000 calorie diet.
Have you tried this recipe?
Let me know how it was & I will be super grateful. Take a picture & tag me @glutarama on your social media posts – I love seeing your photos more than you will ever know x
I love to see your own photos of my bakes, dinners and treats head to your favourite social media account and don't forget to tag me in @glutarama
Subscribe to my email list so that you get NEW recipes straight in your mailbox every Friday PLUS a FREEBIE and access to some amazing gluten free DISCOUNTS
*disclaimer: I use affiliate codes on my website, the vast majority are to Amazon. If you click on any of the links or images in the post and make a purchase my family will benefit from a small % of that purchase at no extra cost to you.

For full transparency, in 2020 I made my first £25, and in 2022 I reached my next £25 (Amazon don't transfer the money until you reach £25). I'm now up to £17.80 for 2023 so edging closer to the magical £25 mark!!

To date I have made £69.28 since I first started the scheme in 2017. It won't pay the bills, that's for sure but it does help to pay for ingredients or little treats to cheer me up!