This page contain affiliate links. Please refer to my Disclosures Page for more details.
Presenting my Vegan Clotted Cream recipe, a luxuriously creamy topping traditionally used with for scones and jam. This has no coconut cream in it and has that authentic clotted cream crust. I've seen a few new versions pop up since I developed this recipe and they behave like a buttercream, not at all like Traditional Cornish Clotted Cream from the UK. My heart sinks for anyone who tries one of the alternative recipes out there and thinks that this is what clotted cream is actually like.
I have some delicious gluten free scones that are also dairy and egg free to accompany this Clotted Cream Recipe Gluten Free Scones Recipe – Best Ever with vegan clotted cream.
And as you can see in the photo below, I do love a dollop of clotted cream on my Vegan Pumpkin Pie too!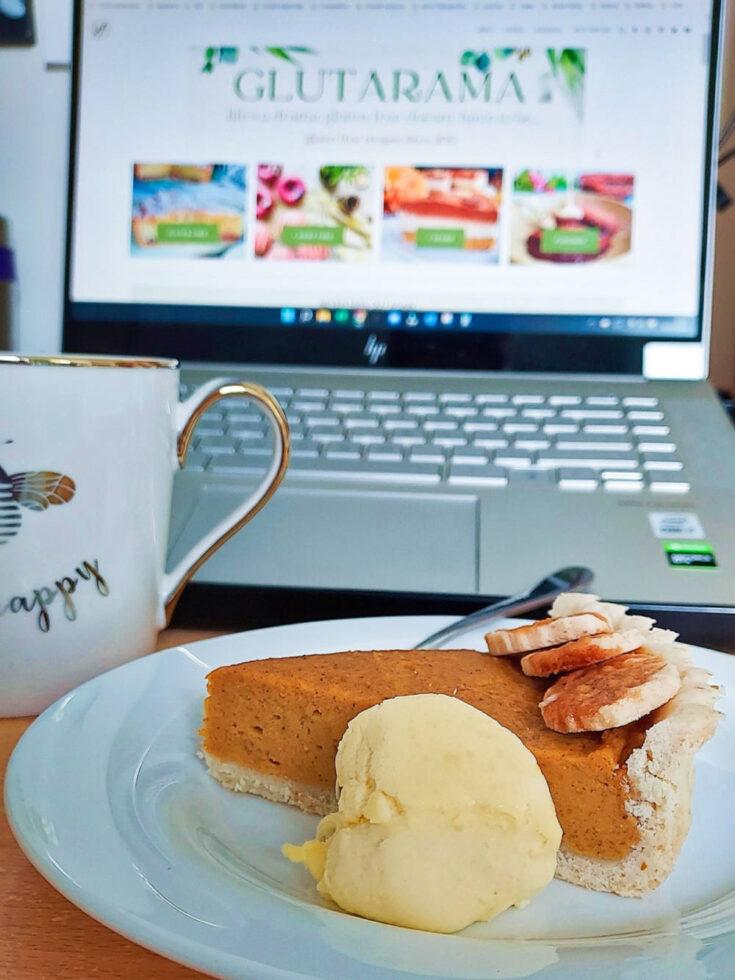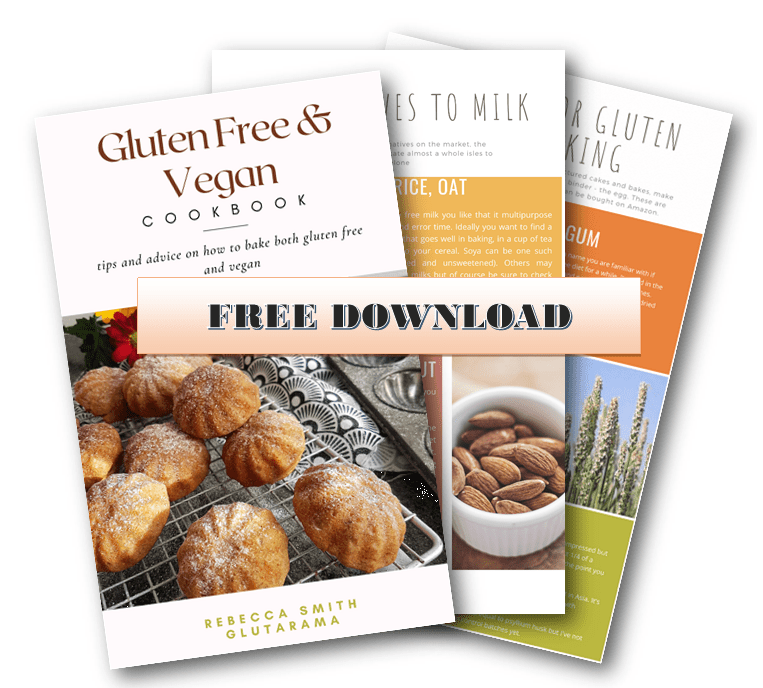 Never miss out again…
Sign up to my weekly Friday newsletter and not only get a FREE e-Book (currently my Gluten Free & Vegan Cookbook) but also get VIP subscriber discounts on free from goodies. Join me and learn to make anything gluten free.
How is original clotted cream made?
To quote good old Wikipedia (which incidentally I support each year with a little donation);
Clotted cream (Cornish: dehen molys, sometimes called scalded, clouted, Devonshire or Cornish cream) is a thick cream made by indirectly heating full-cream cow's milk using steam or a water bath and then leaving it in shallow pans to cool slowly.

– Wikipedia
Why does it take so long to make Clotted Cream?
If you want something to taste authentic, then you have to be patient. I've had feedback from people who have made this recipe and it's not set for them. 9 times out of 10 it's because they haven't left it to chill for long enough. The clotted cream needs to mature and thicken. This way you get the authentic traditional clotted cream crust of fat on top and the rich thick cream beneath.
How do you make Clotted Cream that's dairy free and vegan?
For those living a dairy free and/or vegan lifestyle you will be only too familiar with the fact that soya cream just – isn't – cream. There, I said it! The fat content in soya and plant creams is very low and as dairy free cream has no lactose in it (in simple terms, the dairy version of sugar), cream alternatives aren't very sweet either.
To make a thick, sweet cream like clotted cream I had to set out on a journey of experimentation and a few disasters along the way. This is the closest I've got and I'm pretty proud of myself.
So how did I do it? Well, I added fat where there was none and sugar where it was scarce and thickener to hold it all together.
STEP ONE: over a Bain Marie (water bath) melt all the ingredients making sure not to let any water boil over into the bowl.
STEP TWO: take a few spoonfuls of the warm 'cream' and mix with the arrowroot, then add back to the bowl and continue to stir to mix well.
STEP THREE: set a timer for 10mins. Don't disappear, you need to make sure the water doesn't boil dry or boil over. Stir with a whisk every once in a while. It's ready when the consistency has changed to a heavy double cream/runny custard consistency.
STEP FOUR: pour into your chosen dish. Tap on the counter to release any floating fatty bubbles and encourage them to rise to the top (this will form your traditional-style fatty crust).
STEP FIVE: chill for as long as you can wait. Four hours should be enough but this keeps getting thicker with age. I've eaten it three days later!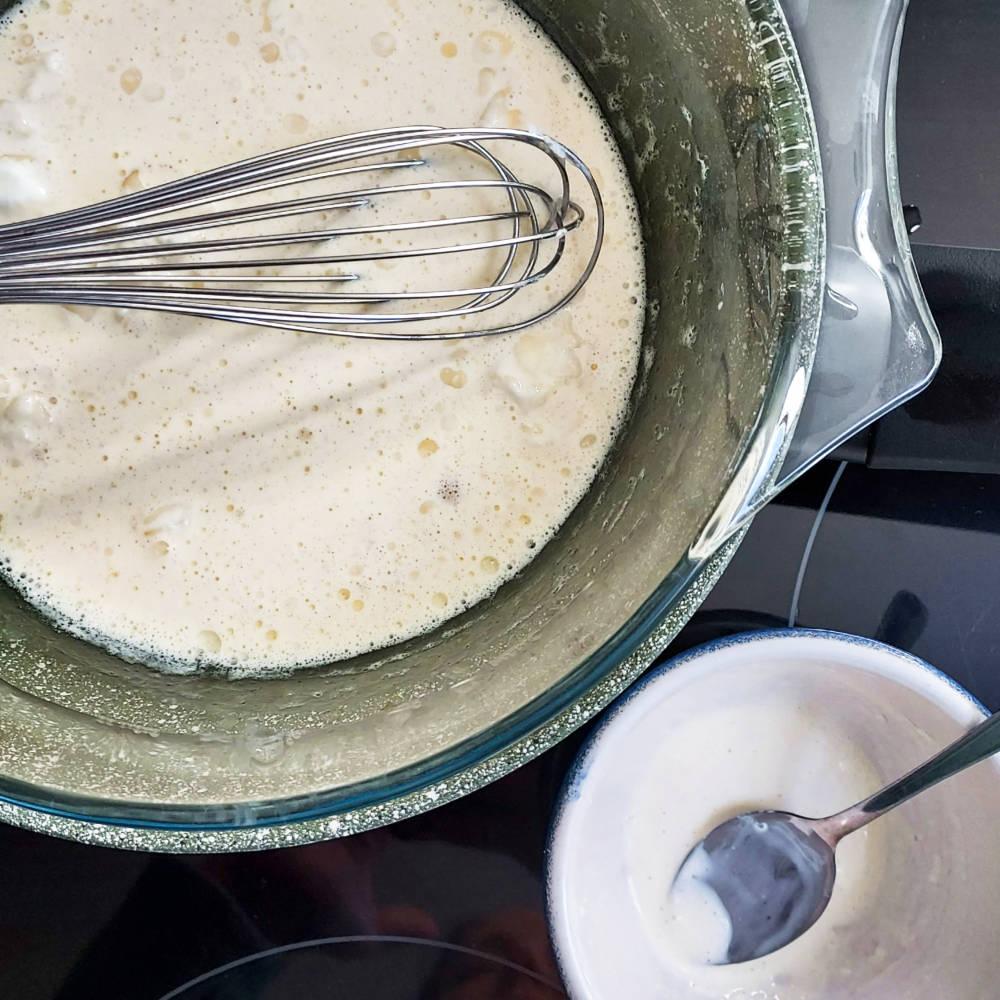 Fun Fact: Did you know Clotted Cream is illegal in some countries!
A bit of an exaggeration, but basically 'true' clotted cream made the Cornish way, i.e. unpasteurised cannot be found in the United States or Canada. This is because the law prohibits the production methods. You can get a thick cream imitation (a bit like what I've created here) but it's not the real thing. Unless you were sat in a tearoom in Cornwall enjoying a cream tea, I'd argue that nothing else is the 'real thing'.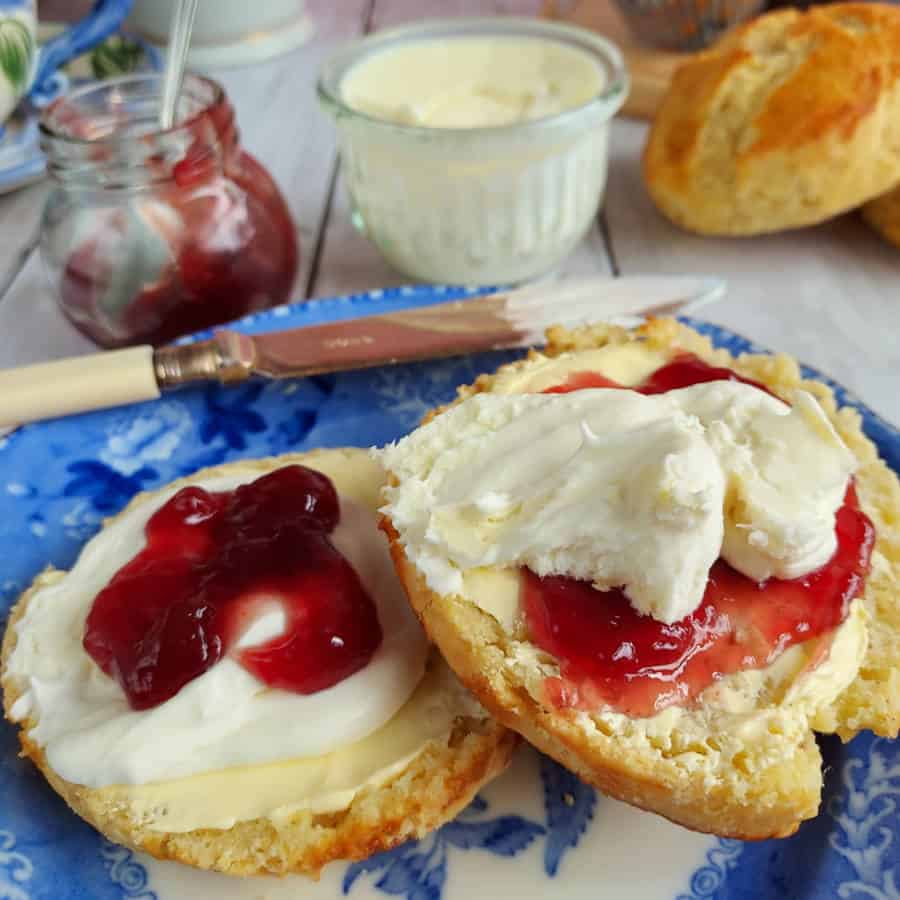 Different ways to flavour Clotted Cream
I've had a play with this recipe and found that adding extracts works just fine. Therefore, if you wanted a non-alcoholic flavoured clotted cream you could add a brandy flavouring or orange extract to imitate a luxurious thick Cointreau cream.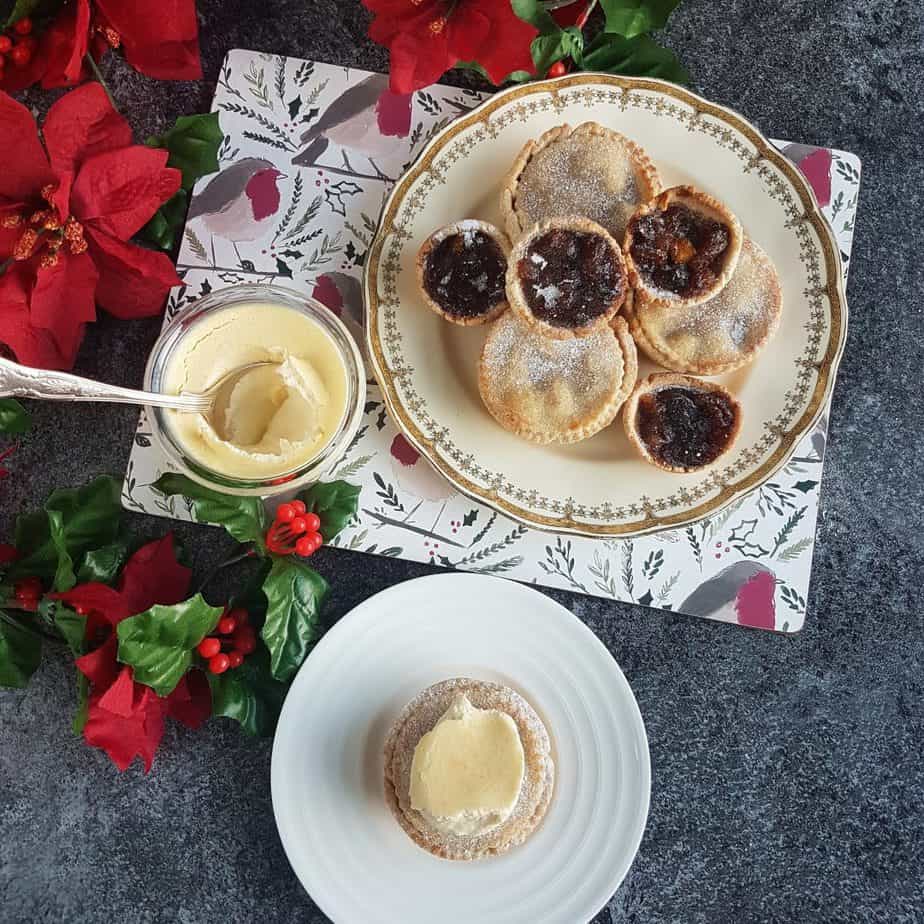 How to make Dairy Free Thick Liqueur Cream
To liven things up a bit you can also turn this into a thick liqueur cream that can be dolloped onto of Christmas puddings, mince pies and festive desserts. Simply allow the cream to cool off the hob and add a spirit of your choice before pouring into a lidded container. I've tried this with brandy and whisky which both make delicious additions.
Other flavours you could try are rum, Cointreau, the vegan liqueur Almande made by Baileys or Tia Maria for a coffee flavour thick cream. Seriously, the possibilities are endless, have some fun and be creative.
Cider, wine, sherry, spirits, port and liqueurs are gluten free.
Experts agree that there is no physical way that pure distilled alcohol can contain gluten – this is because the gluten protein cannot travel through to the vapour produced by the prolonged heating in the distillation process and become part of the final alcohol product.
Distilled spirits only contain gluten if gluten containing ingredients are added after the distillation process and in this case, there is labelling legislation that ensures the product states CONTAINS wheat, barley, rye or oats on the label.
Source – Coeliac UK FAQ page for more answers to top gluten free questions follow the link Coeliac UK FAQ's
Please note: some people are also intolerant to certain grains such as barley, rye and oats so even with the gluten removed this can cause digestive issues. If concerned please consult your doctor.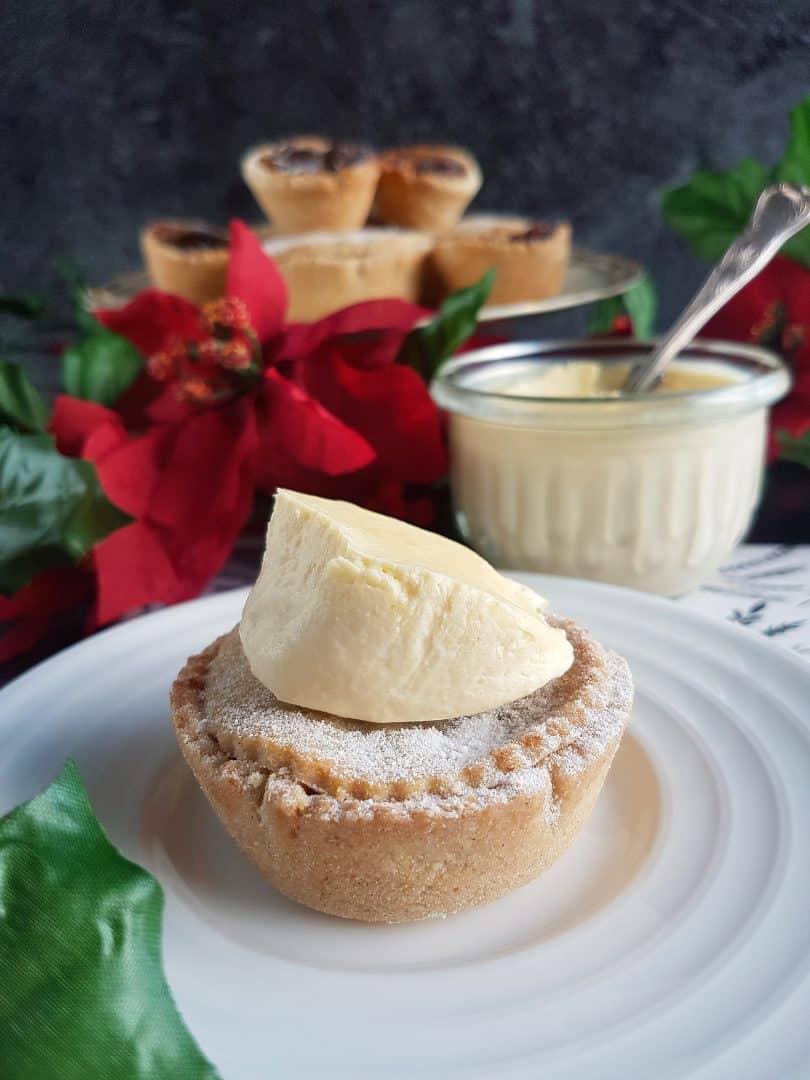 Can you freeze this Vegan Clotted Cream?
I haven't frozen this recipe yet but I'm positive it will freeze just fine. To bring the cream back to life you will need to defrost at room temperature for over 3hrs. The consistency may be slightly compromised, so if you don't mind losing the clotted cream crust on the top, I'd recommend giving it a quick whisk before decanting into a little serving bowl.
How to store your Cream?
I have stored this cream in the fridge with success in Tupperware containers and the glass dish in the photo. Therefore, I know that the cream will last for up to 3 days easily, possibly a week. If you plan to keep it for more than a day I'd be sure to add a lid or wrap in foil or even better beeswax wraps to prevent the cream from absorbing any fridge smells.
How about these delicious desserts
For a change, why not have it as an alternative to topping your Christmas Pudding for those who don't like brandy butter or brandy sauce.
Of course you automatically associate clotted cream with cream teas and scones with huge dollops of jam. But, how about lashings of clotted cream on your mince pies, Christmas Pudding or Sticky Toffee Puddings and crumbles. Plus for anyone toying with the idea of going vegan my post Ingredients and Simple Recipes for a Gluten Free Veganuary has some great tips on what to stock up on and how to bake vegan-style. And I'll just leave my link for my Gluten Free Scones Recipe – Best Ever with vegan clotted cream again here, it would be rude not to!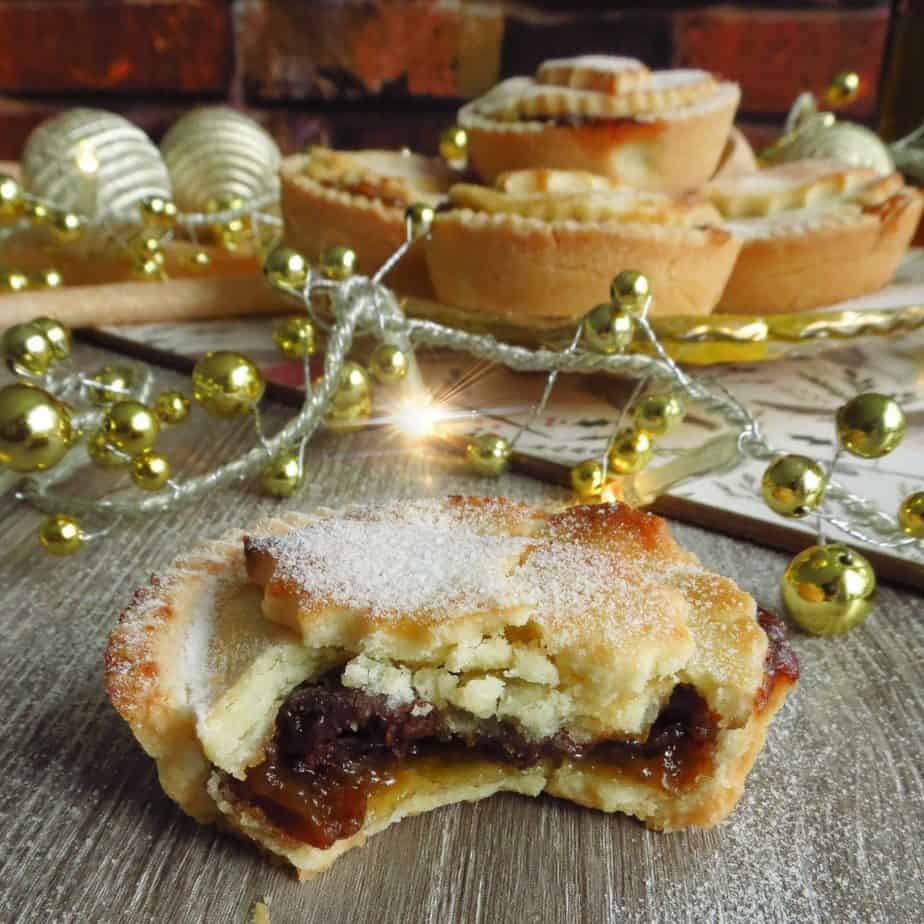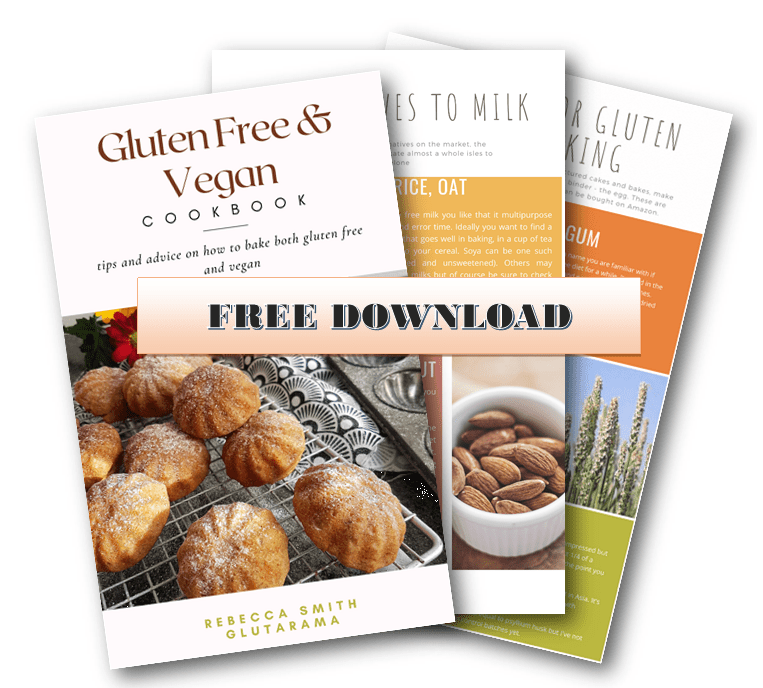 Never miss out again…
Sign up to my weekly Friday newsletter and not only get a FREE e-Book (currently my Gluten Free & Vegan Cookbook) but also get VIP subscriber discounts on free from goodies. Join me and learn to make anything gluten free.
Homemade Dairy Free Clotted Cream Recipe
If you make it and like the recipe I would be eternally grateful if you popped back and commented leaving a star rating as this will tell search engines that this recipe is worth checking out and others will get to find it in searches.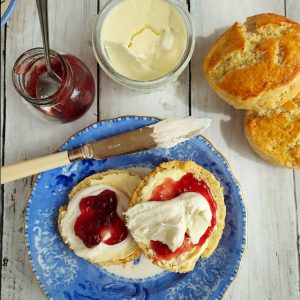 Homemade Vegan Clotted Cream
Make your own homemade thick clotted cream but dairy free and vegan. A simple recipe to make 125ml of imitation clotted cream with a tell-tale thick crust on top. Perfect for scones for a cream tea or to accompany puddings and desserts
Ingredients
100

ml

soya cream or usual dairy free alternative

I use Elmlea plant double cream

20

g

butter or butter alternative (I use Flora plant butter)

I use UNSALTED Flora vegan blocks

20

g

fat (I use Trex white vegetable fat)

crisp n dry works too.

½

tsp

caster sugar

a little more if you like your cream sweet

½

tsp

arrowroot
Instructions
You'll need a small saucepan and a glass bowl, pour boiled water into the saucepan and place the bowl over the top as you would if you were melting chocolate.

Place the butter, white fat, sugar and cream in the glass bowl and stir over a low heat until the butter, fat and sugar have melted and dissolved.

Once dissolved remove a spoonful of the cream and pour into a small cup, add the ½ tsp of arrowroot and stir to a thin paste, then pour back into the glass bowl.

Turn the heat up a little but be careful not to allow the water beneath to boil over the sides of the saucepan.

Using a whisk, stir the cream occasionally until it thickens to an extra think double (heavy)cream consistency. Set a timer for 10 mins as this part of the process takes time.

Remove from the heat and pour into a little serving bowl.

Now you need to tap your bowl to encourage the tiny bubbles of fat to rise to the surface.

I find the best way to do this is gently 'drop' the dish onto the kitchen work surface. Not from a great height! Just a centimetre drop each time, I do this about 10x.

Finally pop your clotted cream in the fridge, for the best results leave it over night to cool completely and thicken with that familiar fatty crust on top.
Nutrition
Nutrition Facts
Homemade Vegan Clotted Cream
Amount per Serving
% Daily Value*
* Percent Daily Values are based on a 2000 calorie diet.
Have you tried this recipe?
Let me know how it was & I will be super grateful. Take a picture & tag me @glutarama on your social media posts – I love seeing your photos more than you will ever know x
I love to see your own photos of my bakes, dinners and treats head to your favourite social media account and don't forget to tag me in @glutarama
Subscribe to my email list so that you get NEW recipes straight in your mailbox every Friday PLUS a FREEBIE and access to some amazing gluten free DISCOUNTS
*disclaimer: I use affiliate codes on my website, the vast majority are to Amazon. If you click on any of the links or images in the post and make a purchase my family will benefit from a small % of that purchase at no extra cost to you.

For full transparency, in 2020 I made my first £25, and in 2022 I reached my next £25 (Amazon don't transfer the money until you reach £25). I'm now up to £17.80 for 2023 so edging closer to the magical £25 mark!!

To date I have made £69.28 since I first started the scheme in 2017. It won't pay the bills, that's for sure but it does help to pay for ingredients or little treats to cheer me up!
Join my friendly Facebook Group
life's a drama, gluten free doesn't have to be….