These Gluten Free Profiteroles have been the bane of my life since getting a new oven. The recipe is one I used time and time again with no issue whatsoever. Then in 2018 we had an extension and a new shiny kitchen and I went from gas to electric.
Don't worry though, this tale has a happy ending. If you want to learn how to make gluten free choux pastry, then I can help. if you want to know how to make a dairy free cream for your profiteroles, I can help with this too.
How do you make a gluten free choux?
The good news is that the key to making a great gluten free choux, is to do what you'd do making a 'normal' choux pastry. The thing to understand in advance is that they will not look the same!
Forget what you've seen on Great British Bake Off when the technical challenge is choux and you see golden choux batter coming away from the sides of the pan, looking smooth and silky. If you think your choux is going to look the same you're in for a shock and will think you've gone wrong and throw your choux batter away.
The best way I can describe a gluten free choux is mixing flour into butter then creating a thick porridge. You then take this ugly-looking porridge and add your eggs with much care then you end up with a wetter, stickier looking porridge that is just thick enough to pipe.
Am I winning you over with this wonderful description yet?
Fear not, follow these tips and you will be fine.
TOP TIPS on how to make gluten free choux
– measure everything on the scales, even the water. You need to be precise.
– use recently boiled water from the kettle. Lessens the chance of evaporation.
– sift your gluten free flour and psyllium husk (if using, xanthan gum can also be used)
– use a silicone spatula to beat your choux
– let the flour, water and butter cool before adding the eggs
– add the eggs a tablespoon at a time, trust me, it's better this way!
– grease your tray and dust lightly with flour.
– add a roasting tin of water to the bottom of your oven (if using a fan oven)
– NEVER open the door during the baking process.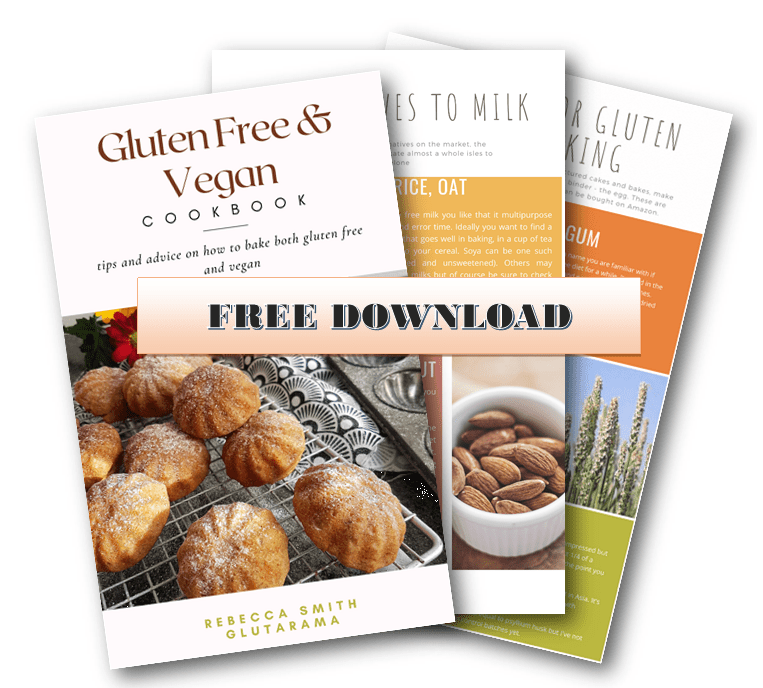 Never miss out again…
Sign up to my weekly Friday newsletter and not only get a FREE e-Book (currently my Gluten Free & Vegan Cookbook) but also get VIP subscriber discounts on free from goodies delivered to your door. Join me in my journey and learn to make anything gluten free.
Can you make choux pastry gluten and dairy free?
Yes you certainly can make these gluten free profiteroles dairy free too. I simply use a plant butter alternative and as I mention in all my dairy free recipes, I prefer Flora plant butter as using a dairy free spread is not good in my humble opinion.
How to make dairy free cream
If you want to make this dairy free you could simply exchange the cream for a dairy free alternative. I'll be honest and say that the dairy free creams (even double creams) are a pain in the bum to whip to a piping consistency. Therefore, I'll always sway towards using coconut milk to whip into the right consistency.
The best advice I can give you here is to go for a tin of coconut milk that is 65% or more in coconut. Trust me, using a 55% version just won't be fatty enough to thicken into a pipeable consistency. I actually always use a supermarket own brand that's 75% coconut and it works every time.
Does it matter what oven I have?
I'd love to know if you've had the same experience but going from gas to electric made a huge difference to the way I had to bake things. It has given me insight into how different ovens can impact each bake though. With this in mind, I've tried to develop and add tweaks to certain recipes to achieve optimum results. For example, if a bake requires a beautiful golden colour I've suggested ending it under the grill if your oven won't do that job for you. I find with electric fan ovens that beautiful golden colour is a rare thing indeed!
The first time I made choux pastry in my new oven it was a disaster, I didn't understand what I'd done wrong, the second batch, no better. I was heart broken that I'd lost the knack. It wasn't straight away that I realised it wasn't me, it was the oven.
Different ovens and how they behave
Gas ovens are apparently the most difficult to use when making choux, which seems bizarre to me as it was a gas oven that worked for me time after time. It's to do with the dry heat and poor heat circulation. This is why with gas ovens you can choose a shelf to get the desired effect, top shelf being the best for a crispy golden bake, lower shelves for slow and low bakes.
Electric Ovens tend to have better regulated heat and that my friend is all I know about that!
Electric Fan Ovens throw the heat around your oven like a washing machine. They also have an instant drying effect on bakes and this is something I had to get my head around. Preventing bakes cooking too quickly on top and having a detrimental effect on an excellent rise.
I've learnt the hard way, that with a fan oven prepping your bakeware is VERY IMPORTANT, grease what must be greased and line what must be lined!
I've also learnt that a steam bath is my best friend when it comes to certain bakes and choux is one such bake. The steam emitted from the basin of water in the bottom of the oven prevents the choux from drying out too quickly creating a tough unbreakable skin on the profiteroles. This was the key to my success and how I began making choux in my oven again.
My choux buns keep sinking
If you open the door of your oven during the baking process your choux buns will sink in the blink of an eye. It's heart-breaking to watch so don't do it to yourself!
If you open the oven door before the choux is fully baked they will also sink. This makes testing to see if they are ready a bit difficult to say the least. However, fear not, this is one of the those occasions where you really can't overcook your bake. If the choux is in the oven for that bit longer it just means you'll have a crispier choux and drier in the middle. In the would of choux pastry this isn't such a bad thing.
Besides, once you've piped in your cream and popped your profiteroles into the fridge, the choux will soften to its recognisable soft bite state and any crispiness will have gone.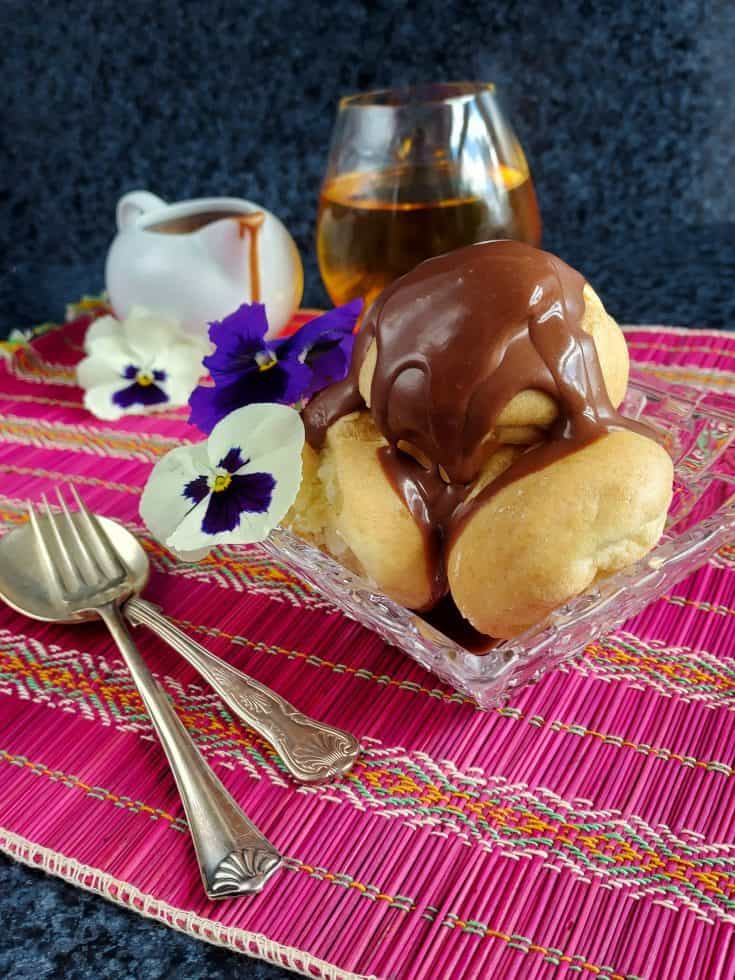 Can you make a vegan choux pastry?
I'm working on it, I just need to recover from this marathon first! Sign up to my newsletter and believe me, I'll scream about it if I do and you'll hear about it first.
Check out these other cream filled gluten free treats
Oh, and if you love the look of these profiteroles and can have dairy then check my chocolate eclair recipe, alternatively use the same ingredients in this recipe with dairy free milk and white chocolate to create your own dairy free eclairs
Easy Gluten Free Profiteroles Recipe
Easy Gluten Free Profiteroles
Delicious puffy gluten free profiteroles with the choice of dairy or dairy free cream filling and a luxurious chocolate pouring sauce. The perfect dessert for special occasions or a treat.
Ingredients
75

g

gluten free plain flour

¼

tsp

psyllium husk powder (optional)

(optional)

50

g

butter

I use Flora plant butter blocks

130

ml

water

from recently boiled kettle

2

egg(s)

beaten

pinch of salt

1/2

tbsp

caster sugar
For the cream [for dairy free see notes]
300

ml

double cream

whipped

1

tsp

vanilla extract

1

tbsp

icing/confectioners sugar

(confectioner's sugar)
For the chocolate sauce [for dairy free see notes]
200

ml

double cream

80

g

dark chocolate

20

g

butter
Instructions
To make the choux
Preheat oven to 220°C | 200°C fan | 425°F | Gas 7

Grease a baking sheet and dust with a little flour.

Measure the flour and psyllium husk powder if using and sieve onto a plate.

Add the butter to a medium saucepan and cook on a high heat until melted.

Pour in the hot water and bring back to the boil

Take off the stove and immediately thrown in your flour, this goes against your instincts and you think you'll get a lumpy mess, be brave and beat the mixture giving it everything you've got!

Put the porridge-looking mess to one side and allow to cool for 5-10mins. It needs to be hand warm before the next stage.

Add the beaten eggs one tablespoon at a time and beat furiously to combine. Once all the egg has been added you should have a smooth but sticky choux batter that refuses to leave the wooden spoon if flicked!

Spoon the batter into a piping bag with a large round nozzle, pipe walnut sized blobs onto a prepared baking tray leaving about 5cm between each.

I always smooth down any little sticky-up bits by dipping my finger in a cup of cold water and gently patting down any spikes, these will just burn if you leave them sticking up.

If using a fan oven you may get better results, like me, if you add a roasting tin with a mug of water poured into it in the bottom of the oven, the steam should aid the baking process.

Pop your profiteroles into the oven for 20mins they will go a lovely golden colour and double in size.

Remove from oven and transfer to a cooling rack to cool completely.
To make the cream filling
Whip the cream and add the vanilla extract and icing sugar to taste.

Add to a piping bag and pop into the fridge until you need it.
To make the chocolate pouring sauce
In a saucepan, heat the cream gently. Do not let it boil, it may split if you do.

Turn off the heat and add the chocolate broken into pieces along with the butter. Do not stir, leave it to melt.

After about 10 minutes stir the cream and you will have a magical chocolate pouring sauce appear before your very eyes!

This sauce will remain a pourable sauce if kept at room temperature but will set if put in the fridge. To return it to a pouring sauce simple heat in the microwave for 10 seconds and stir. Alternatively return to the stove but you'll only need to heat for less than a minute.
To build your profiteroles
Once your profiteroles have completely cooled you can pipe the cream into them. To do this gently force the piping nozzle into the choux bun and pipe until the profiterole feels firm. Repeat until all buns are filled.

If serving immediately arrange 5 profiteroles in a dessert bowl and pour over the chocolate sauce.

If serving at a later date keep in an airtight Tupperware container in the fridge and serve when ready.
Notes
Dairy Free Cream
400g tin of coconut milk (60% coconut or more)
1tbsp icing sugar
1tsp vanilla extract
Remove the solid coconut fat from the tin, pour the cloudy coconut water away or into a glass (I drink this). Whip the white coconut fat along with the icing sugar and vanilla extract until thick enough to pipe, pop into the fridge until you're ready to use.
Dairy Free Chocolate Sauce
200ml plant based cream (I use Elmlea)
80g dairy free chocolate
20g plant based butter (I use Flora)
Follow the method above for the exact same results …in fact, the chocolate sauce pictured is the dairy free version.
Nutrition
Nutrition Facts
Easy Gluten Free Profiteroles
Amount per Serving
% Daily Value*
* Percent Daily Values are based on a 2000 calorie diet.
Have you tried this recipe?
Let me know how it was & I will be super grateful. Take a picture & tag me @glutarama on your social media posts – I love seeing your photos more than you will ever know x
I love to see your own photos of my bakes, dinners and treats head to your favourite social media account and don't forget to tag me in @glutarama
Subscribe to my email list so that you get NEW recipes straight in your mailbox every Friday PLUS a FREEBIE and access to some amazing gluten free DISCOUNTS
*disclaimer: I use affiliate codes on my website, the vast majority are to Amazon. If you click on any of the links or images in the post and make a purchase my family will benefit from a small % of that purchase at no extra cost to you, in fact, for full transparency, in 2020 I made my first £25, and recently in 2022 I reached my next £25 (Amazon don't transfer the money until you reach £25). As you can see, it won't make me a millionaire but it will treat me to a few coffees, Lord knows I need the caffeine!