This page contain affiliate links. Please refer to my Disclosures Page for more details.
An easy three ingredient Dairy Free Chocolate Rice Pudding recipe that you are going to love. I'm getting to have quite a collection of rice puddings here on Glutarama. I have found that in the colder grey months a hot bowl of rice pudding can really cheer me up
I've already got my Quick Dairy Free Traditional Rice Pudding and then for a seasonal treat you have my Dairy Free Festive Rice Pudding and now I present my embarrassingly easy chocolate rice pudding that, like those before, is dairy free.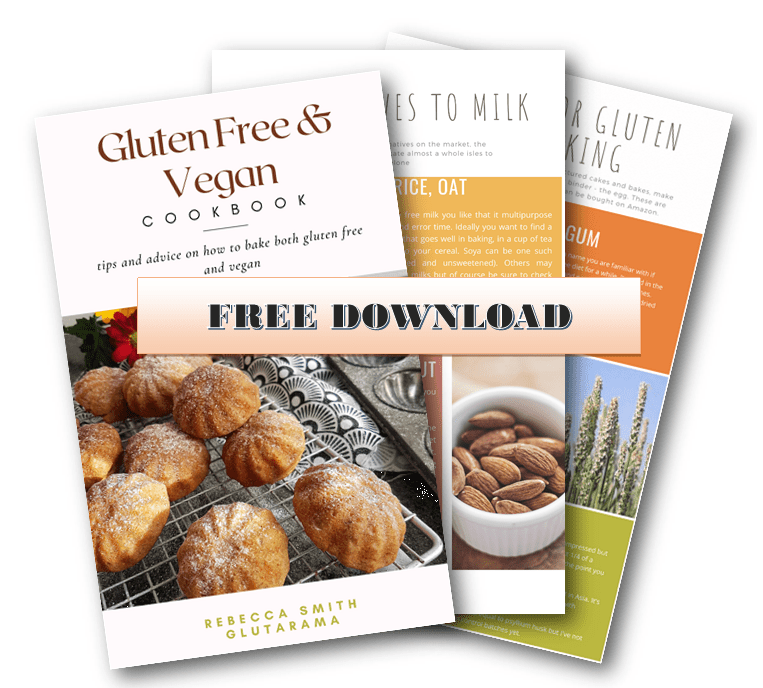 Never miss out again…
Sign up to my weekly Friday newsletter and not only get a FREE e-Book (currently my Gluten Free & Vegan Cookbook) but also get VIP subscriber discounts on free from goodies. Join me and learn to make anything gluten free.
What type of rice is used in rice pudding?
Traditional rice pudding is made with pudding rice. You can see this isn't going to be rocket science here! Pudding rice is widely available in the rice aisle in the supermarket, however I have seen it in the baking section too.
Pudding rice is dinky short fat grains of rice with very little taste. This makes in the perfect grain to make into a dessert as it has no significant flavour to impart in a creamy pudding.
The fact that the grains are so plump means that they take a good long time to cook, even if you want an al dente (slightly firm) finish. I'll be honest and will say I've tried to work out if there's a difference between pudding and Arborio rice (used in risottos) and as usual the internet is awash with conflicting thoughts from well meaning self proclaimed experts.
In my honest opinion, I can see no difference in the structure and both have a very high starch content. This is what makes puddings and risottos so deliciously creamy.
Incidentally, Arborio gets its name from the town Arborio in Italy.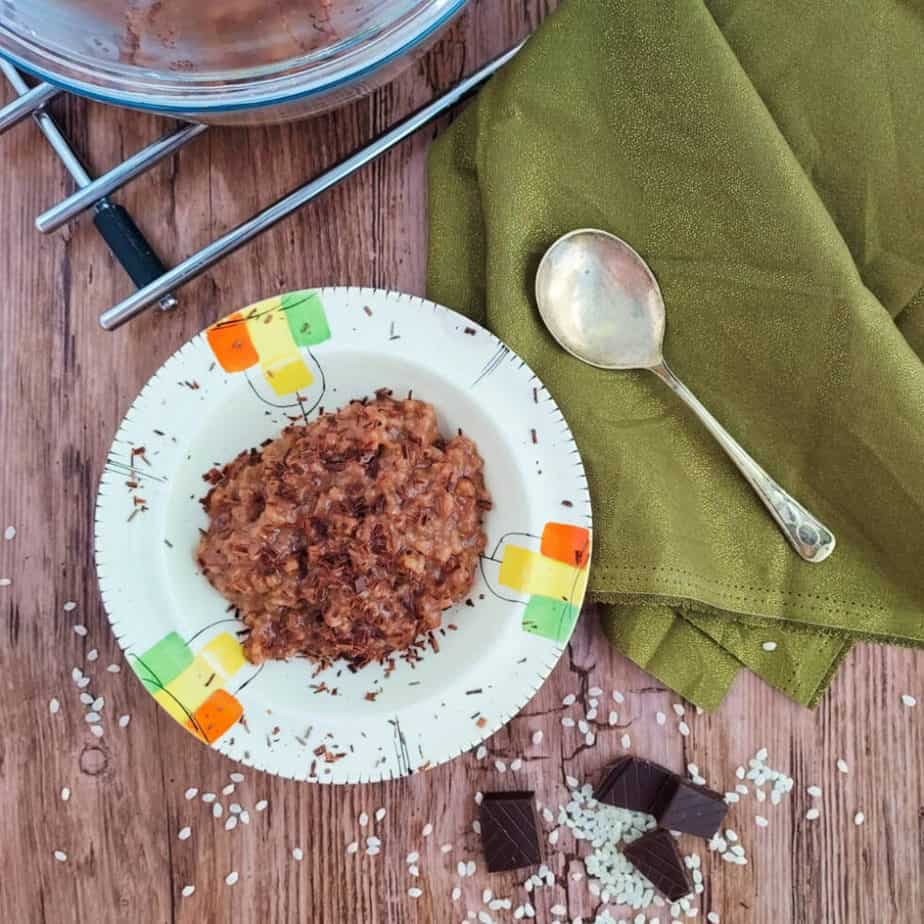 Is Pudding Rice Gluten Free?
Technically pudding and Arborio rice should be gluten free. What you will need to look out for is any potential risk for cross contamination. Any may contains may be due to where the rice is processed and packaged i.e. a factory that handles gluten containing cereals on the same production lines.
I have seen a friend of mine go through an entire bag of rice with a may contain on it and they found 4 suspect grains that looked nothing like rice. So if you ever wondered why manufacturers add the 'may contain due to….' disclaimer. Now you know why!
Just so you know, I got my pudding rice from Aldi and it holds no may contains on the packaging.
Can I Add Cocoa Powder?
If you want, it's an easy swap to make this Chocolate Rice Pudding with cocoa powder instead of dairy free chocolate milk. This would certainly make the recipe cheaper as (tell me if I'm wrong) there are no own brand dairy free chocolate milks.
You can fetch a litre of soya milk in Aldi or Lidl for 55p whilst flavoured free from milks are branded and cost well over £1.
Also, we tend to have cocoa powder in our food cupboards so you could follow these instructions instead;
measure 700ml of dairy free milk into a jug, add 1 tablespoon of cocoa and 50g of granulated sugar. give the liquid a quick whisk to combine. Make sure there are no cocoa lumps.
Then pour this over the rice and follow the remaining instructions.
Quick and Easy Hob Rice Pudding
If you wanted you could make this on the hob, its far quicker but you don't get the familiar rice pudding skin on the hob version. For tips on how to do this to save time you could hop over to my Quick Dairy Free Traditional Rice Pudding recipe.
How do you make Baked Rice Pudding
The baked rice pudding is the true traditional method. Made in an oven proof dish ideally with a lid.
The pudding basin is smeared with a thick layer of butter, then add the rice, then pour in the liquid, sugar and nutmeg or whatever flavouring you choose. Don't feel the need to stir – you must resist!
In all seriousness, if you did stir it is not the end of the world as we know it. It's just really not necessary.
You then bake the pudding low and slow for 40 minutes, come back to it, give the rice pudding it's first stir to break up and clumps of rice grains. Then return to the oven for another hour at the same temperature.
Have a nap, do the school run, get some chores done, walk the dogs – simple!
After an hour the pudding has thickened beautifully and that tell tale skin has formed on the top (even better if you remove the lid for the last 10mins of baking). You now decide are you a skin on or a skin in kind of person. If you like the skin, simply serve portions with a layer of skin on top. If you're not a fan of rice pudding skin do what I do and stir it in.
You could skin it off, but that's way too much faff and a waste of delicious caramelised flavours. My mum has lovely memories of scraping the skin off as a child and eating that on its own.
What Dairy Free Chocolate Milk Can I Use For This Rice Pudding?
I have used chocolate soya milk in this recipe but on other occasions I have used chocolate coconut milk and oat milk. It really is up to you and your preferred tastes and dietary requirements. Check out The Vegan Kind online supermarket below, I get most of my dairy free products from there and they've decreased their P&P prices recently too.*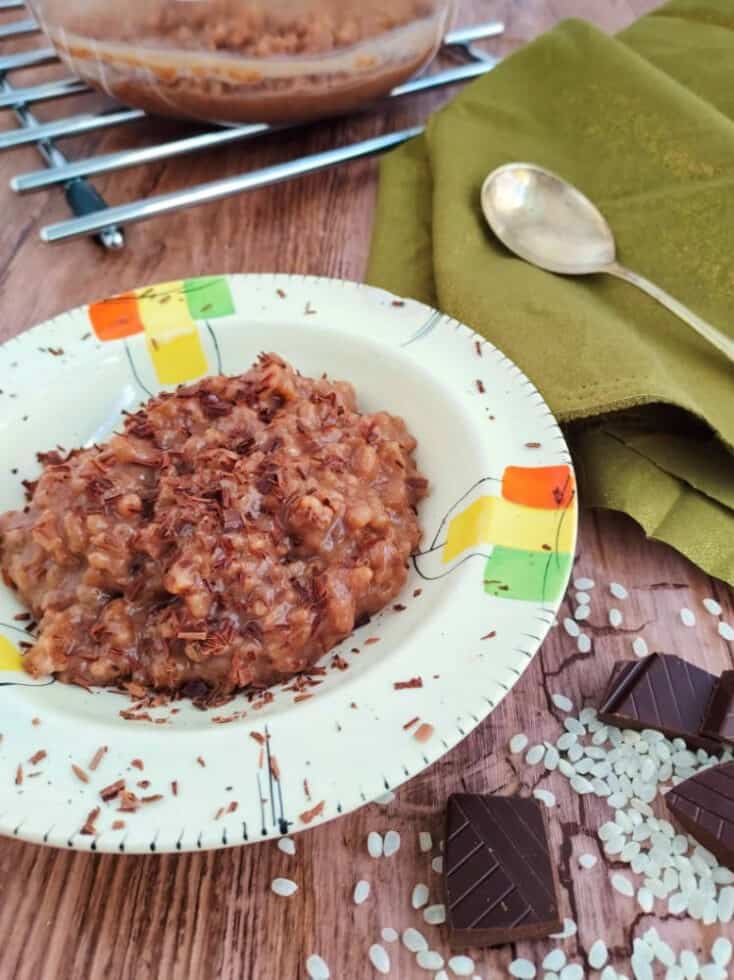 Can I Use A Different Rice to Pudding Rice?
This is a jolly good question and one I have not tested out for myself. But, with the power of the internet, I have found a pair of intrepid foodies who have done just that. Confessions of a Dietician did a non-scientific experiment on the different rice available on the market including pre-cooked rice (sorry but in a rice pudding? Yuck). You can see their results here in What type of rice to use, but to save you time pudding rice and Arborio are the best options.
Other Traditional Free From Puddings
Easy Dairy Free Chocolate Rice Pudding Recipe
If you make it and like the recipe I would be eternally grateful if you popped back and commented leaving a star rating as this will tell search engines that this recipe is worth checking out and others will get to find it in searches.
Dairy Free Chocolate Rice Pudding
A delicious twist on the Traditional Rice Pudding recipe. This Dairy Free Chocolate Rice Pudding is made using pudding rice, chocolate flavour milk and sugar but with free from ingredients. It's all gluten free and made dairy free and vegan too so more people can enjoy this comfort food pudding.
Ingredients
700

ml

dairy free chocolate milk

I used Alpro chocolate soya milk

100

g

pudding rice

25

g

granulated sugar

– less sugar necessary as the milk is sweetened

1

tbsp

butter

I use Flora plant butter blocks
Instructions
Preheat the oven to 150°C | 130°C fan | 300°F | Gas 2

'Butter' the sides of the dish liberally (I use a 2.5L Pyrex Glass Dish)

Add the measured pudding rice to the dish.

Next measure the chocolate milk in a jug and add the sugar, mix to combine. Pour this over the pudding rice. No need to stir!

Pop the lid on the oven dish and bake for 40mins. Once the time is up, carefully stir the pudding to break up any clumps of rice that have formed.

Replace the lid and continue to bake for another hour.

If you like the baked skin that forms on a traditional rice pudding then take off the lid for the last 10mins of cooking time.

Serve immediately on its own or with a few shaving of dairy free chocolate to decorate.
Notes
Other topping suggestions:
How about some cherry jam or black cherry pie filling for a Black Forest Gateau twist
Nutrition
Nutrition Facts
Dairy Free Chocolate Rice Pudding
Amount per Serving
% Daily Value*
* Percent Daily Values are based on a 2000 calorie diet.
Have you tried this recipe?
Let me know how it was & I will be super grateful. Take a picture & tag me @glutarama on your social media posts – I love seeing your photos more than you will ever know x
I love to see your own photos of my bakes, dinners and treats head to your favourite social media account and don't forget to tag me in @glutarama
Subscribe to my email list so that you get NEW recipes straight in your mailbox every Friday PLUS a FREEBIE and access to some amazing gluten free DISCOUNTS
*disclaimer: I use affiliate codes on my website, the vast majority are to Amazon. If you click on any of the links or images in the post and make a purchase my family will benefit from a small % of that purchase at no extra cost to you.

For full transparency, in 2020 I made my first £25, and in 2022 I reached my next £25 (Amazon don't transfer the money until you reach £25). I'm now up to £17.80 for 2023 so edging closer to the magical £25 mark!!

To date I have made £69.28 since I first started the scheme in 2017. It won't pay the bills, that's for sure but it does help to pay for ingredients or little treats to cheer me up!
Join my friendly Facebook Group
life's a drama, gluten free doesn't have to be….