Bethany and I absolutely love this comforting Bread and Butter Pudding and, believe it or not, the reheated leftovers actually taste even better the next day.
Money Saving Recipe: This recipe is also a huge super money saver and great for keeping food waste down. Why? It's ideal for using up all those gluten free end crusts (heels, or whatever you call them). It's also reassuring to know you have the prefect destination for those disastrous shop brought loaves that resemble jigsaw puzzles or look like they've had a mouse burrow their way through the middle.
In our household, all of these pieces are collected up and added to a bag in the freezer for occasions when you need need bread crumbs for recipes such as my Danish Treacle Tarts: Gluten Free and Vegan or this Simple to make Spiced Treacle Tart; gluten and dairy free Or how about my Traditional Bread Pudding | gluten free and dairy free (not to be mistake with this Bread and Butter Pudding).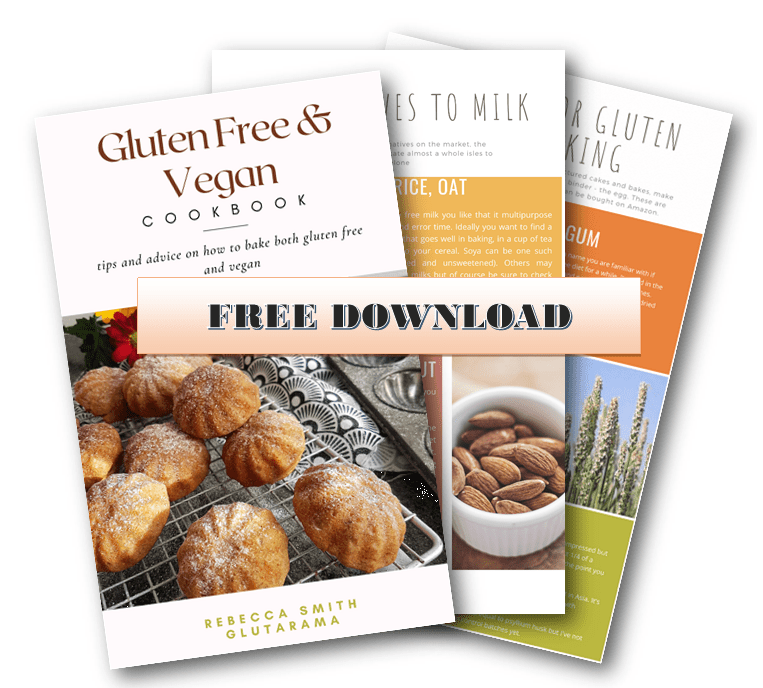 Never miss out again…
Sign up to my weekly Friday newsletter and not only get a FREE e-Book (currently my Gluten Free & Vegan Cookbook) but also get VIP subscriber discounts on free from goodies delivered to your door. Join me in my journey and learn to make anything gluten free.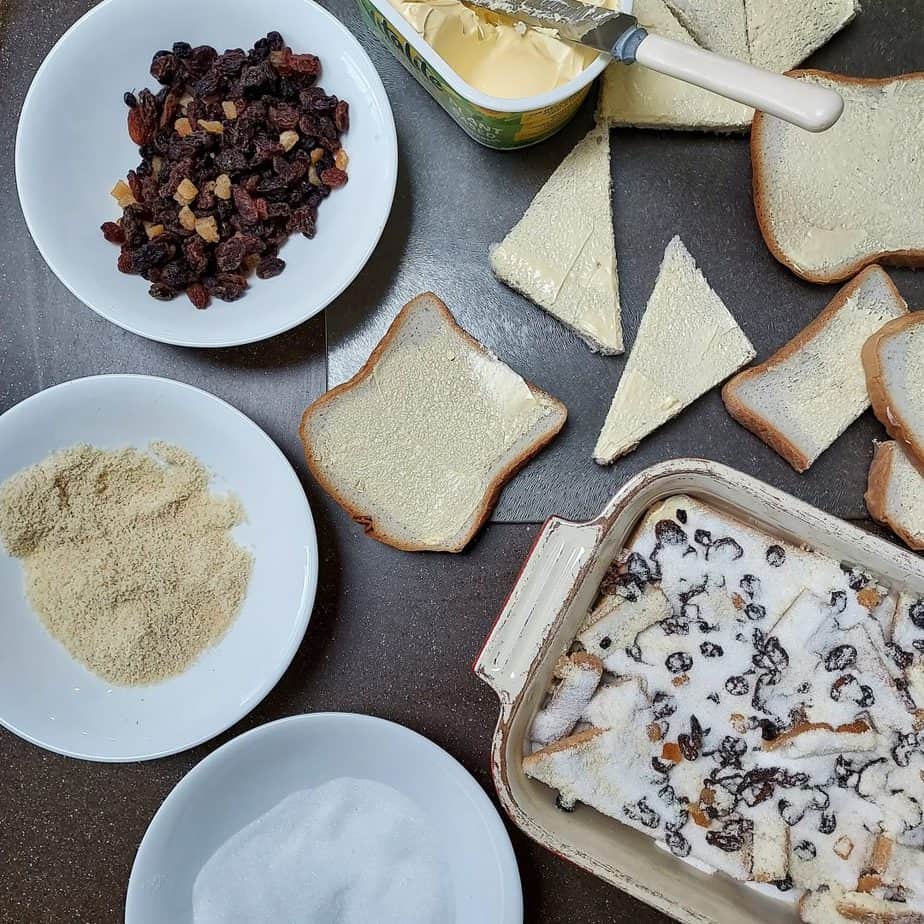 What is the difference between bread pudding and bread and butter pudding?
A lot of people get confused between a bread pudding and a bread and butter pudding. It's really quite simple though. Bread and butter puddings are layered buttered bread slices arranged in a dish with a raw custard poured over them then baked.
A bread pudding is where you soak the bread in water until it plumps up. Then you drain the water, normally this is done by putting the bread mush into a teacloth and squeezing the water out. To the soaked bread you add fruit, spices, suet and sugar. You spoon this stodgy mix into a greased baking tin then bake.
Bread Pudding is traditionally cut into squares or triangles and enjoyed cold at a teatime treat. Bread and Butter Pudding is served hot as a dessert.
What bread should I use for Bread and Butter Pudding?
To make this pudding you're going to need about a loaves worth of bread, depending on the size of your dish. I use a medium sized baking dish approximately 28x20cm. Any gluten free bread will do but to make it more traditional maybe not use a brown or seeded bread. If you can tolerate brioche then by all means use a gluten free brioche loaf to add that extra level of luxury.
If you wish to make a vegan or dairy free version be sure to check the bread for these ingredients; egg and/or milk.
If you want to achieve a decorative top to the pudding, remember to save the best looking slices for the top layer then all the broken bits can be hidden underneath!
If making with collected bread bits, you'll need to remember to take your frozen bread out of the freezer to defrost at least an hour before making this.
How can I make this Bread and Butter Pudding dairy free?
To make this bread and butter pudding dairy free, simply swap out the dairy ingredients. I use a dairy free spread to butter my bread slices, in this instance I had Vitalite in the fridge. To swap the milk in the custard, I used soya milk. If you cannot tolerate soya use your usual dairy free alternative.
Can you make a vegan Bread and Butter Pudding with no egg?
Can you make this vegan? Yes you can and the proof is in the pudding…literally THIS pudding. The one pictured is dairy and egg free. I used a vegan loaf of gluten free bread, swapped the butter for dairy free and used Crak'd egg alternative for my eggs in the raw custard. Now Crack'd may be new to you as it's a relatively new product on the market. I am, so far, impressed with how it holds up in baking and puddings. I've added a link to the online shop I bought mine, its not an affiliate link.
If Crak'd is not for you then maybe you'd like to try this simple method to make a flaxseed egg, this recipe uses two eggs so simply double the ingredients.
How to make a flax egg

to make 1 flax egg you need the following ingredients:
– 1tbsp ground flax seed
– 3tbsp water
– 1tsp psyllium husk (optional but does add elasticity to baking)

Simply add all ingredients to a glass and stir before measuring out the other recipe ingredients, by the time you come to use your 'egg' mixture it will have thickened to a frog-spawn consistency (thicker if you added psyllium husk)

Then just add to your baking as you would an egg. For 2 eggs double the ingredients but note that recipes that require more than two eggs may fail due to lack of support in the structure.
Is bread and butter pudding supposed to be soggy
That my dear pudding lover is up to you. I'm not a huge fan of overly soggy food. Don't get me started on sweaty toast or soggy bottom pies! However, you may like a big wobble to your pudding at that my friend is up to you!
This recipe is moist and rich and just the right amount of sweet. But if you like a bread and butter pudding with a less set custard then you have two choices.
Option 1: cook the pudding for less time, this will result in the custard not setting as firmly giving you a wobblier wobble at the end of the bake.
Option 2: add more liquid. If you have a dish that is deep sided and can take more custard, add 600ml of milk or milk alternative instead of 550ml.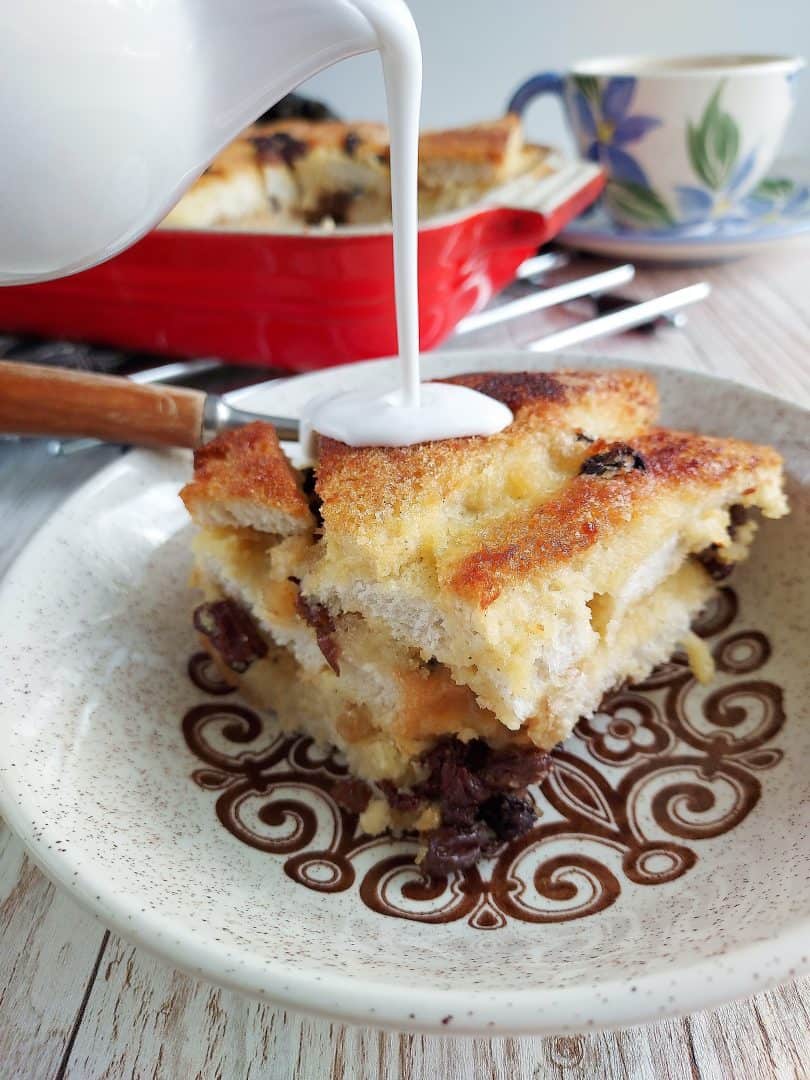 Other delicious gluten free recipes you might like to try
Traditional Gluten Free Bread and Butter Pudding Recipe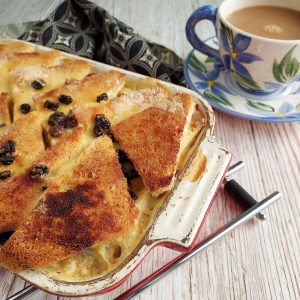 Gluten Free Bread and Butter Pudding
A delicious and simple Bread and Butter Pudding made gluten free with dairy free and vegan options too. A truly traditional comfort food for all the family to enjoy.
Ingredients
400

g

gluten free bread

the average size for a gluten free loaf

40

g

butter

or dairy free alternative

150

g

dried mixed fruit

50

g

ground almonds

optional but does add a touch of luxury

100

g

caster sugar

caster or granulated

550

ml

milk

2

large egg(s)

or 120ml Crack'd or 2 flaxseed eggs (see notes)

1

tsp

vanilla extract
Instructions
To build your bread and butter pudding
Grease the baking dish well with butter.

Carefully butter each piece of bread.

Top Tip: If you are using broken pieces of bread, to make life easier for yourself, heat the butter in the microwave for 10 seconds and use a brush to paint the pieces, it's a fiddly job, but worth it!

Start to arrange the bread in the bottom of the dish then sprinkle some dried fruit, sugar and if using it ground almonds over the bread.

Repeat the last step to make a second layer.

The third and final layer will be the top of your pudding, arrange this in whatever pattern you see fit, and use the last straggling bits of fruit and ground almonds to sprinkle over the top.

Finally, sprinkle demerara sugar over the built bread and butter pudding (this type of sugar adds a toffee flavour, a lovely rich colour and an extra crunch in texture)
To make the egg custard
Now you can make your custard mix, beat together the milk, eggs and vanilla extract and pour over the pudding.
To make egg free 'custard'
If using Crack'd then use 60ml per egg (120ml for this recipe)

If using flaxseed eggs use 2tbsp ground flaxseed and 6tbsp water (1tsp psyllium husk powder optional).

Leave the pudding to stand for at least an hour to allow the bread to absorb the liquid.

Top Tip: I find that weighing down the pudding gently by placing a plate or another baking dish on top of the pudding aids the absorption and prevents gaps in the bread that can lead to the top layer becoming rock hard during the baking process.

After an hour check the pudding to see if all the liquid has been absorbed, if the pudding appears too dry spoon a little more milk over the areas.

Before popping into the oven, I add a loose foil cover (that's been sprayed with oil) over the dish to prevent the pudding from burning.

Bake in a preheated oven on 180°C | 160°C fan | 350F | Gas 4 for about 40 minutes

Remove foil after 20mins to allow the pudding to brown.

Serve immediately with delicious hot custard.
Notes
This Bread and Butter pudding lasts 3 days in the fridge and, in my opinion, get better with age. Just serve a portion and reheat in the microwave for 30+ seconds depending on your machine.
The Bread and Butter Pudding in these images is VEGAN – yep no eggs or dairy!
I used Crak'd (not an affiliate link) and replaced the 2 eggs with 120ml Crak'd Egg Replacer. An alternative is to make 2 eggs worth of flaxseed eggs
2tbsp ground flaxseed
6tbsp water
1tsp psyllium husk (optional but does add structure, this is an affiliate link)
Nutrition
Nutrition Facts
Gluten Free Bread and Butter Pudding
Amount per Serving
% Daily Value*
* Percent Daily Values are based on a 2000 calorie diet.
Have you tried this recipe?
Let me know how it was & I will be super grateful. Take a picture & tag me @glutarama on your social media posts – I love seeing your photos more than you will ever know x
I love to see your own photos of my bakes, dinners and treats head to your favourite social media account and don't forget to tag me in @glutarama
Subscribe to my email list so that you get NEW recipes straight in your mailbox every Friday PLUS a FREEBIE and access to some amazing gluten free DISCOUNTS
*disclaimer: I use affiliate codes on my website, the vast majority are to Amazon. If you click on any of the links or images in the post and make a purchase my family will benefit from a small % of that purchase at no extra cost to you, in fact, for full transparency, in 2020 I made my first £25, and recently in 2022 I reached my next £25 (Amazon don't transfer the money until you reach £25). As you can see, it won't make me a millionaire but it will treat me to a few coffees, Lord knows I need the caffeine!