This page contain affiliate links. Please refer to my Disclosures Page for more details.
This recipe for Homemade Gluten Free Suet has been on my website since the dinosaurs roamed the earth. It is still one of the most popular recipes on my website (hands off other free from websites!) and it's a simple recipe, so simple it's easy to over think it and imagine it's way more complicated than it is.
I'm writing it up again because it used to nestle snuggly with my recipes for Gluten Free Dumplings using Homemade Suet and my Gluten Free Beef Stew and Dumplings recipe. However, Google threw a hissy fit as it didn't like my Gluten Free Suet Recipe being on the same page as another recipe (such is the tedious eye-rolling world of blogging). So here my recipe sits all sparkly and new (not) on a page of it's very own.
Are you feeling the frustration?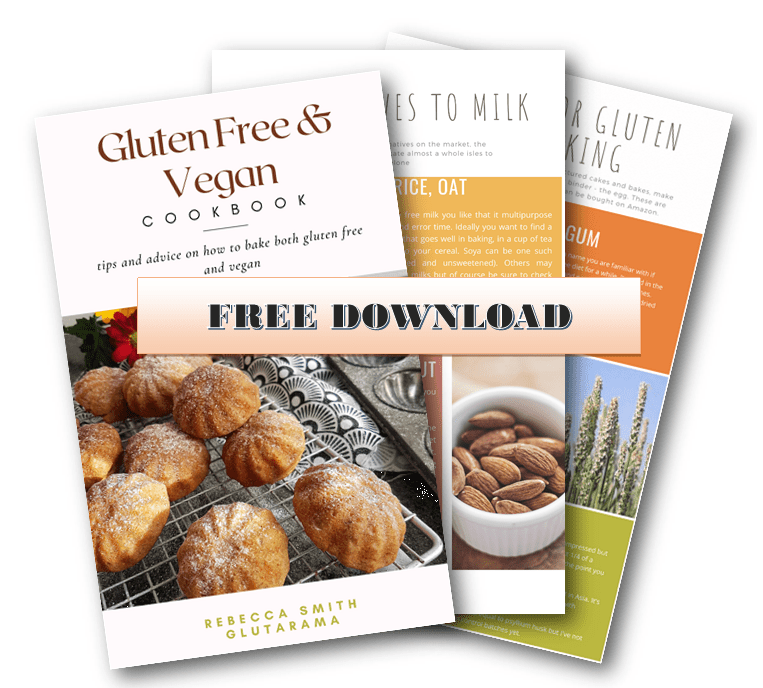 Never miss out again…
Sign up to my weekly Friday newsletter and not only get a FREE e-Book (currently my Gluten Free & Vegan Cookbook) but also get VIP subscriber discounts on free from goodies. Join me and learn to make anything gluten free.
What is suet anyway?
Suet is actually the hard fatty areas in beef and mutton found around the internal organs such as the kidneys. This solid fat is clarified and chopped then finally tossed in flour to avoid coagulation. To clarify, the clarification process (see what I did there?) is whereby the fat is heated to separate the water from the fat.
Due to the fact is was originally a solid lump of fat, it has a higher melting point than butters for example. This is how suet retains its shape in foods when baked. Take the mince pie for example. You've probably bit into a mince pie and seen a little lump of suet right?
Why is suet used in recipes?
I've mentioned the fact that suet has a high melting point. This is one of the reasons it's used in many savoury dishes such as suet puddings. The flavour enhances the bake, the fat retains is structure in pockets which in turn makes the suet crust moist but you can also achieve a crispy or flakiness with it too.
Interesting facts about suet
Never have I been so excited to research a subject! I'm a Master of History (MA) so you'll have to excuse my geekiness.
Suet appears in pretty much every recipe in Mrs Beeton's Book of Household Management (1859), I'm not even exaggerating, it's incredible the amount of recipes that called for pounds of suet! I have a copy of her book myself and giggle every time I see suet in the ingredients. There's even a suet pudding, which is literally just flour, milk, suet and salt and pepper. my nose is screwed up typing that, not my cup of tea! I actually challenged myself to open the book at a random page several times and every time without fail, there was a recipe with suet in it.
Atora Suet has been a household name in the UK since 1932 and there's a lovely post here The History of Atora Suet if you want to read more on the history of the brand. I hadn't appreciated that something as simple as Atora isn't easily sourced in the US, I guess that makes everyone in the US as limited as Coeliacs in the UK when it comes to shop bought suet then?
Fresh suet in it's original form can be bought from your butcher. It comes in beef, lamb, pork and even venison. You can ask the butcher to chop it for you or take it home and chop or grate it yourself.
Beef suet is used more commonly in sweet puddings as the beef suet has a milder flavour whilst lamb suet is really meaty in flavour.
Vegetable suet is also available but has a lower melting point, it is suitable for vegetarians though.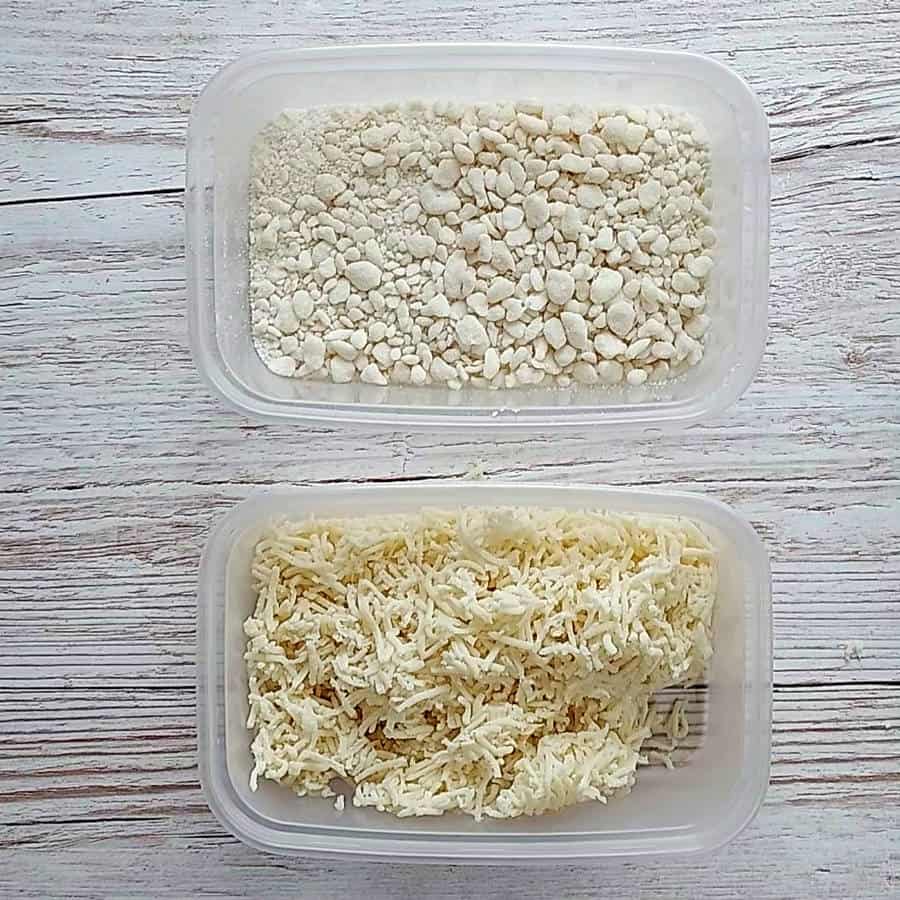 Is ready made Suet Gluten Free?
Here in the UK the brand of suet we buy in the supermarket is Atora, as you can see below both the Beef and Vegetable Atora products are not gluten free as they have WHEAT in them.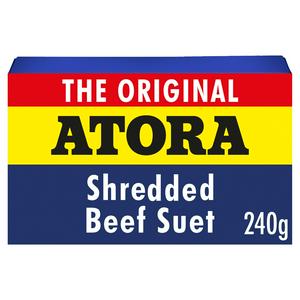 ---
---
How to make gluten free suet?
Can I buy Gluten Free Suet?
Yes you can, it is available on The Vegan Kind Supermarket. The brand Suma make a gluten free vegetable suet that costs £2.19 before P&P.
OR – you can make your own gluten free suet using a £1 block of vegetable fat and some gluten free flour and end up with 300g of suet that will keep in your fridge of freezer for months.
What can I make with Suet?
As mentioned I have my recipe for Gluten Free Beef Stew and Dumplings. Other recipes on this website that use gluten free suet are my Free From Clootie Dumpling: a traditional pudding and Simple Gluten Free Christmas Pudding. Also who could resist this Gluten Free Jam Roly Poly.
As my catalogue of recipes develop I'll keep adding links and am keen to add a Treacle Suet Pudding.
Gluten Free Spotted Dick
The infamous Spotted Dick Pudding but adapted ever so slightly to be gluten free with a dairy free and vegan option too. This old British Classic Pudding is a household name in the UK and many have fond memories of their grandparents homemade puddings. Slightly sweet, steamed pudding always best served with lashing of hot custard.
Check out this recipe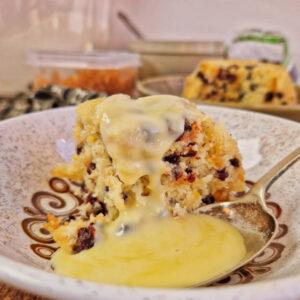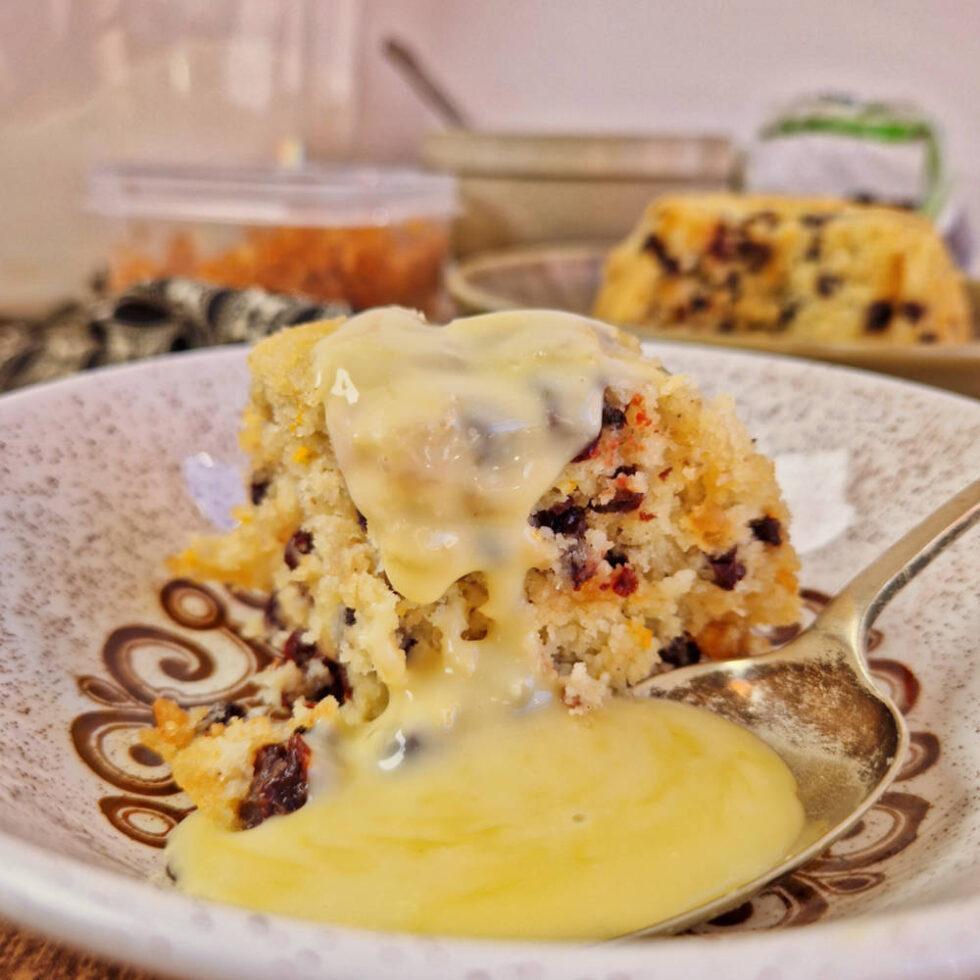 Gluten Free Jam Roly Poly
A delicious free from version of the famous traditional British pudding. This Jam Roly Poly has been adapted to be gluten free, dairy free and vegan using my own gluten free suet recipe. Tastes just like your Nan used to make and now you can make it for the next generation.
Check out this recipe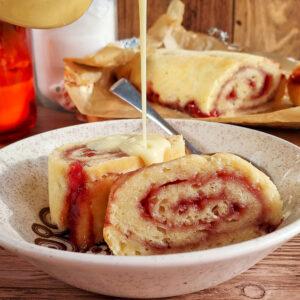 Homemade Gluten Free Suet Recipe
If you make it and like the recipe I would be eternally grateful if you popped back and commented leaving a star rating as this will tell search engines that this recipe is worth checking out and others will get to find it in searches.
Homemade Gluten Free Suet Recipe
This super simple recipe for making your own gluten free suet is a great way to open up lots of exciting recipes you'd possible not considered before such as Jam Roly Poly, Steak & Kidney Puddings and of course the old favourite; dumplings.
Ingredients
100

g

lard/trex to make vegetable suet suitable for baking use a vegetable block of fat

200

g

gluten free plain flour
Instructions
Simply cut the lard into cubes in a large bowl, add the flour and using your fingers or a pastry blender work until you have a large breadcrumb texture.

100 g lard/trex,200 g gluten free plain flour

To achieve a classic suet look you could use a potato ricer and store in the same way. I have added links to kitchen gadgets below.
Notes
Any suet you do not use for this recipe can be placed in a Tupperware container and left in the fridge or freezer for up to 3 months.
Recipes to use your gluten free suet are Jam Roly Poly, Steak & Kidney Pudding and dumplings to name but a few.
Have you tried this recipe?
Let me know how it was & I will be super grateful. Take a picture & tag me @glutarama on your social media posts – I love seeing your photos more than you will ever know x
I love to see your own photos of my bakes, dinners and treats head to your favourite social media account and don't forget to tag me in @glutarama
Subscribe to my email list so that you get NEW recipes straight in your mailbox every Friday PLUS a FREEBIE and access to some amazing gluten free DISCOUNTS
I've added this recipe to #CookBlogShare which is being hosted by Melissa Traub
Join my friendly Facebook Group
life's a drama, gluten free doesn't have to be….
*disclaimer: I use affiliate codes on my website, the vast majority are to Amazon. If you click on any of the links or images in the post and make a purchase my family will benefit from a small % of that purchase at no extra cost to you.

For full transparency, in 2020 I made my first £25, and in 2022 I reached my next £25 (Amazon don't transfer the money until you reach £25). I'm now up to £17.80 for 2023 so edging closer to the magical £25 mark!!

To date I have made £69.28 since I first started the scheme in 2017. It won't pay the bills, that's for sure but it does help to pay for ingredients or little treats to cheer me up!
Join my friendly Facebook Group
life's a drama, gluten free doesn't have to be….