This page contain affiliate links. Please refer to my Disclosures Page for more details.
This recipe for my Gluten Free Macaroni Cheese has been a family favourite for some years now. It never dawned on me until recently that I should share the recipe here on Glutarama. I appreciate how daft that is now!
My daughter Bethany (the Coeliac of the family) loves macaroni cheese, and when I'm not making it she has her quick and easy ready meal to fall back on. I say has, rather more had now. Sadly Amy's Kitchen no longer supply the UK with their products, you can read a statement here. Basically it's due to import taxes from Ireland to the UK, this is not the place for politics so I'll not get started on my views on Brexit here.
Politics quickly swerved, I needed to tweak my family recipe recently to make it more Bethany friendly. Don't get me wrong, the rest of the family loved my macaroni cheese recipe but with her autism, Beth needed the reassurance of something familiar.
The best feedback I had from Beth last time she ate this dinner was; 'it's just like Amy's Kitchen but tastes like real homemade mac and cheese'. I'll take that for a win any day. Good enough to sell in the supermarkets with a homemade touch equals – nailed it!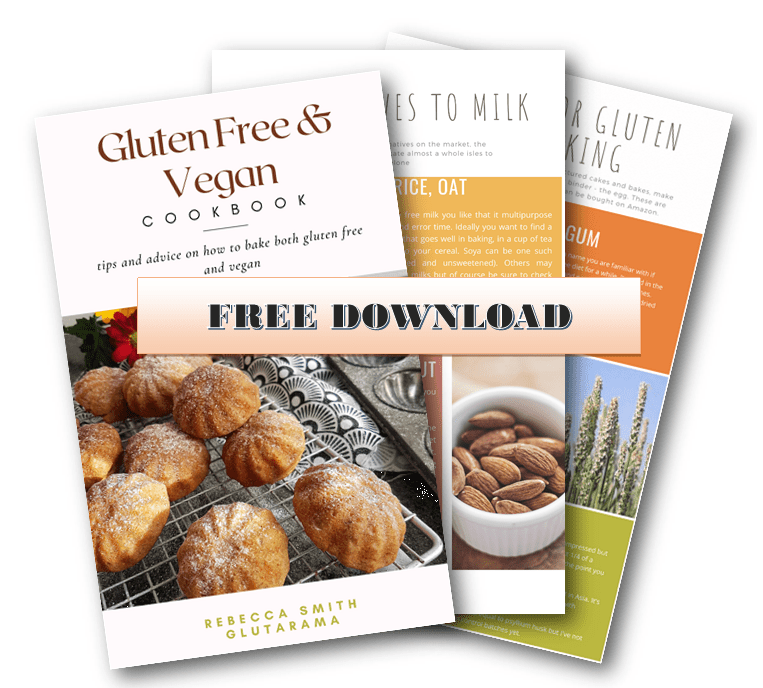 Never miss out again…
Sign up to my weekly Friday newsletter and not only get a FREE e-Book (currently my Gluten Free & Vegan Cookbook) but also get VIP subscriber discounts on free from goodies delivered to your door. Join me in my journey and learn to make anything gluten free.
What gluten free pasta should I use in my Macaroni Cheese?
I've used several different styles of gluten free macaroni pasta to make this recipe. Not a conscious choice mind you, it's more down to what supermarket I've shopped in recently. I find that the supermarket own brands of macaroni pasta are absolutely fine to use. You just need to appreciate that macaroni takes longer to cook than spaghetti or penne or fusilli as it's traditionally thicker. I've added some images below to give you an idea of what's out there. Incidentally, here in Bedford, UK (where I live) we have a lovely family run Italian Shop that also deliver to the UK so I'm adding a link to their Gluten Free Pasta page but there are lots of other gluten free specialist Italian products to browse.
What cheese can I use in this three cheese macaroni recipe?
I like to use three cheeses in my Macaroni Cheese recipes. I find that you get the best flavour and texture results if you use a good strong cheddar, a mozzarella and parmesan cheese. The cheddar is for the nutty cheese flavour. The mozzarella is to add a creamy texture and the parmesan give you the perfect umami hit.
Homemade macaroni cheese can sometimes appear a bit pale in colour, making it more of a white sauce colour than a warm cheesy yellow colour. A great way to add colour is to use Red Leicester or Double Gloucester cheese which is orange in colour.
We tend not to have these cheeses in our fridge, so to get round the colour issue I add a drop of turmeric oil which not only is good for digestion, but also acts as a yellow food colouring. Turmeric powder would also work but you need to use more to achieve the colour and this then begins to alter the flavour of the mac and cheese.
How much pasta should I use?
I have a tip to work out how much pasta to use in pasta bakes and macaroni recipes. Take the oven proof dish that you plan to use and fill it half full with your dried pasta. This will determine how much pasta you need for the dish. In this recipe the pasta you can see in the image is equal to 250g of pasta. This is enough for 4 medium sized portions and makes an excellent meal if you add some gluten free garlic bread too.
Can I just use one cheese?
You can use just one cheese to make this mac and cheese recipe but I recommend you choose a good strong flavoured cheese. For 4 medium portions (as per recipe below) you'll need 200g of your ideal one type of cheese. Without the parmesan I'd recommend adding 1/4 teaspoon of salt.
Is Colman's mustard gluten free?
You'll notice that I use Colman's Mustard Powder in this recipe. Obviously if you cannot eat mustard then omit it.
Now this is important to note. Colman's English Mustard, the jarred kind that's ready to spread, is NOT gluten free. WHEAT is used in the ingredients.
Colman's Mustard Powder that comes in the traditional tins IS gluten free and made in different factories.
Is Worcestershire Sauce gluten free?
Original Worcestershire Sauce is NOT gluten free, like the ready-made mustard, it has WHEAT in it. I've actually written an interesting piece on Worcestershire Sauce versus Worcester Sauce in my Giant Gluten Free Sausage Dinner Roll recipe.
But if you're in a hurry the gist is that the original is not gluten free and a trademark, others are called the latter and still not gluten free so you have to source gluten free alternatives of which there are a few on the market.
Can I make this macaroni cheese dairy free?
This gluten free macaroni cheese can be made dairy free too, even vegan. You could swap out the milk for dairy free milk and the cheese for dairy free cheese. You'd need to check the Worchester sauce is veggie and vegan though.
That said, following this recipe with those swaps will not achieve the best results for a dairy and gluten free mac and cheese. Therefore I am working on a free from version that works equally as well so watch this space. If you're keen to know when I crack it, then I strongly recommend you subscribe to my Friday newsletter which has that weeks new recipes in it along with gluten free news, new finds, updates and discounts just for my subscribers.
---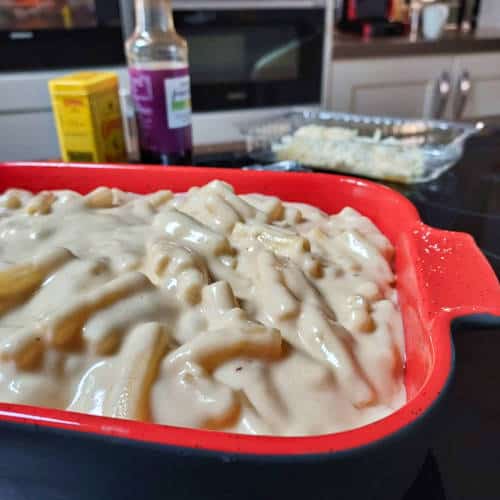 Can I batch cook this macaroni cheese recipe?
I don't know about you, but I find that freezing and reheating gluten free pasta often leads to a messy, mucky disaster? Gluten free pasta seems to lose all structure when frozen and reheated (no idea how the frozen ready meal brands do it?).
With this in mind, if you want to make this is batches I would strongly recommend making the cheese sauce 2x or 3x the recipe and then freeze the 2nd and 3rd cheese sauce portions for another day.
This means you only need to boil some macaroni and defrost the cheese sauce to mix through the cooked pasta then pop under the grill.
Other mid-week gluten free meals you'll love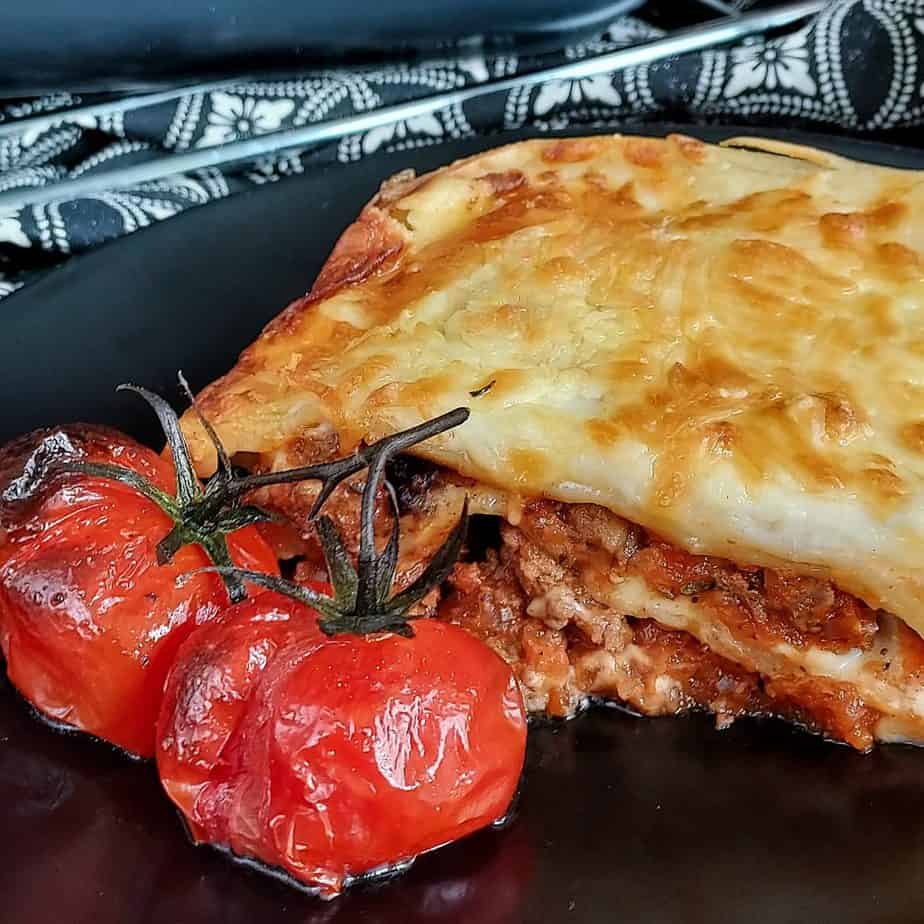 Easy Gluten Free Macaroni Cheese Recipe
If you make it and like the recipe I would be eternally grateful if you popped back and commented leaving a star rating as this will tell search engines that this recipe is worth checking out and others will get to find it in searches.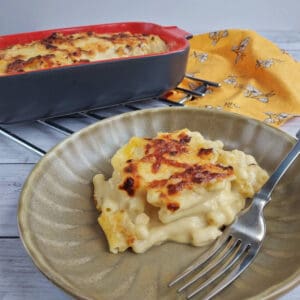 Easy Gluten Free Macaroni Cheese
A delicious homemade gluten free Mac and Cheese recipe made with three cheeses (options to use less). With a rich and creamy cheese sauce mixed through gluten free pasta and popped under the grill to finish off with a cheesy crust. You'll never need another macaroni cheese recipe.
Ingredients
250

g

gluten free macaroni pasta

100

g

butter

50

g

gluten free plain flour

(all purpose flour)

500

ml

milk

½

tsp

garlic (powder, puree or clove)

½

tsp

Colman's Mustard Powder

(optional)

1

tbsp

gluten free Worcestershire Sauce

150

g

mature cheddar

(grated)

50

g

pre-grated mozzarella

30

g

grated parmesan cheese

(fresh or in a tub)

1

drop(s)

turmeric oil

(optional)
Instructions
First off you need to pre-cook your macaroni pasta. Do this by measuring the amount into a saucepan, covering with boiled water (add a dash of oil to prevent sticking) and cook for the length suggested on the packaging.

DO NOT OVER COOK – this needs to be al dente

Drain the cooked pasta with a sieve or colander and set aside while you make the cheese sauce.
To make the 3 cheese sauce
In a bowl add the three cheeses and mix to combine. Set aside for now.

In a medium saucepan gently heat the butter until melted. Remove from the heat.

Add the plain flour in one go and beat with the spatula until there are no lumps and you have a flour paste (or roux).

Start to pour in the milk. begin with a few tablespoons first to loosen the flour paste. Gradually add all the milk beating hard to prevent lumps.

TOP TIP: if you use a room temp milk, it's less hard work. Don't worry if the flour paste looks like a lumpy mess to begin with, it does this when it reacts with the cold milk but as you add more milk it will loosen to a béchamel (white) sauce.

Now you can return the saucepan to the heat and continue to stir while you cook the flour. This process eliminates the flour flavour to sauces.

The béchamel sauce will thicken as it warms through. You can now add the majority of the three cheese mix, keeping enough back to top your macaroni cheese.

Also add the mustard powder, garlic powder, Worchester Sauce and turmeric oil if using (you'll notice the improvement in colour immediately). Give the cheese sauce a good stir to combine all the ingredients.

Now tip the cooked macaroni into the cheese sauce and mix to coat all the pasta.

Grease your oven proof dish (this makes serving easier and washing up much easier!) Pour the macaroni cheese mixture into the dish and spread evenly. Finally top with the remaining cheese.

Pop the macaroni cheese under the grill for 5 minutes or more to achieve the optimum caramelised cheese topping.

Serve immediately with gluten free garlic bread if you needed more carbs in your life!
Nutrition
Nutrition Facts
Easy Gluten Free Macaroni Cheese
Amount per Serving
% Daily Value*
* Percent Daily Values are based on a 2000 calorie diet.
Have you tried this recipe?
Let me know how it was & I will be super grateful. Take a picture & tag me @glutarama on your social media posts – I love seeing your photos more than you will ever know x
I love to see your own photos of my bakes, dinners and treats head to your favourite social media account and don't forget to tag me in @glutarama
Subscribe to my email list so that you get NEW recipes straight in your mailbox every Friday PLUS a FREEBIE and access to some amazing gluten free DISCOUNTS
---
Join my friendly Facebook Group
life's a drama, gluten free doesn't have to be….
---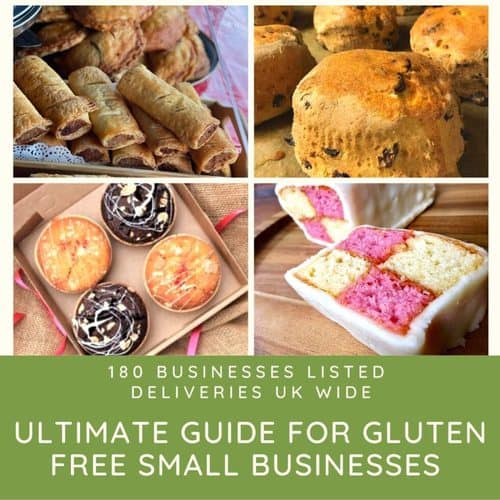 Fancy buying yourself a treat or a gift for a loved one this festive season, then go small…small businesses' that is!

Guide for Gluten Free small businesses that deliver across the UK

— Glutarama, supporting small businesses
---
*disclaimer: I use affiliate codes on my website, the vast majority are to Amazon. If you click on any of the links or images in the post and make a purchase my family will benefit from a small % of that purchase at no extra cost to you, in fact, for full transparency, in 2020 I made my first £25, and recently in 2022 I reached my next £25 (Amazon don't transfer the money until you reach £25). As you can see, it won't make me a millionaire but it will treat me to a few coffees, Lord knows I need the caffeine!