This page contain affiliate links. Please refer to my Disclosures Page for more details.
This recipe for Gluten Free Breton Gateau has been a tatty magazine cutting in my scrapbook for years now. I believe it was originally from a Waitrose Magazine and I was fascinated by the recipe having never heard of a Breton Gateau before.
There it sat in my scrapbook for years until recently when we had a glut of eggs. We get our eggs delivered along with our milk (in milk bottles, like the good old days). As I cannot eat eggs I'd not paid attention to the fact that we had way too many so didn't pause the delivery.
But, every cloud has a silver lining and it meant I had oodles of eggs to play with the recipe and make it gluten free.
Click the jump to recipe button above, or read on for useful tips and advice on how adapt this recipe to suit your dietary needs. I often include suitable equipment, storage information and other ingredient suggestions for the more adventurous home cook.
How many eggs do you need for a Breton Gateau?
So how many eggs do you need for a Breton Gateau? This version has 6 egg yolks in total. That's right, only the egg yolks. Now you can appreciate why it's taken so long to develop this gluten free recipe. Fear not, we'll get onto what you can do with the egg whites further down.
5 egg yolks go into the Breton Gateau dough and one egg yolk is held back to glaze the gateau to within an inch of it's life, it's literally drowning in egg wash!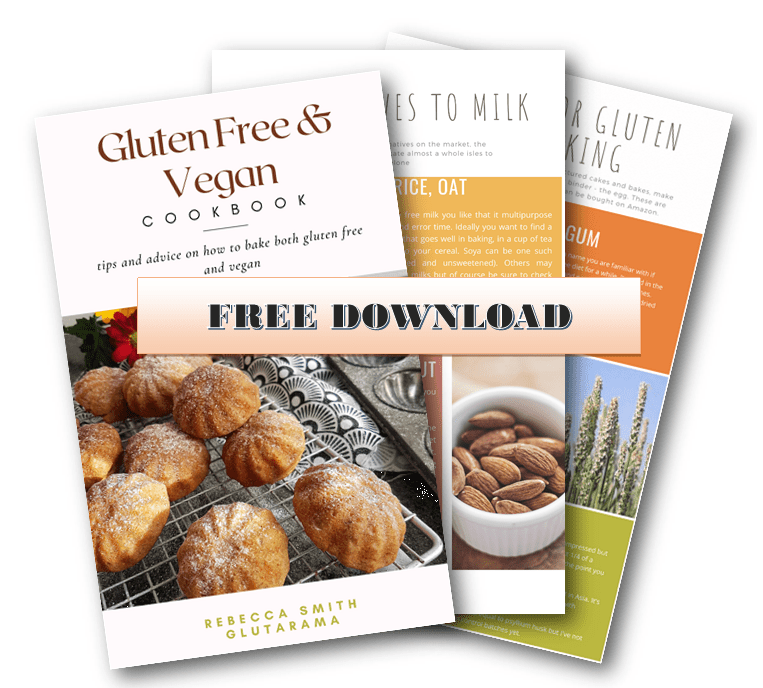 Never miss out again…
Sign up to my weekly Friday newsletter and not only get a FREE e-Book (currently my Gluten Free & Vegan Cookbook) but also get VIP subscriber discounts on free from goodies. Join me and learn to make anything gluten free.
What type of butter should I use for a Breton Gateau?
With this type of recipe I think it's important to go all in. This is not a slimmer world recipe so if you're going to do something, do it well. I used local salted butter (also delivered by my milkman). I think salted butter is best, if you only have unsalted then be sure to add a good pinch or three of salt. The salt enhances the flavour and elevates the richness of the egg fuelled dough to another level.
Oh, did I mention you'll need to the whole pat of butter? That's right, here in the UK that means 250g so the closest equivalent in the US would be roughly two sticks of butter.
FUN FACTS ABOUT BUTTER:
Did you know that a 'pat' of butter comes from the fact that when churning homemade butter, wooden paddles were used to slap or pat the butter into shape. This process not only created the rectangular shape we recognise but also beat out any excess buttermilk.
Also, did you know that the US adopted 'sticks' of butter in 1907 as the shape made it easier to process, was reportedly requested by restaurateurs, and meant that it would warm to room temperature quickly due to the smaller surface area, making it easier to spread. I've done some research and for the romantic of you who love a vintage poster here are a few posters circa. 1928 for Swift sticks of butter.
Can I make this dairy free?
After all the hype in my previous paragraph about using the right butter, it seems odd for me to then say 'oh by the way, you cane make this dairy free too'. But this is exactly what I'm saying; you can make this Breton Gateau dairy free.
My advice, if you do plan to make it dairy free, is to use equal amounts of dairy free butter to that in the recipe below but, this bit is important, make sure you use a solid block of dairy free butter.
An example here in the UK is Flora Plant Butter or Violife or Pure who have now brought out a solid block of 'butter'. If you use a spread you won't get the same results.
Why? Think about it, in it's original form dairy free margarines or spreads are spreadable, non-solid fats. Cook them and yes the water in them will evaporate but they will still have a less stable structure when cooled.
A solid fat, heats up, then when left to cool it returns to it's solid state – see the difference?
TOP TIP: dairy free spreads can be devoid of, what's the word, flavour! This is partly down to the lower salt levels, so going back to the paragraph when I rave on about adding salt to this recipe or use a good salted butter, make sure you add salt to taste to achieve the optimum Breton Gateau results.
How do you make a Breton Gateau?
On first impressions you may think this is a complicated bake to make. The truth is that it isn't at all. There seems to be a craze for cookie dough cakes at the moment and while I've eaten a couple myself, I find them way too sweet and the portions are always immense!
This gateau is made much like the trendy cookie dough cakes (technically the reverse is true). Press the base into the cake tin, add the filling and then place a pressed disk over the top and pinch to seal.
In the photos you can see I'm using a silicone baking sheet to work on. For added measure I oiled the sheet too – sticky business. Using two thirds of the biscuit dough for the base, then the final third for the top.
The final image is the beautifully smooth top that's been glazed to within an inch of it's life with the final egg yolk and 1/2 tsp of vanilla extract.
Traditional decoration
The traditional way to decorate a Brittany Gateau is to take a fork and scratch a diamond pattern into the top layer once glazed. The effect you're looking to achieve is a leaded diamond window. I haven't been able to source any evidence as to why the gateau is decorated this way. If you know please do comment below, I'd love to know the answer.
What is the traditional filling for a Breton Gateau?
I'll admit to being a bit confused on this subject. Some accounts mention prunes or a prune paste which sounds awesome to me. I think the sticky sweet fruit puree would be an excellent flavour to marry with the richness of the Breton dough.
More commonly however, you see preserves being used, more specifically jam preserve, jelly or jam. Now I'm always one to be educated on such matters so I encourage you to comment below if you are familiar with the Traditional Breton Gateau and let me know how you have eaten yours in the past.
As you can see, in my recipe I've opted for apricot jam as a filling. Why? because we were running out of strawberry jam during my recipe development and my daughter likes to have seedless jam sandwiches so I had to make sure she had some left over.
If you use strawberry or raspberry jam you do get a different coloured layer to the gateau which is a lovely touch but I think that the apricot layer is equally as appealing taste and looks wise.
Fancy some different flavour ideas? How about completely tearing away from tradition (sorry Brittany) and use a black cherry jam or even marmalade?
What is the history behind a Breton Gateau?
The extract below concisely explains the history behind the Breton Gateau. The linked site goes on to explain that a true gateau should have at least 20% butter.
The gâteau breton comes originally from the area around Lorient. This is a generous-sized shortbread biscuit made with salted butter, with a crust decorated in a lattice pattern made with a fork. In the past it was known as a 'gâteau de voyage' (traveller's biscuit) because it would keep for several weeks and was very popular with sailors

Breton Pastries – Brittany Tourism.com
What's so special about Brittany butter you may ask? Well the region of Brittany is famed for it's milk production and dairy industry. It is also a salt producing region, so farmers would add salt to their butter to firstly preserve the butter and secondly it enhances the butter flavour. In 1343 a salt tax or gabelle was enforced by the then King. A tax that would have hit the region of Brittany hard, however, because Brittany was independent at the time the salt tax did not effect them.
Brittany were thus able to continue to produce salt and salted butter. In fact, I love the thought that the resulting bake was a way of passing the message via travellers (in the from of the Breton Gateau) that Brittany was defiant against taxation. Totally unsubstantiated, but wouldn't be lovely if that were true?
What can I do with leftover egg whites?
I mentioned above that one reason for not developing this Gluten Free Breton Gateau before now, is because you're left with eleventy-hundred egg whites (one for the Hobbit fans out there).
Six egg whites are a lot to waste and thrown down the sink so if you plan to make this gateau you need a contingency recipe that uses leftover egg whites. Do not fear, I have the answer.
A great recipe to use up egg whites is a humble Genoise Sponge. I have this recipe for my Celebration Gluten Free Victoria Sponge Gateau. It's a three tier gateau with strawberries, whipped cream and strawberry preserve drizzle.
How about batch baking my trifle sponges, you can find the recipe here in my Best Ever Gluten Free Trifle! recipe. With this amount of egg whites you can make enough trifle sponges for several trifles or this my recipe for The Best Gluten Free Tiramisu Dessert.
Alternatively, store the egg whites in a sealed Tupperware container or leakproof beaker and keep in the fridge for up to one week if you don't want to use the straight away.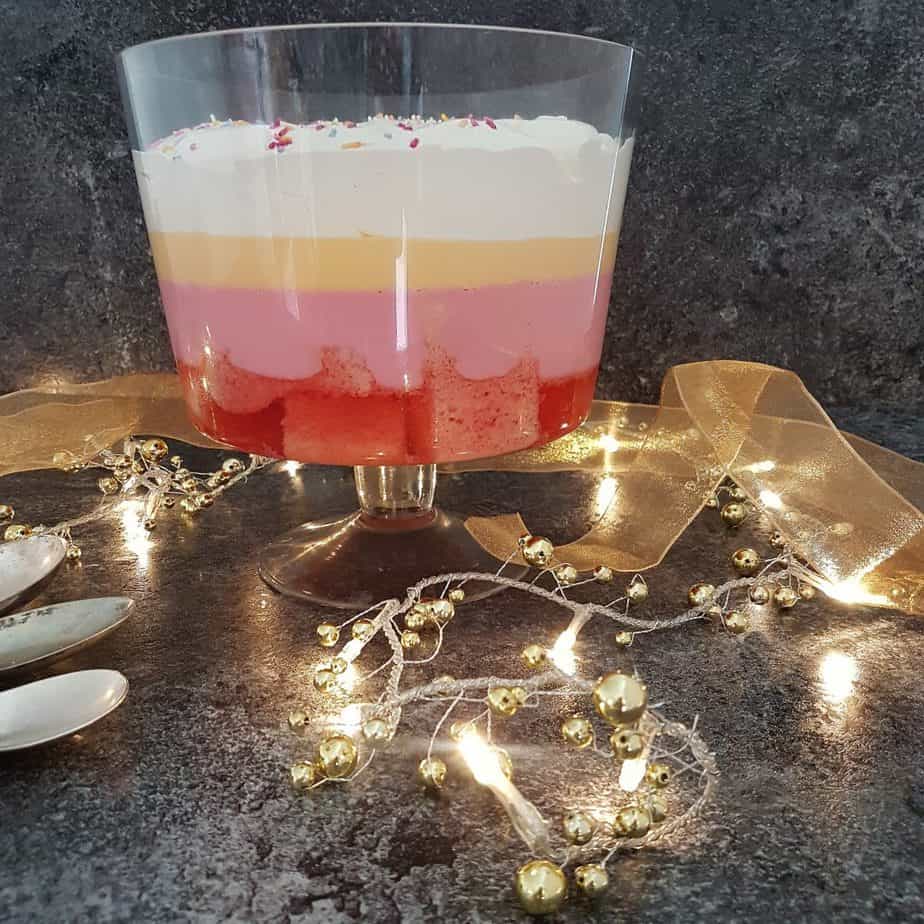 Other delicious gluten free bakes you may wish to try
Gluten Free Breton Gateau Recipe
If you make it and like the recipe I would be eternally grateful if you popped back and commented leaving a star rating as this will tell search engines that this recipe is worth checking out and others will get to find it in searches.
Gluten Free Breton Gateau
A delicious gluten free version of the traditional Breton Gateau. Created in Brittany to celebrate the thriving dairy and salt producing region. This gateau uses 6 egg yolks and a whole pat of butter, not for the feint hearted bakers but my goodness its delicious.
Ingredients
250

g

salted butter

room temperature

250

g

gluten free self raising flour

100

g

caster sugar

golden caster if you have it

100

g

icing/confectioners sugar

5

egg yolk(s)

you need a 6th for the glaze
For the glaze
1

egg yolk(s)

1

tsp

vanilla extract

1

tsp

water
Instructions
To make the gateau dough
In a food processor or large bowl, add the sugars, gluten free flour and room temperature butter (cut into small cubes). If using a processor whizz together into bread crumbs. If using a bowl use your fingertips or a pastry blender.

Next add the 5 egg yolks and whizz together or beat with a spoon until you have a sticky biscuit dough.

Scrape the bowl or food processer clean and add the dough to a Tupperware container (I don't use clingfilm but you could use this). Pop into the fridge for at least an hour to allow the dough to harden.
To build the gateau
Preheat the oven to 190°C | 170°C fan | 375°F | Gas 5

Once chilled, remove from the fridge and cut a third of the dough away. The smaller piece will be the lid.

Line the 20cm loose bottom cake tin with a circle of greaseproof paper.

Tease the larger portion of dough with your hands as if you're trying to mould a plate in mid-air. Now place this rough disc shape into the cake tin and continue to press the dough until it reaches the sides of the cake tin.

TOP TIP: I have a cup of water next to me on the kitchen counter so I can keep dipping my fingers in (makes the whole process far less sticky)

Once you've got your base pressed out, take the jam and dollop it onto the dough, spreading it out to an inch from the edges.

Next take the remaining third of the dough, repeat the 'air plate' action and on an oiled surface (preferably a silicone mat) press the dough out to create a lid for the gateau.

Place the lid carefully over the jam and press down the edges to seal the jam in, this prevents any jam seepage.
To glaze the Breton Gateau
In a cup mix the 6th egg yolk, the vanilla extract and the water to create a glaze. Brush this liberally over the gateau. I mean liberally, it needs to be swimming in glaze!

Place the gateau in the oven to bake for 45 minutes. The top will go a dark golden colour.

Once baked, run a knife around the edges of the cake tin and leaved to cool for 5-10 mins before removing from tin and allowing to cool completely.
Nutrition
Nutrition Facts
Gluten Free Breton Gateau
Amount per Serving
% Daily Value*
* Percent Daily Values are based on a 2000 calorie diet.
Have you tried this recipe?
Let me know how it was & I will be super grateful. Take a picture & tag me @glutarama on your social media posts – I love seeing your photos more than you will ever know x
I love to see your own photos of my bakes, dinners and treats head to your favourite social media account and don't forget to tag me in @glutarama
Subscribe to my email list so that you get NEW recipes straight in your mailbox every Friday PLUS a FREEBIE and access to some amazing gluten free DISCOUNTS
---
I've added this recipe to #CookBlogShare which is being hosted by Melissa Traub
*disclaimer: I use affiliate codes on my website, the vast majority are to Amazon. If you click on any of the links or images in the post and make a purchase my family will benefit from a small % of that purchase at no extra cost to you.

For full transparency, in 2020 I made my first £25, and in 2022 I reached my next £25 (Amazon don't transfer the money until you reach £25). I'm now up to £17.80 for 2023 so edging closer to the magical £25 mark!!

To date I have made £69.28 since I first started the scheme in 2017. It won't pay the bills, that's for sure but it does help to pay for ingredients or little treats to cheer me up!
Join my friendly Facebook Group
life's a drama, gluten free doesn't have to be….