This page contain affiliate links. Please refer to my Disclosures Page for more details.
Also, before you hit 'Jump to Recipe' just check my contents section 'Skip to the Good Bit' below. I may answer a query you have about this recipe straight away in the post.
Time for something a bit different, presenting my Giant Gluten Free Sausage Dinner Roll. I love my teenagers dearly but trying to get them to eat something new is hard work. It's like trying to walk through mud with wellies two sizes too big! not quite sure where that analogy came from! I will not be beaten though, and besides, you'll like my gluten free Sausage Roll recipe won't you?
Never miss out again…
Sign up to my Friday newsletter and receive not one, but THREE FREEBIES.
GF and Vegan e-Book
conversion charts
3 simple guides to allergies, intolerances & autoimmune.
Join me and learn to make anything gluten free.
Can I make this Sausage Dinner Roll vegan?
To make this mid-week gluten free meal vegan as well as gluten free is simple. You can use 6 vegan sausages instead of normal sausages. That's it! The rest of the recipe is already dairy and egg free. The homemade gluten free suet is made using a solid white vegetable fat. I use either TREX or Crisp n' Dry.
Can I use a ready made pastry?
You can use a ready made pastry to make this Gluten Free Sausage Dinner Roll. If you're going down that route then I'd recommend a shortcrust pastry block rather than a puff pastry roll or block. This isn't meant to be a flaky pastry sausage roll, the kind you see at buffets. The recipe is literally a huge pastry roll, with sausage meat and vegetables inside.
How do I make my own gluten free suet?
My gluten free suet is one of the most popular recipes on my website since it began in 2015. It is ridiculously simple and keeps forever in the fridge or freezer. The recipe is below along with my Beef Stew and Dumplings | gluten and dairy free recipe. Alternatively, you can find it in the note in the recipe below.
Can I use other vegetables in this Sausage Roll?
I'll let you into a secret, this Gluten Free Sausage Dinner Roll recipe originally used normal potato. But, since first making it I've discovered I am intolerant to potato so I now use sweet potato. To be honest with you it's much better this way. It has a subtle sweetness that works really well with the sausage meat and it's more nutritional.
Other veggies that do well in this Giant Sausage Dinner Roll are carrots, parsnips or swede. Just remember to cut them up small enough so that they cook in the time allowed.
TOP TIP: by only using the spring onion tops (the green bits) I can keep the bottom bulb part in a jar of water on the window sill and keep them growing. This way you get 2-3 meals out of one bunch of spring onions.
How to make a Giant Sausage Roll
Is Worcestershire Sauce Gluten Free?
Sadly, the original Lea & Perrins Worcestershire Sauce is not gluten free so you need to source the gluten free alternatives. I've added an affiliate link for a great substitute below. You can also get an imitation sauce in Tesco here in the UK.
Is it Worcestershire or Worcester Sauce? I can tell you now it's the former*. This was a topic discussed here in the Hereford & Worcester BBC News. The story of how Worcestershire came to be is amazing as it was a complete accident. It was originally a commission recipe by a Lord who asked Mr Lee and Mr Perrin to recreate a fish sauce he'd had in Bengal. It was disgusting (this makes me giggle) and the gentlemen stored the sauce away. In fact they forgot about it – for two years! When they rediscovered it, the sauce had turned into something quite beautiful. And that is what we know to be Worcestershire Sauce today.
Oh, and incidentally it's pronounced Wooster-shire Sauce not Wor-chest-er-shire
*As the original is trademarked other alternatives are called Worcester Sauce. This why you'll only find gluten free version called by this name.
Other gluten free dinner inspiration
I have a few dinner recipe on the website now. If you've enjoyed my Gluten Free Sausage Dinner Roll then I'll you'll like these too. I've chosen a few sausage inspired recipes below. For the whole collection, click my Gluten Free Mid-Week Meal Recipes link.
Giant Gluten Free Sausage Dinner Roll Recipe
If you make it and like the recipe I would be eternally grateful if you popped back and commented leaving a star rating as this will tell search engines that this recipe is worth checking out and others will get to find it in searches.
Giant Gluten Free Sausage Dinner Roll
Need a quick and simple recipe for mid week family dinners, then this Giant Sausage Dinner Roll is perfect. Super quick and easy suet pastry (using my gluten free suet recipe). A packet of gluten free sausages and veggies to bulk it out – perfect comfort food everyone will enjoy.
Ingredients
For the suet pastry
250

g

gluten free plain flour

100

g

gluten free vegetable suet

[see recipe in notes]

1

tbsp

Colman's Mustard Powder

not ready made English Mustard as this is not gluten free

1

tbsp

ground flaxseed

1

tsp

psyllium husk powder (optional)

3

tbsp

water

to make the flaxseed egg

2

tbsp

fresh chopped parsley

if using dried use only 1 tbsp

salt & pepper to taste
For the sausage filling
6

gluten free sausages

I used Tesco Finest, you can use vegan sausages to make this a vegan dinner

200

g

sweet potatoe(s)

diced up into fingernail sized chunks

bunch of spring onions

you only need the green tops for colour and flavour
For the glaze
1

tsp

gluten free Worcestershire Sauce

1

tsp

dairy free milk

I use soya milk
Instructions
Preheat the oven to 190°C | 170°C | 375°F | Gas 5
To make the sausage filling
Snip the end of each sausage and squeeze the meat out of its skins into the bowl of veg (unusually satisfying this bit!). If making this a vegan dish you probably won't need to do this as vegan sausages tend not to have 'skins'.

In a large bowl add the diced sweet potato and spring onion tops.

Mix the sausage and vegetable ingredients together. To do this I get my hands messy and mush the ingredients together. Once fully mixed set aside to make you suet pastry.
To make the suet pastry
If using a flaxseed egg make this first, add the flaxseed and psyllium husk powder to a small jug, add 3 tbsp of water and mix to combine.

In a large bowl add the flour, gluten free suet, fresh chopped parsley, mustard powder, salt and pepper. Then add your flax egg which will have thickened by now.

Using a rounded knife or pastry cutter/blender blend the ingredients to combine. Now add the 150ml of cold water one tablespoon at a time, keep cutting through the mixture until it comes together in a sticky dough. The idea is to not totally blend the suet into the dough.

Tip the sticky dough onto a well floured surface and gently roll out or press into a circle with the palms of your hands.

Place the sausage mixture in the centre of the pastry.

Now take the edges of the pastry and fold them up over the sausage meat to create a giant ball – don't worry if the pastry doesn't completely cover the meat, this will be the bottom of the dinner roll.

Turn the Sausage Dinner Roll over on to a baking sheet (I use a silicone baking mat). Brush the top of the roll with the Worcestershire Sauce glaze, sprinkle with salt and pop into the oven for 40mins.

Serve piping hot with your choice of veggies and gluten free gravy.
Notes
Ingredients
100g vegetable lard (solid white fat)
200g gluten free plain flour
Instructions
Simply cut the lard into cubes in a large bowl, add the flour and using your fingers or a pastry blender work until you have a large breadcrumb texture.
To achieve a classic suet look you could use a potato ricer and store in the same way. I have added links to kitchen gadgets below.
Any suet you do not use for this recipe can be placed in a Tupperware container and left in the fridge or freezer for up to 3 months.
Recipes to use your gluten free suet are Jam Roly Poly, Steak & Kidney Pudding and dumplings to name but a few.
Nutrition
Nutrition Facts
Giant Gluten Free Sausage Dinner Roll
Amount per Serving
% Daily Value*
* Percent Daily Values are based on a 2000 calorie diet.
Have you tried this recipe?
Let me know how it was & I will be super grateful. Take a picture & tag me @glutarama on your social media posts – I love seeing your photos more than you will ever know x
I love to see your own photos of my bakes, dinners and treats head to your favourite social media account and don't forget to tag me in @glutarama
Subscribe to my email list so that you get NEW recipes straight in your mailbox every Friday PLUS a FREEBIE and access to some amazing gluten free DISCOUNTS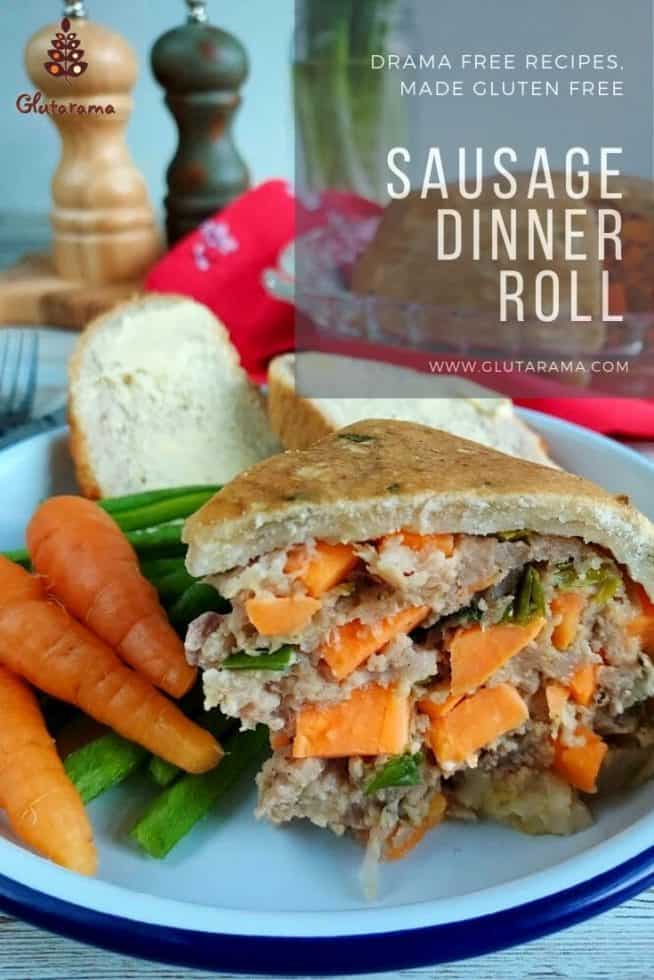 *disclaimer: I use affiliate codes on my website, the vast majority are to Amazon. If you click on any of the links or images in the post and make a purchase my family will benefit from a small % of that purchase at no extra cost to you.

For full transparency, in 2020 I made my first £25, and in 2022 I reached my next £25 (Amazon don't transfer the money until you reach £25). Recently I got paid a whopping £27.10 for 2023.

So to date I have made £78.58 since I first started the scheme in 2017. It won't pay the bills, that's for sure but it does help to pay for ingredients or little treats to cheer me up!
Join my friendly Facebook Group
life's a drama, gluten free doesn't have to be….