These Blueberry Crumble Muffins are super simple with a quick hack to add a delicious crunchy topping. The secret is gluten free biscuits, simply choose your favourite biscuit (or the one you happen to have in the cupboard) and crush them to top your muffins. Hey-presto, crumble-topped muffins.
There is a back story to why these Gluten Free Blueberry Crumble Muffins came to be. I was in our local Tesco Express and my eyes are always on the look out for yellow reduced items stickers! On this occasion it was organic blueberries. I've been known to eat these straight out of the punnet or blend them in a smoothie but this was a day that called for muffins, even better, muffins with a crumble topping.
As this recipe was one of my first recipes it's not been developed specifically to be vegan (dairy and egg free) as back in 2016 I still thought I could tolerate these foods – trust me, I couldn't, I just didn't know it yet!
I have added tips in the following paragraphs to explain how these can easily be made dairy free and a few tips on how they can be made egg free too with a bit of tweaking. If you'd love a recipe specifically developed to be egg and dairy free then let me know in the comments and I'll crack on with it.
Can I use frozen blueberries for these muffins?
I see no issues with using frozen blueberries to make these blueberry muffins. I would recommend that you rinse them first, especially if they have water crystals on them as you don't want any excess liquid in this muffin batter.
Can I make these Blueberry Muffins dairy free?
These muffins can be made dairy free with two simple ingredient switches. For the milk I'd swap for your normal favourite dairy free milk. I use soya but oat, coconut, rice would work equally as well, as would nut milks. For the butter I would recommend finding a solid dairy free butter rather than a spread or margarine. You want to keep the solid fat element of the recipe to aid the muffin structure.
Can I make these Blueberry Muffins egg free?
I've not personally made these egg free yet. However, if I was going to make these I'd use two flaxseed 'eggs' in place of the real eggs see below for how I do this.
How to make a flax egg

to make 1 flax egg you need the following ingredients:
– 1tbsp ground flax seed
– 3tbsp water
– 1tsp psyllium husk (optional but does add elasticity to baking)

Simply add all ingredients to a glass and stir before measuring out the other recipe ingredients, by the time you come to use your 'egg' mixture it will have thickened to a frog-spawn consistency (thicker if you added psyllium husk)

Then just add to your baking as you would an egg. For 2 eggs double the ingredients but note that recipes that require more than two eggs may fail due to lack of support in the structure.
If you are interested in dairy free, egg free recipes that are also gluten free head over to my other recipe collections using the handy links below. I'm confident you will be pleasantly surprise at what you can make free from and never feel like you have to miss out.
What type of biscuit can I use to add the crumble topping?
That is the most flexible part of this recipe. I've used ginger biscuits in the past. Even better in the biscuit had lumps of stem ginger in them. On this occasion I used a shortbread biscuit. Other times all I had handy was a gluten free digestive. At the end of the day, you can use pretty much any biscuit as long as it crumbles up nicely. That said, I'd draw the line at a chocolate chips cookie, that's a bit odd adding chocolate – or maybe that's just me?
Let me know if you've found a delicious biscuit to top these Blueberry Crumble Muffins with in the comments below.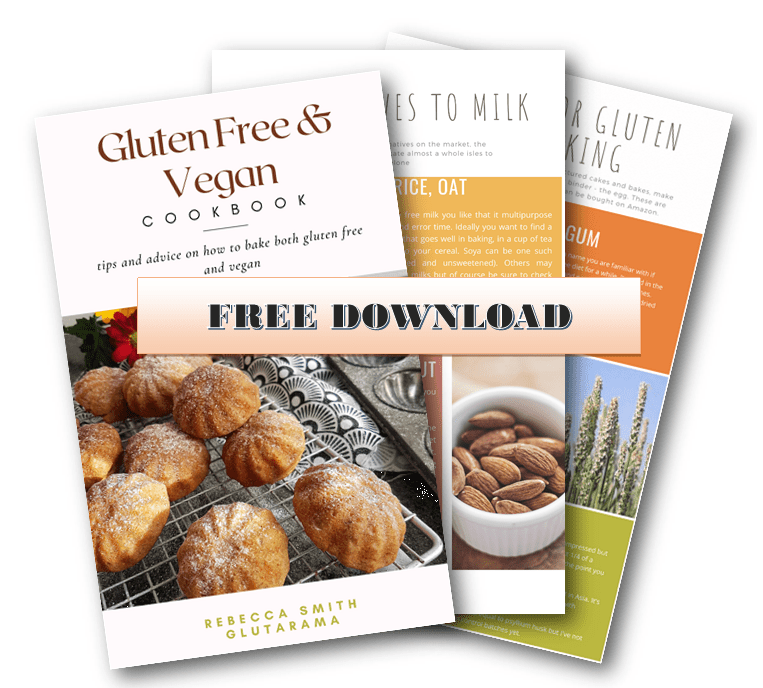 Never miss out again…
Sign up to my weekly Friday newsletter and not only get a FREE e-Book (currently my Gluten Free & Vegan Cookbook) but also get VIP subscriber discounts on free from goodies delivered to your door. Join me in my journey and learn to make anything gluten free.
Trouble shooting
Mixture is too wet – don't worry if you think it's too wet, it IS a wet mixture. If still worried, leave it for 5-10 mins before pouring into the cases, it will naturally thicken due to the gluten free grains plumping up.
The blueberries all sank – they have a tendency to do this don't they! Personally it doesn't bother me. If you'd rather they were better dispersed you could try coating them in cornflour before adding them to the batter, this may help with keeping them more widely dispersed in the each muffin.
My crumble overcooked – this may depend on the type of biscuit you opted for, the higher the sugar content the quicker it will brown/caramelise.
Other gluten free recipes to inspire you
Gluten Free Blueberry Crumble Muffins Recipe
If you make it and like the recipe I would be eternally grateful if you popped back and commented leaving a star rating as this will tell search engines that this recipe is worth checking out and others will get to find it in searches.
Gluten Free Blueberry Crumble Muffins
So simple to make, these Blueberry Crumble Muffins have a quick and easy crumble made out of crushed biscuits. These can easily be made dairy free and guidance in the recipe post shows how they can be made egg free (vegan) too.
Ingredients
200

g

gluten free self raising flour

75

g

golden caster sugar

2

egg(s)

50

g

melted butter

or dairy free alternative, I use Flora Plant Blocks

175

ml

milk

or dairy free alternative, I use soya milk

1

tsp

vanilla extract

150

g

fresh blueberries
For the crumble topping
2

gluten free biscuit(s)

I used GF shortbread biscuits
Instructions
Preheat the oven to 200°C | 180°C fan | 400°F | Gas 6.

Line a muffin tin with 9 paper cases.

Sift the dry ingredients into a large bowl.

In a jug add the eggs, melted butter, milk and extract and whisk to combine.

Pour egg mixture onto the dry ingredients and fold in gently don't be like me and over do this, it should be lumpy.

Finally fold in the blueberries and mix carefully to coat – hold a handful back to top your muffins.

Pour the mixture across the 9 cake cases and set aside.

Crush two gluten free biscuits with your hands into a clean bowl, doesn't matter if you have big lumps or crumbs, as long as you have a crumble.

Top each muffin with a spoonful of biscuit crumble and using the remaining blueberries top each muffin.

Pop into the oven for 22-25mins until golden brown.

Leave to cool for 5mins before transferring muffins to a cooling rack
Nutrition
Nutrition Facts
Gluten Free Blueberry Crumble Muffins
Amount per Serving
% Daily Value*
* Percent Daily Values are based on a 2000 calorie diet.
Have you tried this recipe?
Let me know how it was & I will be super grateful. Take a picture & tag me @glutarama on your social media posts – I love seeing your photos more than you will ever know x
I love to see your own photos of my bakes, dinners and treats head to your favourite social media account and don't forget to tag me in @glutarama
Subscribe to my email list so that you get NEW recipes straight in your mailbox every Friday PLUS a FREEBIE and access to some amazing gluten free DISCOUNTS
*disclaimer: I use affiliate codes on my website, the vast majority are to Amazon. If you click on any of the links or images in the post and make a purchase my family will benefit from a small % of that purchase at no extra cost to you, in fact, for full transparency, in 2020 I made my first £25, and recently in 2022 I reached my next £25 (Amazon don't transfer the money until you reach £25). As you can see, it won't make me a millionaire but it will treat me to a few coffees, Lord knows I need the caffeine!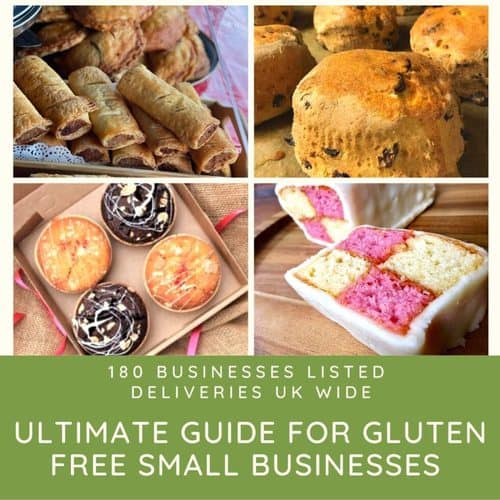 Fancy buying yourself a treat or a gift for a loved one this festive season, then go small…small businesses' that is!

Guide for Gluten Free small businesses that deliver across the UK

— Glutarama, supporting small businesses
---