This page contain affiliate links. Please refer to my Disclosures Page for more details.
My recipe for Rock Cakes was a pure accident originally. I was actually developing the prefect scone recipe which incidentally you can find here Gluten Free Scones Recipe – Best Ever with vegan clotted cream. One of the batches of scone mixture instantly took me back to my childhood when I taste tested it. I immediately knew what it was I was tasting – Rock Cakes!
How awesome is that to have been looking for one thing and accidentally found another. Not just a gluten free Rock Cake recipe, oh no. These traditional bakes are packed with nostalgia and childhood memories. I go all doe-eyed just thinking about when I used to eat these all the time and of course then all the other childhood food memories come flooding back. How amazing that food can have such powerful recall in our memories.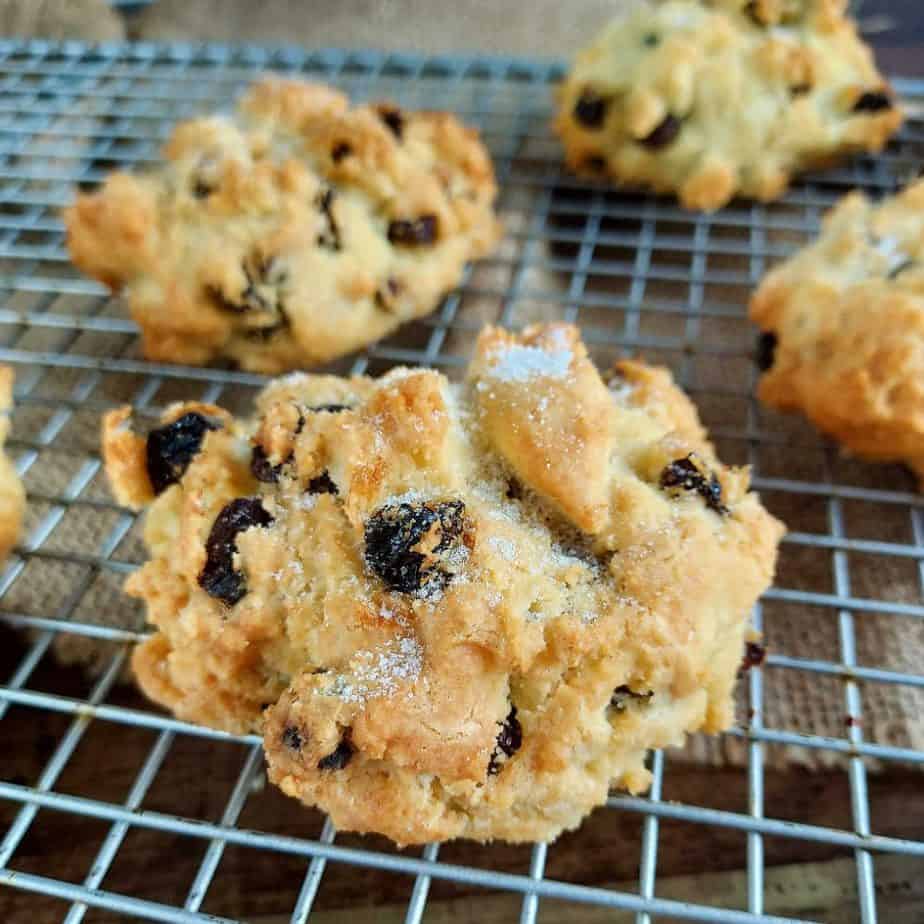 What is a Rock Cake?
A Rock Cake is a hybrid between a shortbread and a scone I guess. They tend to be egg free, as you would expect from a simple scone recipe and of course no eggs go into a shortbread. There is a reason for the lack of eggs but we'll come onto this in the next section.
Typically, Rock Cakes are rough and ununiform shaped with a scattering of currants and very little sugar. They have a crunchier exterior than scones and unlike shortbread have a slight give to the touch. They are a class of their own really!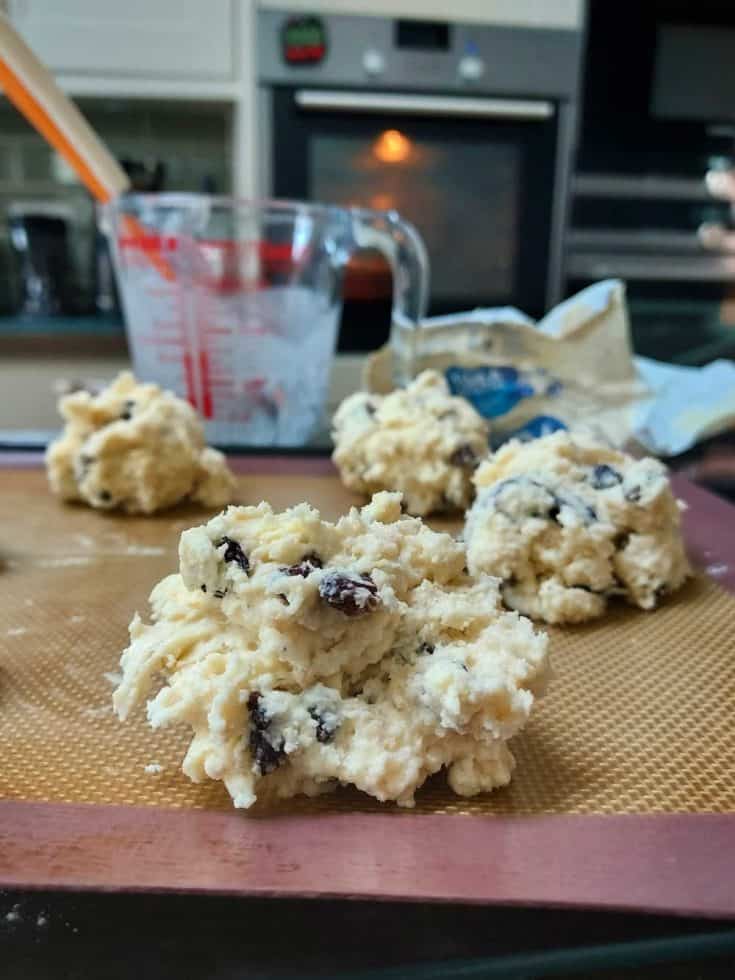 What is the history behind Rock Cakes?
If you know me by know, you'll know I can't let a recipe like this go un researched. So, when I sat down to type up my adapted gluten, dairy and egg free Rock Cakes recipe, I delved into the past to find out where they originated and why?
Rock Cakes became popular in the 1940's during the Second World War. Due to rationing, families had to be inventive with their meals each week and with one egg allowed per family you had to choose wisely how to use that egg.
Sugar was also hard to come by due to blockades and tanker bombings prevent imports so families had to find other ways to sweeten their food, or simply go without. Honey Cake makes a big appearance during this period for that very reason.
Rock Cakes were an excellent way to make slightly sweet buns that were dense enough to fill a starving tummy and easy to bake in ovens, on stove fires and even in well kitted out shelters.
But, the Rock Cake predates the 1940's and can be found in Mrs Beetons Book of Household Management (1861), a book I have personally and refer to all the time to satisfy my curiosity for recipe origins.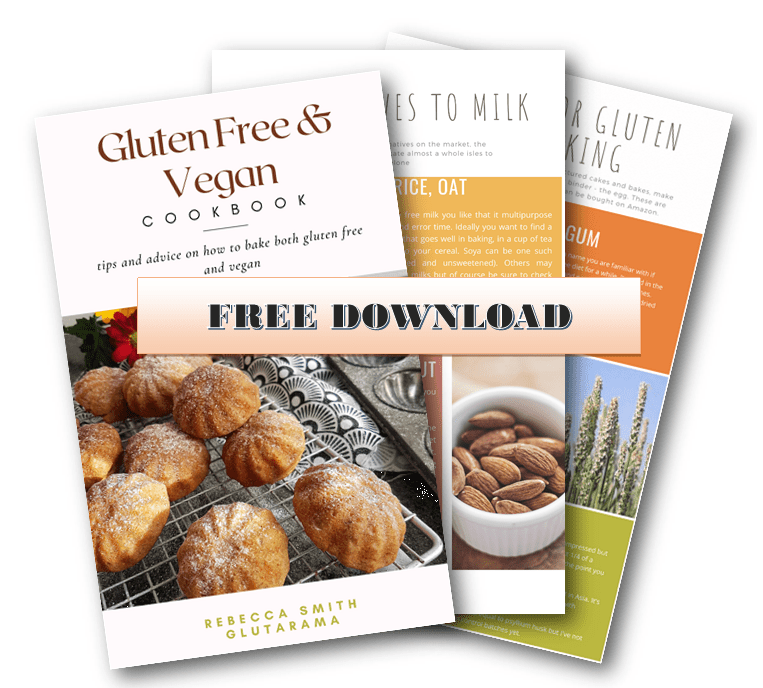 Never miss out again…
Sign up to my weekly Friday newsletter and not only get a FREE e-Book (currently my Gluten Free & Vegan Cookbook) but also get VIP subscriber discounts on free from goodies delivered to your door. Join me in my journey and learn to make anything gluten free.
Can I make these Rock Cakes dairy free?
The simple answer is yes you can make my Rock Cakes Recipe dairy free. The cakes in the photos are dairy free, using a dairy free and vegan plant butter block. I use Flora but there are a few more solid vegan butter blocks coming onto the market now. The important thing to remember is that if replacing dairy in a recipe try to replicate the original structure. What I mean is, replace butter with a solid block, margarine for a dairy free spread and so on.
Can I make the Rock Cakes vegan?
If you read the paragraph before you'll know that you can easily make these Rock Cakes dairy free, and before that I explained that eggs were never intended to be part of the ingredients so all the other ingredients in this recipe are naturally vegan.
That said, when baking anything gluten and dairy free you take away important structural elements required in baking. If you do plan to make these dairy free then I would recommend adding some flaxseed and psyllium husk to the ingredients to reintroduce some of those important building blocks.
If you are new to a vegan diet and need to know what you CAN use for eggs (but not necessary for this recipes) I have added a useful how-to for flaxseed eggs. This is the type of 'egg' I often use in my recipes, otherwise I simply add the flaxseed dry to the flour and combine before mixing with the wet ingredients.
How to make a flax egg

to make 1 flax egg you need the following ingredients:
– 1tbsp ground flax seed
– 3tbsp water
– 1tsp psyllium husk (optional but does add elasticity to baking)

Simply add all ingredients to a glass and stir before measuring out the other recipe ingredients, by the time you come to use your 'egg' mixture it will have thickened to a frog-spawn consistency (thicker if you added psyllium husk)

Then just add to your baking as you would an egg. For 2 eggs double the ingredients but note that recipes that require more than two eggs may fail due to lack of support in the structure.
If you are new to baking gluten free and vegan you're going to find this post really useful Ingredients and Simple Recipes for a Gluten Free Veganuary, the post is aimed at Veganuary but the same tips and advice apply all year round.
What's the best way to store Rock Cakes?
I'm not going to pull the wool over your eyes here. These Rock Cakes taste phenomenal on the day they were baked. My husband and I got carried away on our trips down memory lane the first time I baked these and we ate all eight in one afternoon.
If they do carry over to the next day or the day after that I find a quick zap in the microwave for 10 seconds is ample to freshen them up to have with a hot cup of tea.
I've kept these under a glass dome and in Tupperware and both allow me to keep them for up to but no longer than three days – otherwise you really will be eating Rock Cakes!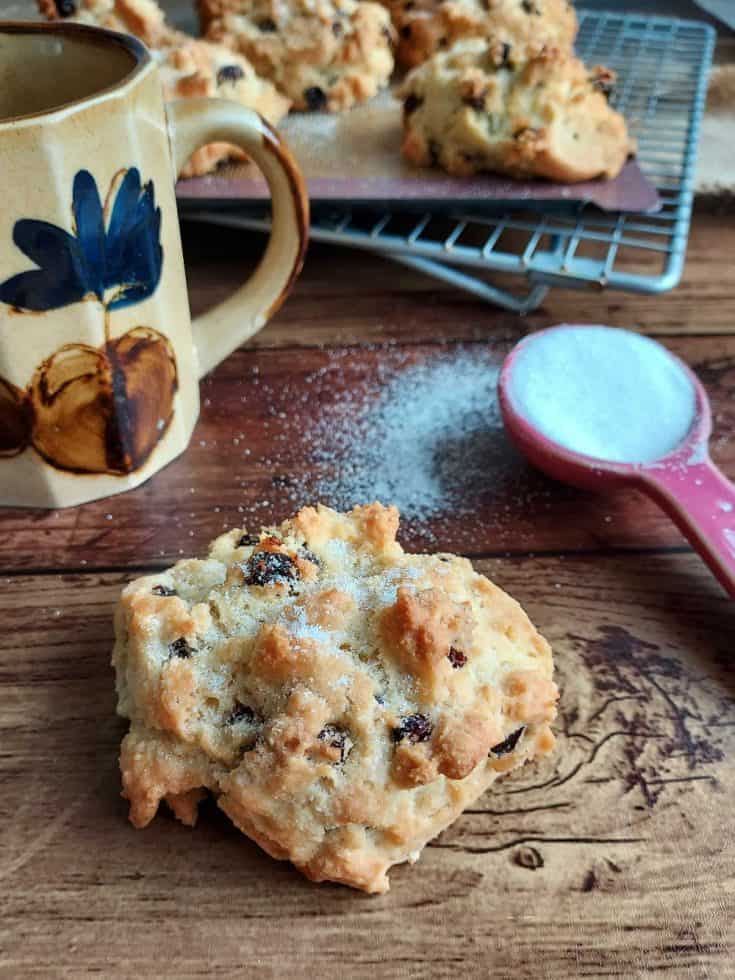 Other Gluten Free Traditional Recipes
Gluten Free Rock Cakes Recipe
If you make it and like the recipe I would be eternally grateful if you popped back and commented leaving a star rating as this will tell search engines that this recipe is worth checking out and others will get to find it in searches.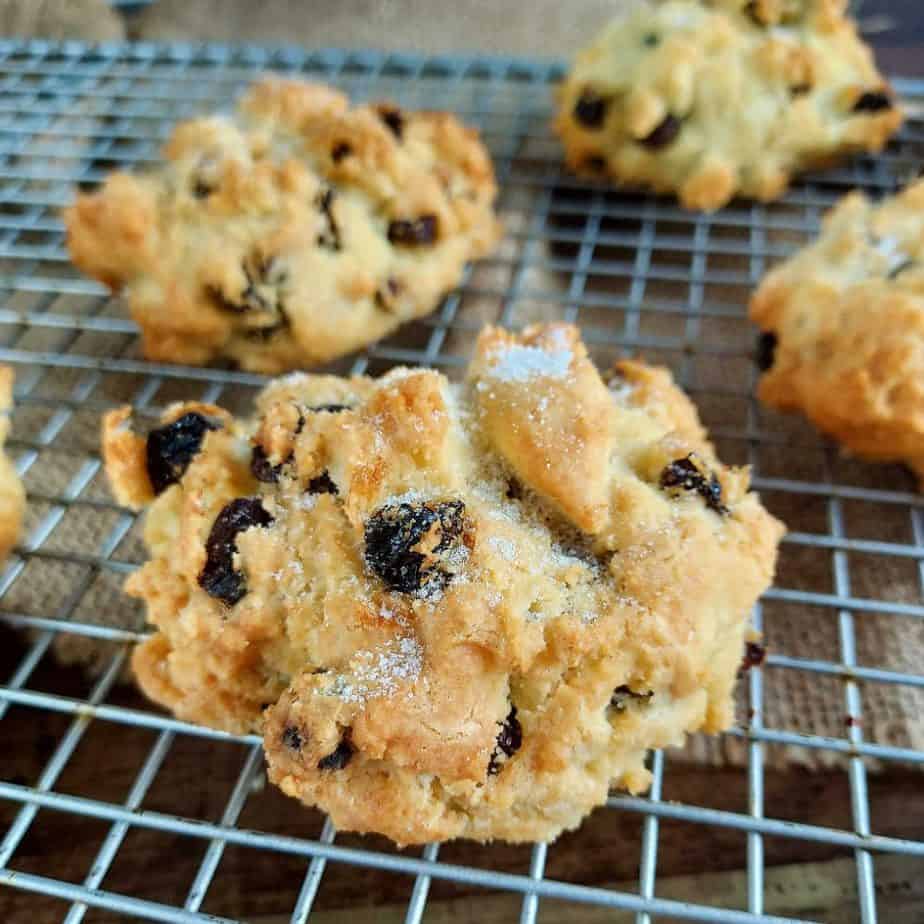 Gluten Free Traditional Rock Cakes
A wonderfully simple recipe for these nostalgic Rock Cakes. Made gluten free with a dairy free option. No eggs so this can easily be made vegan too. Take a trip down memory lane and create new memories for the next generation.
Ingredients
200

g

gluten free self raising flour

100

g

currants

(or raisins)

50

g

vanilla yogurt

(I used Alpro vanilla yogurt)

100

ml

milk

(I used soya milk)

65

g

butter

(I used Flora plant butter)

2

tbsp

caster sugar

1

tsp

lemon juice

¼

tsp

salt
Optional if making dairy free
1

tbsp

ground flaxseed

½

tsp

psyllium husk powder (optional)

, both help with bake structure
Instructions
Preheat the oven to 190°C | 170°C fan | 375°F | Gas 5

Add the currants and mix to combine. Also add the flaxseed and psyllium husk powder if using them.

In a separate jug, measure the milk, yogurt (I find that vanilla flavour adds a lovely sweet taste) and lemon juice, whisk to combine. Don't worry if the mixture thickens this will be the lemon juice setting to work.

Make a well in the crumble mixture in your large bowl and pour the wet ingredients into the middle.

Using a spatula cut through the mixture lightly until the dry and wet have been mixed. Don't worry if you can see little lumps of 'butter' this is fine.

On a prepared baking sheet (I use silicone baking mats) spoon 8 mounds of mixture, no need to worry about how they look, you want your Rock Cakes to look rough and unique to each other.

Bake for 25mins until just golden brown and once ready remove and cool before eating.

or, be like me and eat them whilst they're still warm.
Nutrition
Nutrition Facts
Gluten Free Traditional Rock Cakes
Amount per Serving
% Daily Value*
* Percent Daily Values are based on a 2000 calorie diet.
Have you tried this recipe?
Let me know how it was & I will be super grateful. Take a picture & tag me @glutarama on your social media posts – I love seeing your photos more than you will ever know x
I love to see your own photos of my bakes, dinners and treats head to your favourite social media account and don't forget to tag me in @glutarama
Subscribe to my email list so that you get NEW recipes straight in your mailbox every Friday PLUS a FREEBIE and access to some amazing gluten free DISCOUNTS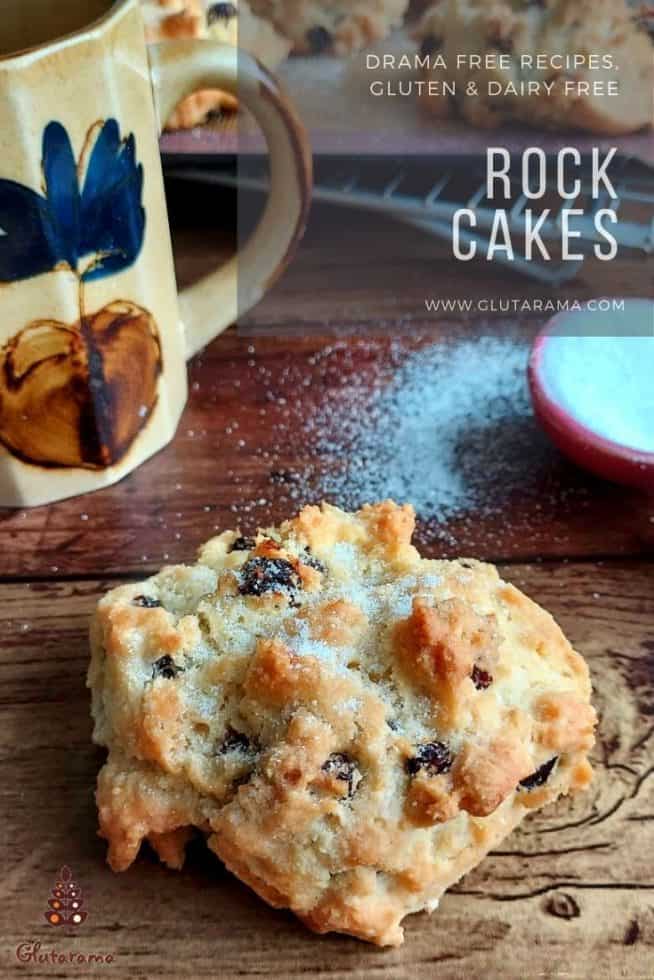 *disclaimer: I use affiliate codes on my website, the vast majority are to Amazon. If you click on any of the links or images in the post and make a purchase my family will benefit from a small % of that purchase at no extra cost to you, in fact, for full transparency, in 2020 I made my first £25, and recently in 2022 I reached my next £25 (Amazon don't transfer the money until you reach £25). As you can see, it won't make me a millionaire but it will treat me to a few coffees, Lord knows I need the caffeine!