This delicious One Bowl Banana Bread Recipe is one of the earliest recipes I adapted to be gluten free. It was long before I had to cut dairy and egg out of my diet so this particular recipe is not vegan too. If you long for a vegan banana bread recipe then why not try out my Tropical Chocolate Banana Bread: free from and vegan.
[Here's the original intro] I just looked on my website to make my banana bread and couldn't believe I've never posted it on here – bizarre! That's one of the most regular bakes that I do for the family. We seem to like the idea of bananas and buy huge bunches of them, but unless I'm on one of my 'smoothie-a-day' weeks they just don't get eaten before they turn black and start to attract fruit flies! On this occasion, the reason I checked the website is because I was sure I'd made a dairy free one before too and wanted to check if I'd posted it, clearly not, so here it is now with a few top tips and useful information along the way.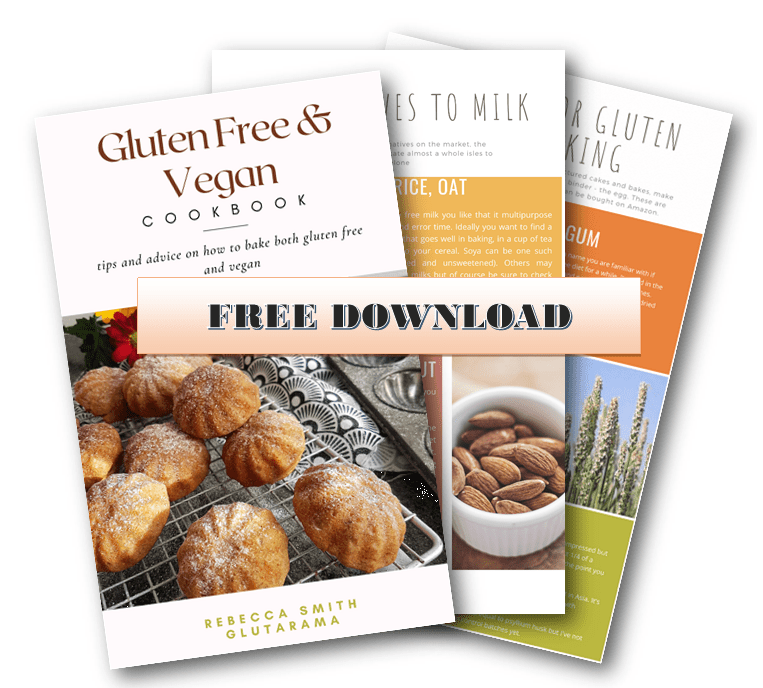 Never miss out again…
Sign up to my weekly Friday newsletter and not only get a FREE e-Book (currently my Gluten Free & Vegan Cookbook) but also get VIP subscriber discounts on free from goodies delivered to your door. Join me in my journey and learn to make anything gluten free.
How ripe do my banana's need to be?
The banana's used in the photos of this banana bread are not nearly ripe enough but face it, who wants to see your banana bread photographed with sad looking black speckled banana's! Once the banana skin starts to show black blotches, that's when you can use them. However, I hold my hands up to using completely black bananas before. The result? Really, really sweet banana bread.
Also remember you need to mash your banana's to make this recipe so why would you want to create backbreaking work by using unripe banana's when you could use overly ripe bananas that simply fall apart and mash easily.
Can I make this Banana Bread with dairy free butter?
Yes you can make this banana bread with dairy free butter rather than sunflower (my preference) oil. I use Flora Plant Butter blocks for my baking. I do know that other brands are now bringing out solid dairy free blocks of butter, rather than margarines or spreads, so you may wish to try one of them instead. Pop back and let me know how you got on as I'm always keen to try other brands if they're any good.
Can I make this Banana Bread vegan?
The recipe calls for three eggs. This is a tall order when asking for an egg substitute to mimic the qualities of three eggs. You may wish to attempt making three flaxseed eggs or opt for a recipe that's already been developed to be egg free. How about trying something a bit different by making my Easy Roast Banana Cake Buns – Gluten Free and Eggless.
Why did everyone start making banana bread in lockdown?
Good question! Why did everyone start making banana bread during lockdown?
I think there are a few reasons for this.
Banana bread is well known for being an easy no fail recipe.
Most people tend to have a loaf tin. Of course I have tins of all shapes and sizes but it's my job to.
The majority of people buy bananas each week and take them to work as part of their packed lunches.
All of a sudden, we weren't going to work in the office, instead we were either furloughed or working from home. But we still added banana's to our shopping list each week for packed lunches. And so the black banana epidemic began!
Finally, the more canny bloggers and influencers will be keeping a close eye on keyword searches. So when 'what can I do with over-ripe banana's' started to trend, everyone and their aunt started to make banana bread and posted it everywhere on social media making the banana bread go viral.
So there you have it. We were still buying banana's, despite not making up a packed lunch each day. And there pretty much is only one thing worth doing with an over ripe banana – make banana bread!
How do I store this gluten free bake?
The best way to keep it is in a Tupperware container in a cool place. Fruit loaves have a tendency to 'sweat' due to the high levels of moisture in them. We've kept this bake for up to 3 days before but on the third day it may need a quick 10 seconds in the microwave to freshen it up if enjoying it by the slice. Alternatively, warm it up longer and serve with custard or loads and loads of squirty cream like my son does. Incidentally, it was Lewis that made the banana bread pictured in this recipe, hence the reason this one has no optional raisins in it because he doesn't like raisins.
Like this gluten free recipe, how about trying these others;
One Bowl Gluten Free Banana Bread Recipe
One Bowl Gluten Free Banana Bread
Nothing can be simpler than a gluten free banana bread. Probably why it was such a popular recipe in 2020 during lockdown. This recipe is my 2016 recipe with updated photos and it's deliciously moist and keeps well for 2-3 days
Ingredients
4

large over ripe banana(s)

100

g

raisins

(optional)

100

g

caster sugar

3

egg(s)

200

g

gluten free self raising flour

1

tsp

baking powder

100

ml

oil (I use vegetable or sunflower)

I use sunflower oil

50

g

demerara sugar

to sprinkle on top
Instructions
Preheat the oven to 180°C | 160°C fan | 350°F | Gas 4.

Grease and line the bottom of a 2lb loaf tin.

Add the bananas to a large bowl and mash with a fork – my bananas were so ripe it was like squeezing toothpaste out of a tube!

Add all the remaining ingredients and beat together.

Tip into loaf tin and sprinkle with demerera sugar for that extra caramel crunchy topping.

Add a foil dome [see notes] to prevent the tops of the loaf from catching (burning).

Cook for 60 minutes.

Remove the foil at 40mins and cook for the remaining 20 minutes (or until a skewer comes out clean)

Remove f rom oven and allow to cool completely or serve whilst still warm with custard for that perfect pudding on a cool day.
Notes
I make a foil lid by taking a large enough piece of foil/aluminium foil to cover the bread tin.
I then make a crease in it by folding the centre of the foil back on itself. This crease acts as an expansion joint so if you banana bread rises way above the tin (it will) then the foil will expand with it protecting it from the heat.
TOP TIP: spray the foil with oil to prevent the banana loaf from sticking to it if it reaches the foil lid during baking.
Nutrition
Nutrition Facts
One Bowl Gluten Free Banana Bread
Amount per Serving
% Daily Value*
* Percent Daily Values are based on a 2000 calorie diet.
Have you tried this recipe?
Let me know how it was & I will be super grateful. Take a picture & tag me @glutarama on your social media posts – I love seeing your photos more than you will ever know x
I love to see your own photos of my bakes, dinners and treats head to your favourite social media account and don't forget to tag me in @glutarama
Subscribe to my email list so that you get NEW recipes straight in your mailbox every Friday PLUS a FREEBIE and access to some amazing gluten free DISCOUNTS
*disclaimer: I use affiliate codes on my website, the vast majority are to Amazon. If you click on any of the links or images in the post and make a purchase my family will benefit from a small % of that purchase at no extra cost to you, in fact, for full transparency, in 2020 I made my first £25, and recently in 2022 I reached my next £25 (Amazon don't transfer the money until you reach £25). As you can see, it won't make me a millionaire but it will treat me to a few coffees, Lord knows I need the caffeine!