What to do with a harvest of Rhubarb, well you could make my Rhubarb Muffins for starters! I have at least two suppliers of homegrown rhubarb and am forever grateful! I've come up with a few recipes on this blog and you really can't beat the humble crumble (that rhymes!). Take my recipe for A simple Gluten Free Rhubarb Crumble with vegan version for example.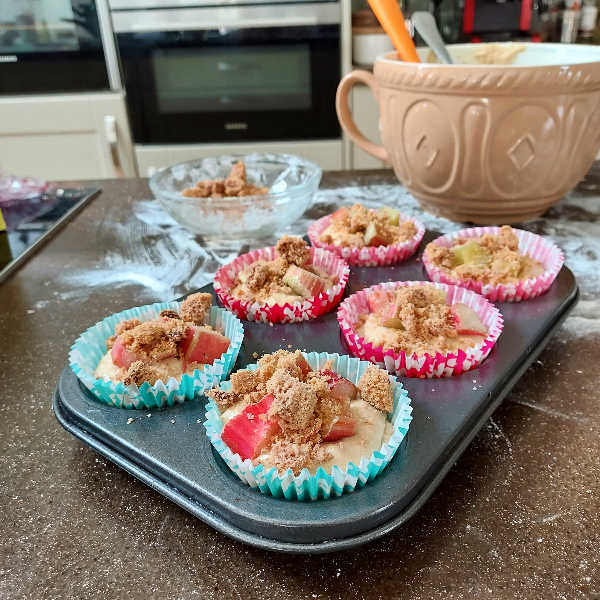 This recipe just so happens to be one of my oldest on the website. It's originally dated 2016 and every time I make these I kick myself for not updating the photographs. Well this time I stopped and remembered. I've also adapted it slightly over the years to make this an egg free Rhubarb Muffin recipe too as I can no longer tolerate eggs. Just me or does that sound like we had a falling out and refuse to talk anymore!
Never miss out again…
Sign up to my Friday newsletter and receive not one, but THREE FREEBIES.
GF and Vegan e-Book
conversion charts
3 simple guides to allergies, intolerances & autoimmune.
Join me and learn to make anything gluten free.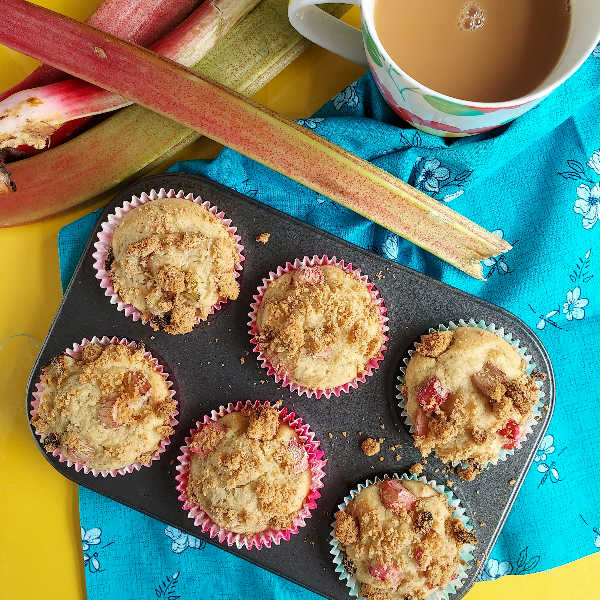 When is the best time to harvest rhubarb?
Frankly, with the climate change messing about with our seasons, you could be forgiven for getting confused. Traditionally the time to harvest rhubarb is between April and May, preferably no later than the first week of July. Not because they turn poisonous as some old wives tales would have you believe. Harvesting them too late leaves the root ball exposed to frosts therefore reduces your chances for a good harvest the following year.
Or, if you are lucky like me you just open your door one day to find a lovely neighbour standing there with your body weight in beautiful rhubarb stalks!
Can you eat green rhubarb stems?
Yes you can use green and pink rhubarb in this recipe. People worry that green rhubarb is unripe but this is not necessarily true. If you can stick your nail in a stem of rhubarb without much force it's read to pull. There just happen to be different varieties of rhubarb, some have green stems, some pink and green. If you can get your hands on some Yorkshire Forced Rhubarb this is vibrant pink in colour and the best for jams, curds and chutneys if you want the colour to come through. To prove a point, the rhubarb in my A simple Gluten Free Rhubarb Crumble with vegan version is forced so you can see for yourself the impact in colour.
How to prepare rhubarb?
If you are lucky enough to be using forced rhubarb then very little preparation is necessary. The stalks are long, straight and supple, making them easy to dice.
However, when using the later store bought version you will probably find that the thin green ends need to be removed. Finally, if the stalks are drier and a little woody in places, you may wish to take a peeler and shave these parts off before chopping and using in recipes.
Can I make these with egg and dairy?
You most certainly can make these with egg, milk and butter. This is a all-in-one recipe so rather than make a separate flaxseed egg I just add the flaxseed dry to the dry ingredients. Because of this you can't just add an egg and omit the flaxseed as you'll have too much liquid. So follow this tip to add egg and dairy.
To make 6 muffins as per recipe
weigh 50g butter to rub your dry ingredients into fine breadcrumbs
measure 100ml milk and add 1 egg, whisk with fork to combine
add the milk and egg to the fine breadcrumb mixture and beat with a wooden spoon.
…continue to follow recipe as written.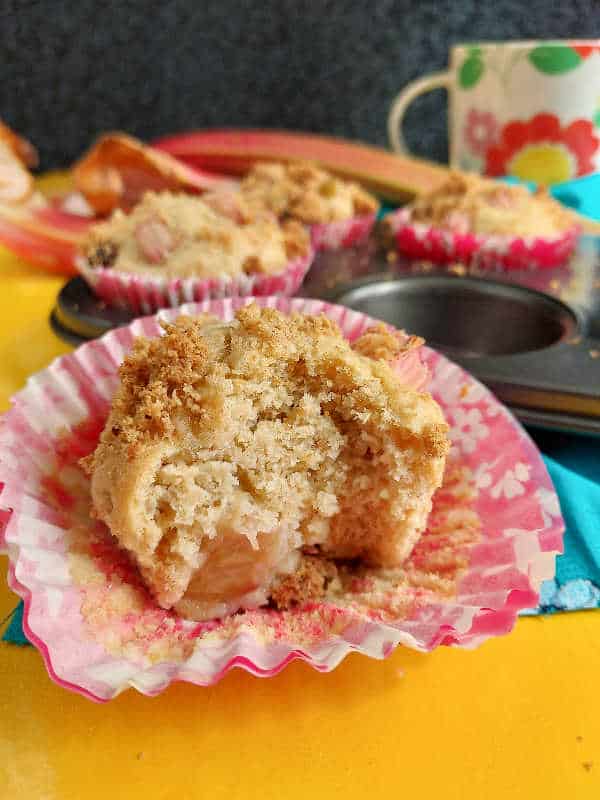 What type of biscuit can I use to add the crumble topping?
That is the most flexible part of this recipe. I've used ginger biscuits in the past. Even better in the biscuit had lumps of stem ginger in them. On this occasion I used a lemon shortbread biscuit. Other times all I had handy was a gluten free digestive. At the end of the day, you can use pretty much any biscuit as long as it crumbles up nicely. That said, I'd draw the line at a chocolate chips cookie, that's a bit odd adding chocolate – or maybe that's just me?
Let me know if you've found a delicious biscuit to top these Rhubarb Muffins with in the comments below. Also, if you love the idea of this recipe then be sure to hop over to see my Blueberry Crumble Muffins made gluten free with dairy free option too.
What other recipes can I make with rhubarb?
Gluten Free Rhubarb Muffin Recipe
If you make it and like the recipe I would be eternally grateful if you popped back and commented leaving a star rating as this will tell search engines that this recipe is worth checking out and others will get to find it in searches.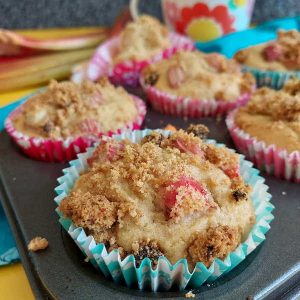 Gluten Free Rhubarb Muffins
These simple one bowl muffins are so quick to whip up for teatime. Made both gluten free and vegan with no egg or dairy, this recipe is accessible to most restricted diets. By adding a crumbled gluten free biscuit to each muffin before they bake you get that extra punch of flavour and texture, making these not your average Rhubarb Muffin.
Ingredients
125

g

gluten free self raising flour

80

g

light brown sugar

150

ml

dairy free milk

– I used soya milk

50

g

butter or butter alternative (I use Flora plant butter)

– I used Flora Plant Butter

1

tbsp

flaxseed

1

tsp

psyllium husk powder (optional)

– optional but does add structure

1

tsp

ground ginger

125

g

diced rhubarb

1

gluten free biscuit(s)

– use whatever is handy, I used a lemon shortbread on this occasion.
Instructions
Preheat the oven to 190°C | 170°C fan | 375°F | Gas 5

Fill a deep muffin tin with 6 large cupcake cases. Add 5-6 pieces of chopped rhubarb to each case and set aside.

In a large bowl measure all the dry ingredients and give a quick stir to combine

Add the 'butter' and using finger tips or a pastry cutter work the fat into the dry ingredients to make fine breadcrumbs.

Add the dairy free milk and beat with a wooden spoon to incorporate all the ingredients into a wet muffin batter.

Spoon the batter equally among the 6 muffin cases and top with the remaining chopped rhubarb.

Finally crush your gluten free biscuit of choice in your hands and sprinkle over the tops to add a crumble topping.

Bake in the oven for 25mins, these will go a lovely golden brown.

Once cooked (you will get a slight bounce to the touch and a toothpick will come out clean) remove from oven and leave to cool for 5 mins before adding to a cooling rack.

Can be eaten still warm (I love mine with dairy free cream) or cooled.
Nutrition
Nutrition Facts
Gluten Free Rhubarb Muffins
Amount per Serving
% Daily Value*
* Percent Daily Values are based on a 2000 calorie diet.
Have you tried this recipe?
Let me know how it was & I will be super grateful. Take a picture & tag me @glutarama on your social media posts – I love seeing your photos more than you will ever know x
I love to see your own photos of my bakes, dinners and treats head to your favourite social media account and don't forget to tag me in @glutarama
Subscribe to my email list so that you get NEW recipes straight in your mailbox every Friday PLUS a FREEBIE and access to some amazing gluten free DISCOUNTS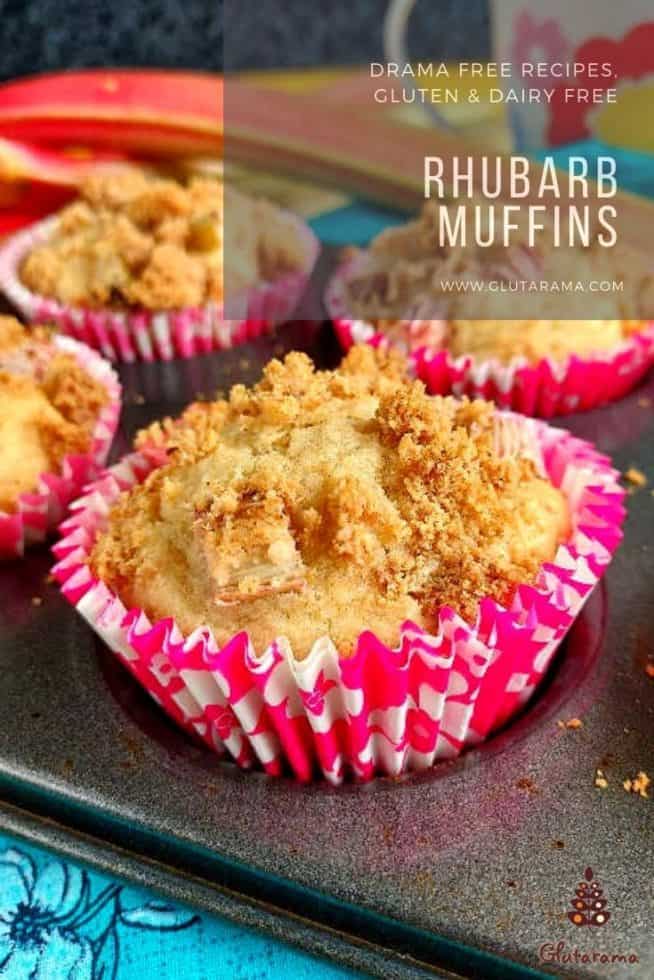 *disclaimer: I use affiliate codes on my website, the vast majority are to Amazon. If you click on any of the links or images in the post and make a purchase my family will benefit from a small % of that purchase at no extra cost to you.

For full transparency, in 2020 I made my first £25, and in 2022 I reached my next £25 (Amazon don't transfer the money until you reach £25). Recently I got paid a whopping £27.10 for 2023.

So to date I have made £78.58 since I first started the scheme in 2017. It won't pay the bills, that's for sure but it does help to pay for ingredients or little treats to cheer me up!
Gluten Free Small Business Guide
Updated on a regular basis, this guide champions small gluten free producers in the UK who deliver awesome free from bakes, cakes and savoury goods.