I do love a good gooseberry and at the time of developing and writing this Gooseberry Fool Crumble recipe I had got my hands on a punnet for free thanks to A B Fruits, who are a local fruit and vegetable supplier for my favourite local café The Pavilion. The freebie was thanks to a wonderful evening I had at The Pavilion when they up with Grub Club in Cambridge and hosted Bedford's first Supper Grub Club.
Childhood Gooseberry Memories
This takes me back to my punnet of gooseberries and enabled me to relive a wonderful memory of my childhood. I distinctly remember loving our garden in our old house growing up, we have half of it sectioned off to form a fruit and veg patch, it was very well stocked and us girls loved harvest time. There was one thing missing though, gooseberry bushes…and boy did I love a good gooseberry!
Our wonderful neighbours Betty and Harvey had lots of gooseberry bushes all within reach of our chicken wire fence (can you see where this is going?) I remember one particular summer sneaking behind the garage out of sight of our back door and squeezing my hand and arm through the wire fence to pluck each and every gooseberry off the closest bush.
Harvey caught me. He was (and still is bless him) a lovely man and he would have thought the whole thing very amusing, especially as I panicked and got my arm stuck trying to withdraw it at speed. I must have looked like a little frightened animal caught in a trap. Needless to say, my scrumping days were over that summer and I seem to recall a big of a dicky belly that night too so karma played its hand promptly.
I still love gooseberries though!
What dairy free cream should I use?
Dairy Free / Vegan Creams
I get asked 'what is the best dairy free cream to use' a lot, so I've added some advice here.
Baked recipes
If using cream alternatives in baked recipes the type of cream matters less but care needs to be taken when cooking it as dairy free cream can still split like dairy cream. Therefore you are free to use any of the following brands; Elmlea (single or double), Alpro (single), Food Heaven – Heavenly (Sweetened or Unsweetened)*, Coconut Cream (any % or coconut extract)
No Bake recipes
Usually in a no bake recipe the cream you add is part of the building block to add structure. For example whipped cream in a Victoria Sponge Gateau. For this reason you need to use a dairy free cream that has the highest fat content so a double cream (Elmlea produce double plant cream) or a Coconut Cream that has 60+ of coconut extract. However, Heavenly also behaves well when whipped.
Ice Creams
I have made my ice creams with all the dairy free creams mentioned above, single, double, high fat, low fat and all work because I always add a little dairy free butter to stabilise the structure so you can use all types of plant/soya/coconut dairy free creams.
Can I use tinned/canned fruit for my Gooseberry Fool?
As you know, the first time I create this I used fresh local gooseberries. I've recently update this recipe making it more delicious. As I'm aware that not everyone can get their hands on fresh gooseberries, I've made the one for these photos with tinned gooseberries so you can see how that version turns out. lets just ignore the vast difference in quality of photo shall we!
The point is that the fresh gooseberries retain some of their greenness and the canned gooseberries have taken on a slightly brown colour. In terms of taste the fresh need more sugar to sweeten while the tinned I added no sugar as they are tinned in syrup.
Other fruits you can use for your Fruit Fool Crumble
I have another recipe on the website for Gluten Free Blackberry Crumble Fool that's also dairy free too and I know this would work particularly well with;
Peaches (tinned or freshly stoned with skin removed)
Rhubarb like this Gluten Free Rhubarb Fool Dessert
Cherries (tinned or fresh with stones removed)
Plums (no need to remove skins they're soft enough once stewing)
…in fact the possibilities are endless!
Please do comment below if you've made this recipe and used a fruit successfully that I've not mentioned here.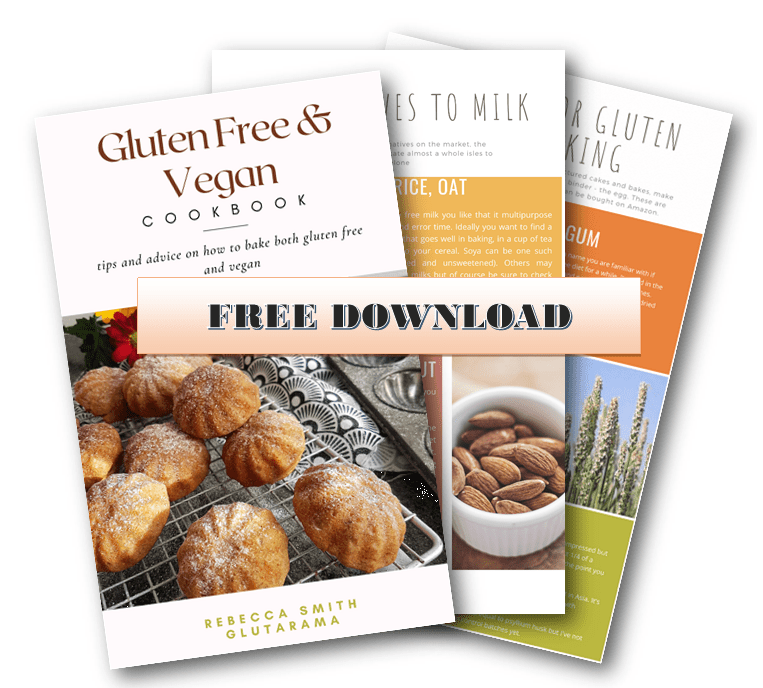 Never miss out again…
Sign up to my weekly Friday newsletter and not only get a FREE e-Book (currently my Gluten Free & Vegan Cookbook) but also get VIP subscriber discounts on free from goodies delivered to your door. Join me in my journey and learn to make anything gluten free.
What biscuits can I use for the gluten free crumble topping?
This recipe was a simple dessert, perfect for hot summers days or as I'm enjoying them as a delicious refreshing supper. If you can get your hands on some particularly delicious gluten free ginger biscuits with stem ginger bits in them you'll thank me, the chewy ginger pieces are to die for in this dessert and totally compliment the stewed gooseberry.
If ginger is not your thing then you could opt for a simple digestive biscuit or shortbread biscuit. Obviously, if catering for dairy and egg free too you'll need to check the labels (always-check-labels).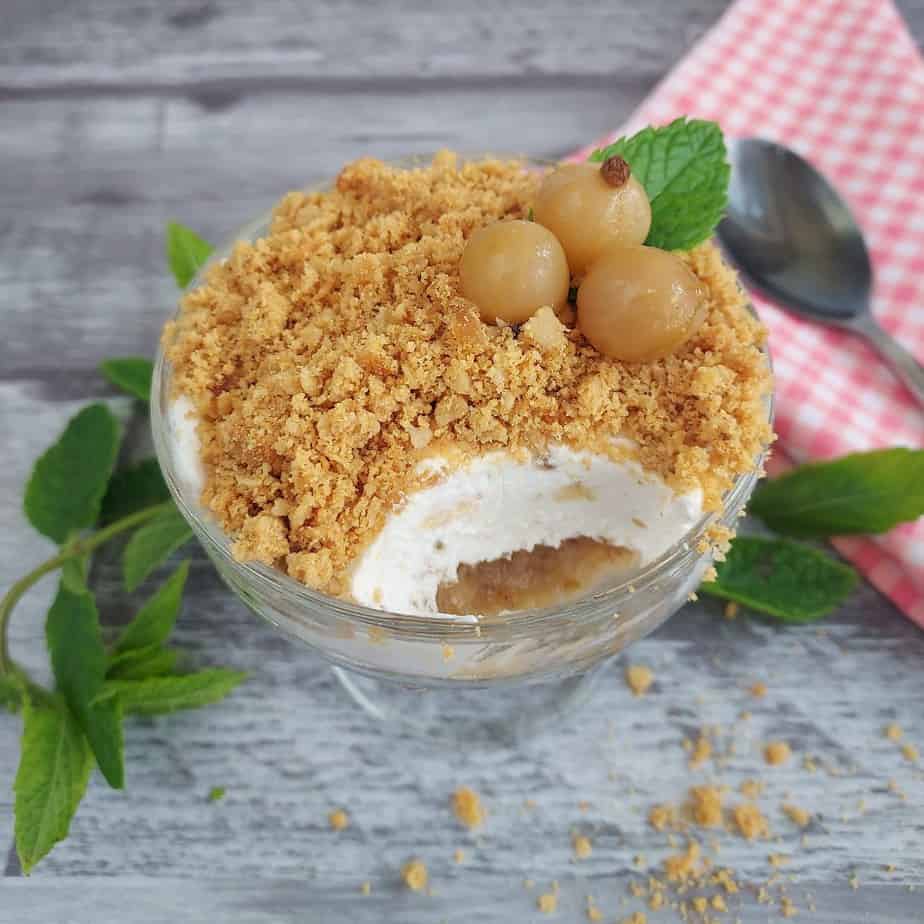 Other Gooseberry Recipes you might like to try
I have a delicious and simple Gluten Free Gooseberry Crumble that I know you will fall in love with and plan to make many more gooseberry inspired recipes soon so to make sure you don't miss out be sure to sign up to my newsletter to get the latest recipe updates and a FREE e-book filled with 30 gluten free biscuit recipes.
If you love the art of making jams and jellies then you are in for a treat with Claire's Gooseberry and Gin Jam over on Foodie Quine. Then there is Camilla's Gooseberry, Apple and Mint Jelly with added video to show you step-by-step how to make it with Camilla you get two preserves with her Gooseberry & Apple Jam, in fact Camilla is queen of preserves so if jams and jellies are your thing then head over to Fab Food 4 All – after making this Gooseberry Fool that is!
For something a little different, how about these Baked Gooseberry and Elderflower Custards by Helen over at Family Friends Food. Or how about these Upside Down Gooseberry Crumble Bars by the talented Mandy at Sneaky Veg, just make sure you use gluten free oats.
Other Crumble Inspired Recipes
I love this Rhubarb and Ginger Crumble Cake and make it regularly, it doesn't matter if rhubarb i in season because you can use tinned rhubarb or cut up rhubarb and freeze like I do. I also have recipes for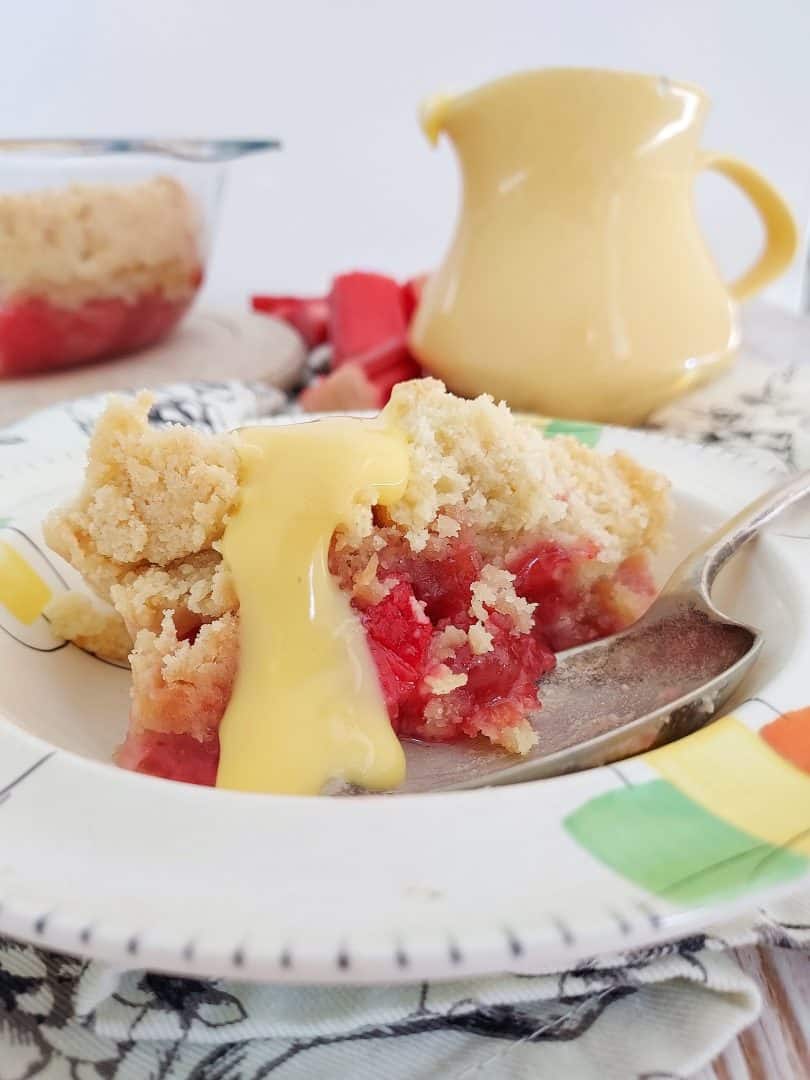 Simple Dairy Free Gooseberry Fool Crumble Recipe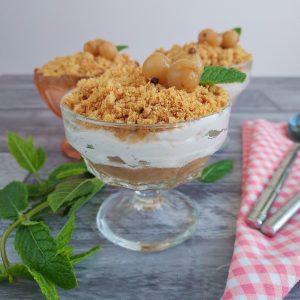 Simple Dairy Free Gooseberry Fool Crumble
A deliciously light and rich summer fruit dessert using a popular summer berry that reminds me of my childhood. This can be made so easily, no fuss and both gluten free and dairy free plus vegan. This Gooseberry Fool Crumble is so creamy that you'll be forgiven for thinking its full of dairy cream despite being free from.
Ingredients
Gooseberry base
200

g

gooseberries

1

tbsp

water

2

tbsp

caster sugar

optional – recommended if using fresh berries

1/2

tsp

arrowroot
Cream fool layer
250

ml

dairy free vanilla yogurt

I used alpro vanilla

250

ml

dairy free cream

I used Heavenly UHT cream on this occasion
Crumble Topping
80

g

ginger biscuits

approx. 4-5 biscuits

2

tbsp

ground almonds

optional
Instructions
To make the gooseberry base
No need to top and tail the gooseberries wash and add them to a non stick saucepan with the water and sugar.

Heat gently for 8 mins until the gooseberries have broken down completely. if using tinned gooseberries this may take less time.

Add the arrowroot and using a whisk stir rapidly to break any lumps, after a couple of minutes on rapid boil remove the pan from the heat.

Top Tip: if you're not keen on seeds, pass the stewed gooseberries through a sieve into a jug and pop in the fridge for 30 mins to chill.

If not bothered by the seed pour stewed fruit into jug and pop in the fridge to chill.
To make the cream fool layer
Beat the 250ml of dairy free cream until thick and then add the dairy free yogurt and mix again to combine.

If you like you can add 2-3 tablespoons of the gooseberries at this point and fold into the whipped cream mixture.
Build the Gooseberry Fool Crumble
Then take your gluten free biscuits and crush them with a rolling pin, then mix in the ground almonds.

Finally build your dessert by adding the stewed gooseberry, then the whipped yogurt and cream and finally top with ginger crumble. Return to the fridge to chill or serve immediately.
Notes
Another option is to add all the gooseberry fruit to the whipped cream and leave out the base layer of stewed fruit.
Nutrition
Nutrition Facts
Simple Dairy Free Gooseberry Fool Crumble
Amount per Serving
% Daily Value*
* Percent Daily Values are based on a 2000 calorie diet.
Have you tried this recipe?
Let me know how it was & I will be super grateful. Take a picture & tag me @glutarama on your social media posts – I love seeing your photos more than you will ever know x
I love to see your own photos of my bakes, dinners and treats head to your favourite social media account and don't forget to tag me in @glutarama
Subscribe to my email list so that you get NEW recipes straight in your mailbox every Friday PLUS a FREEBIE and access to some amazing gluten free DISCOUNTS
*disclaimer: I use affiliate codes on my website, the vast majority are to Amazon. If you click on any of the links or images in the post and make a purchase my family will benefit from a small % of that purchase at no extra cost to you, in fact, for full transparency, in 2020 I made my first £25, and recently in 2022 I reached my next £25 (Amazon don't transfer the money until you reach £25). As you can see, it won't make me a millionaire but it will treat me to a few coffees, Lord knows I need the caffeine!