This recipe for my No Bake Cookie Dough Truffles went on the website back in 2016, a few things have changed since, my photography skills being one and the other main one; Delicious Alchemy no longer sell a cookie mix. I had to rethink this recipe. Scrap it or find an alternative source. I decided on the latter so I can now present you with a new and improved recipe with dairy free and vegan options as well as gluten free.
As the original post states; 'I decided to try some of my own alchemy and made some delicious raw cookie truffles'. I have this (probably annoying for some) knack of taking a shop bought packet mix and doing something completely different with it. I guess I can't help but be creative and conforming to a packet mix and it's instruction just brings out the rebel in me?
My son and I visited Jordan Mill recently, they have a decent sized selection of free from goodies in their gift shop and I saw the packet mix by Doves Freee for their Choc Chip Cookie Mix. It was a sign, I'd been thinking of updating my photos for the original post and this meant the show could go on. I've since done a bit of research for you and found other packet mixes so read on for other examples.
These would work equally as well if you added a tot of brandy or rum, I'd suggest replacing 15ml of the water for 15ml (1 tbsp) of alcohol… this makes 16 truffles.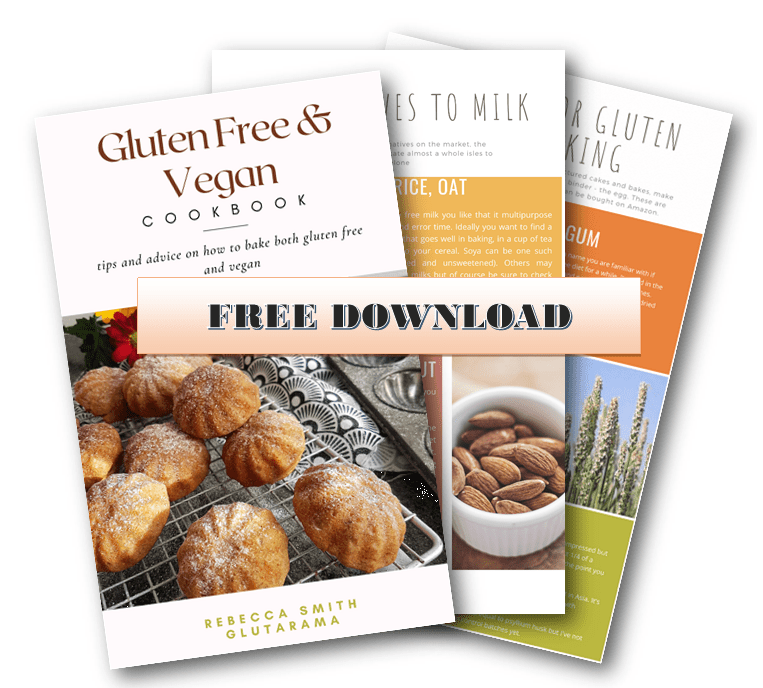 Never miss out again…
Sign up to my weekly Friday newsletter and not only get a FREE e-Book (currently my Gluten Free & Vegan Cookbook) but also get VIP subscriber discounts on free from goodies delivered to your door. Join me in my journey and learn to make anything gluten free.
What Cookie Mix can I use?
I have found other gluten free cookie packet mixes that you may wish to use. This packet mix by Phil Vickery [no longer in production 2022] sounds lovely it's priced a £4.15 for 315g it does ask for an egg but to make these no bake Cookie Dough Truffles you could omit the egg and given the quantities I'd add 80g plant butter and then see if you need to add water a teaspoon at a time to make the mixture soft enough to roll into balls.
Superfood Bakery have a lovely looking chocolate cookie mix. I can't tell what the packet instructions are but I'd bet your bottom dollar its the same; oil and water. So as this is only a 245g mix for £4.29 I'd add only 50g fat (butter or oil) and enough water to make the mix mailable.
Can I make dairy free Cookie Dough Truffles?
Yes you can, in fact the truffles you see here are dairy and gluten free truffles. The Freee mix states you only need to add oil and water. I've changed this for my good old ally in the kitchen Flora's dairy free plant butter.
What chocolate should I use to coat my truffles?
I use dairy free chocolate of course. My go to dark chocolate is Bournville but be warned this has may contains on it for gluten and dairy. I get away with using this chocolate with my daughter because she refuses to eat dark chocolate so no risk of cross contamination there. For the milk and white chocolates I tend to go for supermarket own brands.
TOP TIP: if using dairy free chocolate and you plan to use a microwave to melt. Only do this in shot bursts and keep checking the chocolate. I find that dairy free chocolates have a tendency to burn easily in the microwave if not kept an eye on.
Could I make these truffles vegan?
Depending on the packet mix then yes you can make these vegan. This was made from a packet of Freee and there are no animal products in the mix. You'll need to watch out for powdered milk or egg whites in other gluten free cookie packet mixes.
If you can't stand the heat, got out of the kitchen, or just don't switch the oven on, am I right?

— Rebecca, Glutarama
---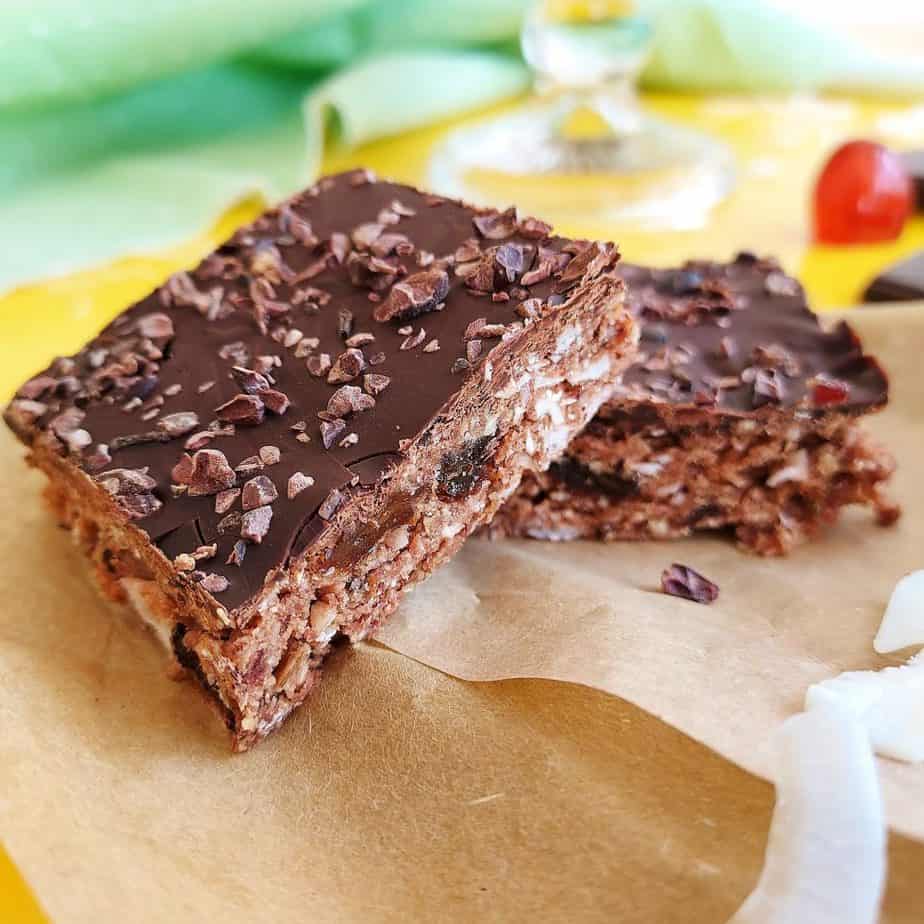 No Bake Gluten Free Cookie Dough Truffles Recipe
If you make it and like the recipe I would be eternally grateful if you popped back and commented leaving a star rating as this will tell search engines that this recipe is worth checking out and others will get to find it in searches.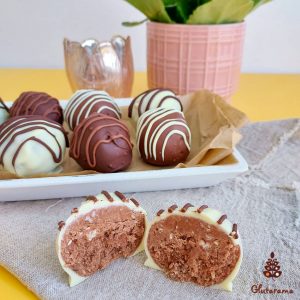 No Bake Gluten Free Raw Cookie Dough Truffles
This is so simple yet incredibly effective. Everyone is bound to be impressed with these delicious sweet treats that are gluten free, and can easily be made dairy free and vegan just by swapping out the butter.
Ingredients
350

g

gluten free cookie mix

I use Freee by Doves Farm

15

g

cocoa powder

30

g

desiccated coconut

80

g

unsalted butter or dairy free alternative (I use Flora plant butter)

(or dairy free alternative, I use Flora plant butter)

30

ml

water
to coat;
100

g

milk chocolate

100

g

dark chocolate

100

g

white chocolate or dairy free alternative
Instructions
Add the Gluten Free Cookie Mix, coconut and cocoa to a bowl

Add the butter and water to a cup and heat in the microwave for 30 seconds (if adding alcohol, add this straight to the dry mix)

Pour melted butter mixture into the dry ingredients and mix to combine.

Turn out onto work surface and knead into a ball (no need to flour surface)

Pop into the fridge too cool for 10 minutes. This will make the dough easier to handle if too wet and sticky.

Remove from fridge and divide mixture in half, then half again and continue until you have 16 lumps of dough, roll each lump into a ball.

Cool your 16 naked truffles in the fridge for at least 30mins!

Gently melt all three chocolate bars in separate bowls.

Remove from fridge and coat each ball with your chosen chocolate (I did 5x milk, 5x dark and 6x white)

I place my truffles onto a silicone baking sheet on a baking tray and once all truffles have been coated, pop the tray into the fridge again to set the chocolate.

If you wish you can add another drizzle of alternating chocolate for that professional touch! To do this I make three little icing bags out of squares of baking paper. I then snip the end off with a pair of scissors and drizzle over each truffle.

Once again pop into the fridge – I keep mine in the fridge in a Tupperware container, this way they stay fresh and cool and don't melt.
Nutrition
Nutrition Facts
No Bake Gluten Free Raw Cookie Dough Truffles
Amount per Serving
% Daily Value*
* Percent Daily Values are based on a 2000 calorie diet.
Have you tried this recipe?
Let me know how it was & I will be super grateful. Take a picture & tag me @glutarama on your social media posts – I love seeing your photos more than you will ever know x
I love to see your own photos of my bakes, dinners and treats head to your favourite social media account and don't forget to tag me in @glutarama
Subscribe to my email list so that you get NEW recipes straight in your mailbox every Friday PLUS a FREEBIE and access to some amazing gluten free DISCOUNTS
*disclaimer: I use affiliate codes on my website, the vast majority are to Amazon. If you click on any of the links or images in the post and make a purchase my family will benefit from a small % of that purchase at no extra cost to you, in fact, for full transparency, in 2020 I made my first £25, and recently in 2022 I reached my next £25 (Amazon don't transfer the money until you reach £25). As you can see, it won't make me a millionaire but it will treat me to a few coffees, Lord knows I need the caffeine!