My easy Vegan Lemon Meringue Pie is something of a triumph! I have memories of eating it as a child back in the 70's and 80's. I can't remember if they were made from a recipe or made using the Birds packet mixes with a shop bought pastry case. Either way they were delicious and in recent years I've had a hankering good old fashioned Lemon Meringue Pie.
Of course, I say 'old fashioned' Lemon Meringue Pie. The fact remains that to make something both myself and my daughter can eat, it has to be both gluten free, dairy free and egg free. So, slightly less old fashioned in our case!
The first hurdle was to create an egg free, dairy free lemon curd (in other words a vegan lemon curd). I'm thrilled to report this turned out to be way more simple than I'd expected and I now have a wonderful Vegan Lemon Curd recipe that I can use with bakes, pies and on toast.
The next, slightly more scary hurdle was the eggless meringue. I was an aquafaba virgin before this recipe. So trust me when I say fear not. If this is your first play with aquafaba I promise you will be pleasantly surprised with the outcome. But first things first, the gluten free pastry case.
How to make a delicious gluten free pie case
I will always go to my favourite pastry recipe made with gluten free flour, dairy free free butter, white vegetable fat (I use Trex or Crisp n Dry), water and flaxseed. To make a sweet short crust you simply add sugar.
I'll go on to explain more on why further down but for a vegan lemon meringue pie you need to blind bake then re-bake your pastry case as this is the only baking process in making this pie (i.e. no baking later on once meringue has been added).
As this is a vegan pie I make a vegan pastry using one flaxseed egg, for more info on this see the box below.
How to make a flax egg

to make 1 flax egg you need the following ingredients:
– 1tbsp ground flax seed
– 3tbsp water
– 1tsp psyllium husk (optional but does add elasticity to baking)

Simply add all ingredients to a glass and stir before measuring out the other recipe ingredients, by the time you come to use your 'egg' mixture it will have thickened to a frog-spawn consistency (thicker if you added psyllium husk)

Then just add to your baking as you would an egg. For 2 eggs double the ingredients but note that recipes that require more than two eggs may fail due to lack of support in the structure.
How to make a vegan meringue
To make a vegan meringue you need three ingredients; aquafaba, caster sugar and cream of tartar. So, if this is a new experience for you you may well be asking – What is Aquafaba?
Aquafaba is the liquid you drain from a can of chickpeas. Normally, if making hummus for example, you'd drain that liquid away and think no more about it. The liquid started out its life as water, pure and simple but in the canning and storage process the chickpeas bathe in the water and release much of their starch into the liquid. It's the starch in the chickpea water that is whippable and keeps its structure. There's a lovely article about aquafaba that I found on the America's Kitchen website and interestingly they conducted an experiment to find out the best way to whip your aquafaba so it's worth a read if you're interested; What Exactly is Aquafaba, and how do I use it?
In this recipe, you simply treat the aquafaba as you would egg whites. Whip them until light, white and fluffy (yes the rusty coloured water turns white!). Then you add your sugar and cream or tartar. The cream of tartar does the same job as it would in an egg meringue and for want of a better word, glues the liquid together ensuring the whipped structure doesn't revert back to a liquid. As you can see from the image I have used a shop bought carton of Aquafaba by Oggs (available in the UK, I got mine in Sainsbury's in the butter aisle).
Other aquafaba recipe ideas
Vegan Chocolate Cherry Amaretti
Delicious little Italian inspired Amaretti biscuits but made vegan with aquafaba, with dark chocolate folded into the ground almonds, a hidden liqueur cherry and rolled in icing sugar. You'll never know these are egg free. Naturally gluten free and dairy free too. Perfect for teatime, festive celebration tables and homemade gifts.
Check out this recipe
Vegan Amaretti Biscuits
Delicious little Italian inspired Amaretti biscuits but made vegan with aquafaba and rolled in icing sugar. You'll never know these are egg free. Naturally gluten free and dairy free too. Perfect for teatime, homemade gifts or even add to trifles for an extra luxury touch.
Check out this recipe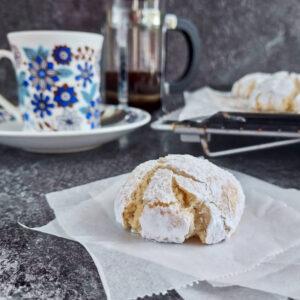 Easy Vegan Rhubarb Meringue Pie
This is a surprisingly simple Vegan and Gluten Free Rhubarb Meringue Pie. It can be made in parts so still possible for a busy baker juggling various jobs. Using my homemade eggless rhubarb curd and a delicious aquafaba meringue you'll be surprised how much this reminds you of the 70/80's classic Lemon Meringue Pie but with a seasonal rhubarb twist.
Check out this recipe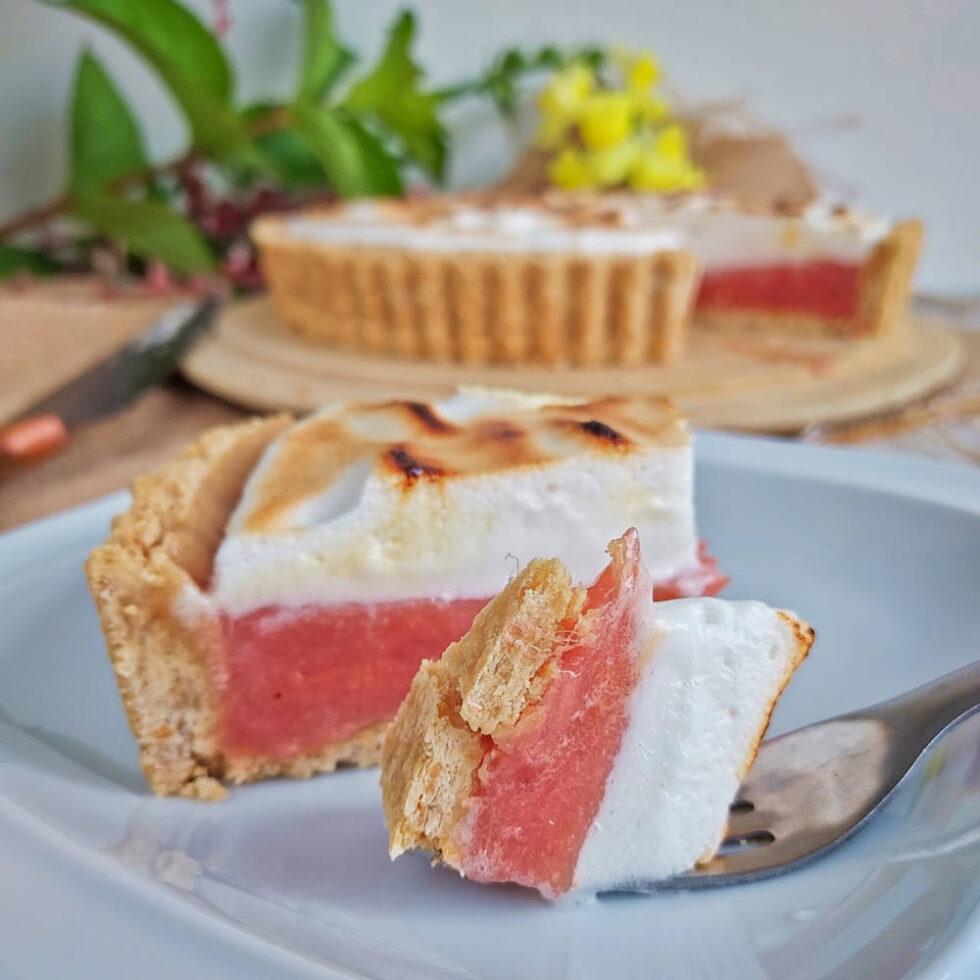 Vegan Lemon Curd Genoise Slice
A gluten free and vegan triple layer Genoise sponge, sandwiched with homemade vegan lemon curd and dusted with icing sugar. A beautiful addition to any afternoon tea table or to have on its own with a cup of tea.
Check out this recipe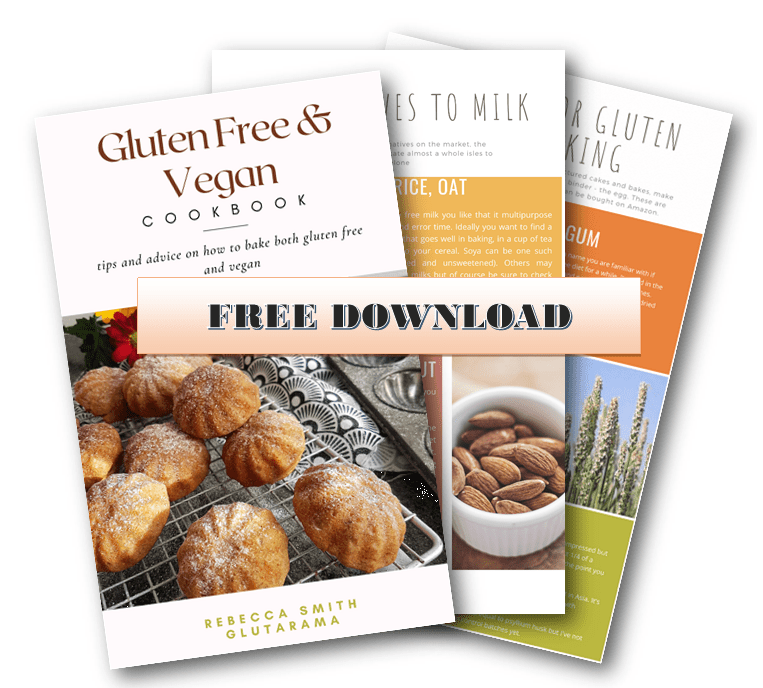 Never miss out again…
Sign up to my weekly Friday newsletter and not only get a FREE e-Book (currently my Gluten Free & Vegan Cookbook) but also get VIP subscriber discounts on free from goodies. Join me and learn to make anything gluten free.
Easy vegan Lemon Curd
My easy vegan lemon curd is made with 4 staple ingredients that I'd imagine many bakers to have in their cupboards. Add the lemons and water and you're on your way to delicious citrus curd in no time. This recipe makes nearly 500ml/g of lemon curd so if you like you could stop there and jar this for another day.
I use the juice of 5 lemons and top up the liquid to 300ml. Into a pan I add the lemon juice and sugar and heat until all the sugar crystals have melted. Then in a small bowl I measure the cornflour, custard powder and arrowroot and add the water to make a paste. Have fun with that, I sure do, it's like a physics science experiment I used to do back in school!
Incidentally, I add the custard powder to add a little extra colour to this vegan lemon curd (I use Birds Custard Powder but it does have a may contain to be mindful of this is you suffer with CMPA). Without the egg yolk a vegan lemon curd can look a little translucent in colour and I'm loathed to add food colouring to a lemon meringue pie.
Do you bake a Vegan Lemon Meringue Pie?
This is where I do the practise and you reap the benefits! The first time I made this I went into auto pilot. I baked the pastry case blind, added the hot lemon curd, topped with clouds of fluffy white vegan meringue and shoved the whole pie into the oven to cook the meringue. Big Mistake!
Aquafaba meringue is a beautiful thing but you have to remember it started out life as water. Water evaporates. My first attempt came out of the oven looking amazing but the meringue was, I don't know how to describe this best so bear with me. The meringue was almost a ghost of itself! It looked great but touch it and it disappeared, turned to powder!
The key to a great vegan meringue is to keep that water trapped, hence the use of cream or tartar, the magic ingredient that makes this possible.
The only way to get that all important golden colour to your vegan meringue pie is to either put it under a hot grill or use a chefs blow torch. Normally I'd use a blow torch but on this occasion I opted to use the grill as I know that not everyone has a chefs torch.
TOP TIP: make sure the grill is already heated and carefully pop your meringue under the grill. You may also find some areas of your grill are hotter than others therefore don't be afraid to gently slide the pie out and rotate it to get an even toasting.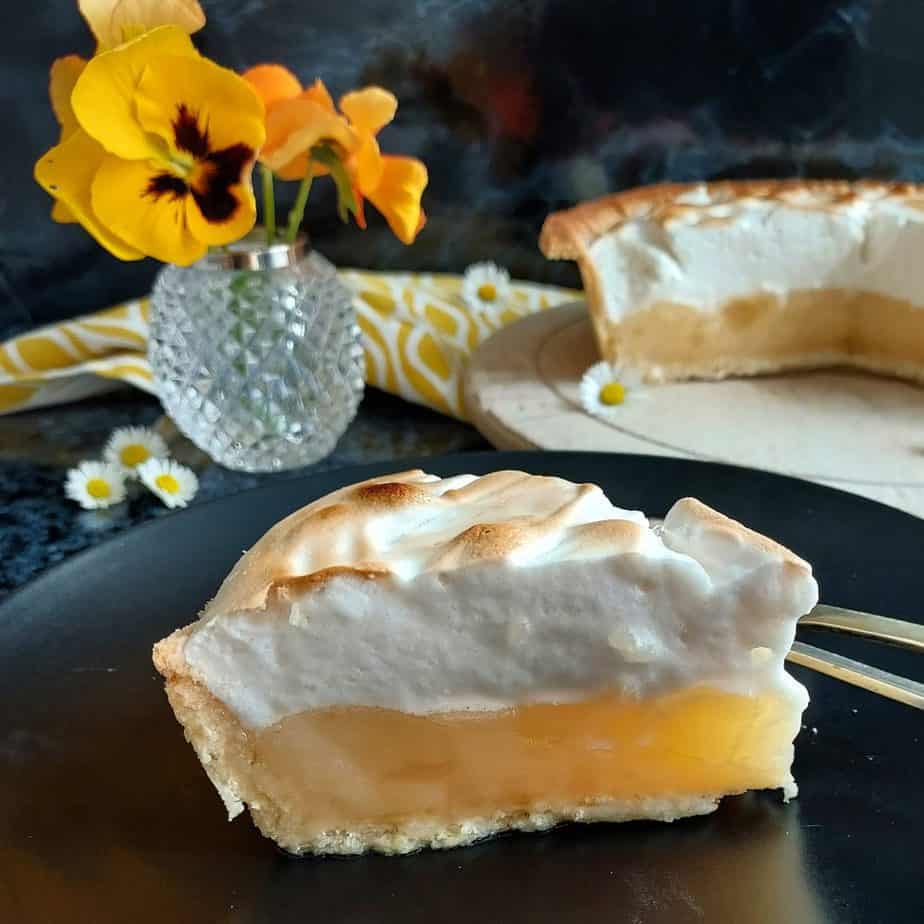 Why is my Lemon Meringue Pie watery (weeping)?
Remember what I said about about cream of tartar? Well if you're pie is weeping profusely than it may be because you didn't add enough cream of tartar. Another reason is if your lemon curd wasn't hot enough when you added it to the pastry case.
The action of adding a hot curd, and then immediately topping with your meringue, is that as soon as the meringue makes contact with the curd it cooks it and seals it.
I'll be totally honest here, vegan lemon meringue pies are going to be more likely to weep than non vegan ones, simply due to the fact you're using aquafaba. In the grand scheme of things is it really a disaster….I say no. The liquid is gorgeously sweet as its effectively a sugar syrup so it's not going make the pie taste bad.
As long as you've baked your pastry case well, it shouldn't make your pastry go soggy either, nobody likes soggy bottoms right?
Should a Vegan Lemon Meringue Pie be refrigerated?
Absolutely you should refrigerate your lemon meringue pie. The pie will continue to set in the fridge and strengthen its structure. I kept the pie you see here for three days in the fridge. after 24hrs you will expect to see some weeping but to solve this I simply sat the pie on a couple of sheets of kitchen roll in an up-side-down Tupperware container (so the pie sat in the lid). By doing this the syrup soaked into the tissue and my pastry case remained crisp.
Other delicious Summertime free from recipe ideas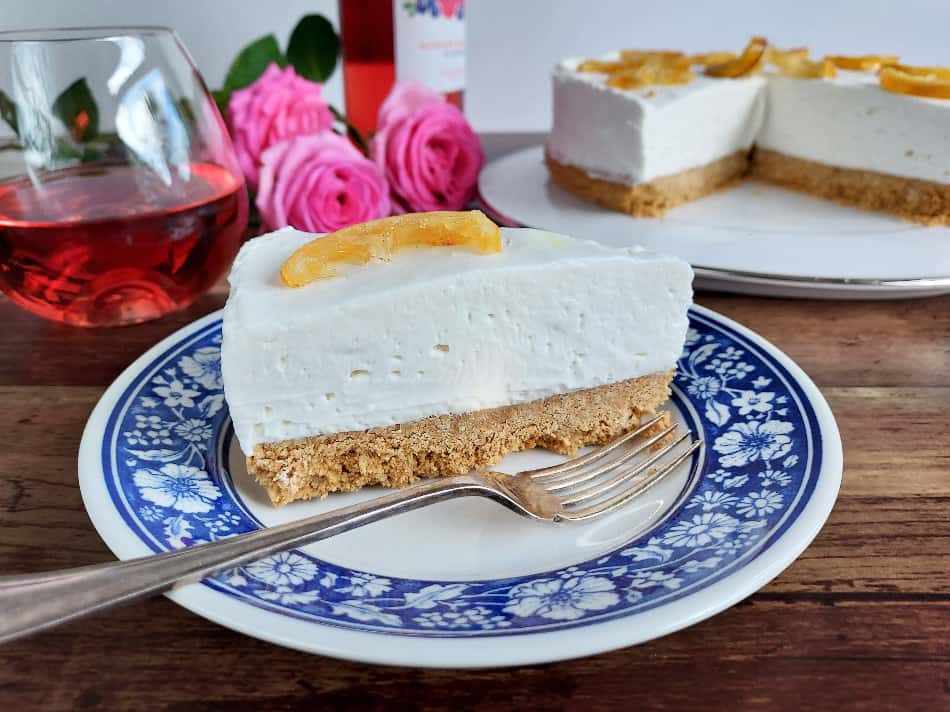 Easy Vegan Lemon Meringue Pie Recipe
If you make it and like the recipe I would be eternally grateful if you popped back and commented leaving a star rating as this will tell search engines that this recipe is worth checking out and others will get to find it in searches.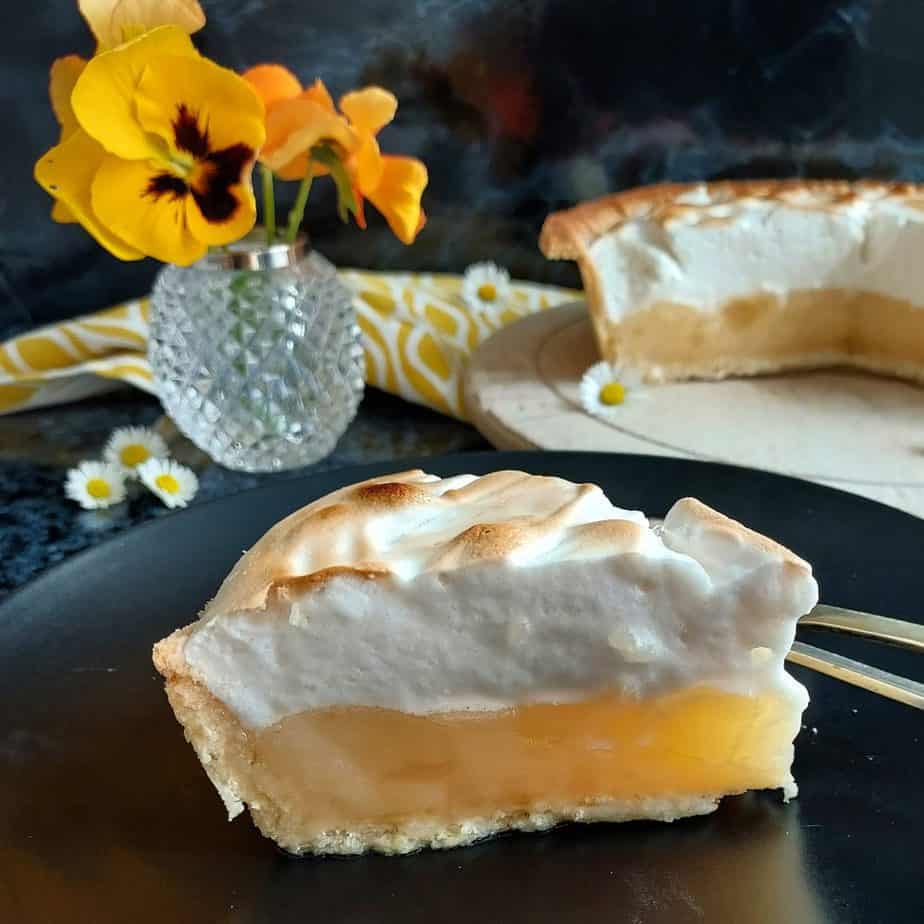 Easy Vegan Lemon Meringue Pie
This is a surprisingly simple Vegan and Gluten Free Lemon Meringue Pie. It can be made in parts so still possible for a busy baker juggling various jobs. Using my homemade eggless lemon curd and a delicious aquafaba meringue you'll be surprised how much this reminds you of the 70/80's classic Lemon Meringue Pie.
Ingredients
Sweet shortcrust pastry
80

g

butter

I use Flora plant butter

20

g

fat (I use Trex white vegetable fat)

I use Trex vegetable fat solids

200

g

gluten free plain flour

all purpose flour

50

g

caster sugar

1

tbsp

ground flaxseed

3

tbsp

water

1

tsp

psyllium husk powder (optional)

optional
Lemon curd
5

lemons

squeezed then topped with water to 300ml

200

g

caster sugar

60

g

cornflour/cornstarch

corn starch

1

tbsp

Bird's original custard powder

1

tsp

arrowroot

4

tbsp

water
Meringue topping
100

ml

aquafaba

I use Oggs or drain a tin of chickpeas [see notes]

100

g

caster sugar

2

tsp

cream of tartar
Instructions
To make the pastry
Make your flaxseed egg by adding the flaxseed, water and psyllium husk (if using) to a small jug, stir to combine and leave.

Measure the gluten free flour, 'butter' and vegetable fat into a large bowl and using your fingertips or a pastry cutter work the fat into the flour until you have breadcrumbs.

Stir in the sugar, then add your flaxseed egg.

Stir the 'egg' into the breadcrumb mixture and turn out onto the kitchen surface. No need to flour the surface.

Bring the crumble mixture together and knead until you have a ball of pastry dough. Pop into a container and put in the fridge to chill while you make the lemon curd.
To make the lemon curd
Add the juice from 5 squeezed lemons to a jug and add enough water to make the liquid up to 300ml. Add this and the caster sugar to a medium saucepan and begin to heat until all the sugar has dissolved.

TOP TIP: keep back one of the lemon halves for later.

In a small bowl measure the cornflour, custard powder and arrowroot, then add 4 tablespoons of water and mix to combine, stir slowly otherwise physics gets in the way!

Remove the lemon and sugar liquid from the heat and pour in the cornflour paste whist stirring with a small whisk. Once all the paste has been combined with the lemon liquid, return to the heat.

Continue to stir on a medium heat. The lemon mixture will change from a cloudy pale cream colour to a slightly translucent delicate yellow colour and thicken. Taste to make sure it's not too sour for your liking (if it is add a little sugar at this stage and stir until it melts).

Remove from heat and set aside. Now you can return to making your pastry case.
To make the pastry case
Pre heat oven to 200°C | 180°C fan | 400°F | Gas 6

Remove the pastry dough from the fridge and knead for a minute. Roll out into a circle with a good thickness (just under 1cm) and line a 20cm round cake tin with the pastry. Preferably use a loose bottom so you can easily remove your pie at the end.

Trim the edges of the pastry with a knife. If you like you can gently press a fork around the edges to create a pretty pattern. I also prick the bottom of the case with a fork to encourage an even bake.

Take a large square of baking paper and screw it up in your hands. This can then be placed inside the pasty case shell and on top of that add your blind baking beads

Blind bake for 10 minutes, then remove from oven, carefully take out the baking paper and baking beads and return to the oven for another 10 minutes

Remove from oven and leave on the side to cool slightly.
To make the meringue topping
Wipe the mixing bowl you plan to use with half a lemon, this ensures the bowl is grease free and encourages the very best fluffy meringue whites.

Pour the 100ml aquafaba into the bowl, add the 2tsp of cream of tartar and using a mixer or hand held whisk, whip for approximately 6-8mins to get a stiff bowl of fluffy white meringue.

Now add the caster sugar one tablespoon as a time and continue to whisk until all the sugar has been incorporated. Set aside for a minute.
To build and bake your lemon meringue pie
Return the lemon curd in the saucepan to the heat and bring back to almost boiling.

If using the grill to caramelise your meringue turn on the grill.

Pour the hot lemon curd into the slightly cooled pie case. Then add spoonful's of sweet meringue to the pie making sure all curd is covered and no longer visible. I don't tend to bother with piping the meringue but instead take a fork and draw swirl patterns in the meringue for effect.

Pop the meringue under the grill and watch like a hawk, rotate the pie if necessary to get an even colour.

Remove from grill once beautifully golden and leave on the side to cool completely.

Once completely cooled pop into the fridge for that final setting to take place (approx. 30mins)
Notes
If using a tin of chickpeas, make sure you thoroughly shake the tin to ensure all the starch is released from the contents of the tin.
You can use the leftover chickpeas to make hummus or simply to add to a salad.
Nutrition
Nutrition Facts
Easy Vegan Lemon Meringue Pie
Amount per Serving
% Daily Value*
* Percent Daily Values are based on a 2000 calorie diet.
Have you tried this recipe?
Let me know how it was & I will be super grateful. Take a picture & tag me @glutarama on your social media posts – I love seeing your photos more than you will ever know x
I love to see your own photos of my bakes, dinners and treats head to your favourite social media account and don't forget to tag me in @glutarama
Subscribe to my email list so that you get NEW recipes straight in your mailbox every Friday PLUS a FREEBIE and access to some amazing gluten free DISCOUNTS
*disclaimer: I use affiliate codes on my website, the vast majority are to Amazon. If you click on any of the links or images in the post and make a purchase my family will benefit from a small % of that purchase at no extra cost to you.

For full transparency, in 2020 I made my first £25, and in 2022 I reached my next £25 (Amazon don't transfer the money until you reach £25). I'm now up to £17.80 for 2023 so edging closer to the magical £25 mark!!

To date I have made £69.28 since I first started the scheme in 2017. It won't pay the bills, that's for sure but it does help to pay for ingredients or little treats to cheer me up!