This recipe for Gluten Free Tiramisu is a recipe I originally developed back in 2016 when I had my sisters and their partners over for dinner. It went down a treat then and has been hugely popular ever since. These days I have to take a back seat and watch the family enjoy my creation as I cannot tolerate dairy or eggs. Both being quite a key ingredient in Tiramisu. I do have plans to develop a vegan one though, watch this space and make sure you're signed up to my Newsletter to be the first to find out when I do.
I have be honest and say this took me no time at all to make. You see, I try to make sure I have Genoise Sponge in the freezer for such occasions. Fear not though, if you are starting from scratch its just an extra 30mins (15 to prep and 15 to bake) to make the Genoise Sponge.
this Genoise sponge is not quite the same the sponge used to make my Easy Swiss Roll Recipe with how to roll instructions or Victoria Sponge Gateau made Gluten and Dairy free. The reason being this sponge is designed to be a harder sponge. This makes it ideal for desserts where you soak the sponge such as the method use in my Best Ever Gluten Free Trifle! I also leave the sponge (once cut into shapes) in the oven turned off until it goes cool. This gives the 'trifle sponges' or 'lady fingers' that familiar outer crust.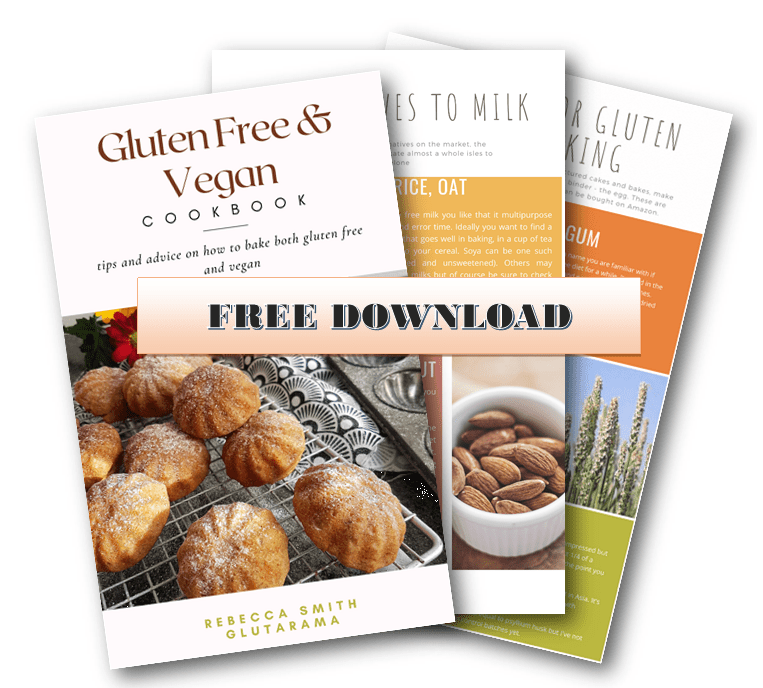 Never miss out again…
Sign up to my weekly Friday newsletter and not only get a FREE e-Book (currently my Gluten Free & Vegan Cookbook) but also get VIP subscriber discounts on free from goodies delivered to your door. Join me in my journey and learn to make anything gluten free.
Where does Tiramisu come from?
As with many age old traditional recipes, the Tiramisu origins play a tug of war with various regions in Italy. The common denominator seems to be grandeur and that the recipe was developed for an aristocrat. This doesn't surprise me at all given the indulgent ingredients.
During my research I found this account on the Origins of Tiramisu by Rivereno Gelato. The article covers these early versions but it would appear that the Tiramisu we all know and love was created as late as the 1950's at the hotel-restaurant Roma in Tolmezzo.
Who am I to argue. Whoever it was, we are eternally grateful because who doesn't love a delicious Tiramisu dessert?
What does Tiramisu mean?
I found this translation via Wikipedia but everything I see here I take with a pinch of Himalayan pink salt!
PICK ME UP – Tiramisu (Italian: tiramisù [ˌtiramiˈsu], from tirami su, "pick me up" or "cheer me up") is a coffee-flavoured Italian dessert. It is made of ladyfingers (savoiardi) dipped in coffee, layered with a whipped mixture of eggs, sugar, and mascarpone cheese, flavoured with cocoa.

Wikipedia
A better translation is carry or pull me up. To be fair it all points to one thing, the dessert is the perfect mood enhancer given the fact it is so indulgent and delicious therefore you do feel better when you've eaten it.
What alcohol is in Tiramisu?
Traditionally the alcohol used in a Tiramisu dessert is Marsala Wine. Your next question may be What is Marsala Wine? Simply put, Marsala wine is a fortified wine produced in Sicily. You can buy it dry and sweet (like a sherry). Sourcing a bottle of Marsala in the shops can be tricky and expensive so some opt for a bottle of Madeira wine instead. That said, this can also be difficult to source and not cheap.
Because life if too short and busy to go hunting for authentic Italian wines, I have some handy back ups.
Sherry, rum and brandy are all great substitutes for Marsala and Madeira wines.
Can I use a shop bought sponge for this dessert?
You can absolutely use a shop bought sponge for this gluten free Tiramisu. If you are stuck for time, then go for a plain madeira cake (there's that word again!). You can open up the packaging the night before, slice the cake and leave it out to go a bit stale. If not don't worry, just slice the cake into inch thick slices and then cut each slice into 2 or 3 to get little rectangles.
Incidentally, if you had planned on making a no bake dessert and this one's not your cup of tea, then why not check out Top 12 No Bake Recipes – all gluten free, quick and easy.
Can I make this Tiramisu Dairy Free?
This Tiramisu can be made dairy free by swapping the cream, mascarpone and sponge for dairy free versions. I've made that sound easy. In reality there's a bit more to it so I am in the process of developing a safe and successful Tiramisu that's dairy free and gluten free. If you subscribe to my Newsletter you'll be the first to know when I'm successful and post it live to the website.
Can I make this Tiramisu Vegan?
Like above, this is something I'm working on. Frankly I adore Tiramisu and I've not had one since 2017 when I realised I could no longer tolerate eggs or dairy. Believe me, this is a priority and I'll be sure to get it right and post the recipe as soon as I can.
The perfect Gluten Free Genoise Sponge for lady fingers (trifle sponges)
This method for Genoise Sponge is very simple so don't be scared of it. Simply follow these step-by-step Genoise recipe instructions, and I promise you'll have Genoise Sponge for Trifles, Tiramisu's and desserts forever more. This sponge is heavier than normal Genoise and perfect for soaking up liquids.
120 g gluten free plain flour
120 g gluten free self raising flour
130 g caster sugar
4 eggs separated
First things first…sieve both the flours together….4x! I've tried making this sponge with and without the sieving process and believe me it does make a difference.
Add the egg whites to a mixer and beat into firm peaks
Add the caster sugar a spoonful at a time. Continue to beat until the whites become stiff and have a beautiful glossy sheen to them. You know it's ready if you take a pinch and rub your fingers together. If you can feel the sugar grains between your fingers you need to continue beating.
Add the egg yolks and mix quickly to combine
Fold in the sifted flours quickly but gently to prevent knocking too much air out of the mixture.
Add to your well oiled and lined tin(s)
Bake on 180°C for 15 minutes – keep a close eye to make sure the sponge does not catch. You know this will be ready when you get a perfect spongy bounce to the touch….the cooked smell is unmistakable!
Cut into the desired shapes and return to the oven with the heat turned off. This will crisp up the outer shell of the trifle sponges.
Does this dessert contain raw egg?
Tiramisu does contain raw egg. The eggs are separated with the yolks being creamed with sugar and the whites whipped until stiff and folded into the creamy mascarpone mixture at a later stage. This technique give the dessert it's light and creamy texture.
Are raw eggs safe to eat? These days, with UK approved hen eggs, the NHS states that eating them raw is fine. See their advice and guidance here The healthy way to eat eggs. If you are not in the UK and are concerned about raw eggs in your diet, please consult a professional and/or refer to your countries food and safety guidelines.
Other delicious gluten free desserts you'll want to try
Gluten Free Tiramisu Recipe
If you make it and like the recipe I would be eternally grateful if you popped back and commented leaving a star rating as this will tell search engines that this recipe is worth checking out and others will get to find it in searches.
Gluten Free Tiramisu
A delicious Italian inspired dessert that's been developed to be gluten free and still as indulgent as the original dessert. This gluten free Tiramisu is rich, creamy, boozy and has just the right tones of coffee and spirits to lift the soul, or lift me up!
Ingredients
For the Genoise 'lady finger' sponge
120

g

gluten free plain flour

120

g

gluten free self raising flour

130

g

caster sugar

4

egg(s)

separated
For the coffee liqueur
200

ml

strong black coffee or coffee extract

I use 4 espresso shots (3 tsp instant coffee in 200ml water)

5

tbsp

brandy

or Masala or Madeira if you can get it.
For the mascarpone cream
2

egg(s) separated

100

g

caster sugar

250

g

mascarpone

300

ml

double cream

2

tbsp

cocoa powder

to dust over both layers
Instructions
Make genoise sponge as directed in previous post or take out of freezer to defrost at room temp for at least 30mins before starting.
To make the coffee liqueur
Brew fresh coffee (4 espressos preferable) or use three spoons of good quality strong black coffee in 200ml of boiling water.

Add the brandy to the coffee and set aside to cool.
To make the mascarpone cream
In a large bowl beat the caster sugar and two egg yolks until thick, creamy and pale in colour.

Add all the mascarpone and again beat to a light 'custard' colour. Scrap the mascarpone cream into a second large bowl.

Rinse your large bowl and dry.

Add double cream to the large bowl and whip until it reaches the soft peak stage (not too stiff but will stand to peaks when whisk is pulled out of cream).

once again, rinse your large bowl and dry. As you are about to whip the egg whites you may wish to wipe the bowl with a kitchen towel and a few drops of lemon juice. This helps the egg whites to beat.

Now whip the egg whites into stiff peaks.

Take a few table spoons of the whites and fold into the second bowl with the creamy mascarpone mixture, this will loosen the cream.

Now tip the remaining egg whites into the second bowl (or visa versa) and fold gently into one light pale cream mixture.
Now it's time to build…
Layer the bottom of a large serving bowl with half the sponge pieces. Don't worry about symmetry or it being a masterpiece. The key is to have some of the sponge touching the sides of the dish (this is for glass dishes).

Using a tablespoon measure, drizzle around 100ml of the brandy and coffee liquid over the sponges.

Now add half the mascarpone cream, smooth down gently with the back of a spoon and dust liberally with 1 tablespoon of cocoa.

Next, repeat the sponge layer, again, no need to perfect here, break the pieces so they fit and make sure the sponge touches the edges.

Repeat the coffee drizzle step with the remaining brandy liquid and add the remaining cream. You may need to tease the cream into the gaps at the sides of the dish between each chunk of sponge. Smooth the final cream layer with the back of a spoon.

Finally dust the top with the 2nd tablespoon of cocoa and pop in the fridge for 12hrs at least but if you can wait this long 24hrs is perfect.

I promise, it's worth waiting for.
Nutrition
Nutrition Facts
Gluten Free Tiramisu
Amount per Serving
% Daily Value*
* Percent Daily Values are based on a 2000 calorie diet.
Have you tried this recipe?
Let me know how it was & I will be super grateful. Take a picture & tag me @glutarama on your social media posts – I love seeing your photos more than you will ever know x
I love to see your own photos of my bakes, dinners and treats head to your favourite social media account and don't forget to tag me in @glutarama
Subscribe to my email list so that you get NEW recipes straight in your mailbox every Friday PLUS a FREEBIE and access to some amazing gluten free DISCOUNTS
*disclaimer: I use affiliate codes on my website, the vast majority are to Amazon. If you click on any of the links or images in the post and make a purchase my family will benefit from a small % of that purchase at no extra cost to you, in fact, for full transparency, in 2020 I made my first £25, and recently in 2022 I reached my next £25 (Amazon don't transfer the money until you reach £25). As you can see, it won't make me a millionaire but it will treat me to a few coffees, Lord knows I need the caffeine!
Join my friendly Facebook Group
life's a drama, gluten free doesn't have to be….