This page contain affiliate links. Please refer to my Disclosures Page for more details.
This Gluten Free Spiced Peach Tart Tatin was originally a last minute off the cuff recipe because of four unhappy peaches! It's effectively an upside down peach pie. Here's the original post, back when we had a garage (which is now my office and where I'm typing this now!)
2016: The fridge freezer in the garage … I know you're not supposed to have a fridge freezer in the garage before you put your hand up, it's an over flow white good to house the copious amounts of gluten free bread loaves. Anyway, the fridge freezer in the garage was playing up in the unexpected heat we've experienced here in the UK (which is EXACTLY why you should not have a fridge freezer in the garage!) My peaches ready for the fruit bowl had started to freeze, I knew this would not have a happy ending unless I baked with them, peach crumble, peach cobbler and hot peach galette were out of the question, too hot so my mind turned to tarts! Tarte Tatin to be precise, cooled with oozing syrupy juices and fresh cream. So, here you have it, my Spiced Peach Tarte Tatin made super easy with Silly Yak Pastry.
Silly Yak ready made pastry is a thing of the past now, it left the shelves around 2017 I think? So, when I decided to update this recipe with new photos, I thought I'd treat you with a simple home made gluten free pastry recipe and a bit of history behind the humble yet world prolific Tart Tatin.
What's the history of the Tart Tatin?
I took this information from a hugely informative post by Taste Atlas Tart Tatin Authentic Recipe their website is full of history of recipes and being a historian myself (you didn't know that did you!) I love to hear about the origin of recipes. Of course you can also find this kind of info on Wikipedia but this is the most comprehensive history of the Tart Tatin I've found;
Tarte Tatin was created in the 1880s by the Tatin sisters at their hotel in Lamotte-Beuvron, France. The first written record of the tart hails from a 1903 issue of the Bulletin of the Geographical Society of Cher (an administrative district of Sologne). Later, unpublished, hand-written notes were found containing first-hand observations of how the tarte was made. These notes were taken by Marie Souchon, a close friend of the sisters, and they are thought to be the first recorded recipe of the now-famous tarte. One popular legend regarding this tart states that it was invented when one of the sisters left the apples for a pie poaching in butter and sugar for too long, and the sugar began to caramelise. Not having time to make another one, she ended up simply covering it with pie crust and turning it upside down in an attempt to salvage it. The guests at the hotel loved it, and it became the sisters' signature dessert.

Taste Atlas
Can I use tinned/canned peaches?
Yes of course you can use tinned peaches for this tart tatin. you can normally buy two type of canned peach in the supermarkets; sliced and halved. Which one you use depends entirely on how you wish to decorate your peach tart tatin. With the sliced peaches you can create a beautiful circular fan effect, whilst the halved peaches will create a chequerboard effect. The method below is easier to portion, especially if, like me, you have used a square skillet pan but the pastry may sag and crack if the gaps are too large between peaches. I have requested a round one for my birthday so lets see if anyone gets me one!
If you do decide to use tinned peaches the end result will possibly be a more vibrant colour, and the fruit will be softer to eat.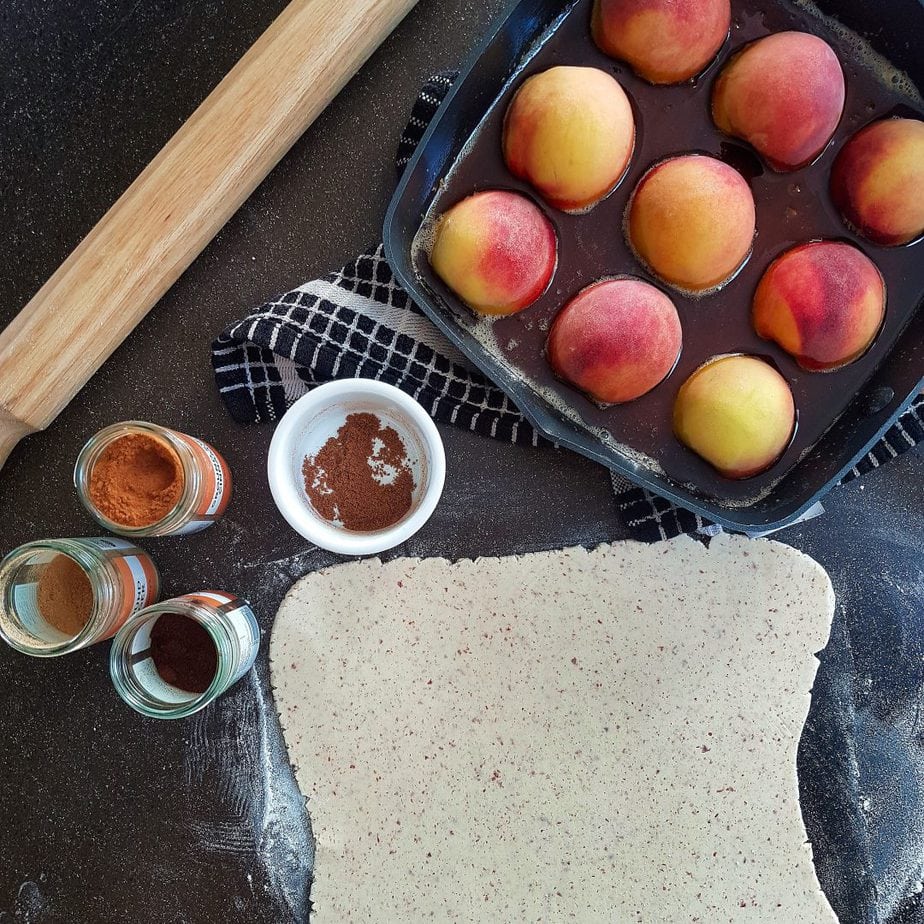 How to make a flax egg

to make 1 flax egg you need the following ingredients:
– 1tbsp ground flax seed
– 3tbsp water
– 1tsp psyllium husk (optional but does add elasticity to baking)

Simply add all ingredients to a glass and stir before measuring out the other recipe ingredients, by the time you come to use your 'egg' mixture it will have thickened to a frog-spawn consistency (thicker if you added psyllium husk)

Then just add to your baking as you would an egg. For 2 eggs double the ingredients but note that recipes that require more than two eggs may fail due to lack of support in the structure.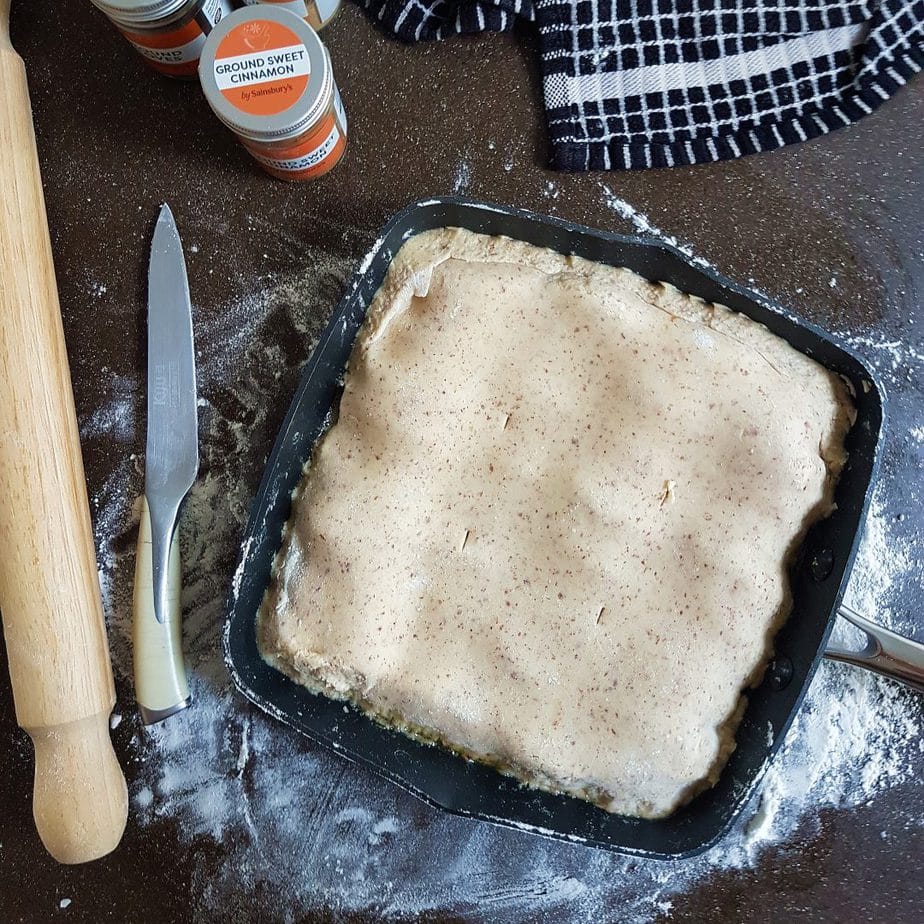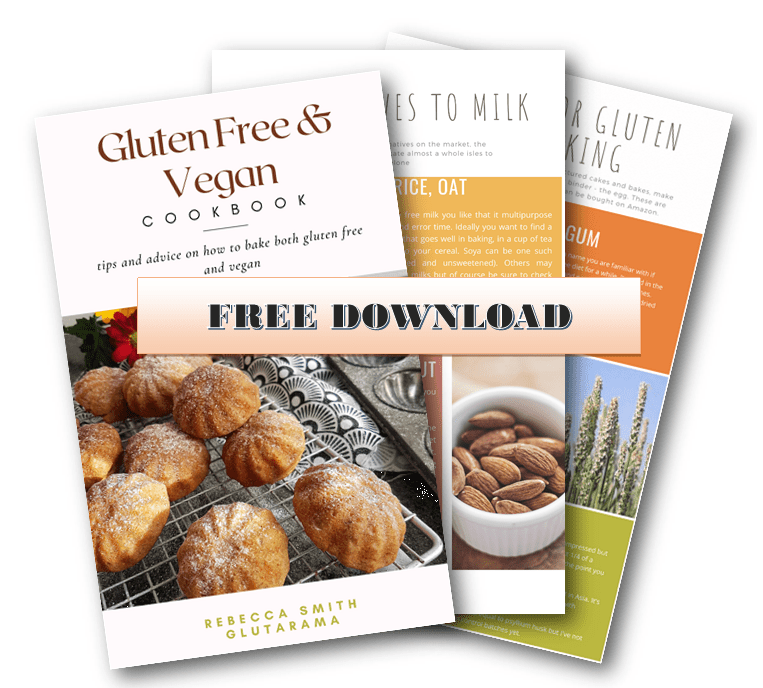 Never miss out again…
Sign up to my weekly Friday newsletter and not only get a FREE e-Book (currently my Gluten Free & Vegan Cookbook) but also get VIP subscriber discounts on free from goodies delivered to your door. Join me in my journey and learn to make anything gluten free.
Other recipes you'll love if you enjoy this Gluten Free Tart Tatin
I'm starting to create quite a collection of fruity pudding and dessert recipes here on Glutarama. If you think you're going to enjoy this Peach Tart Tatin, then I'm confident you're going to love these Easy Gluten Free Apple Turnovers with a hint of cinnamon. Then there is my Old Fashioned Apple Pie; free from dairy and gluten and wait til you try my Rhubarb and Ginger Crumble Cake: Gluten Free and Gorgeous.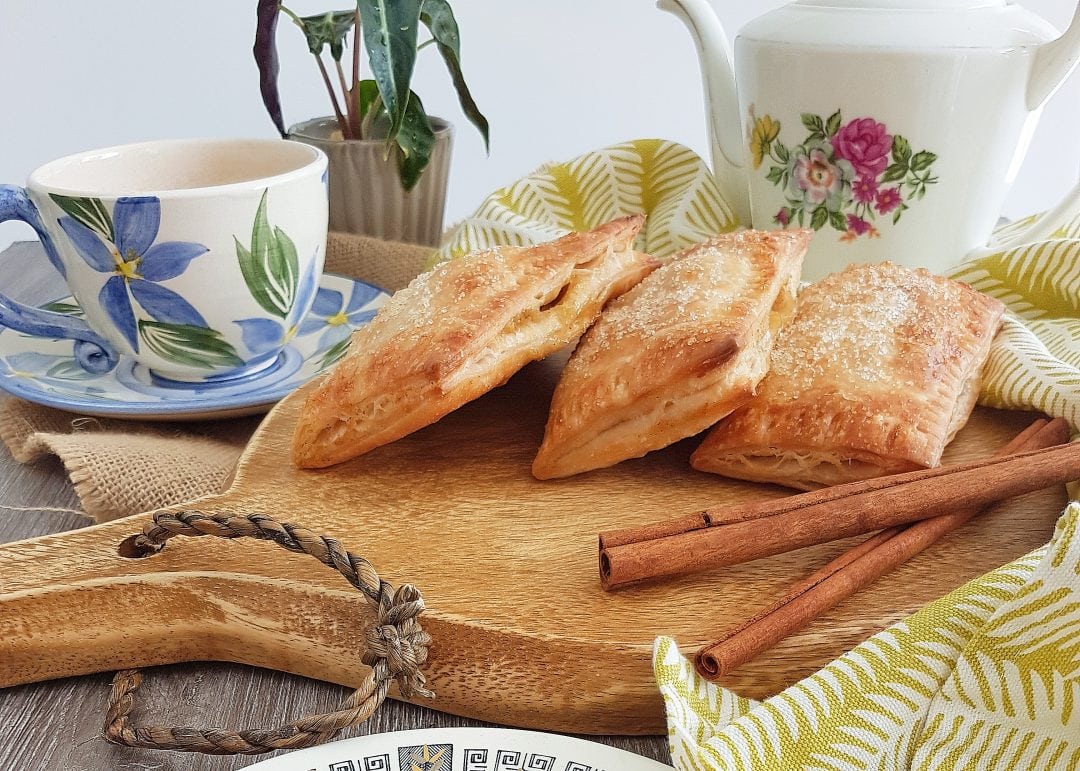 Gluten Free Mirabelle Plum Galette
A deliciously simple recipe, perfect for a Mirabelle harvest. Can be made with all variety of soft fruits too. Both gluten free and dairy free plus no egg so this is vegan too. Never the prettiest of bakes but what it lacks in looks it makes up for in taste.
Check out this recipe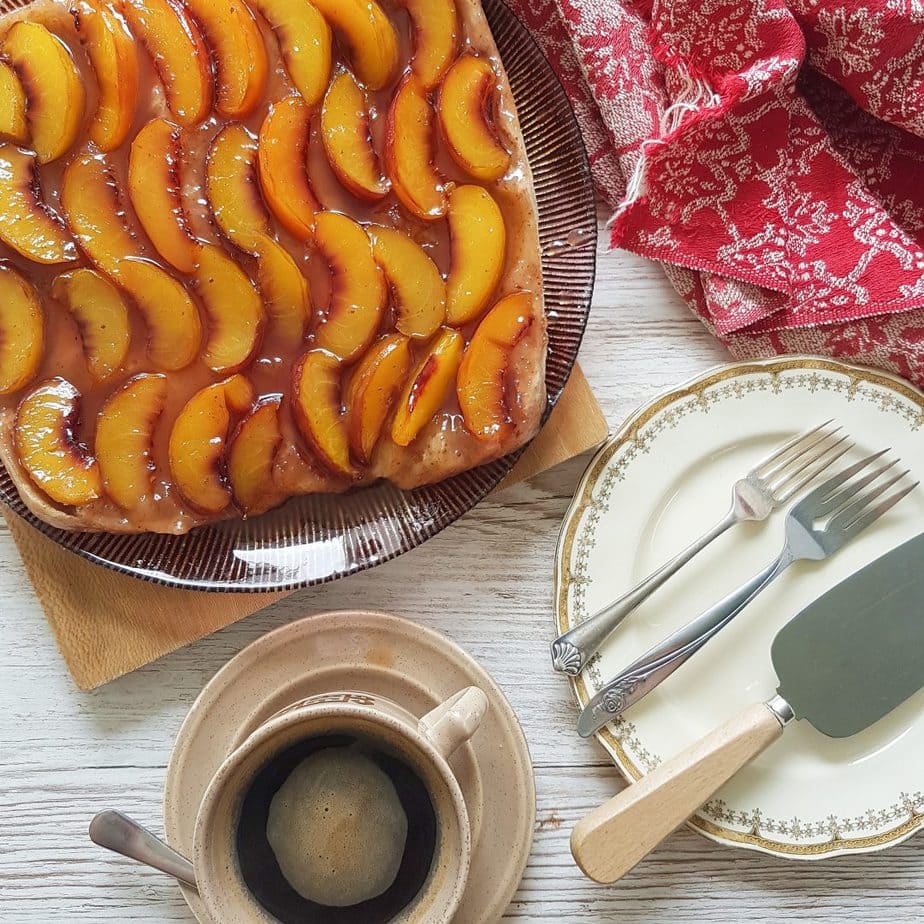 Simple Gluten Free Spiced Peach Tarte Tatin Recipe
If you make it and like the recipe I would be eternally grateful if you popped back and commented leaving a star rating as this will tell search engines that this recipe is worth checking out and others will get to find it in searches.
Spiced Peach Tarte Tatin
A deliciously simple gluten free spin on the classic Tart Tatin that is also egg and dairy free too so perfect for vegans.
Ingredients
peach base
4

ripe peaches

sliced into 8ths

100

g

granulated sugar

80

g

butter or butter alternative (I use Flora plant butter)

I used Pure

1

tsp

mixed spice

ginger, clove, cinnamon
tart pastry
170

g

gluten free plain flour

70

g

butter or butter alternative (I use Flora plant butter)

20

g

caster sugar

¼

tsp

salt

1

egg(s)

flaxseed egg – 1 tbsp flaxseed/3tbsp water
Instructions
to make the tart pastry
to make the pastry add the flour and butter to a bowl and combine to make bread crumbs with your fingers.

Stir in the flour, salt and your egg or flaxseed egg, start to mix the crumble mixture with a knife to help bring the dough together.

Turn out the crumb mixture onto the kitchen surface and begin to work together into a soft dough. Wrap and pop into the fridge for 30mins to rest.
to make the sugar syrup topping
Preheat the oven to 200°C/180°C Fan

Cut the peaches in half and carefully remove the stones, slice each peach so you have 8 slices. place on one side.

Into a non stick skillet pan (a metal pan with metal handle), add the sugar and butter and heat gently until the sugar melts and begins to bubble. Shake the pan to encourage the butter to melt.

Once the sugar and butter have melted and begun to turn a delicate golden take the pan off the heat and place your peach slices on top of the melted syrup mixture in a decorative fashion.

allow the sugar and syrup to melt and shake the saucepan gently to keep the syrup in motion, keep doing this periodically over the course of 15mins to allow the peaches to caramelise and prevent them from sticking to the base of the pan.

Place the pastry ontop of the peaches and tuck in the edges down the side of the tin, any excess can be folded down on the top [see photos below]

Add the skillet pan to the oven and bake for 35 mins.

Once a lovely golden brown and dry-looking on top, remove from the oven and pop onto a cooling rack for approx 10 mins to cool.

Turn the tart out onto a serving plate so that the peaches are now proudly on top of the tart. Don't waste any excess syrup in the dish and make sure this is all poured onto the tart.

Cool completely and serve with cream or eat immediately with custard, perfect for a cold Autumn day pudding.
Nutrition
Nutrition Facts
Spiced Peach Tarte Tatin
Amount per Serving
% Daily Value*
* Percent Daily Values are based on a 2000 calorie diet.
Have you tried this recipe?
Let me know how it was & I will be super grateful. Take a picture & tag me @glutarama on your social media posts – I love seeing your photos more than you will ever know x
---
I love to see your own photos of my bakes, dinners and treats head to your favourite social media account and don't forget to tag me in @glutarama
Subscribe to my email list so that you get NEW recipes straight in your mailbox every Friday PLUS a FREEBIE and access to some amazing gluten free DISCOUNTS
Don't lose this Spiced Peach Tart Tatin recipe – pin it for later