This recipe for Old Fashioned Gluten Free Apple Pie was originally posted here on Glutarama in 2017. Back then gluten free pastry and I hated each other. I used a fool-proof recipe by Free From Fairy instead. In the 4 years since my pastry skills have improved beyond recognition and I now have my own pastry recipe that works every time. My pastry recipe is gluten free, dairy free and egg free (you can use egg and/or dairy if you wish).
As my son Lewis helped me to make the original recipe that we used for the photos I've kept some of the original photos in, there's something not quite right about deleting photos of your children – it doesn't sit right with me. Besides, look at the concentration on his face in the photo below bless him.
What type of apple should you use for Apple Pie?
As with many other people at this time of the year we find ourselves inundated with gifted cooking apples and as we also have a community orchard near to us I can't help but pop down there to pick some beautiful specimens to cook with. Apple crumble tends to be the main family favourite but following the success of this apple pie I'll be sure to make more now I'm gaining in pastry confidence!
The type of fruit you use is not going to matter at all. you have three options;
Cooking Apples (Bramley's) – these are the quintessential baking apple. Originating in England, these apples break up and crumble when cooked. This makes them an excellent type of apple for making sauces, pie fillings, crumbles, jams and chutneys.
Toffee Apple Crumble; gluten free and dairy free
Mini Apple and Custard Pies – gluten and dairy free
Eating Apples – take your pick, Pink Lady, Jazz, Braeburn, Cox, Russet. The list is endless. Some I've names may be less known to you but trust me, go to your local market or a pick-your-own and you'll find the great British classics there. These are excellent for tarts, cakes, flans, tart tatin.
Simple Apple and Blueberry Bake made gluten and dairy free
One Bowl Apple Cake | Gluten Free and Vegan
Irresistible Free From Apple & Cinnamon Cake
Tinned/Canned Apples – what can I say about these, they come in a tin! This is not a cheats way to use apples in baking its called proactive time management so if you want to use tinned apples for pies and crumbles then you go for it.
Easy Gluten Free Apple Turnovers with a hint of cinnamon
Which apples to use when? The difference between cooking (cookers) apples and eating apples is that eating apples tend to hold their shape. So if you want your apple to keep its shape (for example decorating a tart) then go for an eating apple.
NB. That said, if you go for an apple with a red flesh it's more likely to have less crunch and more of a fluffy texture when you bite into it. This tends to mean they'll also break up easily if cooked.
How do you make gluten free pastry?
For this apple pie I use my Sweet Shortcrust Recipe but double it so you have enough for the pastry case and the pastry lid. To make it I measure the flour and psyllium husk, butter and fat and make them into breadcrumbs using a pastry cutter/blender. Then I mix in the sugar and pour in the egg or flaxseed egg. Using a knife I cut through the mixture until is starts to clump together and then turn the whole lot out onto a kitchen work surface.
At this stage it looks like a crumbly mess but fear not. Work the crumbly mixture with the heel of your hands and after 1-2 minutes it will have come together to form a pliable gluten free pastry.
Sweet shortcrust pastry
80 g butter I use Flora plant butter
20 g fat I use Trex vegetable fat solids
200 g plain gluten free flour all purpose flour
50 g caster sugar
1 tbsp ground flax seed
3 tbsp water
1 tsp psyllium husk powder (optional but does prevent crumbling)
How do you make Apple Pie filling?
This apple pie recipe uses two type of apple filling. Why? Because I love to cut into a pie that's packed full of apple and I find that if you just use slices of apple and sugar you end up with cavernous holes between the pie and the pie lid.
By using a combination of stewed apple and apple chunks you get a full pie with double the texture experience.
How to make stewed apples –
Peel, core and dice the apples into small pieces. Add to a saucepan along with 2tbsp water and 1tsp of lemon juice to prevent apple from browning. Heat for 10-15 mins, with the lid on, on a medium heat to soften the apple.
TIP: If the apples haven't broken down then just mush them up a bit with a fork or potato masher.
No need to sweeten to taste as you can sweeten later according to the recipe you use this for.
Set aside to cool.
The remaining apples needed for the recipe are simply peeled, cored and chopped into bite size pieces to add to the stewed apple filling.
Never miss out again…
Sign up to my Friday newsletter and receive not one, but THREE FREEBIES.
GF and Vegan e-Book
conversion charts
3 simple guides to allergies, intolerances & autoimmune.
Join me and learn to make anything gluten free.
Gluten Free Mirabelle Plum Galette
A deliciously simple recipe, perfect for a Mirabelle harvest. Can be made with all variety of soft fruits too. Both gluten free and dairy free plus no egg so this is vegan too. Never the prettiest of bakes but what it lacks in looks it makes up for in taste.
Check out this recipe
Serving Suggestions
Quick and Easy Dairy Free Custard
Other gluten free apple inspired recipes
Gluten Free Apple Caramel Squares
A delicious merger of apple, caramel and cinnamon crumble. All piled high on a bed of gluten free shortbread. A brilliant way to use up some of your autumn harvest of apples and enjoy with a cuppa on a cold evening for tea or supper
Check out this recipe
Gluten Free Apple and Blackberry Crumble
What is not to love with this gluten free apple and blackberry crumble. Even better when you use foraged fruit from hedgerows, free fruit always tastes better! Can even be enjoyed all year round if you have freeze the apple and blackberries when in season. Easily to make dairy free and vegan too.
Check out this recipe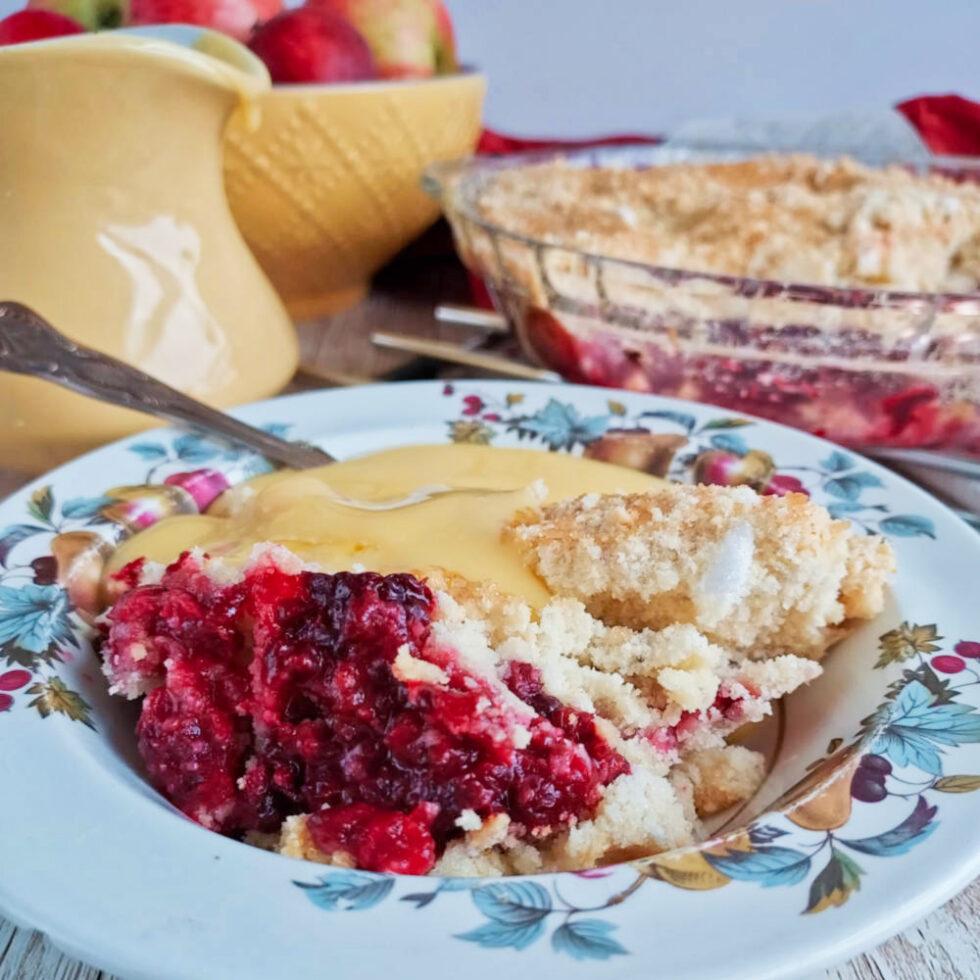 Gluten Free French Apple Tart
This lovely sweet (not too sweet) French Apple Tart is made gluten free and has all the charm of a traditional creme patisserie bake, perfect with an afternoon coffee or cup of tea. Plus, with it's impressive (yet simple) decoration this is the perfect show stopper of a dessert for any dinner table.
Check out this recipe
Old Fashioned Gluten Free Apple Pie Recipe
If you make it and like the recipe I would be eternally grateful if you popped back and commented leaving a star rating as this will tell search engines that this recipe is worth checking out and others will get to find it in searches.
Old Fashioned Gluten Free Apple Pie
This Apple Pie recipe is packed with seasonal fruits, gluten free, dairy free and egg free so suitable for vegans too. The recipe used both stewed apple and apple chunks to fill the pie to the lid and add extra texture to each delicious bite.
Ingredients
For the apple sauce
6

Bramley (cooking) apples

(peeled, cored and cut into small chunks)

100

ml

water
For the pastry
160

g

butter or butter alternative (I use Flora plant butter)

40

g

fat (I use Trex white vegetable fat)

400

g

gluten free plain flour

100

g

caster sugar

2

tbsp

ground flaxseed

6

tbsp

water

2

tsp

psyllium husk powder (optional)
For the pie filling
300

g

Bramley (cooking) apples

(peeled, cored and cut into small chunks)

50

g

caster sugar

1

tsp

cinnamon
Pastry glaze
2

tbsp

milk

(I use soya milk)

1

tbsp

dark brown sugar
Instructions
To make the apple sauce
Add the apples and the water to a large saucepan and heat gently with a lid on for 10-15 minutes.

After this time the fruit should have broken down, if not just use a fork or potato masher to break any remaining lumps.

Set to one side and allow to cool
To make the pastry
Measure the flour and psyllium husk into a large bowl.

Add the 'butter' and fat and using your fingertips or a pastry cutter/blender work the ingredients into breadcrumbs.

Mix in the caster sugar and then add your egg or flaxseed egg. Using a knife cut through the mixture until its starts to clump together.

NOTE: do not worry if the pastry looks a crumbly mess, it will come together I promise!

Now tip the contents of the bowl onto a clean worksurface and using the heels of your hands bring the ingredients together until you have a large ball of gluten free shortcrust pastry.

Pop this into the fridge to chill while you prep the remaining pie filling.
To make the pie filling
Now measure 300g of your apple sauce into the bowl you just use for your pastry and add the 300g of chopped apples.

To this, add the sugar and cinnamon, have a taste test to see if it's to your taste, if not add more sugar/spice.

Set aside and preheat your oven to to 200°C | 180°C fan | 400°F | Gas 6
To build the pie
Take your chilled pastry and cut just over half away for the pastry case. Roll on a well floured surface. I like my pastry to be thick so roll it to 1cm thick.

Line a 20cm cake/pie tin with your pastry. If cracks appear do not worry, just fill them in with pastry off cuts. Make sure the pastry over hangs the top of the tin.

Next prick the pastry base with a fork and fill with the prepared apple pie filling to the top of the lined pie dish.

Now roll out your pie lid, again I like my pastry thick, but you do it to your tastes.

Brush the edges of the pastry case with your glaze mix to help the lid stick.

Add the pie lid, crimp the sides with a fork, or use the pinch technique I've used above and if you wish decorate with any leftover pastry.

TOP TIP: if you don't want to decorate, then why not chill the pastry for another day or make jam tarts.

Finally, brush the lidded pie with glaze and sprinkle with caster sugar before putting in the oven for 35 minutes.

After 35 minutes check to see if the pastry is evenly browned and cooked, if not cook for a further 5 minutes.

Once baked eat immediately with custard or cream or leave to cool and have at room temperature.
Notes
You may find you have some apple sauce left, you can use this for mini apple pies or chill in the fridge to have with your pork roast dinner.
Nutrition
Nutrition Facts
Old Fashioned Gluten Free Apple Pie
Amount per Serving
% Daily Value*
* Percent Daily Values are based on a 2000 calorie diet.
Have you tried this recipe?
Let me know how it was & I will be super grateful. Take a picture & tag me @glutarama on your social media posts – I love seeing your photos more than you will ever know x
I love to see your own photos of my bakes, dinners and treats head to your favourite social media account and don't forget to tag me in @glutarama
Subscribe to my email list so that you get NEW recipes straight in your mailbox every Friday PLUS a FREEBIE and access to some amazing gluten free DISCOUNTS
*disclaimer: I use affiliate codes on my website, the vast majority are to Amazon. If you click on any of the links or images in the post and make a purchase my family will benefit from a small % of that purchase at no extra cost to you.

For full transparency, in 2020 I made my first £25, and in 2022 I reached my next £25 (Amazon don't transfer the money until you reach £25). Recently I got paid a whopping £27.10 for 2023.

So to date I have made £78.58 since I first started the scheme in 2017. It won't pay the bills, that's for sure but it does help to pay for ingredients or little treats to cheer me up!
Gluten Free Small Business Guide
Updated on a regular basis, this guide champions small gluten free producers in the UK who deliver awesome free from bakes, cakes and savoury goods.