This page contain affiliate links. Please refer to my Disclosures Page for more details.
I had to make this Easy Homemade Pumpkin Spice recipe if only to save time! We're pumpkin fans in this household and every year I tell myself I'll make my own blend of spices to create the perfect homemade pumpkin spice. Finally, I got round to doing it.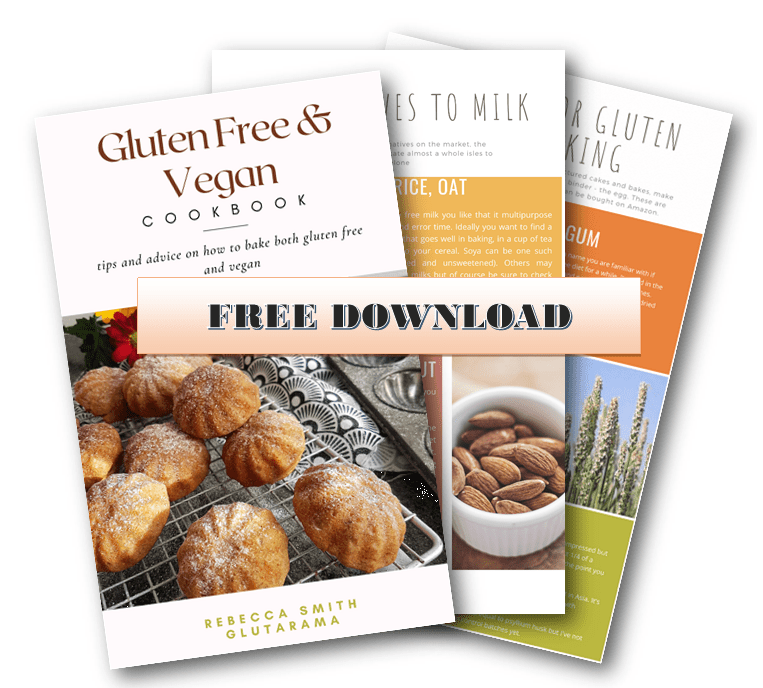 Never miss out again…
Sign up to my weekly Friday newsletter and not only get a FREE e-Book (currently my Gluten Free & Vegan Cookbook) but also get VIP subscriber discounts on free from goodies. Join me and learn to make anything gluten free.
Where did pumpkin spice originate?
To answer this question you have to break it down into the spices that make pumpkin spice and the combined pumpkin spice itself.
'Pumpkin Spice' Has Been a Thing for 3,500 Years

History.com – Pumpkin Spice Trading
The History website delves deeper than the average 'what is pumpkin spice' search, and discusses the use of the individual spices. For example; nutmeg, that has been traced back to over 3,500 years. Nutmeg is singled out in the article and I personally find that nutmeg is the overriding flavour of the pumpkin spice we know and love today. The nutmeg is in fact the seed inside an apricot-looking fruit that local Indonesians eat as well.
To find out when and why nutmeg, ginger, cinnamon and clove were blended to make pumpkin spice, we need to whisk forward a few thousand years to the 1930's. This was when a collection of companies (including Thompson & Taylor Spice Co and McCormick & Company) in the US decided to combine the spices to make things way more simple when making pumpkin pie. Hence the name for the spice combination.
Why is Pumpkin Spice so popular now? That's all thanks to Starbucks! That's right, a Pumpkin Spiced Latte threw the spice into the stratosphere of popularity in 2003 – the worlds bonkers isn't it. According to Food and Wine;
Since 2003, Starbucks has sold more than 424 million PSLs in the U.S. alone.

Food & Wine – The Surprising History of Pumpkin Spice
Which cinnamon do you use in pumpkin spice?
There are two common types of ground cinnamon; sweet cinnamon or just plain old cinnamon. The former is also known as cassia. In fact, I have a tiny bottle of cassia extract that I use in my Gluten Free Traditional Easter Biscuits. Cassia is sweeter and more fragrant whilst the common cinnamon is more robust and adaptable for both sweet and savoury dishes.
What can you use this spice for?
Okay, so there's the obvious things you make with pumpkin spice i.e. pumpkin pie and latte's. But let's not limit this wonderful spice to just those two recipes shall we? Check out what I've made with it.
Dairy Free Pumpkin Spice Fool
This simple Dairy Free Pumpkin Spice Fool combine the familiar fool dessert of thick whipped cream folded with a pumpkin puree and the quintessential autumn flavouring pumpkin spice. What better way to celebrate the pumpkin harvest than with a free from dessert suitable for those on a gluten free, dairy free and vegan diet.
Check out this recipe
Easy Gluten Free Spiced Pumpkin Roll
This deliciously simple pumpkin roll is filled with sweet pumpkin puree and pumpkin spices. So easy to make and only 4 main ingredients this is a quick bake you can make for unexpected guests and last minute get togethers at Halloween. Otherwise, it's a gorgeous sweet pastry to enjoy any cold autumn or winters teatime or evening.
Check out this recipe
Simple Gluten Free Pumpkin Pie
You can't get more traditional than this. This Pumpkin Pie recipe is well over 150 years old! A firm favourite for our family, this traditional Autumn pumpkin spiced pie is enjoyed every year without fail.
Check out this recipe
Vegan Pumpkin Pie
This has to be my all time favourite pie, the delicate notes of pumpkin and autumnal warm spices are a match made in heaven. Add a splash of brandy and now you really are talking business. I adore pumpkin pie so this vegan and gluten free version is my new favourite recipe.
Check out this recipe
Dairy Free Homemade Baileys Pumpkin Spice
Not only have I now cracked a recipe for the best tasting dairy free Baileys but I've also developed a pumpkin spice version to coincide with the current limited edition in the supermarkets. This is a luxurious creamy drink with a warm spicy undertone and yes, it tastes like pumpkin pie! You'll be thrilled to hear this recipe is also gluten free and vegan too.
Check out this recipe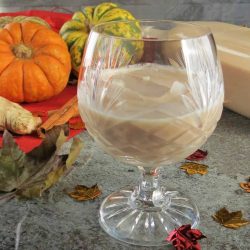 Gluten Free Pumpkin Biscuit Delights
A delicious gluten free version of the Little Debbie Pumpkin Delights. These Gluten Free Pumpkin Biscuits are simple to make, adorable to display and are the perfect treat this Halloween
Check out this recipe
Dairy Free Pumpkin Spice Latte
A deliciously simple homemade Pumpkin Spice Latte that's dairy free but just like the Starbucks famous PSL we've grown to know and love. This recipe is naturally gluten free and vegan using plant based non dairy ingredients perfect for two hot cups to enjoy with a friend at Halloween or over the festive period.
Check out this recipe
How to make your own homemade pumpkin spice
Due to the intensity of ground clove, I opt for a less intense spice experience, so I use equal quantities of cinnamon, ginger and nutmeg with just a pinch of clove.
3 tsp ground cinnamon
3 tsp ground ginger
3 tsp ground nutmeg
½ tsp ground cloves
How to store your homemade spice
As these are spices they store well but remember all spice has a shelf life. Also be mindful that they must be kept out of direct sunlight.
Perfect Pumpkin Puree
The base for so many Thanksgiving, Halloween and harvest time recipes. This perfect pumpkin puree is, in my humble opinion, the best way to make puree with the richest colour, flavour and texture. Ideal mixed with my homemade pumpkin spice to turn into pumpkin pies, breads, biscuits and more.
Check out this recipe
Easy Homemade Pumpkin Spice Recipe
If you make it and like the recipe I would be eternally grateful if you popped back and commented leaving a star rating as this will tell search engines that this recipe is worth checking out and others will get to find it in searches.
Homemade Pumpkin Spice
Save time when baking and instead of reaching for 4 spices, reach for one. This spice mix balances the perfect amount of cinnamon, ginger, clove and nutmeg for all your pumpkin spice needs.
Ingredients
3

tsp

sweet ground cinnamon

[see notes]

3

tsp

ground nutmeg

3

tsp

ground ginger

½

tsp

ground clove
Instructions
Simply measure each spice and to a bowl, whisk with a small whisk to combine.

Tip into a small glass jar with a suitable lid to keep airtight.

Use within 6-12mths (assuming you use newly bought individual spices.
Notes
There are two common types of cinnamon. Sweet cinnamon and just plain old cinnamon. The better one to use in this recipe (in my humble opinion) is the Sweet Cinnamon or Cassia.
Nutrition
Nutrition Facts
Homemade Pumpkin Spice
Amount per Serving
% Daily Value*
* Percent Daily Values are based on a 2000 calorie diet.
Have you tried this recipe?
Let me know how it was & I will be super grateful. Take a picture & tag me @glutarama on your social media posts – I love seeing your photos more than you will ever know x
I love to see your own photos of my bakes, dinners and treats head to your favourite social media account and don't forget to tag me in @glutarama
Subscribe to my email list so that you get NEW recipes straight in your mailbox every Friday PLUS a FREEBIE and access to some amazing gluten free DISCOUNTS
*disclaimer: I use affiliate codes on my website, the vast majority are to Amazon. If you click on any of the links or images in the post and make a purchase my family will benefit from a small % of that purchase at no extra cost to you.

For full transparency, in 2020 I made my first £25, and in 2022 I reached my next £25 (Amazon don't transfer the money until you reach £25). I'm now up to £17.80 for 2023 so edging closer to the magical £25 mark!!

To date I have made £69.28 since I first started the scheme in 2017. It won't pay the bills, that's for sure but it does help to pay for ingredients or little treats to cheer me up!